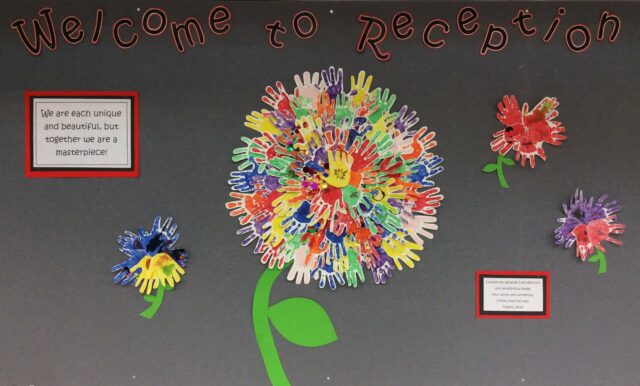 Welcome to Reception. Please click on the link to the left to access your class page.
In the Early Years at St Philip Westbrook we believe that learning should be fun.
We are devoted to providing children with a safe and stimulating environment, enfolded by Christian Values, where play and learning are combined, so that they can flourish.
We believe that every child is unique and that every day should provide exciting opportunities to explore, learn and take on new challenges.
We aim to build strong relationships with families and carers because we are committed to giving our children the best possible start to their school life; fostering independence and autonomy to develop skills for life long learning.
Reception Curriculum Information Summer One
Curriculum Map Reception Summer 1
Early Years Foundation Stage Framework (including Early Learning Goals)
Reception reading guidance for parents and carers:
We have put together this short video presentation in place of our usual Reading Meeting. The video is to share the techniques we use in school to support children in the early stages of reading. Please be reassured that reading bookmarks and Reading Eggs log in details (as mentioned in the video) will be sent home with children before the end of this half term.
Newsletters
Homework in Reception
Weekly homework task – Reception homework will be set every Friday and should be submitted by the following Thursday. Homework tasks alternate between a literacy or a mathematical focus.
Phonic bookmarks – Each week a phonic bookmark detailing the sounds that have been taught that week will be uploaded on this page, along with a collection of words for children to practise their blending skills. High frequency word mats will also be uploaded every few weeks so that children can practise reading words on sight.
Click on the sounds to access the bookmark:
Reading – Children should read at home at least 5 times per week. In addition to this, children will also be provided with a log on to the 'Reading Eggs' website so that they can practise their reading and phonic skills both in school and at home. Children will begin to bring reading books home following their first guided group read in school. As well as working hard on your set tasks, please also continue to work hard on your reading. Whether you read to your grown ups, or your grown ups read to you, keep sharing books and enjoying imaginative stories – we all know how much you enjoy them!
Supporting_Readers_at_Home_Poster_
Websites
The following list of websites contain excellent resources to support the children in their learning, in addition to the work they are doing in school.
Reading and Phonics
https://hungrylittleminds.campaign.gov.uk/#3
https://www.bbc.co.uk/cbeebies/shows/alphablocks
https://www.phonicsplay.co.uk/
http://TeachYourMonsterToRead.com
Maths
https://www.bbc.co.uk/cbeebies/joinin/numberblocks-help-your-child-with-maths
https://www.topmarks.co.uk/maths-games/5-7-years/counting
https://www.topmarks.co.uk/maths-games/3-5-years/countin
PE