Welcome to Reception. Please click on the link to the left to access your class page.
In the Early Years at St Philip Westbrook we believe that learning should be fun.
We are devoted to providing children with a safe and stimulating environment where play and learning are combined, so that they can flourish.
We believe that every child is unique and that every day should provide exciting opportunities to explore, learn and take on new challenges.
We aim to build strong relationships with families and carers because we are committed to giving our children the best possible start to their school life; fostering independence and autonomy to develop skills for life long learning.
A Message For Reception
Mrs Rogers' Weekly Challenge – A refreshing strawberry lemonade!:
Home Learning
Dear parents and carers,
As you are aware, there are now more children beginning to attend school. In order to accommodate this, more staff are also in school, meaning that there are fewer staff monitoring home learning. As previously, all work completed on Purple Mash will be marked and there will be feedback but this will no longer be every day and it may not be from your child's class teacher. There also will be less work to complete on Purple Mash.
Thank you for your continued support in these unprecedented times.
Reading
As well as working hard on your set tasks, please also continue to work hard on your reading. Whether you read to your grown ups, or your grown ups read to you, keep sharing books and enjoying imaginative stories – we all know how much you enjoy them!
Supporting_Readers_at_Home_Poster_
Reception spelling investigation Summer 2
Summer Reading Challenge
The Silly Squad have launched a reading challenge for you to complete over the summer. You can begin by designing your own Silly Squad character. Look at some of the ideas on the picture below. When you have done that, ask a grown up to help you to register on the website:
https://summerreadingchallenge.org.uk/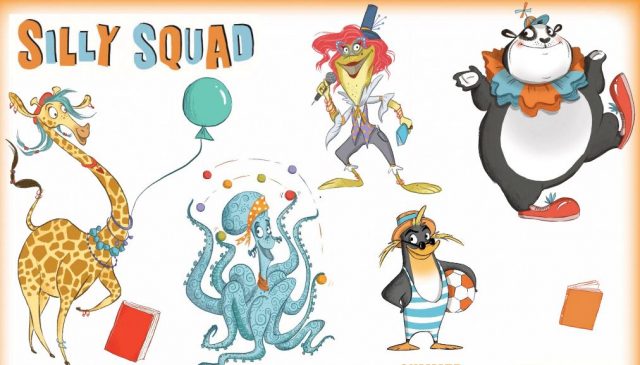 Now explore the site and complete as many fun reading challenges as you can.
Goodbye and Good Luck!
Thank you Reception for being amazing! You have really impressed all of the teachers with your hard work and determination. Well done to all of you!
Here is a little something to remember your time in Reception from your teachers. Click on your class teachers name:
Mrs Vermiglio/ Mrs White and Mrs Rogers
We hope you have a wonderful Summer!
Tuesday 28th July
Our last day in Reception has arrived. It is a sad day, but it is exciting as well because you are about to begin the next stage of your learning adventure! Today is about having fun and remembering the good times!
Warm up:
Let's celebrate the end of term with some celebration dancing! https://www.youtube.com/watch?v=f2NZg6Sr9qo
Phonics:
Click on the link below and select the game 'The Dinosaur's Eggs'. Choose the bank of words you think you know. Listen to the word carefully and click on the correct word:
http://www.ictgames.co.uk/literacy.html
Can you remember what we call two sounds put together quickly? We call them clusters. Can you think of any we have learned? Sometimes clusters are at the beginning of the word. Sometimes they can be at the end. Try reading the words in this short video. Which part of the word is the cluster? https://www.youtube.com/watch?v=vitLy4GvO44
Play the read and race game. Who can be the quickest?
Literacy:
Yesterday we looked back at some of the fun we have had in Reception. What are you looking forward to learning in year One? What are you good at? What would you like to get better at? What would you like to learn more about?
On the website you will see a video from your new teacher. How exciting! Today we would like you to write a letter to your new teacher.
Moving class can make you feel different emotions. It is an exciting time but it can also feel a little bit scary. We know that you are all ready for Year One. Read the story about moving class and the emotions you might feel: 'Spread your wings and fly'
Look at the presentation to see a letter from your teacher. Look how excited your teachers are to meet you and find out more about you! Write a letter back. What do you look like? Do you have sisters or brothers? What are you good at? Use this template to help you add information.
Maths:
Can you remember how to double? What does double mean? When we find the double of an amount we add the same amount twice. For example, if I want to double 2, I add two lots of 2.
If I want to double an amount bigger than five I can use my knowledge of adding on to help me. I can put six in my head and count on six more " 7, 8, 9, 10, 11, 12".
How can we find half? Half means one out of two parts. To find half we can share. If I had ten sweets, I could share with a partner to find half.
Let's find out more about halving with the Number Blocks:
https://www.youtube.com/watch?v=eBWTP84lcUI
Just for fun play this Double and halving game with your family.
Handwriting:
Monday 27th July
What a year! You have all worked so hard and we are so proud of everyone. Let's have lots of fun during our last two days in Reception!
Warm up:
Keep active with Jamie from Cosmic Kids:
Literacy:
We have had a very eventful year! Who would have thought our school year would turn out like this? Despite everything, all of you have demonstrated excellent perseverance and have continued to try your best. We are so proud of you!
Now, let's think back to the start of your Reception journey. What exciting events can you remember? What visitors made you feel warm and fuzzy? What was your favourite project? What is your most favourite memory?
Look at this presentation to remind you of some of the fun we shared this year.
Log onto Purple Mash and select the 2Do: My Favourite Memory. Write a sentence about your favourite memory. Remember to use your sound mat to check the digraphs and trigraphs you hear in a word. Don't forget to use your writing targets!
Phonics:
Look at your sound mat. What sounds do you know? Which sounds are the trickiest? Why? Let's look back at the sounds we have learned in this presentation. How many words can you read? What other words can you think of that have that sound in them?
Let's play a game of Phase 3 snakes and ladders.
Maths:
What do you know about + (add) and – (take away)? How do they change numbers? What different methods could we use to help us solve addition and subtraction problems? We could use objects, we could draw pictures or we could use our fingers. Is there is a faster way to solve calculation problems? That's right, we could put the first number in our head and then count on or back count back to solve the problems.
Let's have a practise in this blast off game:
https://www.topmarks.co.uk/learning-to-count/blast-off
Now we have had a practise, let's play some games. Do you have Lego at home? Have a go at this Lego addition and subtraction game .
Look at the board game instructions for our next game. Enjoy Bus board!
EAD:
Over the last few weeks we have learnt lots of things about countries around the world that are going to be competing in next year's Olympics. Which country has been your favourite? Which country would you like to visit? Take a look at this 'All Around the World' quiz. What facts can you remember about the countries? Can you guess the country from the clue? Good luck!
We are approaching our summer holidays and we think that your summer is looking bright! If you could choose one country in the world to visit, which country would it be? Add some clues to these sunglasses. Think about the things you want to see when you get there and draw your ideas in the sunglasses. Take a look at the examples below to help you with your ideas: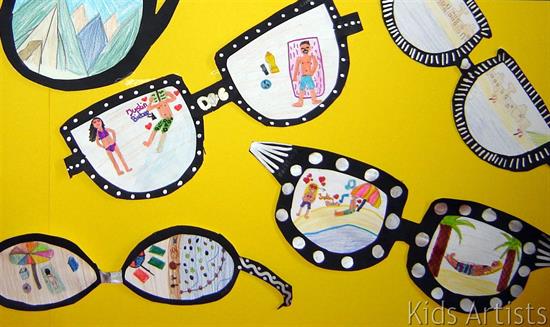 Handwriting:
Friday 24th July
Warm up:
Wake up with GoNoodle!
https://www.youtube.com/watch?v=ALrdpsWYoJs
Phonics:
To warm up let's see if we can read words with Phase 3 sounds: Pick A Picture
Focus: Today we are going to revisit our Summer 2 spellings. Open this presentation to remind yourselves of the spellings. Keep an eye out for the tricky parts of the words! If you would like to have a sneaky practise at writing the words before the focus task then click here.
Log onto Purple Mash and select the 2Do: Summer spellings. How many words can you spell correctly? Good luck!
Maths:
Warm up: What numbers do we need when we count in tens? What do the numbers all have in common? Watch this video and join in with the actions whilst counting in tens.
https://www.youtube.com/watch?v=Rd5DBkP9avw
Main: Yesterday we used direction words to help us move things around. What direction words can you remember? Can you move in those directions? We used the words forwards, backwards, sideways, right, left, up, down, through and turn.
Today we are going to follow some simple directions on a map and look to see where we finish. Take a look at this grid and look at the places that are scattered around. Which ones would you like to visit? At the bottom of the page are some arrows to remind you of the direction words. Can you find the forward arrow? The backward arrow? The left arrow? The right arrow?
Use the instructions in this presentation to help you get to the different places. You can NOT go through the aliens! Good luck!
Literacy:
What facts have we learned about the Olympic Games? An information book (non-fiction book) helps you to learn facts. An information book has a contents page. Where is the contents page? Can you remember what helpful job a contents page does? The contents page gives us a short cut to the pages of information.Lots of non- fiction or information books have photographs. Why do they have photographs and not illustrations (drawings)? They usually have photographs because the book is about things that are real. Photographs show exact images so they give us more information than drawings.
What helpful pages will you find at the back of the book? Look at the images of a glossary and an index.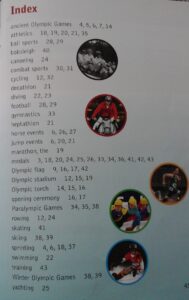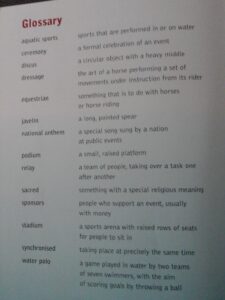 The words on these pages are in alphabetical order (this means that they are ordered according to the position of the first letter of each word in the alphabet). This special order helps us to find the words quickly. A glossary explains what words mean. An index helps us to find information about a particular word.
For your activity, can you put these Index words into alphabetical order? Look carefully at the first letter. As a challenge, can you put your work from the week together and make your very own information book? You will need a front cover and a contents page so the reader knows where to find out the information.
EAD:
This week we have been learning about the Olympics. Can you remember what prize athletes receive when they win at their sport? Has this always been the prize? What did the athletes used to win in Ancient Greece? Read the information pages from the information book 'Olympic Dreams'.
The athlete who finishes first, second or third wins a medal. What picture do you notice on the medal? Can you see a torch? The torch is a very important symbol during the Olympics. Look at the information page 'The Olympic torch'.
Can you design a medal? What picture will you put on it? Are you going to put any numbers on it? What will the ribbon be like?
Would you like to make your very own Olympic torch?
Each athlete has their own uniform called a kit. They have a kit that shows which country they are from. The kits are different for different sports too. They usually have a colour on them similar to their country's flag. Look at the different Olympic kits here.
Have a try at designing your own Olympic kit.
Handwriting:
Further supportive ideas for Home Learning
If you are looking for some more books for your child to read at home, http://www.oxfordowl.co.uk have lots of online e-books for your child to read, as well as some post reading activities, if you wish to do a little extra.
Additional Learning Activities: If you would like to complete more learning activities, you can use Purple Mash to complete additional activities with your child. You can use the search bar at the top of the page to search for specific activities such as 'counting in 2s' or you can explore the different subjects on the site. Please use Purple Mash whenever you wish.
Additional Online Phonics: The Literacy Company has devised online videos to support parents at home. The lessons for Reception will be at 10am. They are also providing a video at 11am to help your child with blending sounds for extra practise.
Follow this link to subscribe:
A Message For Reception:
Mrs Rogers' past challenges:
Websites
The following list of websites contain excellent resources to support the children in their learning, in addition to the daily tasks that will be set from Monday 23rd March.
Reading and Phonics
https://hungrylittleminds.campaign.gov.uk/#3
https://www.bbc.co.uk/cbeebies/shows/alphablocks
https://www.phonicsplay.co.uk/
http://TeachYourMonsterToRead.com
Maths
https://www.bbc.co.uk/cbeebies/joinin/numberblocks-help-your-child-with-maths
https://www.topmarks.co.uk/maths-games/5-7-years/counting
PE
https://www.youtube.com/channel/UCAxW1XT0iEJo0TYlRfn6rYQ
Joe Wicks will doing a 30 minute workout for children every morning at 9am on his YouTube channel.
Homework in Reception
Weekly homework book task – Reception homework is set every Friday and is due back into school by the following Thursday. Homework book tasks alternate between a literacy or a mathematical focus.
Phonic bookmarks – Each week children will receive a phonic bookmark detailing the sounds that have been taught that week, along with a collection of words for children to practise their blending skills. High frequency word mats will also be sent home every few weeks so that children can practise reading words on sight.
Reading – Children should read at home at least 3 times per week and parents should record details of this in their Reading Record book. When children read in school with the class teacher, a sticker is placed on their reading bookmark if there is evidence of 3 reads at home over the last 7 days.
Home Learning – A Home Learning task is sent home each term; tasks may be craft based or linked to another area of learning aside from literacy or maths. These tasks take the place of a piece of homework in the homework book and last for 2 weeks. Details of these tasks will be shared on the Reception newsletter and additional information will sent home with children.
Curriculum maps
Subject Specific Vocabulary
Newsletters
Home learning additional activities
Useful links
Phonics
https://www.ruthmiskin.com/en/find-out-more/parents/#lg=1&slide=2
Maths