What to expect from Forest School?
Forest School is more than just being outside playing in the mud (though we encourage a lot of that)! Forest School is an inspirational holistic approach to leaning focusing on building emotional intelligence where children learn practical and social skills through self-initiated experiences and play.
During our programme learners are encouraged to use natural resources to appreciate and understand the natural world. The experiences we offer will help learners to develop their sense of self, build a community and promote their physical and mental wellbeing. Being outdoors in all weather's builds resilience, helps with mental health and you may even find sleep is better on a Forest School day.
The Forest School Star: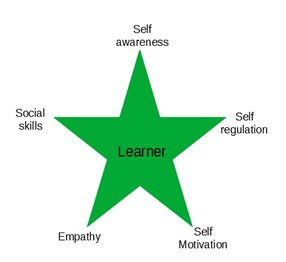 Enjoying the outdoors whatever the weather
Being able to be outdoors in all weathers helps children build up their resilience. We say there is no such thing as bad weather only bad clothing!
A child who is appropriately dressed for the weather conditions is going to feel far more comfortable being outdoors than a child who is cold or wet.
Mud really is good for you!
Research has shown that mud really is good for you. Mud helps to build up our immune systems and it is also good for our mental wellbeing. The smell in soil has been shown to boost the Serotonin and Norepinephrine circulating in the systems of both humans and mice. In other words, it works in much the same manner as antidepressant pills.
A recent article published on the BBC stated the following: (Oct 2022)
"According to recent research, the dirt outside is teaming with friendly microorganisms that can train the immune system and build resilience to a range of illnesses, including allergies, asthma and even depression and anxiety. To read the full article click here.
What happens in extreme weather?
Keeping everyone safe at Forest School is our upmost priority. We are always checking on the weather to make sure that it is safe to proceed.
When wind gusts exceed 32mph it is deemed unsafe to enter the woodland. In this case where possible sessions will be held instead in an open area (such as a school field). If there is a lightening strike within 30 miles we will abandon any session and seek cover indoors for at least 30 minutes after the last strike.
In cold weather we will aim to keep everyone moving to assist with helping them to stay warm. Having lots of layers on can help with this so please send your child to Forest School with lots of layers. Please don't forget that those little toes can feel very cold in wellies so an extra pair of socks is most important.