Good Morning Year 5.
With the school now being closed, make sure you check our year group page every day to see what lessons and games we have prepared for you. Some days there will be things to do online – other days there might be things for you to do on Showbie.
Blue Peter Badges!
While you're off, why not see if you can achieve a Blue Peter Badge: https://www.bbc.co.uk/cbbc/joinin/about-blue-peter-badges?collection=blue-peter-badges
Joe Wicks will be doing LIVE workouts on his YouTube channel at 9am every morning; this will help you get your 30 minutes of activity per day! https://www.youtube.com/channel/UCAxW1XT0iEJo0TYlRfn6rYQ
Rock Kidz are LIVE streaming free sessions on YouTube at 2pm every weekday: www.youtube.com/rockkidzuk
David Walliams is reading a story every day for 30 days – lots of you love his books and he will tell the stories in an amusing way. Check out today's story: www.worldofdavidwalliams.com/elevenses
Please note for PurpleMash: We understand that some of you are having difficulty accessing Purple Mash. If so, please can you try the activity at a different time in the day as it is most likely because of the amount of people trying to access it at the same time.
What an achievement!!
Wow year five!!! Today, we have had a message from the Reading Plus team telling us how well our year group is doing. Look at what you've achieved so far since you started using Reading Plus….keep up the good work, this is AMAZING!
Class Year 5 have:
– Collectively read 2,084,061 words!
– Achieved an average of 27 completed reading lessons
– Achieved an average Rate Gain of 30 WPM;
– Achieved an average Level Gain of 1.2 levels (1 level gain = an increase in readability of texts of 1 year).
Grammar Quiz Results
Thank you to everyone who took part. This was a tester quiz as we've not used it before and we think next time we'll give you more time to answer the questions as it was a bit quick! We look forward to seeing more participants next time.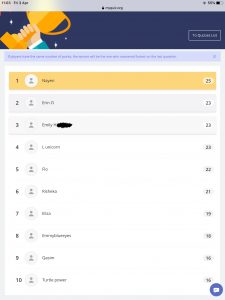 Easter
If you are stuck for something to do over the Easter holidays, here are some fun activities for you to try. This is NOT homework, this is just if you would like to try out something different over the break. Easter Activities Sheet
Please note that the daily activities can be completed in any order.
Friday 3rd April, 2020
We are thinking about you all and are very proud of the learning you have taken part in so far Year 5, well done! Have a lovely Easter and try to complete any ARK's (Acts of Random Kindness) that you have left to do. Mrs Arnaud, Miss Stewart, Mrs Thorrington and Miss Buckard.
English

: Spellings:

complete the spelling pyramids (Spelling Sheet 9) using the focus words for this week (engineer, builder, designer, mathematician, computer, scientist, biologist, meteorologist, physicist, technician, electrician, astronomer). Then complete the spelling quiz on Purple Mash.
Live grammar quiz against all of Year 5 at 11am!
Go onto

https://www.myquiz.org/

and use the code

063944

.

The quiz will start at exactly 11am so don't be late!
Maths: Warm-up – Day 4 task on Showbie. Answers will be available at the end of the day.
Complete 'Week 2 – Lesson 1

' – Rounding Decimals (lesson 2 if you have already completed lesson 1) on the website below. Watch the video to help your learning. Click

'get the activity'

next to the video clip.

https://whiterosemaths.com/homelearning/year-5/

You can also check your answers afterwards.

Reading:

Log on to Reading Plus and spend 30 minutes completing comprehension activities.

PE:

Complete a Cosmic Yoga of your choice, if you can head out into the garden, try some of the actions again on a mat/blanket.

https://www.youtube.com/watch?v=AAx1fGjpc0w

Computing:

If you have an Apple device, download Swift Playgrounds and complete Learn to Code 2. If you don't, log into Purple Mash and complete the 2Code 'Send the Rocket to Space'.
Thursday 2nd April, 2020
Make sure you go back and look at any work you have submitted to check any comments your teacher may have left for you.
Wednesday 1st April 2020
English: You are going to choose your own writing activity based on the 'Hidden Figures' book. You can present your work in any way you choose – you could do it electronically (Word/Pages, PowerPoint/Keynote, Publisher) or you could write your work on paper. Here's some ideas of what you could do: Writing Opportunities This is a big task, so you have today and tomorrow to complete it.
Maths:

Warm-up – Complete Daily Task on Showbie (answers will be available tomorrow)

Complete lesson 3 – Decimals as Fractions 2 on the website below. Watch the video to help your learning. Click

'get the activity'

next to the video clip.

https://whiterosemaths.com/homelearning/year-5/

Reading:

Log on to Reading Plus and spend 30 minutes completing comprehension activities.

Science:Begin your Moon Calendar (Showbie). This should be completed each day/early evening to record what the moon looks like, you could print it out or complete online.
Rockets – Bottle Rocket – Design, and if you can make your bottle rocket, use the PDF to consider design features and how they would affect the launch and flight of the rocket? https://www.bbc.co.uk/teach/terrific-scientific/KS2/zr63d6f
Spanish: Home Learning Spanish

Click on Stage 3: 'Clothes' and click the green V. This will take you to a video about how to describe a clown's clothes. Watch the video and join in with the activities. At the end, she will ask you to draw your own clown and write a description of its clothes. Click back on the Stage 3: 'Clothes' and click the red K for extra vocabulary to help you with this. Upload your drawing and description to Showbie.


Challenge:

use the red K on 'Face' to describe your clown's eye and hair colour too, or can you remember how to say how your clown might be feeling?

Maths answers for Thursday 26th March: Negative Numbers Answers
Maths answer sheets for Mon 23rd-Wed 25th: Monday Roman Numerals Answer Sheet Roman Numerals Purses Answers
Welcome to Year 5. This year, the children will experience lots of fun learning activities both inside and outside the classroom. Please find information on our curriculum maps to see what we'll be doing each half term, as well as keeping up to date with our year group half termly newsletters.
Below, we will add useful websites to support the children's learning at different points throughout the year.
Please click on the link to the left to access your class page.
Curriculum Maps
Year 5 Autumn 1 Curriculum Map
Year 5 Autumn 2 Curriculum Map
Year 5 Spring 1 Curriculum Map 2020
Subject Specific Vocabulary
Y5 Spring 1 Computing Vocabulary Key Note
Y5 Spring 1 DT Vocabulary Cooking
Y5 Spring 1 History Tudors Vocabulary
Y5 Spring 1 Science Forces Vocabulary
Y5 Spring 1 Music Vocabulary Make Me Feel My Love
Y5 Spring 1 PSHE Vocabulary Health and Well-being
Y5 Spring 1 RE Vocabulary Jesus the Teacher