Our Christian values underpin all aspects of school life and our compassion for others has led to the need for our Fundraising Group, who are responsible for coordinating fundraising events across school for pupils who have expressed a desire to raise money for different charities in order to tackle injustice and inequality, locally and globally.
Pupils themselves identify charities and situations that they would like to support, as a result of circumstances at home, their local community or raised awareness of national and global issues. The children make a proposal to the Fundraising Group who then help them to finalise their plans, coordinate dates and generate publicity; the children then organise and run events independently with the help of their family and friends.
Each year the school supports national charity events such as Children in Need, Comic Relief and Sport Relief and Remembrance Day. We also raise money for those in need during special events in the Christian Calendar, for example during Harvest we donate food to our local FoodBank.
The children learn how the donations are used by different charities and the impact that these have upon the lives of those affected.
As a school, we have close global partnership links with schools in South Africa and China. Our church also support us, and are actively involved, for example they raised money for musical instruments for our South African partner school, and purchased a toilet in Africa as part of the Toilet Twinning charity.
2022-2023
Our recent charity work has included the following:
Autumn Term
We raised £348.94 for the British Legion through the poppy appeal.
Christmas Jumper Day raised an amazing £560 for Save the Children UK.
Our Charity group also coordinated all of the donations for Christmas gifts for the homeless people in Warrington at Room at the Inn. We were absolutely blown away by the number of items brought into school by families. We managed to put together over 50 gift bags to be given to homeless people in Warrington. St Philip's Church helped us to organise the collection and the children presented the donations to the church ready for delivery for Christmas. At such a difficult time financially for so many families, the kind donations were very much appreciated by all.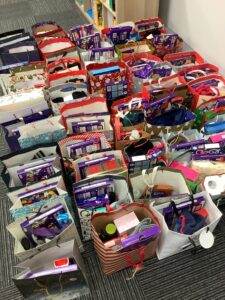 We have supported all of the charities below and more; click on the thumbnails to find out more about each charity.