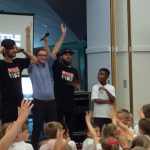 "Children are keen to be involved in sports, perform with the choir or play a musical instrument and relish their visits out of school."
Ofsted Report
Our curriculum is supported and enriched by a wide range of educational visits and trips which are undertaken in all years, with residential visits for pupils in Y5 and Y6. Visitors are also regularly welcomed into school to further enhance children's learning.
Visits, trips and visitors support all aspects of the curriculum including academic and personal development. They provide first hand experiences to deepen children's knowledge, understanding and skills, and are wonderful in engaging and exciting the children and providing a stimulus for further learning.
Local or regional visits or trips take place each half term and change according to the personalised curriculum. Visitors are welcomed into school throughout the year and include parents, relatives, clergy, and members of the local community; we also have visiting theatres and concert events.