Christmas Message
Welcome to our class page. Below you will find photographs of your child's learning and any important information. Please check regularly to find out all about our exciting learning journey.
Reminders and Dates
Homework and spellings will be issued each Friday, and should be completed by Thursday of the following week. There will be no paper copies so children will need to log on to Purple Mash and complete the 2Do which has been set.
PE will be on Monday and Thursday of each week. Children should bring their PE kit into school and leave it for the half term. It will be sent home in the final week of each half term for washing.
For Maths, try to get recall up to speed. Use TT Rockstars and 'Hit the Button' (just search on Google for this) to really improve your personal best.
Our Learning
Titanic Role Play
This week we have been thinking about some of the passengers aboard the Titanic, and their actions of selflessness. We learnt about Mr and Mrs Straus, a first class couple on board the ship who gave their life jackets to their maid so that she could be saved instead of them, and the radio operators who refused to leave their post and continued to help others, finally getting the Carpathia which meant that they saved lots more people. Take a look at some pictures of our role play, acting out the different scenarios.
Titanic
We all had a super day on our project day last week! All of the children got into role and had a fantastic time experiencing first, second and third class.
Zumba
We had a fantastic time dancing in our Zumba class today. Some of us remembered some of the dances from last year, and we all agreed it is a great way to keep fit and healthy whilst having fun!
Health and Well-Being Week – Half Mile Challenge
This week it is health and well-being week, and each day we will have a different challenge linked to keeping healthy. Today our challenge was to run half a mile around our school playground. We all had lots of fun and after, we had a think about how our body felt. Some of us very sweaty, had red faces or were out of breath.
RE – The Ten Lepers
In RE this half term we will be learning all about Jesus' miracles, and stories that show us that he is a friend to everyone. This week we read the story of the ten lepers, and then used role play to act out the story, thinking about the feels of each of the characters.
Out of Africa
This half term, our topic is called 'Out of Africa.' We will be learning all about the continent of Africa, and the country of Kenya.
Science – Materials
We have been enjoying learning all about materials in Science! We have learnt lots of new vocabulary and have been enjoying using the new words that we have learnt to describe properties of materials. We began by sorting the materials that we found round the classroom in different ways, for example, absorbent and not absorbent, transparent and opaque, or flexible and rigid.
Christmas Play
The children were absolutely fantastic in their performance of 'Baubles!' and I'm sure you'll all agree, they made us all feel very proud! A huge thank you to all of the parents and carers who made sure all of the children had super costumes – they all looked great!
Celebrating Britain
This half term our topic is called 'Celebrating Britain.' We began our learning finding out about the gunpowder plot, and answering the question, 'why do we celebrate Bonfire Night?' We are all really looking forward to our tip later on in the half term, where we will be learning all about British traditions at Christmas time.
Making Oaty Energy Bars
In DT this week, we have made oaty energy bars. We started our learning by tasting lots of different dried fruit: apricots, raisins, cherries, dates and pineapple. This helped us to decide which one to put into our oat bars. We then planned our bars, looking at the recipe and sorting the ingredients into food groups. We all decided that the bars could only be eaten as a treat, as they have sugar and golden syrup in them – both of which give us energy but need to be eaten as a treat. We then used the equipment to measure out the ingredients and make our energy bars.
What is the best way to wash our hands?
In Science this half term we have been learning how to work scientifically, by completing lots of different experiments and investigations. One of these investigations was trying to find out the answer to the question, 'what is the best way to wash our hands?' trialing 3 different ways; soap and warm water, baby wipes and cold water. We used oil and cinnamon to act like the germs on our hands. After our investigation, we all agreed that soap and warm water was the best method, as it got rid of the dirt we can see, and the germs that we can't.
Washdays in the Past
We enjoyed exploring some washday objects from the past which we had borrowed from Warrington Museum. We looked carefully and predicted what the items might be used for. We acted out a Victorian washday using the wash tub, dolly and washboard and compared this to washdays today using our washer/dryers. We all agreed that keeping clean in the past must have been hard work!
Cup and Ball
Within History, we have been looking at toys that our parents and grandparents might have played with when they were younger. We made a cup and ball using a cup, string and tissue paper. We had to work hard to thread the string through the hole in the cup, and we learnt how to tie a knot to keep the string in place. After we had finished making them, we went outside to try them out!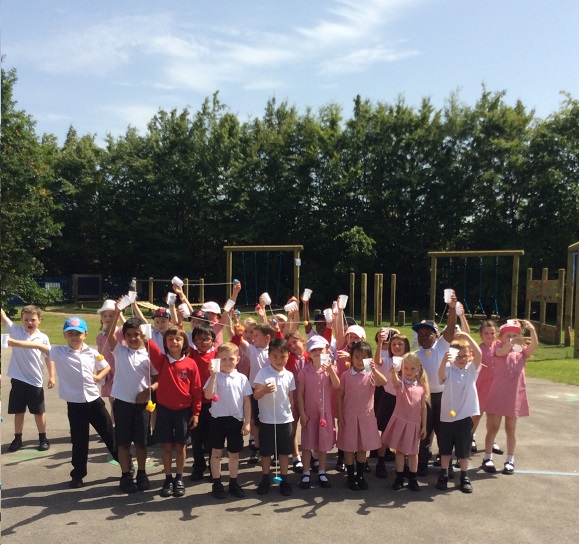 The Creation Story
Within RE this half term we have been looking at the Creation Story. This week we used dance to act out the story. First we thought about how God created light. We came up with movements to show how the light spread through the darkness. We then looked at the sea and the sky. We discussed the movements of the water and how our bodies could make rippling and flowing movements. Next we looked at the plants and trees. We came up with some fantastic ideas about how to start as a little seed and used different levels to show how plants grow up from the soil. We also looked at the sun, moon and stars, animals from the land, sea and sky and Adam and Eve. Lastly we thought about how God rested on Day 7. We thought about how God might have felt after creating such a wonderful world. We then came up with movements and facial expressions to show emotions such as happiness and being proud.
Walton Gardens and Grappenhall Heys Walled Garden
We had a very exciting day at Walton Gardens and Grappenhall Heys Walled Garden. First we went to Walton Gardens to look for lots of different plants. We found so many different flowers and we even spotted some deciduous and evergreen trees! After that we walked around the pond and the children's zoo. In the afternoon we went to Grappenhall Heys Walled Garden. We read a story called 'The Tiny Seed' which told the journey of a little seed throughout its life cycle. We then had a chance to sow our own sunflower seeds! We had to use a dibber to poke little holes into our soil and then we carefully put 3 little sunflower seeds in the holes. We then decorated our own sticks to put in our plant pots. Have a look at our fabulous trip below.
Science Week
During Science Week we took part in lots of exciting experiments. We started the week by making a Balloon Rocket. We had to predict how much air the balloon needed to travel a specific distance. We ended the day with a fabulous rocket launch on the play ground!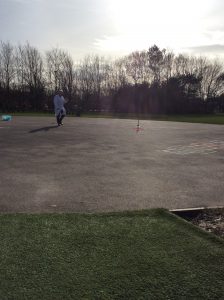 On Tuesday we learnt how to record our observations. We were given 2 gummy bears. We put one in water and left one in an empty cup. By the afternoon, the gummy bear in water had grown! We drew pictures to show what had happened.
On Wednesday we looked at an experiment involving lemonade and raisins. We were told that we were going to put raisins in lemonade to see what would happen. We came up with some interesting predictions about what we thought might happen. When we put the raisins in the lemonade they started dancing! First they sunk to the bottom and then they rose to the top. We learnt that the air bubbles in the lemonade stick to the raisins to make a life jacket which makes the raisins light enough to rise up.
Towards the end of the week we looked at comparative tests. We carried out an experiment involving 2 eggs. We left one egg in vinegar overnight, and we put the other egg in water. By the morning, the egg left in vinegar had completely lost its shell! When we dropped the eggs, the one in water cracked and the one in vinegar bounced!
Animal Kingdom Class Worship
This half term we performed our Class Worship in front of our friends and families where we shared our learning about the project 'Animal Kingdom'. We shared a poem, songs and artwork, and we retold the story of Monkey Puzzle by Julia Donaldson. We also performed a dance based on Jane Goodall and her adventures in Africa with chimpanzees.
Knowsley Safari Park
We had a brilliant day at Knowsley Safari Park. We saw so many different animals and learnt so much! First we saw the meerkats and the giraffes. Did you know that a giraffe has 4 stomachs? Next we went to the Safari School where we touched an ostrich egg and a lion's skull. We learnt about classifying animals into mammals, birds, reptiles and fish. After lunch we went to see the sea lion show. The sea lions, Louis and Arthur, showed us some fabulous tricks including a handstand and balancing a ball on their noses! We also had the opportunity to see the birds of prey show, the bats and the tigers. Have a look at our fantastic visit below.
Dodgeball
This half term we have been learning how to play dodgeball with Miss Stubbs. We improved many PE skills over the half term, in particular, our accuracy and awareness. In our last session, the children took part in a class tournament where four teams competed in lots of matches to see who would be crowned as the champions!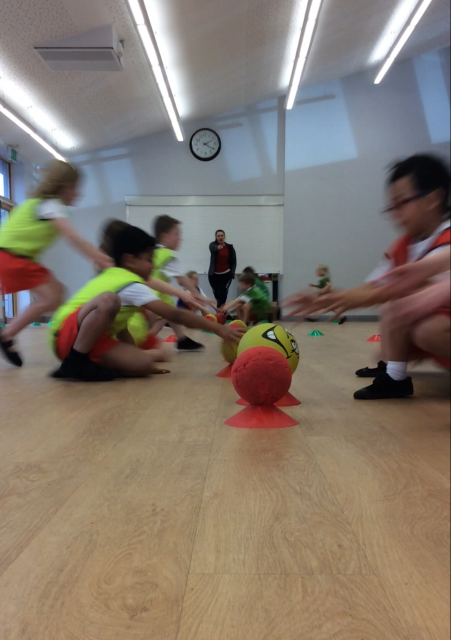 Hey Ewe!
This week the Year 1 children performed their Christmas production 'Hey Ewe' to an audience. The production was centred around a curious sheep who sensed that something exciting was happening in Bethlehem. The children worked extremely hard to learn their lines, and they sang and danced beautifully.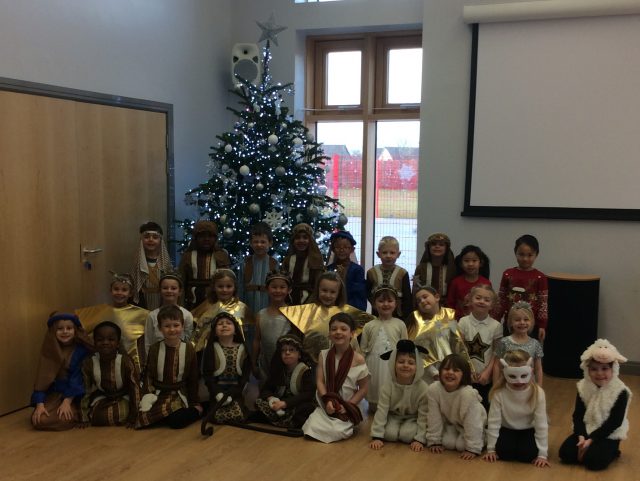 Salt and Ice Experiment
We carried out a science experiment to see what would happen when salt is put on ice. At the start of the experiment, we looked closely at what the ice looked like. We used words like smooth, shiny and round to describe it. We then worked in small groups to add salt to our balls of ice and we started to notice some changes to the way the ice looked and felt. We noticed that the ice was melting quicker and that the surface of the ice was bumpy and rough.
Antarctica
This week Sunny sent us another parcel! He told us that he was in an extremely cold place. After looking at all the clues we worked out that he was in Antarctica!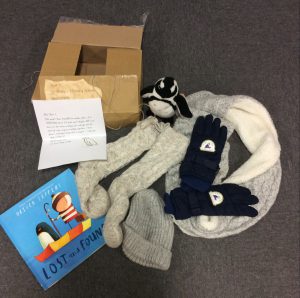 Later in the week, Sunny sent us an email to say that his penguin friend was trapped in ice! The only materials he had with him were tin foil, newspaper, bubble wrap, salt and some warm water. He wanted us to find out which material would melt the ice the quickest. Each group chose a different material to cover their ice.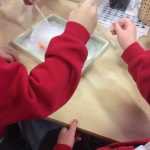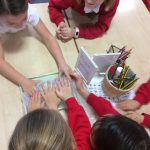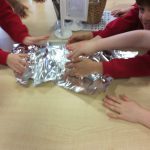 We observed our ice throughout the day to see whose penguin was going to escape first.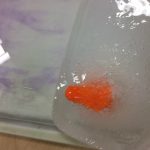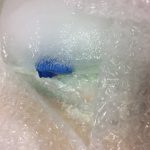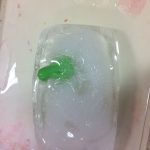 At the end of the day we noticed that the green penguin had come out of the ice! We decided that salt is the best material to melt ice.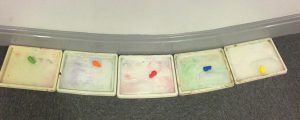 London Week
This week, Sunny sent us a parcel all the way from London! It had pictures of Queen Elizabeth II, a Union Jack flag and a teddy bear dressed as one of the Queen's guards!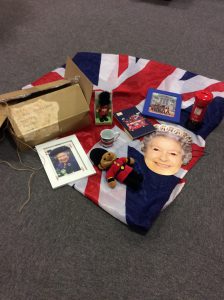 As part of our learning about London, we looked at The Great Fire of London. To help us with our learning, we turned the classroom into London and reenacted the events of the fire. We learnt about a man called Samuel Pepys who kept a diary about the Great Fire. We decided to turn ourselves into Samuel Pepys and use quills to write our diary entries. We used some fantastic adjectives to describe how London would have looked during this time.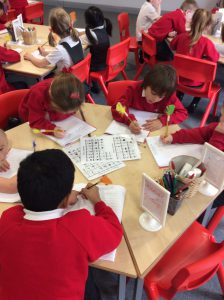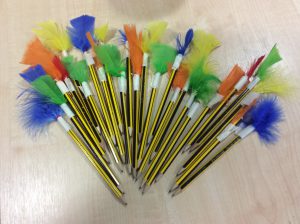 Towards the end of the week, the children were very excited to learn about the Royal Family. We made our own crowns (just like Queen Elizabeth II's!) and wrote lots of facts about the Royal family on them. Did you know that the Queen has two birthdays?!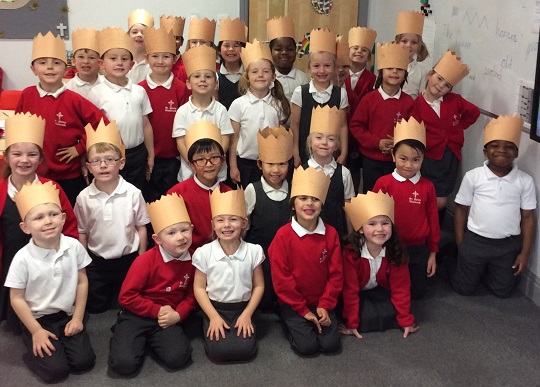 Making Clouds
Today we received a letter from Sunny the Meerkat. He told us that he is visiting a new place and that it is always raining there. He also told us that there were lots of clouds in the sky. Within science, we decided to look at why clouds form. We watched a video about the water cycle and learnt that clouds are just big water droplets in the sky! When the clouds get too heavy, it starts to rain. We used water, shaving foam and food colouring to represent the sea, clouds and rain. We used pipettes to drop small amounts of food colouring onto the shaving foam to see how long it would take to pass through and into the water. It was very exciting when our rain finally came out of the cloud!
Sukkot
Within RE, we looked at the Jewish festival Sukkot. We learnt that Jews celebrate this special time by building a sukkah. A sukkah is a special hut with a wooden frame and the roof is made from branches and leaves so the stars can still be seen through them. We learnt that sukkahs are usually decorated with candles and fruit and pictures are hung from the walls. We worked in small groups to build our own sukkahs. First we made the three walls, then we decorated them with fruits and vegetables and finally we went outside to make the roof out of sticks and leaves.
Andy Goldsworthy
As part of our Seasons week, we looked at the artist Andy Goldsworthy. He creates art using natural materials. We watched a video where he creates a beautiful pattern just by using bits of slate. We thought about the natural materials that we could find in our playground and started to think about what patterns and shapes we could make using them. We worked individually, in pairs and in groups to create some wonderful Andy Goldsworthy inspired artwork.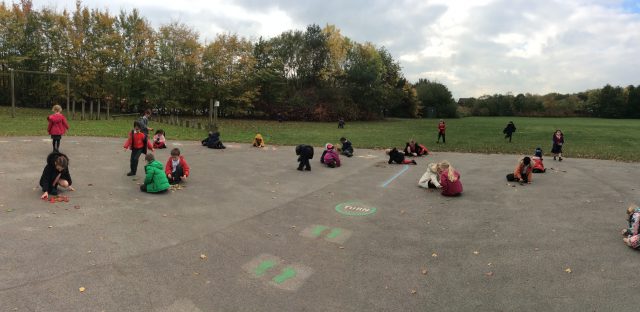 Goldilocks and Just the One Bear
We read the story 'Goldilocks and Just the One Bear'. In this story, Baby Bear leaves the woods and takes a walk through the city. When he is there, he decides that it is far too noisy so he goes into Snooty Towers for some peace and quiet. When he gets inside he wants to sit down but he ends up sitting on some rather odd chairs! We decided to design and build our own chairs for Baby Bear to sit on. We thought carefully about which materials would be best to use and how we could make the chairs strong and comfy. Once we made our chairs, we tested them to see whether they were strong enough. We had to think of ways that we could improve our models to make them stronger.
OAA
Within PE this half term, we have been working with Miss Stubbs and participating in Outdoor and Adventurous Activities. Throughout the half term, we have been challenged with a variety of problems. For example, we had to cross a shark-infested water with only a few pieces of equipment to get us across, and we used treasure maps to find well-known fairy tale characters around the school grounds. In all these activities we had use teamwork, effective communication and problem solving skills. In our last session, we created our own treasure maps and hid the characters ourselves ready for our classmates to find.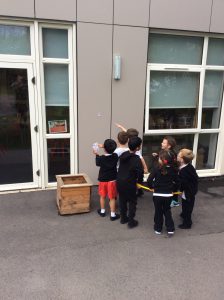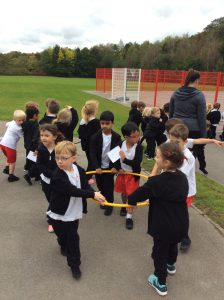 Lego Workshop
Year 1 were very excited to take part in the Lego Workshop this week. The children were challenged with the task of creating their own building using lego. At first, they were given red bricks, white bricks, doors and windows to build their houses. Next, they were given lots of different pieces of lego to make their outside areas. Some children decided to make swimmings pools! After the houses were built, the children were given roads to attach their buildings to and we made a little villages on our tables! Have a look at our fun-filled morning below.
Jack and the Jellybean Stalk
This week we came into school and discovered that a beanstalk had grown in our classroom! After a close inspection we realised that it was covered in jelly beans! We did some fantastic writing about what we could see in the classroom and worked really hard to use adjectives to make our writing interesting.
Junk Modelling
What a wonderful first week we have had in Year 1! The children have settled into their new classroom really well. This week we started our project 'Down My Street' by designing and making buildings that we might find in our local area. We had lots of different ideas including houses, schools and shops – some children were very adventurous and made an airport! The children had lots of fun building their designs and they were very excited to share their creations with the rest of the class.