Welcome to our class page. Here, you will find information about the children's exciting learning, as well as any key dates or important pieces of information that you will need to know for the upcoming half term.
Reminders and Dates
This half term, PE lessons will be on Wednesdays and Fridays. Children should keep their PE kit in school, it will be sent home at the end of each half term for washing.
Homework will be sent home each Friday, and should be completed and returned by the following Thursday. Every other week, we will send home some times table facts to be learnt. These will be tested the following Friday.
Spellings will also be sent home on Friday and should be practised in preparation for our spelling test each Thursday.
Monday 6th January – Return to school
Wednesday 15th January – Liverpool World Museum Trip
Monday 20th January – Friday 24th January – Health and Well-being Week
Thursday 6th February – Class Assembly 9:00 a.m.
Wednesday 12th February – Eucharist – all welcome
Thursday 5th March – World Book Day
Monday 9th March – Friday 13th March – British Science Week
Tuesday 10th March – Parent Meetings
Thursday 12th March – Parent Meetings
Thursday 2nd April – Year 3 and 4 Easter Service
Friday 3rd April – Finish for Spring Break
Our Learning
Liverpool World Museum – Ancient Egypt Trip
We had a fabulous day learning all about life in Ancient Egyptian times. The children handled artifacts from the past and learned about the job of an archaeologist in the Western Learning Centre. Later in the morning, they took leading parts in a drama workshop which taught them the gruesome facts of mummification. We have a class full of budding actors!
After lunch, we spent time in the gallery and followed the trail to find interesting facts. One of the children was shocked to see that a 3000 year old mummy had more teeth than her!
It was a wonderful day, full of exciting learning that was enjoyed by us all.
Science – A sneaky visitor.
Today, we noticed that there had been an uninvited visitor to our school, and that individual had left a rather large hand print. We were a little worried by the size of the hand and so decided to work out the actual size of the intruder. The children looked for patterns and relationships between the size of their own hands and other body parts to help them to draw an image of the unwanted guest.

Foxhowl
We all had a fantastic time during our recent residential visit. The children took part in exciting activities which developed their team work and problem solving. We raced to be the winning team during orienteering activities; we got very dirty during den building and discovered lots of living creatures when we were stream shuffling.
Science – Muscles
To take a closer look at how muscles and bones work together to help animals move, we looked closely at chicken wings. The children were fascinated to see how muscles were attached to bones and how moving the muscles made the bones move.
Christmas Performance
The children completed their final Christmas performance today and were truly wonderful. They all worked so hard to learn their lines and songs and looked magnificent in their costumes. A huge thank you to you all for your support and kind compliments about the show.
Science – Bones
To launch our science topic today, the children were given the challenge of making a human skeleton using bone shaped biscuits. The groups had to think carefully about how to work as an effective team and were then given challenge questions to answer: What is the purpose of a skeleton? Do all animals have skeletons? Are all skeletons the same?
Children in Need
Our children looked fabulous today, dressed in their Pudsey outfits in support of this wonderful charity.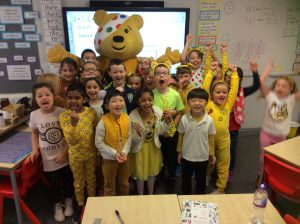 The excitement levels hit the roof when Pudsey himself made a surprise drop into our classroom to collect all of the money that had been donated. Thank you to you all!

Worship Group
Our first worship group of the year did a fantastic job this week when they held class worship. They acted out their story magnificently and asked questions to encourage the children to reflect on the theme of thankfulness. They all deserved their certificates and took great pleasure in selecting children to form the worship group for next half term.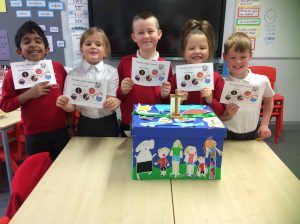 Dojo Certificates
We were delighted to give out our first two bronze dojo certificates this week. These have been awarded for reaching 100 dojo points which are awarded for displaying Christian Values. Well done to both children!
Science – Fossils
The children enjoyed making dinosaur fossils during a recent science lesson. It helped them to visualise how fossils were formed over many years in layers of rocks.
English – The First Drawing
This week, we have been using the book, 'The First Drawing' to help stimulate ideas for our writing. The story is set during the Stone Age when the main character paints cave paintings onto the walls of his cave; much to the horror of his family members. To help us ti imagine the feelings of the family, we created a freeze frame, and looked carefully at facial expressions to help us with our descriptive writing.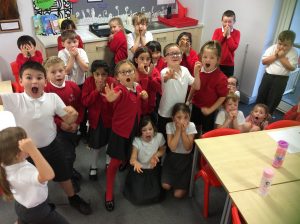 Science – Soils
During our recent science topic, the children looked at a range of different rocks and soils and classify them based on physical characteristics.
During today's lesson, the children tried to help a gardener with a soil problem. Mrs Greenfingers needed to know why her garden was filled with puddles. The children thought that it might be a soil problem, so they tested different soils to see which drained best. At the end of the investigation, they decided that she needed a loam soil and her garden had too much clay.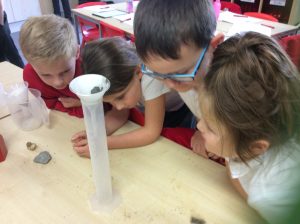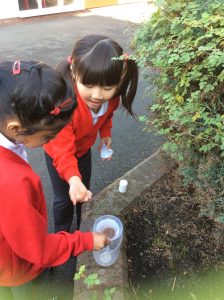 RE – The Good Samaritan
This half term, we have been thinking about rules and those which were passed on by God. We have explored the 10 commandments and the reasons why God had to give these to His people. This week, we have been considering the teachings of Jesus and His rules for living. We reenacted the story of The Good Samaritan; thought about the lessons that is teaches us, and how, by following its message, we can be more like Jesus.
PE – Netball
We love learning outdoors and keeping fit and healthy. This half term, we have been learning new skills to help us play games of netball. We have been practising our passes and have learnt how to move the ball quickly and efficiently across the court.
All of the children have had a wonderful first two weeks back, and they have all settled well into Year 3.
Two of our wonderful students have been busy planting the planters to make sure that our outside space is cheerful and welcoming.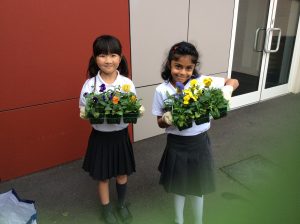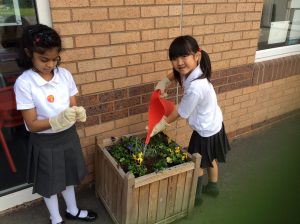 Last Year's Learning
Wirral Country Park
We had a fantastic time on our trip to Wirral Country Park. The weather was lovely and the sun was shining brightly! When we arrived we went straight down to the beach. We thought about the animals that might live in this habitat, then we collected things to create our own pictures on the sand. Some of us made volcanoes and caves and some of us made rock pools and desert islands. After spending time on the beach, we went to the long grass area for a minibeast hunt. This was fantastic and we caught lots of different minibeasts. We made sure that we were very careful with them and put them back in their habitat gently.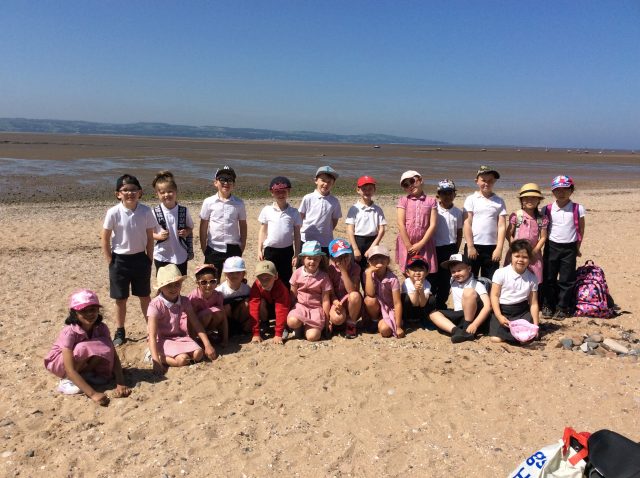 By lunch time we were all very hungry! We enjoyed our delicious packed lunches before setting off for our final activity which was 'pond dipping'. Again, the children were all very good at catching different animals that live in the water!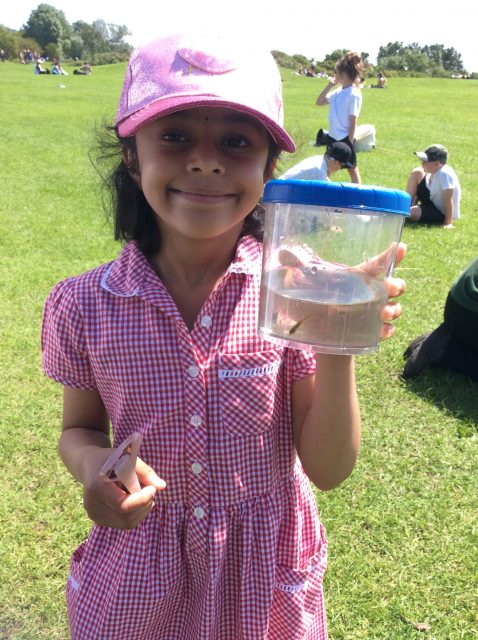 We had a fantastic day and enjoyed every minute of it! Thank you to all of the children for their enthusiasm and hard work and of course thank you to our parent helpers!
Music
On Friday afternoon, we had lots of fun learning to play the recorder. Mrs Bright was very impressed with what we had remembered from the previous half term and we learnt to play two new notes. We had fantastic rhythm and beat and we could all play along in time to the tune.
Westbrook Walk
On Wednesday, we went on our local walk in the beautiful sunshine and we had a wonderful morning! We left school and started to explore the woodland area. We looked for different trees and tried to identify them by the shape of their leaves. We really enjoyed collecting different things from the woods, for example: bark, twigs, sticks and leaves.
After a walk through the woods, we crossed the road and explored Mary Ann Meadows. We talked about how this compared to the woodland area. We looked at the ponds and had our snack sat on the grass.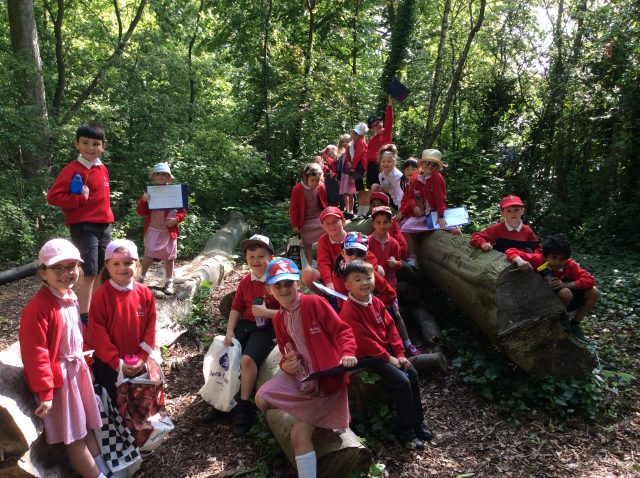 When we arrived back at school, we used the things that we had collected to create pictures, inspired by Andy Goldsworthy. The children worked well in groups to plan and construct their pictures. They all looked fabulous!
Design and Technology
During the last few weeks of the half term, we have been learning all about the Titanic. For our DT learning, we designed and created bags that could be taken on a journey. We started the project by looking and evaluating a range of bags such as suitcases, rucksacks and shopping bags and we thought about the features of each of these bags and how they were different. We talked about how these bags were created to suit the purpose.
Next, we thought about how we could join materials. We practiced joining materials using masking tape, split pins, sellotape, string and blue-tack. We evaluated each of these materials and discussed whether or not we thought these materials would be suitable to use when creating a bag.
After that, we created our own bags. They all looked fabulous and we look forward to taking them on journeys soon!
The Last Supper
In our RE lessons, we have been learning all about the Easter Story. We re-enacted the Last Supper and we even had some bread and blackcurrant juice to help us remember how Jesus shared the bread and wine with his disciples. We thought about how the Last Supper links to how Christians share the bread and wine in Eucharist today. We talked about how the bread and wine symbolises the body and blood of Jesus and reminds us of God's love.
British Science Week
Science Boffins
On Monday, we launched our Science Week with a exciting investigation. We looked at the craters on the moon and created our own craters in flour. We tested a range of objects to see which one would make the largest crater. We made some fantastic predictions and gave wonderful reasons for our thoughts and ideas. On Monday afternoon we had a super assembly, led by Donald from Science Boffins, followed by a rocket launch on the playground!
United Utilities Workshop
On Wednesday, Jayne from United Utilities came in to talk to us all about the importance of water, the water cycle and tips on how we can save water. We were all thoroughly engaged and we all took part with great big smiles on our faces!
Shrove Tuesday
We learnt all about this Christian celebration which marks the last day before Lent. We talked about how people often give something up in Lent and people used to make pancakes, using rich foods such as flour and eggs before they began fasting.
We all enjoyed sprinkling our pancakes with lemon and sugar before tasting them!
Gymnastics
This half term in PE, we have been practicing our gymnastic skills. We have looked at rolls, jumps and balances. We got some of the equipment out and we had a go at transferring the skills that we had learnt on to the climbing frame and other equipment.
Our African Adventure
We are so, so proud of the children's performances in our Class Worship. A huge well done to them all! All of the children have thoroughly enjoyed putting their worship together and were very excited to share their learning with parents, grandparents and friends this morning.
We took everybody on an 'African Adventure' with facts about animals, features in Africa and about African artwork. We sang African songs beautifully and even learnt some words in Swahili! We played musical instruments wonderfully and finished our worship giving thanks to God for the wonderful world that He created and we performed a super dance.
We hope you enjoyed it! Thank you for coming to watch and for all of your support with learning their lines at home.
The children should be very proud of themselves.
Christmas Play
We are very proud of all of the children's performances in the Christmas play, they were all fantastic. They worked very hard on learning their lines and their beautiful singing and dancing. We thoroughly enjoyed retelling the story of Christmas and Jesus' birth. We hope you enjoyed it as much as we did!
Gunpowder Plot
This half term, we have been looking at the Gunpowder Plot. This week we discussed the story of the Gunpowder plot and some of the problems the plotters may have had. We worked in groups to role play some of these problems. We then shared our role plays with the rest of our class.
Multiplication
In Maths, we are learning how to multiply. We know that multiply can also mean times, groups of, lots of and can also be solved by using repeated addition. We have had lots of fun making equal groups of objects to help us solve multiplication problems.
Landmarks of Liverpool
Last week we enjoyed a wonderful visit to Liverpool. This was a lovely start to our new project 'Landmarks of Liverpool'. During the morning, we were warmly welcomed by the Anglican Cathedral where we had informative and exciting tours around the Cathedral. We saw lots of different chapels, we looked at the stained glass windows and the high altar. Most of us where surprised at how big it was and how beautiful it was.
After lunch we got back on the bus and went to see the famous buildings down by the waterfront. We loved looking at the Liver Building and the River Mersey. What a fantastic day we had!
Design and Technology
We have been learning about balanced diets and how we need a range of food from the different food groups. We have made 'Energy Bars' using oats and a little bit of sugar which are foods that give us energy. We talked about how it is ok to eat small amounts of sugar. We also added some dried fruit because it is important to try and eat 5 portions of fruit or vegetables a day.
Wash days in the past
We used resources from Warrington Museum to learn all about how people used to wash their clothes in the past. We had a fantastic afternoon guessing what all of the objects were for, before finding out what they were really used for.
Asda Visit
We have recently been looking at balanced and healthy diets. We know that it is important to eat lot of fruit and vegetables. We were very lucky to have Cathy from Asda come in to our school and share some delicious fruit with us. We tasted lots of different fruits and then using our favourites, we made a healthy yoghurt snack.
Our science investigation
As part of our 'Happy, Healthy Me!' project, we investigated which was the best way to wash our hands. We covered our hands in oil and sprinkled glitter on them. We pretended that the glitter was the germs! First we tried wiping our hands with a paper towel, but that didn't work very well and there were still lots of germs on our hands. Next we tried washing our hands with cold water. This worked better than the paper towel but it didn't get rid of all of the germs. Finally we tried hot water and soap which worked perfectly an got rid of almost all of the germs on our hands.
Feelings
This week, we have been talking about our feelings as part of our topic, 'Happy, Healthy Me!'
This afternoon, we read The Colour Monster, which is a book all about associating colours with feelings. We talked about when we think of sadness, we often relate this to blue and when we think of happiness we often think of yellow.
We had a go at producing some colourful artwork of our own in response to our discussion.
We painted our own self portraits in a range of different colours and discussed what feelings these colours may represent.
Christian Values
Welcome to Year 2! All of the children have had a wonderful first two weeks back, and they have all settled well into Year 2.
We have been looking at our Christian Values carefully, thinking of things that we can do, in order to show these Christian Values. Some children said that they could show respect by keeping our classroom tidy and treating the equipment with respect. Other children talked about how we could show perseverance when things get a little bit tricky or show fellowship and compassion by being kind to others.
We wrote our ideas on leaves and created our own 'Christian Value Tree'.