Welcome to our class page. Here you will find information about the children's exciting learning, as well as any key dates or important pieces of information that you will need to know for the upcoming weeks and months.
Reminders and Dates
PE lessons will be on Mondays and Fridays, and kits should be left in school for the half term.
Homework will be sent home each Friday, and should be completed and returned by the following Thursday. Spellings will also be sent home on Friday and should be practised in preparation for our spelling test each Thursday.
Monday 17th September – School Council presentations in class
Friday 21st September – School Council elections
Monday 24th September – School Council announced
Thursday 4th October – parent consultation meetings 3:30-6:00pm
Tuesday 9th October – parent consultation meetings 3:30-5:00pm
Thursday 11th October – Year 3/4 Harvest Service
Sunday 14th October – Harvest service in church
Wednesday 17th October – Eucharist Service
Friday 19th October – finish for half term
Our Learning
Starburst Rocks
In our Science lesson we were investigating different types of rocks. To help us understand how rocks are formed we used starburst to represent igneous, metamorphic and sedimentary rocks. We all enjoyed investigating the igneous rock that was melted in the microwave due to the extreme heat that is needed for an igneous rock to form.
Westbrook Library
Today, we enjoyed an exciting visit to Westbrook Library. In History this half term, we have been learning about the Stone Age and so we made sure to have a good look through the wide range of information books about this period. The teachers have picked out some interesting books about the Stone Age for our classroom, and Miss Evans read us two exciting stories.
Rock Awards
Today  in Science, we launched our new topic rocks and stones. Lots of us brought in interesting and fascinating rocks that we had found in several different places. We had rocks that we had picked up in our gardens, parks and even from under the water! At the beginning of the week we looked at all of the different rocks and began to ask each other questions. After this, we inspected the rocks and pebbles and started to think of descriptive words to help us with our classification. We even got a closer look at our rocks by using magnifying glasses and microscopes. Finally, we hosted the rock awards in which Miss Evans gave out certificates for the most romantic rock, the biggest rock, the clever rock, the ugliest rock and the most glittery rock.
Learning from Year 2
Thank you for a wonderful year! I have thoroughly enjoyed getting to know each and every one of you and I am incredibly proud of all that you have achieved this year. You have all worked so hard.
We have shared some fantastic memories this year and you have put a smile on my face every single day. You have made me laugh and cry (happy tears/last day tears!) and you have all been an absolute please to teach!
Good luck in Year 3 and don't forget to wave as you walk past at home time! We will miss you lots!
Thank you to all of the parents for your continued support this year and for all of the generous and thoughtful cards and gifts. They are much appreciated!
Best wishes,
Miss Birchall x
Seaside Holidays in the Past
This week we have enjoyed exploring resources from the Warrington Museum. We looked at a range of artefacts from the 1950's and the Victorian times, which gave us an insight about what seaside holidays in the past were actually like. We thought about our seaside holidays and we talked about what had changed and how they were similar. We enjoyed dressing up in old-fashioned clothing and we thought about how it would feel to wear knitted swimming costumes!
Wirral Country Park
What a wonderful time we had at Wirral Country Park! We were very luck to have such lovely weather too. When we first arrived, we went down to the beach and spent some time collecting items such as shells, stones, pebbles, which we then used to create a picture in groups. After that, we went on a mini-beast hunt which was very exciting. We used nets which we brushed through the grass and trees to see what creatures we could find. Some of us were lucky enough to catch a butterfly! We made sure that we were very gentle with the creatures and released them back into their habitats once we had looked at them. Our final activity was pond dipping. We were all very enthusiastic and enjoyed looking at the mini-beasts which live in a pond habitat. We had a great day! Thank you to our parent helpers.
Scooter Training
We had a wonderful time on our scooters and learning how to stay safe on the road. We learnt how to use our brakes and the importance of stopping when crossing driveways or roads. Now, we are all 'Scooter Smart'! We thoroughly enjoyed the session and had so much fun! Even Miss Birchall had a wonderful time riding a scooter!
Our Local Walk
Whilst the weather was dry and sunny, we decided to head out on our local walk and we had a wonderful morning! We left school and started to explore the woodland area. We looked for different trees and tried to identify them by the shape of their leaves. We loved looking at the huge, tall trees and the baby trees that had started to grow very close by. This linked nicely to our science learning about the life cycle of a sunflower seed!
We thought about our senses and what we could see, hear, feel, smell and touch in the woods. We also collected lots of lovely things to use back in school to create pictures.
After the woods, we moved on to Mary Ann Meadows. We talked about how this was different to the woodland area.
Back at school, we had time to create our Andy Goldsworthy inspired artwork which looked amazing! All of the children were well behaved and thoroughly enjoyed themselves!
Plants
Today we started our science learning, all about plants. First, we spent some time discussing what we already knew about plants. We reminded ourselves of the names of the different parts of the plants e.g. leaves, roots, petals, stem. We also talked about their functions.
We looked at some real plants and identified their roots, stem, leaves and the flower. We all had a wonderful time and our hands were covered in soil!
Our DT work
This half term we have been learning all about Australia. We made wonderful  Australian animal finger puppets for our DT project. We planned our work carefully and made our puppets out of paper first. then we chose our felt and thread to make our puppets. We made koala bears, kangaroos (some even had little joeys in their pouches!), birds and lizards! They look fabulous!
We really enjoyed sewing and can't wait to do some more! A huge thank you to our parent helpers, we couldn't have done it without you!
World Book Day
Yesterday, we celebrated World Book Day. We started our day with a wonderful assembly, lead by Miss Ashton, who told us all about why and how we celebrate World Book Day.
Back in class we wrote book reviews, had a story time in our new school library and enjoyed an afternoon of drawing book characters and book covers. We also had two 'Drop Everything and Read' sessions which we loved! All children thoroughly enjoyed the day and looked amazing!
Fun in the snow!
On Tuesday we were all so excited to see that it had been snowing and our playground was covered in snow! We all wrapped up warm and went outside to play. What a wonderful time we had!
Beegu Artwork
As part of our space topic this half term, we have been looking at the book Beegu. We made lots of predictions about the book and inferences about the character's feelings. Today we created some Beegu art work, based on the illustrations by Alexis Deacon.
In previous lessons we have experimented with warm and cool colours to get ideas for our design. We had a great time and we are all very proud of our work!
PE
This half term in our PE lessons, we have been learning how to play badminton. We have been learning how to attack and defend, including smash and swing. We learnt how to move and use control and awareness.
We had a wonderful time!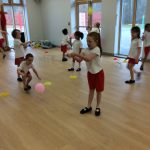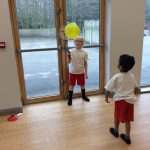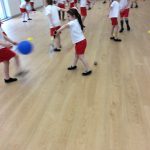 Health Week
As part of Health Week, we looked at foods that we can eat to keep us healthy. We thought about why it is important to eat at least 5 portions of fruit/veg a day. We thought about how we can use fruit juices and fruit to make healthy drinks. We tasted different juices and fruits first to help us decide what ingredients to use. We designed our own drink and measured out the juice carefully, creating a recipe. We all learnt how to measure in ml and how to chop fruit safely, using a knife.
We had a great time and our drinks tasted amazing!
Space Dome
Yesterday we were so lucky! We had a workshop all about Space, in a fantastic Space Dome which was huge!
We learnt lots of exciting, new things about Space. We were amazed to find that if you drop a hammer and a feather at the same time on Earth, the hammer would fall more quickly but if you did the same experiment in space, they would both take the same time! This is due to there been no gravity in space!
We also learnt about the moon's phases and why the moon looks like it is a different shape each night!
The children and teachers had a fabulous time!
Space
What an exciting start we've had to our half term! We launched our Space topic and all of the children are very excited and enthusiastic about our learning. Today, we have looked through lots and lots of non-fiction books all about Space. We learnt lots of new information.
We identified the features of non-fiction texts and collected information on one particular area. This will help us to create our own piece of non-fiction writing later in the week! We are looking forward to sharing some of these pieces at our class assembly.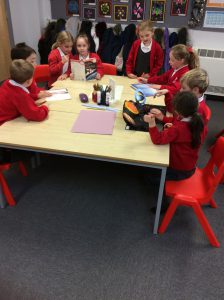 Our Christmas Play
A huge congratulations to all of the Year 2 children. Each and every one of you performed fantastically! The children have all worked so, so hard over the past few weeks; learning their lines, songs and dances and all of their hard work paid off! All of the children enjoyed it and it helped us to remember the reasons behind why we celebrate Christmas. A huge thank you to parents for all of your support and sending in fantastic costumes. The children all looked wonderful!
Our Visit to Liverpool
We went on a visit to Liverpool as part of our project work. First we went to the Anglican Cathedral where we looked carefully at the features of a Cathedral and the stained glass windows. We spent some time designing our own stained glass windows and using a viewfinder to draw parts of the Cathedral.
After that, we looked at the waterfront and spotted lots of the features that we had looked at in our lessons!
Finally, we looked at a wonderful painting in the Museum of Liverpool, by artist Ben Johnson.
Diwali Day
Last week we learnt all about the Hindu festival, Diwali. Diwali means 'festival of light' and it is celebrated to remember that the good always overcomes the evil. We came to school in brightly coloured clothes and participated in lots of lovely activities! First, we had a fantastic assembly led by the Global Awareness Team, then we learnt about how and why Diwali is celebrated before making beautiful Rangoli patterns which look lovely on display! What an exciting day we had!
Our Trip to Tesco!
What a wonderful time we had on our trip to Tesco! We were given lots of information about the importance of eating a balanced diet. When we arrived, we put on our hats and listened to Jo tell us all about the food groups.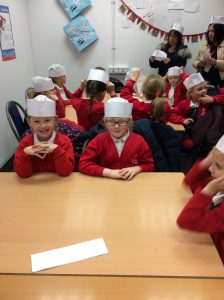 We went on a special treasure hunt to find fruit and vegetables of certain colours.  After that, we had a great time exploring the fish counter, the cheese counter and the bakery. We learnt all about how cheese is made, how bread is baked and packaged and all about the different types of fish that are sold.
After exploring the store, we enjoyed tasting lots of yummy food and standing inside the huge fridge and freezers. We had a great time and all of the children thoroughly enjoyed it!
Washing Our Hands
As part of our happy, healthy me topic, we have been learning all about eating healthily, keeping fit and staying clean. We completed an investigation to find out:
'Which is the best way to wash our hands?'
We ensured that we created a fair test – we looked at what we could change in our experiment and what we would keep the same. The children came up with some wonderful ideas! We chose 4 children to demonstrate. We put cinnamon, mixed with oil, on their hands. We then tested which was the best way to wash our hands.
We tried warm water and cold water and then using soap and not using soap. We found that warm water, with soap worked best.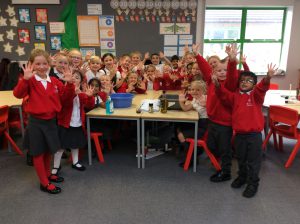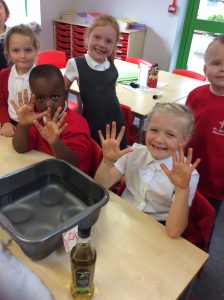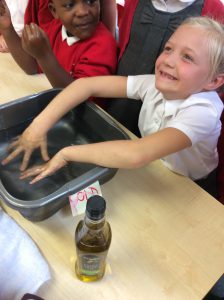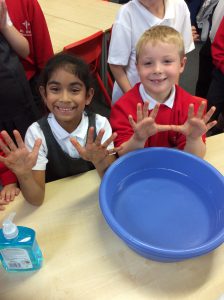 Roald Dahl Day
We had a wonderful time yesterday celebrating Roald Dahl Day. First, we gathered in the hall with the rest of the school for a special assembly. We were joined by two special visitors, Michael and Kate, who helped us create a Roald Dahl Chronology.
After our assembly, we went back to class and had a mini parade to show off our wonderful costumes! We then finished reading The Enormous Crocodile before ordering pictures and retelling the story in groups.
After lunch, the children enjoyed using their hand-prints to make crocodile pictures! We added sharp teeth and big eyes!
We had a fabulous day!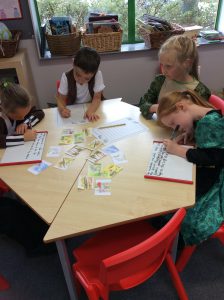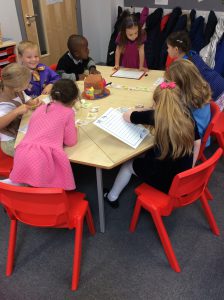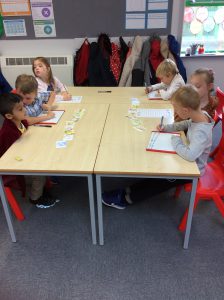 Learning From Year 1
Masizani Day
We were so excited to celebrate our school partnership with Masizani Primary in South Africa.We all arrived at school dressed in the Masizani uniform colours of blue and yellow. Following Miss Ashton and Mrs Hogan's recent work with the school, we completed lots of activities based around recycling. Take a look at our fantastic plastic bottle creations! We loved making our creatures and flowers. The day also coincided with Nelson Mandela Day. We really enjoyed learning more about him and his inspirational work.
We also learned a South African song with Miss Campbell during Music.
We have thoroughly enjoyed our Dance lessons this half term! We have been learning an African dance. We would make excellent African drummers! Watch the video below.
Library Visit
I always look forward to taking the children to the library because they are so enthusiastic about books! Of course, our most recent visit was no different. The children are always respectful of the library and other people and they behave impeccably. They love nothing more than choosing a great book and sharing it with a friend! We definitely have some authors of the future in our midst! Linking to our current project, we looked for non-fiction books about toys. The children could identify a variety of non-fiction features, including contents pages, indexes and glossaries.
Wheels and Axles
During our project lessons, we have been looking at wheeled vehicles. We thought about what our own toy vehicles have in common. We wanted to explore how to make them move. We began by exploring a fixed axle mechanism. We had to make sure that the wheels could rotate easily. We then looked at a moving axle mechanism. Joshua preferred the fixed axle mechanism because he thought the wheels moved faster and more freely! Emily agreed as she thought it was a little bit trickier creating a moving axle. All of the children worked so well with their partners. They were patient and explored all of the materials.
Practical Maths
We have been recapping our key number facts and how to apply these to word problems. Here are some of the children completing an odd and even number activity. We learned a song to help us remember: 0, 2, 4, 6 and 8 even numbers on a plate. 1, 3, 5, 7 and 9 odd numbers on a line!
Is 52 an odd or even number? How do you know?
A Week of Celebrations!
In Year 1 we love a celebration! This week we have enjoyed sharing in the fabulous achievements of our class mates outside of school. A huge round of applause for them! We have also celebrated a few birthdays.
Miss Ashton's Amazing Teddy Bear Museum!
Well what an exciting morning we had celebrating the opening of our Teddy Bear Museum! We decorated the classroom with our painted posters and bear sketches. We were so excited to have Miss Parsons' class come to visit us! We practised our speaking and listening skills and made sure to SMILE to make our guests feel very welcome. We shared the information from our teddy bear tags with the children. The Reception children answered lots of questions like "Which bear is the oldest?" and "Which bear is the most unusual?".
We also enjoyed sharing a cheeky biscuit whilst some of the class read out their Teddy Bear fact files! We were sad when Miss Parsons' class had to leave but we now feel like we have made lots of new friends. What a fantastic way to end a busy week! Which bear is your favourite?
Warrington Museum Toy Box
We were so excited to receive our toy box from Warrington Museum. It contained lots of toys from the past. We enjoyed learning about the toys and comparing them with our own. We generated some questions about the toys. What are they made of? How do they work? Which toy is the oldest?
Maths learning
Our current maths unit is 'Space'. An objective is to understand how to make turns using mathematical language. During the lesson, we used our knowledge of time and compass directions to help us with this. We worked together to program the Beebots to make whole, half and quarter turns. We thought carefully about making clockwise and anti-clockwise turns. Ella loved the activity and even experimented with three quarter turns!
Parachute Games
We were so excited to go outside in the sunshine and play lots of games with the parachute. We wanted to develop our team and social skills. One of our favourite games was 'Sharks'. Two children had to hide underneath the parachute whilst everybody else sat with their legs underneath it. The "sharks" underneath had to grab our feet! If they succeeded, we became a shark too! The lifeguards patrolled around the outside to try to stop us being caught by a shark!
Phonics
As the Phonics Screening approaches, we have been continuing to practise our blending. We went outside for a Phonics Dash! We split into teams and had to race to collect the real and alien words on the playground. We then had to work together to segment and blend the words correctly. We also went on a Sound Hunt. We used our team work and orienteering skills to navigate the playground and find all of the phonics clues. We loved practising our reading outside! We also completed lots of word building and blending activities in the class room. We love creating our own silly alien words and identifying the sounds that we know. We are all super blenders!
Vegetable Soup
We looked at instructions in English. We made a list of all of the important features of instructions, such as 'bossy verbs' and 'when words'. We followed instructions to make our own vegetable soup. We had to make sure that we had the correct ingredients and equipment. The next day, we wrote our own instructions for Year 2 to follow. We were all very adventurous and tried our vegetable soup. It smelt and tasted delicious!
Clay modelling
In Art, we looked carefully at the shapes of our favourite fruits and vegetables. We used our hands to mould the clay into the correct shapes. We then used the clay tools to create similar textures. The children were very observant and patient and they created beautiful models.
Maths
In Maths, we learned about volume and capacity. We began by discussing the correct vocabulary to describe the liquid in the containers. We then moved on to identifying how many units of liquid could be added to the largest container. We experimented to find a half and one, two and three quarters of the capacity.
Walton Gardens and Grappenhall Heys Walled Gardens trip
We were so excited to go on our trip. At Walton Gardens, we collected our own twigs, leaves and petals and decorated sticky leaves to make plant collages. We also sketched the different plants that we saw. We really liked seeing the animals too. At Grappenhall Heys, we saw lots of different fruit and vegetables. Kate told us how they grow. Some of the plants were grown inside cages because the birds like to eat them! We then planted our own pea seeds that we took home with us. We finished with a story in the gardens. What a brilliant day!
Athletics
Our current PE unit is Athletics. We began by playing some games that required us to run with control. We discussed the best ways to build up our stamina when running. We will be using all of our new skills later this half term during Sports Day.
Dance
During Dance lessons, we learned Spanish dancing. We have added to our dance throughout the half term and we performed it for an audience. We listened carefully to the music and moved our bodies in time. We even pretended to use the castanets! We were really excited to share all of our hard work.
Egg-cellent Easter fun!
We celebrated Easter in school with a special Easter assembly. We retold the story of Easter with role-play and songs. We all brought in decorated eggs for an egg-cellent competition! They were all so creative and unique. The Ethos group chose their favourite egg. We then had an egg rolling competition. It was cracking fun!
British Values Day
We began celebrating British Values Day by thinking about what makes us unique! We looked at the story 'One One You'. We wrote something that is unique to us onto one side of our pebble. Jessica said that what makes her special is that she is kind. Blake said he is unique because he always perseveres. We respected other people's opinions, just like the British Values tell us to do. We then painted the other side to look like the Union flag.
We felt proud of our pebbles. Individually, they are all unique and together they are extraordinary! Just like the people in the United Kingdom. We thought carefully about our British Values and chose some key words to help us better understand and follow them. We all worked together to create a map made up of our finger prints to celebrate our differences.
We also celebrated other unique things in our country, like the Queen, Buckingham Palace and a good cup of tea! We have really enjoyed learning more about the British Values.
Spring Time
In RE, we thought about the changes in the seasons. We discussed the senses that we could use to identify signs of Spring and went on a Spring walk around school. We made notes about our observations. Alex used his sense of sight to see new leaves growing on the trees. Chloe used her sense of smell and thought that she could smell nectar. Eliza used her sense of hearing to hear the new birds tweeting in the trees. Eesha used her sense of touch to feel the soft cut grass. We thought about new life at Spring time and planted our own sunflower seeds which we will look after to help them grow during Spring.
'No Place Like Home'
In English we looked at a new book called 'No Place Like Home' by Johnathan Emmett. The story is about Mole, who wakes up one day and decides he wants to look for a new home. We listened to the story carefully and then retold the events in chronological order, using role play. We imagined how Mole might have felt and discussed whether his feelings might have changed throughout the story. We then generated our own questions for Mole to find out why he wanted to move. We were super excited to use our brand new punctuation glasses! The magic glasses helped us to identify which sentences needed a question mark and exactly where to put it.  Later in the week, we retold the story in our books, using our questions to help us.
Classifying Animals in Science
Linked to the project 'Animal Kingdom', we have been discussing the similarities and differences between different animals. We can group animals in lots of different ways, for example into groups of mammals, amphibians, reptiles, birds, fish and insects. We thought of new ways to sort animals. For example, animals that have two legs and four legs or predators and prey. We can also classify animals into groups based on what they like to eat. We created Venn diagrams to group carnivores, herbivores and omnivores. Do you know which group humans belong to?
Google Expeditions
We really enjoyed having a visit from Google Expeditions! We used our iPads to visit the Gombe National Park, where scientist Jane Goodall observed chimpanzees in their natural habitat. We got to explore the park and the beach . It was a fantastic experience!
Red Nose Day Fun
We really enjoyed wearing our PJs and onesies to school to raise money for Red Nose Day. There were lots of exciting activities throughout the day, including designing our own noses! In English, we looked at the different nose characters. We wanted to imagine the silly things they might say to each other, so we wrote speech bubbles and used exclamation marks. In Maths, we have been looking at tens and ones. We counted how many red noses each child had. We then compared the amount of tens and ones to find out who had more and how many more.
Science week
Wow! What an exciting week we had for Science Week. We really enjoyed being scientists! We completed lots of AMAZING experiments throughout the week, linked to our project 'Animal Kingdom'. We learned all about scientist Jane Goodall, who observed chimpanzees for a long time. Jane wanted to see how similar chimpanzees are to humans. We wanted to observe our own cheeky monkeys (which were gummy sweets) to see if we could help them to GROW! Working in groups, we each had a different liquid. These included water, vinegar, sugar water, salt water and water with baking soda. We put our cheeky monkeys into the liquids overnight to see if they could help them to grow. We made predictions. Joshua thought that the water would help the monkeys to grow because water helps plants to grow. Lily thought the baking powder would help them to grow because baking soda is used to help cakes to rise. Take a look in our gallery to see the results and our other cool experiments!
 
Chester Zoo
We had a very busy day visiting Chester Zoo and learning all about lots of different animals. We saw big animals, little animals and everything in between! Fabian's favourite animal is a chameleon. We were amazed to find out that chameleons can use their tongues to catch flies from very far away! We also enjoyed learning about the giraffes. A giraffe has approximately seven bones in it's neck, just like a human does, but they are much bigger. Their long necks help them to eat leaves from the tallest trees.
World Book Day 2017
This year marked 20 years of World Book Day and we wanted to celebrate in style. Wow! What an exciting day! We had so many fantastic activities throughout the day. Everybody came to school dressed as their favourite book character.
We also had a whole school book swap! Earlier in the week, children brought in a pre-loved book and created a special book mark to recommend their book to another child. Throughout the day, everybody had the chance to go to the atrium and choose a book.
We also completed a whole school silly story. It was called 'The Head Teacher's Day Out'. Each class was challenged to write a part of the story and incorporate an unusual object. You can read the finished story on our website.
In Year 1, we had fun using the Green Screen app on the iPads. The children created their own videos to explain why they had chosen to dress up as a character. They loved the experience of stepping inside their favourite book! Watch the video below.
A HUGE "thank you" to everybody who made World Book Day 2017 such a success!
Masizani Primary School, South Africa
Following Miss Ashton and Mrs Hogan's visit to South Africa, we have been learning all about our South African partner school, Masizani Primary School. We watched videos and looked at pictures and gathered as much information as we could about the school. Even though the school seems so far away and different to ours, we found out that both schools share many of the same values. For example, we always persevere and try our best, we show respect to each other and we show fellowship by always trying to be good friends. This reminded us that, even if people seem very different to us, we are all the same on the inside. We created a South African flag, made up of all of the shared values that our schools have. The children worked really hard to think of examples of when they have shown the shared values. The ideas were shared with the children and staff at Masizani and we look forward to building upon our partnership and creating friendships across the world!
The children at Masizani love to sing and dance and they're very good at it! We watched a video of the Masizani children doing a South African gumboot dance. Here is our class copying them! It was very tricky but we tried our best and loved having a go!
Animal Kingdom GRRRRR!
We began our project with a Science focus. We thought about what we already knew about human body parts and mind mapped our ideas. We then discovered that we had had some very unusual visitors from Chester Zoo! They had left something behind. We used the footprints to think about the different types of animals and their body parts and then classified them. We can name examples of mammals, birds, reptiles and insects. Can you name a reptile which has no legs?
The children also completed some fantastic home learning tasks, based around their favourite animals. A HUGE 'thank you' to all of the adults who helped them.
Art
To celebrate Chinese New Year, we looked at Chinese blossom trees. We thought about the shape, size and colour of the branches and petals. We decided on the best media to use. The children created such beautiful paintings. They showed perseverance and patience.
Science
Sunny has visited lots of different places around the world, including rainy places. We have been looking at clouds and, in particular, how and why it rains. We began by sharing what we already knew about this and what we would like to find out. Ella thought that the raindrops were stored up inside the cloud until they get a bit excited and bump into each other and that causes them to rain! We wanted to test our predictions.
Chinese New Year
Here are some of the fantastic pieces of home-learning that the children brought into school. We loved sharing them! The children found out lots of information about Chinese New Year. A big thank you to all of the adults who supported them.
Meerkat Mail
Our special parcel from Sunny the Meerkat.
St John's Ambulance
In Autumn 2, we met local heroes and heroines and were inspired by their amazing stories. We were very excited to have a St John's Ambulance presentation. The children learned the importance of ringing 999, how to check if somebody is breathing and how to wrap a bandage correctly. The children listened carefully and followed instructions very well. They were all excited to receive special certificates from St John's Ambulance. We now have 29 new first aiders to help out!
Christmas Performance
This year, our Christmas performance was called 'Children of the World'. We really enjoyed learning about how children around the world celebrate Christmas. There were so many lovely traditions to learn about! Did you know that Christmas is celebrated during the summer holidays in Australia? We'd love to spend Christmas day playing on the beach! We performed the play for our families and were very proud of ourselves. We hope you all enjoyed it!
Fun Run Celebration
As you will be aware, in Autumn 1 we completed a Fancy Dress Fun Run in school to raise money for our new playgrounds. The children who raised money were awarded gold, silver and bronze medals and all of the children received a very special certificate for taking part. We are very proud of all of them and a BIG thank you for everybody at home who supported them. Hip, hip, hooray for our fantastic pupils!
Charlie's Superhero Underpants
In line with our project, we read lots of different superhero stories. During English, we looked at the story of Charlie's Superhero Underpants. Unfortunately, Charlie had lost his special superhero underpants and we had to look at all of the clues to help him find them. We noticed something very unusual about the clues… they had rhyming words! We used a special rhyming crown to think of our own words which we could add to the rhyming string. Can you finish this rhyming string? Night, light, bright….
Heroes and Heroines
To begin our new project, Heroes and Heroines, we had a very special visitor. Local Paralympian, John Stubbs MBE, came to visit us. He told us all about his career and achievements. We were very excited to see his special bow and arrow and gold and silver medals! John inspired us to persevere and always try our very best. We had lots of questions to ask him.
Year 1 Detectives
This week we became detectives! We returned to the corridor to find a crime scene. There were lots of unhappy fruits and vegetables. We also received a letter from Mrs Wightman asking for our help! She asked us to collect all of the clues and to write about them. We wrote simple sentences about the snacks and worked with a partner. We joined two sensible ideas using the conjunction 'and'. We made predictions about who the culprit could be.
Owen thought it was a Year 6 teacher because he hadn't seen them in the assembly hall earlier that morning.
Kuziva thought it must be Mr Dodd because he knows the building very well and could hide easily.
Who do you think the culprit could be?
Lego Workshop
The children created such lovely models during our Lego Workshop. They really enjoyed working together. We combined all of the models to make a lego city! We even used a circuit to light up the lego houses. What would you like to make?