Welcome to our class page. Please check regularly to find out all about our exciting learning.
Reminders and Dates for the Term Ahead
Please check the year group page for online learning activities.
Our Learning
Below you will find lots of photographs about the learning in our class.
Last Day
I can't believe that this might be our last day together! I have thoroughly enjoyed teaching you all for the months we spent together. I am proud of everything that you have accomplished and I will miss you all!
World Book Day
What a super day we had for World Book Day! The children enjoyed visiting other classes and developing their love of reading.
British Science Week
During British Science Week, the class took part in a range of exciting activities including a physics and a biology workshop which was very interesting!
Science – Electricity
In Science, we have been investigating electricity and the effects voltage has on circuits. The children came up with their own question to investigate such as: How does voltage affect a bulb? How does voltage affect components in a circuit?
Children in Need
Children in Need began with a Joe Wicks live workout; we joined other schools across the country for a Pudsey inspired workout. The children were lucky enough to be visited by Pudsey himself! Thank you for all of your donations.
Debate
Our class had an interesting debate on whether wearing a poppy should be compulsory. It was very clear that the children had done their research and they came up with some very interesting points which linked closely to the British Value, individual liberty.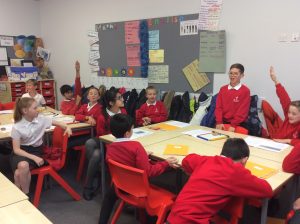 Show, Don't Tell
In English, we have been focusing on using descriptive language in our writing. We have looked at how we can show the reader, rather than tell them how a character is feeling. We focused on different emotions and acted them out thinking about how we show that emotion.
Conscience Alley
As we continue to read Street Child, we discovered that Jim is faced with a dilemma: does he stay or leave the workhouse? We thought about points for and against him leaving and used the drama technique 'conscience alley' to think deeply about our reasons. Following this, we wrote to Jim to persuade him to stay/leave.
Victorian Trip to Tatton Park
What a fantastic day we had at Tatton Park! Despite being a rather wet day, the children learned all about life of wealthy Victorians, and also about the life of servants. The children got to experience first hand the jobs that boys and girls would have to do such as preparing the dinner tables for afternoon tea for Lord and Lady Egerton and garden maintenance which was undertaken by the garden apprentice. As garden apprentices, we made our own recyclable plant pot and planted pea plants – these are now in the planter outside the spare year 6 classroom!
Street Child Drama
This half term, our project is The Victorians. We are reading the book 'Street Child' which is all about a young boy called Jim Jarvis. Jim, his mother and his two sisters (Emily and Lizzie) are evicted by the heartless rent-collector, Mr Spink; they are forced out onto the cold and dangerous streets of London. The children thought carefully about Mr Spink's character and composed a piece of drama to help them with their writing.