Welcome to our class page. Please check regularly to find out all about our exciting learning.
Leavers
Thank you so much for a brilliant year! You have worked so hard and you should all be very proud of yourselves – I know I am very proud of you! Good luck for the future.
Our Learning
Sports Day
We finally had good enough weather and enjoyed our sports day! The children all put in lots of effort and cheered each other on.
Menai
We had a brilliant week on our residential to the Conway Centre in Menai. The children participated in lots of activities including raft building, rock climbing, zips and ropes, mountain biking, canoeing, kayaking, bushcraft and stand-up paddle boarding.
Cathedral Visit
The children had a great time at Liverpool Anglican Cathedral for some transition workshops and a leavers' service.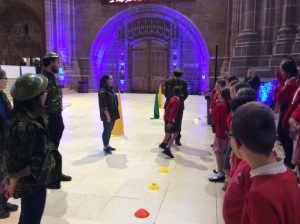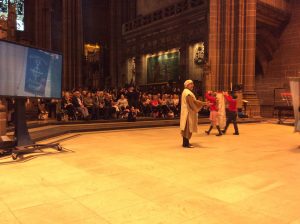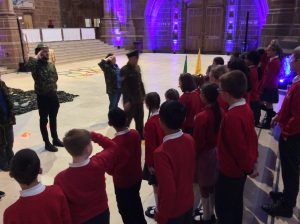 Holy Week Drama
To close our topic, we considered the big question 'Who is Jesus' in relation to the events of Holy week. In order to empathise with people from the time (both supporters and enemies of Jesus), we acted out scenes from Holy Week. After creating a freeze frame, we got into role and explained how different people might feel about Jesus and who He was.
Easter Fun!
A massive thank you to the Ethos group who organised Easter activities for all of the classes. We loved participating in an egg-cellent egg and spoon race and an eggs-traordinary egg hunt! I'm sure the extra eggs will be found eventually!
Team-Building Exercises
We have been having a big focus on working well in a team and what it means to work effectively. The children took part in a series of group activities that aimed to improve their communication skills. After some children had their voice taken away, they realised how vital it was to be able to communicate well and give clear instructions.
Bollywood Dance
The children have worked extremely hard this half-term to learn a Bollywood dance. They worked in small groups to choreograph a section of the dance, and then as a class to piece it together. Mrs Wightman thoroughly enjoyed watching the children perform, and even asked to see it a second time!
Orchard Visit
Our class were lucky enough to visit the Westbrook Community Orchard on a sunny day after all the bad weather we have been having! We revisited classifying plants and animals, a tricky topic we covered at the beginning of the year. By playing classifying games, we improved our questioning skills to help group living things. The children then searched for living things to use in our games. The children really enjoyed the visit – a huge thank you to Mrs Hogan for organising it!
Liquid Nitrogen Workshop
The children had a fabulous afternoon learning about liquid nitrogen with our visitors. They had the opportunity to crush a flower that had been immersed in liquid nitrogen – whilst wearing gloves, of course!
Freedom Music
The children have been reflecting on freedom this half-term and produced some fantastic poetry on the topic. They wanted to set their poems to music so they had glockenspiels and percussion instruments to express freedom through music alongside their poems. They sounded great and the children worked well together to perform their piece.
Gymnastics Routine
The children did a brilliant job of applying all of the skills they have learnt over this half-term. They created a routine in small groups, using balances, jumps, lifts and levels. We watched and critiqued the final performance.
Country and Western Dancing
The children performed their Country and Western dance for Mrs Kennerley's class who really enjoyed it and gave some positive feedback. The children choreographed part of the dance in small groups.
Smoothies
The children were really excited to finally make the smoothies that they had designed. They enjoyed preparing the fruit and blending it; however, some groups weren't so keen on the flavour of their smoothie! We then evaluated the finished products and suggested ways of refining them.
Protest – Modern Slavery (Victim Support) Bill
In Year 6, we have been exploring the social injustice faced by victims of Modern Slavery. We conducted some research to discover the different types of slavery as well as touching upon its history in order to better understand its context.
We then found out about the Modern Slavery Act 2015 which was introduced to facilitate prosecuting human traffickers. After this, we discovered that a new bill, the Victim Support Bill is making its way through parliament; however, its second reading in the House of Commons has been postponed. The children thought this was unacceptable as the victims of slavery receive very little support after they have been freed. Some children wrote to our MP, Helen Jones, to ask her to help bring this issue to light once more, and others created leaflets and posters to distribute during a protest in our local area.
Science – Effect of Drugs and Alcohol on the Body
In science, we have be exploring how drugs and alcohol affect the body. To help the children discover the effects of alcohol, they tried on some glasses to show how our vision might be affected.
Health Week
We have had a fantastic Health and Well-Being Week and it has really complemented our Healthy Living topic. We completed 30 minutes of exercise every day, including a boot-camp on Friday afternoon when our brilliant Sports Ambassadors organised lots of different activities for us. We also took part in a Zumba class which was great fun! In science, we investigated pulse rates and in Design and Technology, we started to plan our smoothie recipes, conducting market research.
RE – Moses and the Exodus
This week, we reminded ourselves of Moses' life journey, concentrating on the events of the Exodus. We read extracts from the Bible from our Worship Box, watched videos and performed some drama. The children created short role plays of the various parts of Moses' life, shown in the photographs below. This will lead on to exploring how Jewish people celebrate Passover.
RE – Significant Events and Freedom
Our unit of learning for RE this half term is "Why is the Exodus such a Significant Event is Jewish and Christian History?" To start off, we explored what makes an event significant and thought about why it might be important to remember these events. We also discovered how some significant events are related to freedom and created freeze frames. These events included the abolition of slavery, votes for women, the release of Nelson Mandela, the end of WWI and Obama being sworn in as president of the USA.
Clippy Birds: Survival of the Fittest
In Science, we explored the idea of evolution and the survival of the fittest. The weaker animals (or animals less suited to their environment) die off, and the strongest survive and reproduce to create even stronger and better adapted offspring. This evolution happens over millions of years, and can even result in a new species being formed.
In our activity, the children had different 'beaks' (pegs and clips), which were used to pick up their 'food' (red lentils, butter beans and black-eyed beans). Depending on how much food was collected, the birds died, survived or survived and reproduced. We found that the Tiny Beaks (the pegs) survived and reproduced the best because their beaks were better adapted to picking up the food which gave the most calories; furthermore, they needed fewer calories to survive and reproduce. The Gaping Beaks were quickest to go extinct as they need a lot of calories to survive and their beaks were not well adapted to picking up the most calorific food!
Music
This half-term, the children have been exploring the music of Michael Jackson. As well, as singing (including adding harmonies), they have been practising parts on the recorders.
Anti-bullying Week
During Anti-bullying Week, we had some discussions about the different types of bullying, what children could do if they were being bullied, and what they could do to help someone who was being bullied. We also used drama techniques to act out various scenarios of what should be done in a particular situation.
RE Drama – Acts 21
Our RE topic this half-term is 'People of Faith' where we are exploring how faith affects people's lives, how early Christians helped to build God's kingdom and how present Christians are continuing to do so. Paul was an early Christian and helped to spread the word of Christ. We read Acts 21 together and the children re-enacted different parts of the passage.
World War II Drama
For the beginning of our new topic on World War II, we listened to the radio broadcast by then-Prime Minister Neville Chamberlain, announcing that Britain was at war with Germany. The children then performed some role play, showing how people might have reacted while listening to the wireless from their living rooms.
Badminton Tournament
At the end of the half-term, we combined the 2 classes and played doubles matches, class vs class. It was very close, but overall, Miss Cragg's class won. It was a great chance for the children to apply everything they have learnt during this topic.
Corporal Punishment Debate
On Monday children researched arguments for and against our debate topic: 'Should Corporal Punishment be Reinstated in Schools?' We held the debate on Tuesday and the children participated fantastically, ensuring they were arguing their points effectively.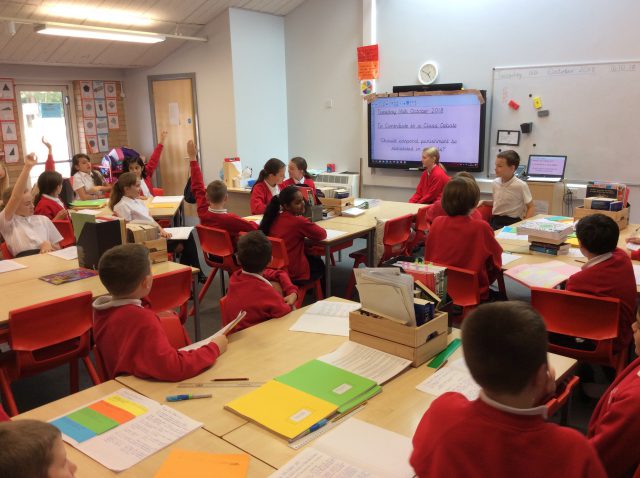 Design Technology – Victorian Tea Pots
After researching Victorian tea pots and designing their own, the children really enjoyed bringing their designs to life using clay. Some parts of the tea pots were very intricate and tricky to make, but the children persevered well throughout the lesson, and produced some fantastic-looking designs.
Victorian School Role Play
After our successful trip to Quarry Bank Mill this week, we explored the lives of children in Victorian schools. I started off in role as a strict teacher and we performed several typical tasks: handwriting practice (with intricate lettering!); naming countries on a map; checking children's fingernails for hygiene; and reciting bible verses. Luckily, all of the children avoided getting the cane, but some had to wear the dunce's hat!
The children then worked in groups, with one child taking on the role of teacher. Afterwards, we did some hot seating to find out the feelings of a teacher and a child in Victorian times. This led into writing a diary entry from the perspective of a child.
Quarry Bank Mill Trip
We had a fantastic day at Quarry Bank Mill on Monday, learning all about the apprentice children who worked in the mill. It was fascinating to discover the working conditions of the children and comparing it to our lifestyles today. The children all agreed they wouldn't have liked working in a cotton mill at the beginning of the Victorian era! The staff and volunteers were very complimentary about the children's behaviour.
Mould Investigation
Our Science topic for this half-term is Living Things and their Habitats, and we started off by investigating micro-organisms. Three slices of bread were used: the control which was placed into a bag with minimal human contact; the second was touched by all of the children after they had shaken hands with each other; the final slice was touched by all of the children after washing their hands. This led to an important discussion about making sure we wash our hands properly to avoid spreading germs and becoming ill. We recorded our observations daily.
Drama Activity
In class, we have been exploring the wordless book, Journey by Aaron Becker. We looked at an extract from the book and reenacted various scenes, eventually creating a freeze frame. The children will also do some creative writing based on this extract.
Year 5
Visit to the Foodbank Warehouse
A group of Year 5s were nominated by their classes to make a visit to the Foodbank Warehouse in Warrington.  We had an exciting trip on the local bus, where we spoke to several members of the public, who all agreed that it was a shame that Foodbanks are needed.  We then walked to the warehouse, where Rob, the manager, got the children working!  They had to label the food with the best before dates, sort them into buckets and then weigh them.  Then Rob asked them to place their items in the correct places on the shelves.  We even helped to prepare an order for the distribution centre, before getting the bus back to school.  What a morning! The children are now preparing a presentation for the rest of the class.
Foodbank Warrington
As part of our PSHE and Geography work, we have been learning about volunteer groups in our local community.  Foodbank is an essential part of our town, which is quite sad – we can hardly believe that in 2018 there are people in our community who do not have food to eat.  Andy, from Orford Foodbank, came in to tell us about the work of the Trussel Trust and why foodbanks are necessary.
Reading for Enjoyment
We have loved using our new school library – look at how chilled out we are!
St Gregory's High School Taster Day
Year Five have been very lucky today. We have been to a taster day at St Greg's. Throughout the day we have experienced life as a secondary school pupil. The children had a really exciting day trialling lessons such as Trampolining, DT/Resistant Materials – making our own key rings, and Science. Some groups even went to the school library where they took part in an exciting quiz! I am sure we are all now looking forward to joining secondary school in a year or so.
London Trip
We had an AMAZING time in London!  Take a look at our photos – we went to the Tower of London – sorry no pictures of the Crown Jewels – the Natural History Museum, the Palace of Westminster and we even saw a fabulous show.  Thank you to everyone who made it possible.
Walk Through The Bible
This half term, Year 5 are having a special visitor. He will be using drama to tell the story of the Bible from the Old Testament to the New Testament.
Curtis Jobling Visit
We had an inspiring day when author and illustrator Curtis Jobling came into school.  He drew some of his characters, read from his books and introduced us to Curious Cow.  Later, he explained how top authors – like him – write fantastic stories and when we had a go, we were impressed with the results.  Imagine getting a masterclass from the creator of Bob the Builder – incredible!
Spaceport and Indian Art
We have had a really busy week in school this week. We visited Spaceport in Birkenhead on Friday as part of our 'Space' Topic. Whilst at Spaceport, we learned about how to become an astronaut, how the planets orbit the sun and how to make a rocket take off. Also, the children also took part in an Indian Art workshop with a visiting artist. They all loved coming back covered in glue! Here are some photos of our week!
Health Week
As part of Health Week, we decided to explore balanced meals.  We made some very tasty wraps, using lettuce, tomatoes, cucumbers and cheese – yum!
Our Fabulous Class Assembly
We really enjoyed sharing our learning in our class assembly this week.  Facts, songs, poetry, artwork; it had it all.  We hope that everyone who came to watch had as much fun as we did.
World Rivers
This afternoon we have been investigating world rivers, by locating them in our atlases and then finding out a bit more information using the iPads.  It has been interesting to find out that each river is so different.  For example, did you know that the mouth of the Amazon River is wider than the length of the River Thames?
Christmas Dance
Year 5 have been fortunate enough to have a one-off dance lesson with Becky. We have worked on a special Christmas-themed dance to 'Rockin' Around the Christmas Tree'. Below are some pictures of us.
Clay Monkeys
Artists from Central and South America have been our focus this half-term, relating to our History topic on the Mayan Civilisation.  We noticed that some artists focus on monkeys, and other jungle animals from the region, so we decided to try our hand at clay monkeys.  Some are cheeky, some funny and some mischievous-looking – remind you of anyone?
Eggs-citing Science!
This morning we finished our week's Science by throwing eggs off a bridge!  Don't worry!  We were testing the parachutes we had made.  We have been investigating air resistance and we wanted to know if our parachutes would take an egg safely from a great height to the ground.  There were varying levels of success, as you can see from our photos!
Museum of Science and Industry
We had a fantastic time on our trip last week.  We explored different forces in the 'hands-on' exhibitions, experienced the wonder of machines powered by water, steam, air, gas and coal, and took part in a 'Forces and Flight' workshop.  We found out that Sir Isaac Newton discovered the concept of gravity when an apple fell on his head!  This experience has helped us to understand different forces in action and we cannot wait to follow this up with our classwork.
Diwali
Learning about Diwali today has been fun and interesting.  We have used many of our senses, as we tried some delicacies made by Mrs. Sen, drew some traditional pictures with powdered rice and designed our own mehndi patterns.  Mrs. Sen explained what Diwali is all about and she dressed Mrs. Bradley in a beautiful sari. We can't wait for our dance workshop tomorrow.  Happy Diwali!
We are Historians
Today we have been using our Historical skills to answer questions about the Native Americans.  We were given a general area – such as food, houses, etc. – then we had to develop a question we wanted to answer.  In our groups, we used cooperative skills to search for information and decide if it was useful and/or accurate.  Deciding if we were looking at primary or secondary sources was challenging, as sometimes it's hard to tell.  We thought about asking Mrs. Wightman if we could go to North America to look at some real totem poles and tipis….
Rock Kidz
Well, what a fantastic time we had with Cy and Jonathan from Rock Kidz.  We discovered many things about ourselves, including that it's cool to be me, we should respect everyone and we definitely don't want any bullying here!  Mrs. Bradley learnt how to rap nursery rhymes – well, almost – and we all learnt that perseverance really pays off!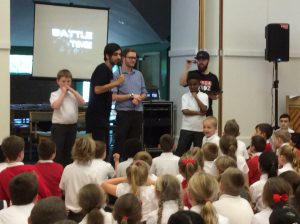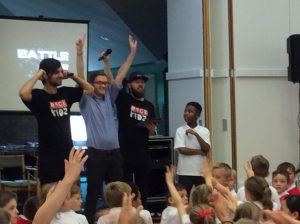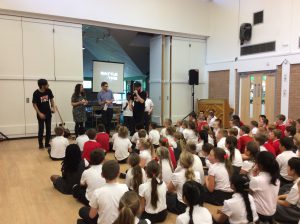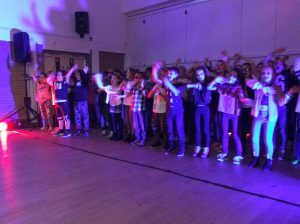 Christmas – Already?
Yes, Christmas is not too far off and we have been creating our own fabulous Christmas cards.  The children brought them home on Friday and I'm sure you'll agree that they are very impressive?  If you haven't done so already, please return the completed form and money as soon as possible and no later than 18th October.  If you do this, then we can get the completed cards back to you, all ready for sending at Christmas.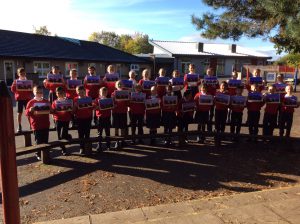 Chemistry with Cabbage
The lovely Lorelly Wilson came into our class on Friday and we were totally amazed!  We had no idea that you could use cabbages to do Science investigations, did you?  We tested lots of everyday liquids to see if they were acids or alkalies, we discovered how our stomachs break down foods, so that we can digest them and we made some lovely slime to take home.
We also discovered that nail varnish remover dissolves polystyrene in the same way that water dissolves sugar – incredible!
We had a fabulous day and said, "Wow!" a lot!  We can't wait to learn Chemistry at High School.
Road Dahl Day
We had a fantastic day, dressing up as characters from the wonderful Roald Dahl's books.  Taking part in the workshop with Michael was brilliant, as we pretended to be James (from James and the Giant Peach), his awful aunts and some of the creatures from the story.  Incredibly, we also discovered that it's possible to pretend to be a city, like New York!
Later, we made up verses of a song about James and the Giant Peach and then sang them to each other.  Some were funny, some were tuneful and some will keep Mr. Callaway and Mrs. Bradley humming for a while to come! Perhaps we should produce our own record?