Welcome to our class page. Here, you will find information about the children's exciting learning, as well as any key dates or important pieces of information that you will need to know for the upcoming weeks and months.
Reminders and Dates
Homework will be sent home each Friday, and should be completed and returned by the following Thursday. Spellings will also be sent home on Friday and should be practised in preparation for our spelling test each Thursday. Our PE days will be Wednesday and Friday, so please make sure that children have both their indoor and outdoor kits available for this.
Geography Debate
Today, we debated the question 'Would it be better for children our age to live in a city or a village?' Before we began the debate, we discussed what physical and human features are and we thought of some examples of features you may find in a city or a village. We then discussed what a democracy is and how to debate in a fair and balanced way, through contributing positively and listening to others. After this, we were assigned various roles. We had a chairman, a timekeeper, an audience and two opposing teams; one FOR a village and one FOR a city. The teams were given some time to prepare for their speeches and to come up with answers for possible questions from the audience. During the debate, both teams made valid points. After listening to both teams, the audience came to the conclusion that it would be better for children our age to live in a village.
Electricity Workshop
Within science, we have been looking at electricity. Today, we took part in an electricity workshop where we learnt all about batteries and voltage, circuit symbols, conductors and insulators and different types of circuits. We had lots of fun creating our own circuits and experimenting with bulbs, switches, buzzers and motors. We also conducted an experiment to see which materials were conductors and which were insulators!
Children in Need
On Friday, the children were invited to come to school dressed in yellow and spots to raise money for Children in Need. We started the day by joining in with Joe Wicks' Big Morning Move where we completed a 10 minute workout. We then had a surprise visit from Pudsey Bear! We had a great day thinking about how we could help children who are less fortunate than us.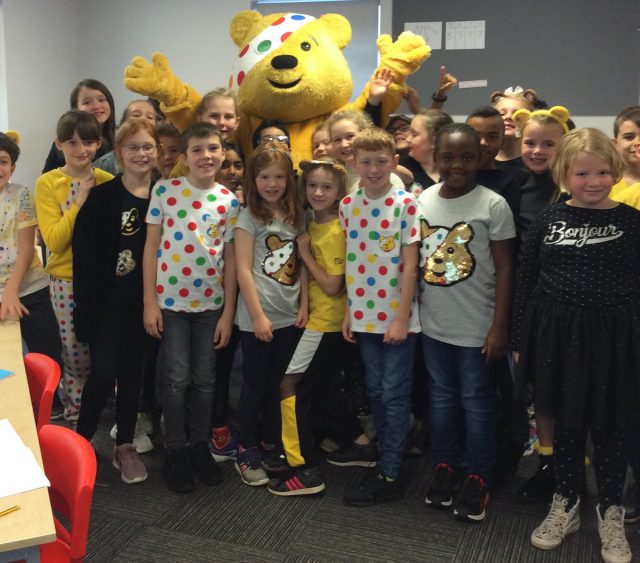 Roman Food
To finish our project about the Romans, we had a DT day where we designed and made our own Roman meals. First, we looked at healthy eating and balanced diets. We explored different food groups and each type of food helps (or doesn't help) your body. We then worked in partners to plan a healthy plate of Roman food. We had to think carefully about how to organise the food to make it appealing. We then used a range of foods to create our Roman Meals. We used foods such as olives, lettuce, tomatoes, pitta bread, olive oil and honey. We had to make sure that we cut our foods safely using a bridge grip and a claw grip. Once we had made our delicious plates of food we got to eat them! As we ate our food, we evaluated our creations. We thought about the appearance, colour, smell, taste and texture. Have a look at our fabulous Roman food below.
Chester
We had a fantastic day in Chester to learn more about the Romans. First, we marched to the remains of the amphitheatre with our armour and shields to learn about the Roman formations and tactics. After that, we spent some time in Grosvenor Museum where we found out lots of facts about how the Romans lived their lives. In the afternoon, we took part in a workshop where we pretended to be archaeologists and we explored some Roman artefacts. We also had the opportunity to dress up as Romans and Celts, and we completed activities like building a Roman roof and smelling a range of medicines that the Romans used. We had so much fun and we can't wait to continue our learning back in our classroom.
Roman Battles
Today we took part in a dance lesson where we learnt about the battles between the Romans and the Celts. We discussed the idea of the Romans invading and conquering England. We looked at the different military formations that the Romans used in order to defeat their enemy.
The first formation that we looked at was The Tortoise. In this formation, the Romans huddled together and used their shields to create a shell around them. This ensured that they were protected from any spears or weapons that came near them. We had a go at staying in the formation and moving as a group towards our enemy. We had to move really slowly to ensure that everyone stayed protected behind the shields.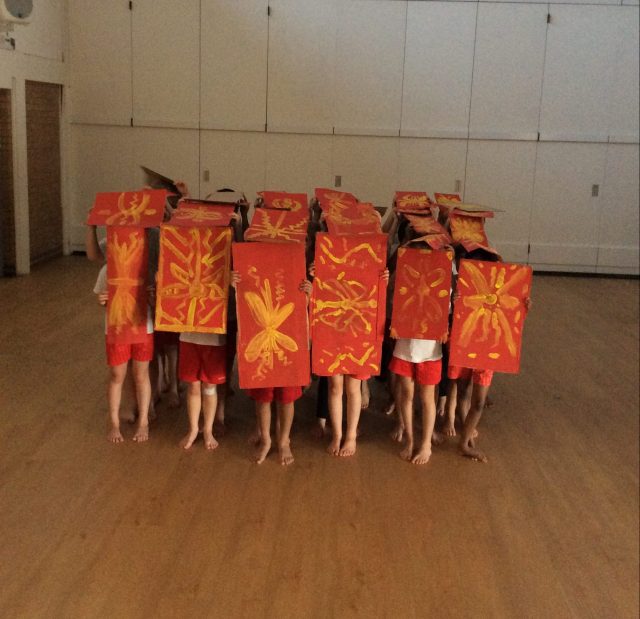 We then looked at The Triple Line. In this formation, the least experienced soldiers stood in the front, and the veterans stood towards the back. We had a go at moving as a group towards the enemy. Once we were close enough, the front line threw their spears at the enemy and then retreated to the back of the formation behind the veterans.

The last formation that we looked at was The Wedge. This is where the Roman army would create a triangular shape, with the veterans positioned at the point. In this formation, the Roman army would charge at the enemy and use a range of weapons to defeat them.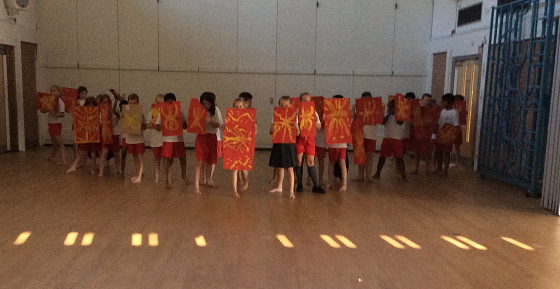 Westbrook Orchard
This week we went on a walk to Westbrook Orchard to learn about Classification. We played a 'Guess Who?' game where we had to work out which member of the class had been chosen. We had to ask a range of questions in order to narrow down the options and eventually find the chosen person. We had to think carefully about which questions we could ask to remove as many people as possible. After this, we then had a chance to investigate the area and to look for different species of plants and animals. Once we had a few ideas, we played 'Guess Who?' again. This time we had to ask questions in order to work out a species of plants or animals. We had great fun learning all about plants and animals in the sun and we can't wait to carry on our learning in science.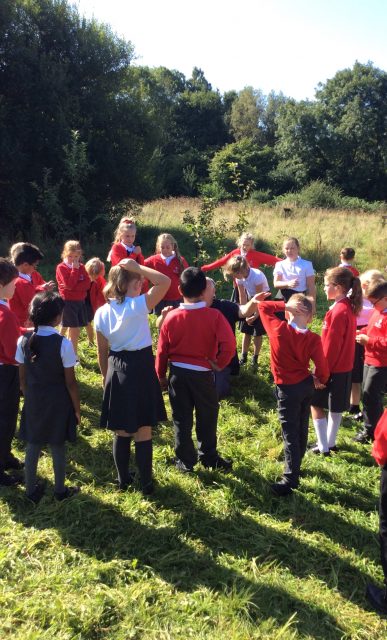 Our Learning in Year 3
Science – shadows
Our science topic this half term is all about light and shadows. To begin with we thought about how shadows are formed and how we can change the size of a shadow. Do you have to move closer to or away from a light source? The children enjoyed making shapes on the playground emulating the video they had watched in class.
Quidditch
Today began with a sorting hat. We were all sorted into Hogwarts houses and then the games began. Each class took part in an exciting game of Quidditch on the school field. The rules were tricky and the game was very fast, but everyone enjoyed it.
Sports Day
We were blessed with good weather for this annual event. All of the children picked which races they wanted to take part in and raced with huge smiles on their faces. It was nice to see such wonderful team spirit as they cheered for their classmates.
Ancient Greek Day
To end our Ancient Greek topic, we had a wonderful day filled with drama and art. We learn what life was like in Sparta and Athens; how these groups of people lived, their differences and what it would have been like to have been a child in these times. It was an incredibly exciting day full of active learning.
Mission X – Drama
We often use drama in Year 3 to help us come up with ideas for our writing. Today, we imagined that we were off on our Mission X adventure. The morning began with the launch. Everyone strapped themselves in to prepare for take off. Once at the International Space Station, we had to complete a space walk before enjoying our space meal. It gave us lots of wonderful adjectives to add to our work.
Design and Technology – Sewing
As part of our Mission X topic, the children have designed their own badges to adorn a space suit. They had to make the design match a specific set of design criteria and then practise a range of stitches to complete their badge. The children worked really hard and learnt lots of valuable skills.
Mission X
This half term, we have learnt what it takes to be an astronaut and be given a mission on the International Space Station. In one of our PE lessons each week, we have focused on the training that all astronauts undertake before they can venture into space. It was tough going and we all felt the we had improved our strength, coordination, flexibility and fitness.
Team work was also very important in space so all half term we have had challenges to complete in groups of different sizes. Mrs Wightman came into one of our lessons and commented on how well we all work as a team.
Our topic ended with some space writing. We used drama to imagine that we were blasting off into space. Ben thought that it was very noisy, and Sam loved our space walk.
The writing that the children produces was lovely and has made a wonderful display in class.
As part of Mission X, we all designed a badge that we could wear on the back of our space suit if we were chosen to travel to the International Space Station. Over several weeks we learnt different stitches and practised these on binca. It took a lot of hard work, but our finished designs are quite wonderful.
The topic ended with a space feast when we all got to try out space food. The ice cream was delicious, but we all agreed that fresh fruit is much nicer then dried space fruit.
Tennis
To end our tennis topic in PE, Miss Stubbs organised a tournament between our class and the other Year 3 classes. The children played incredibly well, using all of the skills that they had learnt, but what was most wonderful to see was the team spirit that all of the children showed.
British Science Week
Today we launched British Science Week with a bang with a visit from the Science Boffins. We had a magnificent assembly where Rodney, our boffin, showed us what happened when chemical mix. In our classes, we learnt about electricity and polymers and made slime. The day ended with an exciting rocket launch on the school field.
Later in the week, we looked at what happened when Skittles were placed in water. The children were amazed as the colouring from the sweets diffused through the water to make beautiful patterns.
Our focus this half term is fair tests so on Wednesday we planned a fair test to see which vinegar reacted best with baking soda to produce the best fizz. We had to use our observational skills and measure carefully.
Not to miss engineering out, we had an afternoon making paper aeroplanes. The children were given a basic template, made their aeroplane and then adapted the design and re-tested. At the end of the afternoon, we had one final test and a winning design was decided.
To end the week, we performed the Mentos challenge. We used different types of fizzy drink and measured which one had the fiercest reaction.
World Book Day
We had a wonderful day today, full of with book filled excitement. We enjoyed sharing books, making book covers and telling stories.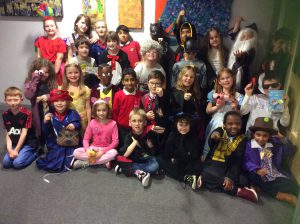 Pancake Pledges
Today we were lucky enough to receive a gift of pancakes from church. The children all wrote a pledge for Lent, but instead of giving something up, we thought about what extra we could do as we prepare for Easter. Some of the children wanted to donate items to the food-bank or charity. Others said that they would be more helpful at home.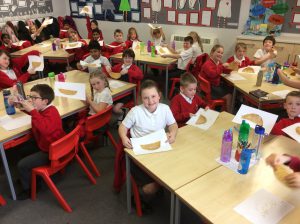 Geography – Map Symbols
This half term, our geography topic looks at maps and map skills. Today the children have designed their own maps of an imaginary space world to link to our Mission X work. They have created a key of symbols and added these to their maps. It was fantastic to see the children developing their teamwork skills and working collaboratively.
Story Telling at Westbrook Library
Last week, Year 3 classes were captivated by the fabulous story telling skills of John. John retold the story of The Twits by Roald Dahl which many of the children have already read. None of them, however, had seen the story performed in such an exciting and interactive manner. The highlight was definitely Mr Twit painting 'Hug Tight Glue' all over the room, the teachers and the children. Spending time at the library has inspired us all to tell more stories and have more fun with our reading.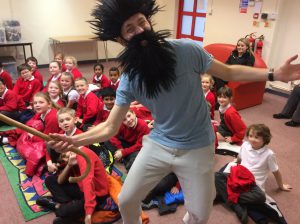 Egyptian Day
To end our topic, we had a fabulous day dressing up as Ancient Egyptians. The children took part in a drama activity where they learnt what it was like to be an archaeologist and make incredible discoveries in ancient tombs. They learnt about hieroglyphics and made bookmarks, and became ancient embalmers and mummified oranges. We are going to use our observational skills in British Science Week to look at the changes that have occurred to the oranges. A highlight for many of the children was the banquet although some children were not fond of all of the foods that were on offer. The whole day was filled with fun and lots of exciting learning.
PE – Gymnastics
This half term, the children have been developing their balancing. They have used key gymnastics shapes, star, tuck, pile, straddle and straight, to make a series of balances alone, with a partner and in groups. Some children demonstrated this as part of our class assembly.
Health and Well-being Week
This week has been all about looking at keeping our bodies and minds healthy. To look after our minds we used meditation and mindfulness to think about living in a moment, and trying not to worry about what has been and what is yet to be. We learnt about making healthy choices when we eat, and tried to add extra activity into each day. Even when we were on our trip to the museum we managed to remain active, clocking up a staggering 9,000 steps and climbing 13 flights of stairs. We had exciting events all week; a club-a-cise morning when we did a dance based fitness class in the hall with glo-sticks and dance music.
Miss Stubbs and the Year 6 Sports Ambassadors organised a fantastic boot camp, giving us the experience of some high intensity interval training.
A highlight for many was a visit from Wil from Warrington Wolves Foundation who inspired us with his talk about the many challenges he has completed. We loved seeing the cup that his team won while playing in Australia.
Liverpool World Museum Trip
What a fantastic day we had today! The day was jam packed with exciting learning to enhance our Ancient Egypt topic. We took part in a theatre workshop, where we learnt the tricks of mummification. We handled artefacts from the period, and learnt about the gods, hieroglyphics and tried to solve a puzzle. To end the day, we visited the exhibits in the museum. The favourites definitely seemed to be the mummies, although we were amazed by the number of shabtis found inside each tomb.
Art – Texture
The children have been learning about the different grades of pencils and how to use a range of effects to create texture and the effects of light. They then used these techniques to sketch natural objects.
Science – Forces
To launch our new science topic, the children became parts of their own Rube Goldberg machines. Machines which take longer to do a task than is necessary, such as the ones designed in Wallace and Gromit films. They each became a different part of the machine and demonstrated pushes and pulls to move each part.
PE – Dance
Our topic about the Ancient Egyptians has prompted us to choreograph our own dances based on the Egyptian Gods. Today, we made a start by looking at images from tombs and artwork that shows the gods in different poses. We used these to help us to make our own and share them with our group. We are excited to see how these dances turn out and share them as part of our class assembly.
Christmas Party
Today was very exciting. We had a wonderful party day with games, a talent competition, colouring competition and of course our delicious part plates. Thank you to all of you for all of your support in 2018, and best wishes for 2019.
Worship Group
The worship group delivered our class worship today, and did a magnificent job. They read and performed the story clearly and deserve their certificates for all of their hard work this half term. They have now chosen the new members of the worship group, who will assist in the delivery of weekly worship in class.
British Values Debate
Today we talked about the British Value – Rule of The Law, and debated, 'Is Warrington a Fair Place to Live?' Lots of the children immediately said that yes it was, but the group of children who thought that it wasn't managed to change some other's minds. They said that not everything was fair because there were too many people without homes and without enough food. The children were saddened at this and were glad that the choir had managed to raise so much money for 'Room at the Inn' to help people without homes this Christmas.
Worship Group
Our worship team led our class worship on Friday and they did a fantastic job. They planned and delivered the session by themselves, and listened to the ideas of all of the children. Well done!
DT – Spanish Breakfast
As part of our DT topic this half term, we made a Spanish tortilla. The children designed their own tortillas, and then prepared all of the ingredients in class. We chose to make two, one contained ham and the other was a vegetarian option.
While the tortilla was cooking, we prepared our bruschetta by mashing tomatoes and drizzling olive oil onto crusty bread slices. Then at last we got to taste everything that we had prepared. Most of us thought that the dish was delicious, so we wrote letters to the school cook to try and convince her to put our dish on the school menu.
Foxhowl
What a fabulous time we all had on our recent residential adventure. The children were magnificent and their survival skills in the forest would put Bear Grylls to shame. They enjoyed den building, forest art and stream dipping, but lots of the children said that their favourite thing was the food. Our pictures tell a wonderful story, so have fun looking through them.