Welcome to our class page. Here, you will find information about the children's exciting learning, as well as any key dates or important pieces of information that you will need to know for the upcoming weeks and months.
Reminders and Dates
Homework will be sent home each Friday, and should be completed and returned by the following Thursday. Spellings will also be sent home on Friday and should be practised in preparation for our spelling test each Thursday. Reading records will be checked each Thursday.
PE will be on Mondays and Tuesdays. PE kits should be left in school for the whole half term. When kits are taken home following an after school club, please ensure they are returned the next day.
Thursday 5th March – World Book Day
Monday 9th March – British Science Week
Tuesday 10th March – parent consultations
Thursday 12th March – parent consultations
Monday 16th March – Peace Centre residential
Thursday 2nd April – Easter Service
Friday 3rd April – finish for Easter holidays
Our Learning
Geography: Warrington Detectives
We spent a morning in and around Westbrook carrying out our geography fieldwork as Warrington Detectives to find out more about our local area. We did traffic surveys to find out which vehicles types and colours were most common, local business surveys to find out which businesses were used most and we interviewed people to find out how they used Westbrook, what they thought of it and how it could be improved. We had a brilliant morning and we found out lots about our local area.
Health Week
We had an amazing health week! We did lots of PE (fitness sessions, running, dancing, gymnastics and work outs) and we also learned about healthy eating and how to look after our mental health and wellbeing. We also used the ipads to research world champion diver Tom Daley. We then used this research to produce presentations about him and his successful career. We felt exhausted but very fit by the end of the week!
Science: States of Matter
We have been learning about solids, liquids and gases. As part of this, we wanted to find out if air was 'nothing' and whether it had a mass, so we blew up some balloons and tied them to a coathanger, then we saw if there was a difference between the mass of the two balloons. There was because the full balloon was lower than the empty one! We learned that air does have a mass, otherwise the balloons would balance whether they were full of air or empty!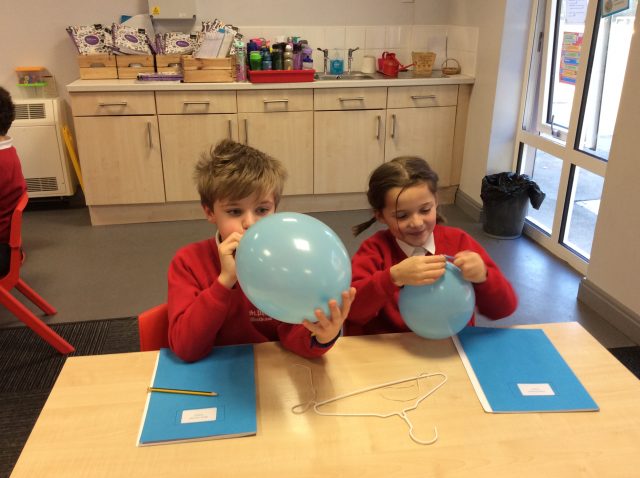 PSHE: Friendships
In PSHE, we have been learning social skills and learning how to get along with each other and make new friends. We played lots of games with children from all year four classes to try to form some new friendships. It was great fun!
English: Performance Poetry
This week, we have been reading and writing poems. We practised performing poems using our voices by using intonation and by changing the volume, and we also added actions to the poems. We then evaluated each other's performances.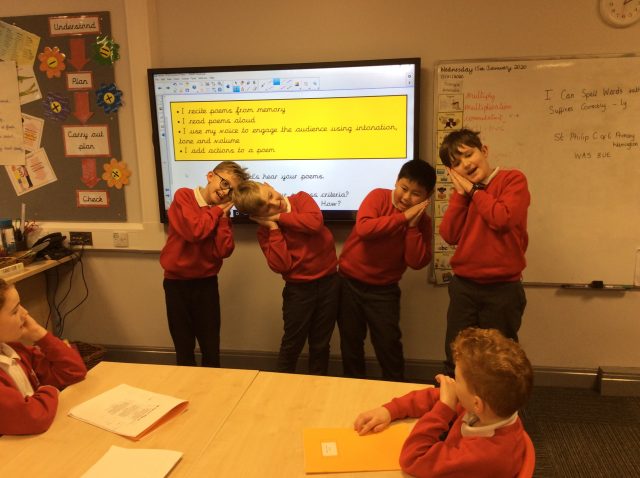 Geography: Debate
In geography, we have been learning about the differences between cities and villages. To end our studies in this area, we had a debate about whether it is better for children our age to live in a village or a city. We had two teams: the proposition (cities) and the opposition (villages) and then we asked questions and voted on the issue. We voted in favour of living in villages because we thought it would be better to have fresh air, space and nature all around us.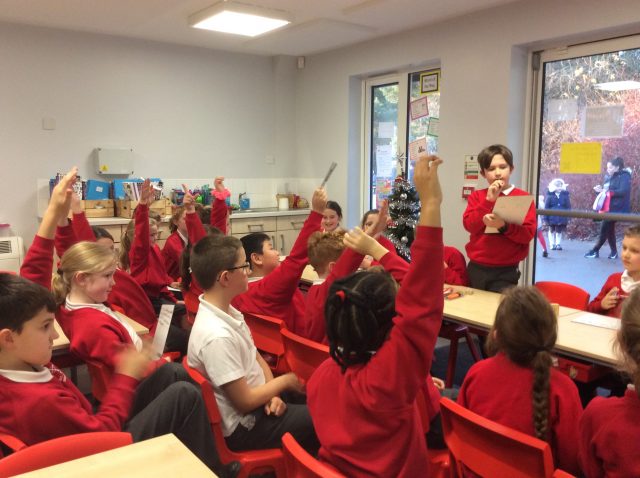 Science: Electricity Workshop
We had a fabulous hands-on day learning about electricity. We learned about mains and battery power, different electrical appliances and how they work. We also learned about the components of a circuit and how a circuit works and we got to make lots of different circuits using special circuit boards. We also learned how to draw a circuit diagram. It was a great day!
Children in Need
Today, we were very lucky because we had a visit from Pudsey Bear. The children came to school in yellow, spots or Pudsey themed clothing and they were very excited to meet Pudsey. He made the children giggle, he joined in with our learning and he even signed a few autographs! Thank you, Pudsey! We all brought in donations for this very worthy cause and we learned about the work that this wonderful charity does.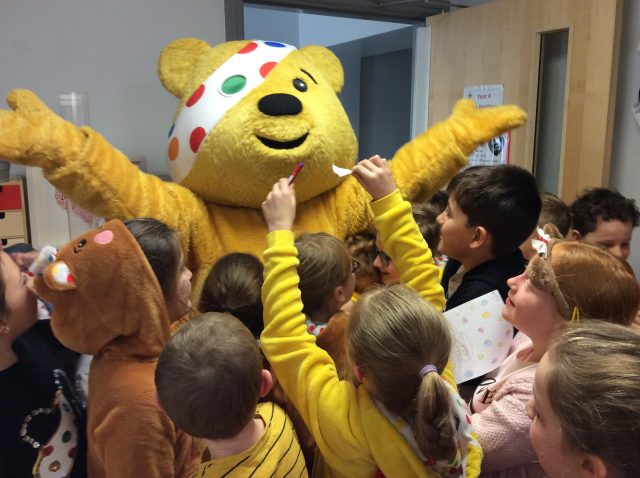 Odd Socks Day – Anti-Bullying Week
Today, we wore odd socks to help us all remember that we are all unique and special. We learned about what bullying is and what we should do if we feel we are being bullied or if we see someone else being bullied. The most important message is that we should TELL an adult we trust.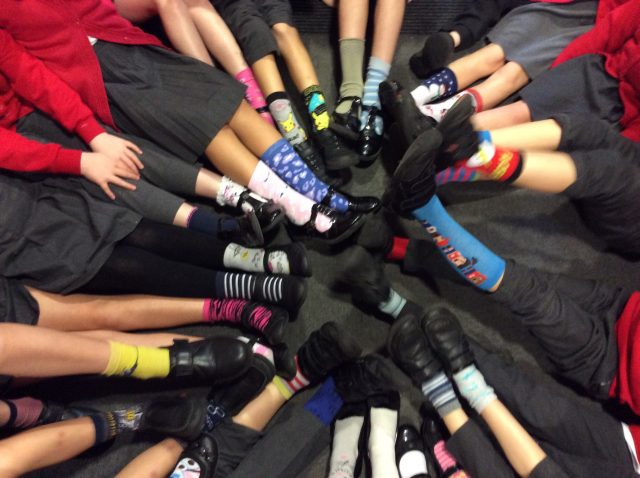 Class Worship
Our first worship group of the year led our class worship at the end of the half term. They did a fantastic job! They shared the Bible story of the walls of Jericho and they built a wall from blocks which they then knocked down. They discussed the story and linked it to our Christian value of the week, fairness. A brilliant job! Well done!
Design Technology: Nutrition
After finding out about healthy choices and after tasting a variety of Roman foods, we designed and prepared our own plates of healthy food using some Roman ingredients. We focused on food safety, thinking about hygiene and staying safe. We really enjoyed making our plates of food, but we enjoyed eating them even more! We evaluated our plates of food using appearance, smell, texture, and taste.
History: Chester Visit
We had an amazing day in Chester learning more about the Romans. We did a workshop where we were archaeologists and we excavated some artefacts, we investigated how the Romans cooked and how a bathhouse was heated. We then visited the remains of the amphitheatre with a Roman centurion where we did some battle formations including the wedge – we even defeated the fearsome Celts (Mrs Davidson and the parent helpers!). We then explored the artefacts in the museum and we tried to complete a quiz about the Romans. It was a fantastic day that we won't forget!
RE: The Psalms
We did a psalm hunt in the spiritual garden, then we spent time reflecting on the psalms and what they show us about the nature of God. We then listened to some psalms in the classroom and we even sang some. We decided that the psalms were written to praise God and to thank Him. We spotted that God is often compared to a rock, a fortress or a shepherd in the psalms because He is our strength and our protection. He is always with us, no matter what, and He loves every one of us.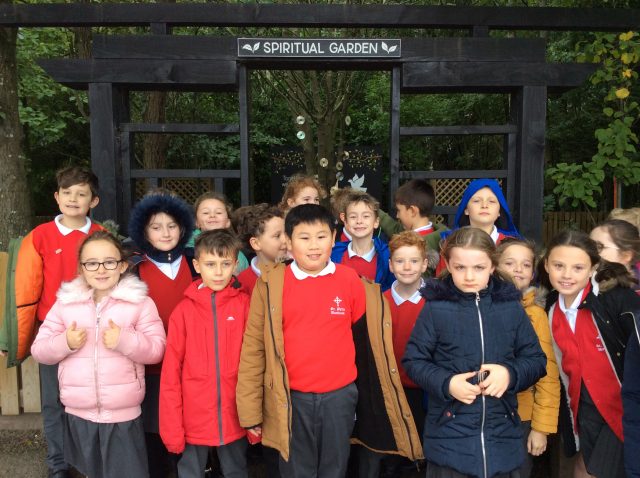 History: What did the Romans eat?
Today we were archaeologists and we excavated some Roman poo to find out what the Romans ate. We found out that their diet was quite different from ours today: they ate lots of fruit and vegetables, some meat and fish (if they were wealthy!) as we do, but they had to grow, rear or hunt everything they wanted to eat. There were no supermarkets or takeaways. The rich ate differently from the poor as they would have huge banquets, whereas the poor would eat lots of pottage (a porridge like stew).
RE: David Spares Saul's Life
We did some drama of the story 'David Spares Saul's Life'. We used this story to learn about forgiveness and what it means to not fight evil with evil, as God wants us to. We linked our Christian values to the story and we reflected on the story thinking about what we might have done if we were in David's position. We voted that he made the right decision because he was a good person and he was pure of heart.
Library Visit
Today we visited Westbrook Library. We spent some time exploring the books and sharing books with partners then we listened to a story. We love to read!
Class Charter
We have spent some time learning about rules, rights and responsibilities. We then used this learning to create our own class charter to help make our classroom a safe and happy place to be!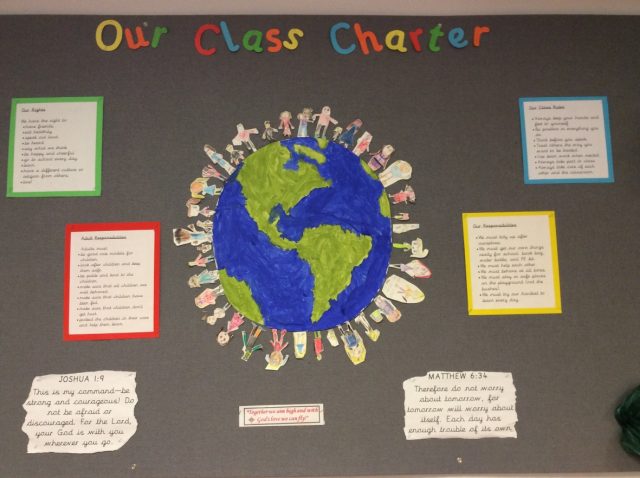 Our Learning – Year 3
Quidditch
Today, children were split into Harry Potter house teams and took part in a game of quidditch. They were given points for various skills and scoring. The winning team was Hufflepuff. Well done!
Greek Day
Greek day was a fun filled day for the children; they explored and handled Greek artifacts, learned about Spartan soldiers and how the Athenians lived. At the end of the day, all of the Year Three children took part in a drama workshop about the underworld. What a brilliant day!
Sports Day
As a year group we enjoyed taking part in sports day. We had lots of fun whilst racing, bouncing on space hoppers, sprinting, skipping, dribbling and balancing. All of the children were great team players and impressively showed off their skills to the spectators.
Art Day
Over the course of the day, we looked at the art of four different artists who all use colour in their work. We looked at how colour is used to create a range of effects and then tried to replicate their styles. We were able to compare their styles and explain which we preferred and why. Children produced some fantastic pieces of art work.
Mission X
This half term, the children trained like astronauts. The Mission X programme, which children completed, was developed by space scientists and fitness professionals working with astronauts and space agencies around the world. Each week, children encountered a new and exciting challenge that tested their physical strength and their team building skills. Children learnt space facts about how important nutrition and exercise is for astronauts. Everyone loved becoming an astronaut!
British Science Week
As a school we took part in a whole week of science for British Science Week. The week included a visit from Science Boffins, a slime workshop, a rocket launch and lots of class based experiments. To end the fantastic week, the children wrote a news report and each of them talked about how much they had enjoyed it and how they couldn't wait for next year!
Invalid Displayed Gallery
World Book Day
World Book Day was a great day to show off our favourite book characters and engage in lots of reading with friends. Throughout the day we produced and performed poems about a given topic, designed book covers and took part in a book swap. Thankyou to everyone who donated and made a huge effort with costumes and accessories.
Invalid Displayed Gallery
Story Telling at Westbrook Library
We visited Westbrook Library for a story telling session, we were in for a definitely big surprise! John the story teller who played Mr Twit, Mrs Twit, the Narrator and lots of other characters gave us his rendition of 'The Twits' by Roald Dahl. Some children become part of the upside down monkey circus and others were soaked by the 'hug tight sticky glue'.
Invalid Displayed Gallery
Egyptian Day
Year 3 loved being Ancient Egyptians for a full day! As a year group we took part in writing like Egyptians, eating like Egyptians and mummifying like the Egyptians did. Children have worked extremely hard throughout the half term learning and gaining lots of new knowledge about the Ancient Egyptians, parents at home don't forget to quiz them!
Invalid Displayed Gallery
Marble Run
In science, children were asked to design and make a marble run. Each group was given equipment which included paper, sellotape and a board to put their run on. After completion, we tested out each marble run and timed how quickly the marble traveled down. However the slower the marble traveled down the better the marble run had been designed.
Invalid Displayed Gallery
Health and Well-Being Week
Lots more action from Health and Well-Being week. All of the children thoroughly enjoyed taking part in dance, disco exercise, boot-camp and obstacle course designing. Well done year 3, you were able to keep the pledge of staying active all week.
Invalid Displayed Gallery
Words and Our Heart
During Health and Well-Being week we have been reading a story named 'Words and Our Heart' the story has an important message. As groups, children performed drama and freeze frames, each group had their own ideas and thoughts about the book and the message it gives, here are some:
"We used our hands to represent hearts, some hearts are different shapes."
"We stood like superheros because words are amazing, powerful and strong."
"We are showing how words can make people's hearts feel."
"We have all got happy and joyful hearts because the words being spoken are kind and caring."
"We made help signs to try and make the world a better place."
Invalid Displayed Gallery
World Museum
Our school trip to the World Museum was a fantastic day and we learnt lots about the Ancient Egyptians. During the day we discovered ancient artefacts, took part in a trail around the museum and we watched some members of our class perform the process of mummification!
Invalid Displayed Gallery
Egyptian Dancing
Today in our new topic – Ancient Egypt, we learned about Egyptian Gods and Goddesses. We each used our bodies in different ways to make these positions, we discussed posture, shape and level. Once in our favourite position we travelled around the room to Egyptian music. We certainly can walk like Egyptians!
Invalid Displayed Gallery
Spanish Breakfast
As part of our DT topic Spain, we prepared, cooked and ate a Spanish breakfast in which we all enjoyed thoroughly! Children used their skills to chop the vegetables, peel the onions and whisk the egg. Children were able to evaluate their own piece of omelette and score it out of 5 for appearance, taste, smell and texture.
Invalid Displayed Gallery
Christmas Performance
The children in Year 3 made us all extremely proud when rehearsing and performing their Christmas play 'How Christmas Came To Be'. We hope you enjoyed it as much as we did and as a team we would like to thank all of the grown ups that helped us to make our performance a success. Well done Year 3!
Invalid Displayed Gallery
Fox Howl
As a class we had an amazing time at our residential Fox Howl. During the stay we built wigwam dens and the children decided to make their dens into a community with roads; what great fellowship! All class members also enjoyed taking part in stream shuffling, forest art and collecting firewood to build the campfire which we later toasted marshmallows on. The children were all extremely well behaved and each showed brilliant resilience and perseverance throughout the trip.
Invalid Displayed Gallery
Festival of Sukkot
In our RE topic Harvest we have been learning about how Harvest is celebrated all over the world. We learnt lots about the Jewish festival 'Sukkot' and as groups we made sukkahs with paper bags and leaves.
Invalid Displayed Gallery
Making Skeletons
In our new science topic bones and muscles we have been making skeletons with dog bones! We learnt about the types of skeletons including an endoskeleton, exoskeleton and hydrostatic skeletons and sorted lots of different animals into the different skeleton groups and we now know how many bones each of us has…206!
Invalid Displayed Gallery
Westbrook Orchard
On Thursday 8th November we walked to the Westbrook Orchard. When we arrived we were given lots of information about the things we were going to learn. We learnt lots about the wildlife and plants living at the Orchard. As groups we went and found different plants and searched for the wildlife living in their habitats.
Invalid Displayed Gallery
Stone Age Day
Today was lots of fun and we learnt so much! As a class we enjoyed becoming the 'Cave Lion Tribe' in a Stone Age workshop. We each drilled holes into small stones using a bow drill, which was a tool used back in the Stone Age. We also made Stone Age bracelets to show we were apart of the tribe.
Invalid Displayed Gallery
Mystery Box
What an exciting afternoon we have had today! We launched our topic for this half term with a mystery box. Miss Wright did not tell us what our new topic was, but instead gave us clues from a mystery box. As we looked through the box we found animal skin, stones, sticks, an axe and animal bones. We discussed what each object could be used for and then used this to make predictions. Using the information we found out from the box we were able to guess that it will be the Stone Age that we are going to be learning about. After this, we used the objects to help us create questions that we would like to find out the answer to by the end of our topic.
Learning from Year 2
"Shiver Me Timbers!"
We rounded off our seaside theme with a special 'Pirate Day'. We made ourselves some DIY costumes of hats, eye patches and jewellery, as well as learning how to speak 'Pirate'. We gave ourselves a pirate name and wrote a letter in a bottle to send to Captain Swashbuckler, describing our special pirate skills and how these would be useful to his crew. We used drama to create pirate stories and learnt how to read map co-ordinate in order to find the buried treasure. What an amazin' crew!
Holidays in the Past
We have enjoyed investigating holidays from 50 and 100+ years ago using photos, artefacts and memories provided in a loan resource from Warrington Museum. We loved looking carefully a the objects and images and then created some fun images of our own using the Green Screen program on our I pads: "Oh, I do like to be beside the seaside …"
Invalid Displayed Gallery
How Hot?
Although we have been enjoying the sunshine, the current weather means that things can get hot and sticky in school. As part of our maths learning on reading scales, we conducted an investigation using thermometers to find the coolest place in school. Perhaps it is no surprise to say it was in a shady part of the playground. On the other hand, the library area in the atrium came out with the highest recorded temperature.
Invalid Displayed Gallery
Wirral Country Park
We had wall to wall sunshine for our visit to Wirral Country Park near Thurstaston. This beautiful setting provided us with a great range of habitats to explore and learn about the creatures that live there. We visited the meadow and used nets to complete a grass sweep, went pond dipping with the park ranger and had an all too brief visit to the beach area. What a great time we had learning outdoors! We will continue our study of minibeasts back at school.
Invalid Displayed Gallery
Sports Day
Thank you to all the family and friends who turned out to cheer us on for our Sports Day. We were so lucky with the weather as the clouds lifted and the sun shone down on us. The children were great with everyone trying their best in all of the races. It was great to hear them cheering their classmates on – the sack race can be very tricky! Congratulations to red team who were the eventual winners.
Invalid Displayed Gallery
Science: Using hand lenses
Following on from our woodland walk we have been learning how to use hand lenses to magnify plants in our school grounds. We are beginning to be able to recognise and name a range of common plants, but have been wowed by how these look when you get up close with a hand lens. We practised our focusing skills first in the classroom before setting out into the field.
Invalid Displayed Gallery
Woodland Walk
We had a lovely morning exploring the local woods and open spaces as we extended our science learning beyond the school grounds. Everything looked beautiful and the woods were bursting with new life. We used our good observation skills to collect and identify different sorts of leaves. We used natural materials to create our own woodland works of art and collected tiny specks of colour to create a woodland palette. Lots of learning and lots of fun was had by all.
PE: Anyone for Tennis?
Fresh air, exercise and fun – what more could you ask for? We really enjoyed our taster tennis session learning new skills in our taster tennis session. Our coach was really impressed with our learning and how hard we worked!
Invalid Displayed Gallery
Science: Plants
We have begun our study of plants by looking around our school grounds to find out what is growing now Spring has arrived. We recorded this as photos using our i pads, so that we can use these later in ICT. Back in the class room, we had a look at the parts of plants and talked about why these were important. We made plant models and added labels and explanations.
Invalid Displayed Gallery
DT: Animal Finger Puppets
In English, we have enjoyed reading traditional tales from Africa and creating our own stories based on African animals. We explored some finger puppets and thought about how these were made and the way fun features were added to the characters. We then chose an African animal and designed our own puppets, trying out our ideas with paper mock ups before getting busy with a needle and thread. We worked hard and were proud of our efforts.
Invalid Displayed Gallery
Easter Egg Basket Winners
Our ethos group organised a fun Easter basket competition and egg hunt to celebrate this important Christian Festival. We had a a great time taking part and everyone received a small prize. The ethos group chose two special winners, who received extra chocolate treats! Happy Easter.
Invalid Displayed Gallery
Our Class Assembly
We have worked really hard to put together our class assembly to share with family and friends. It was based around our love of reading and books. We shared writing and art work as well as role plays. We especially enjoyed singing and rapping about how great it is to read. Everyone was fantastic and all our parents left with huge smiles on their faces. Great job done!
Invalid Displayed Gallery
World Book Day
We had wonderful day exploring and celebrating reading and books. Everyone looked fantastic in their costumes or warm PJs, ready for a bedtime story. We had lots of fun learning about different sorts of books – nonfiction, traditional tales, rhyming stories, cartoons – we all had our favourites. We completed a book scavenger hunt, wrote our own book reviews, played some book themed games in PE, had a story in the new school library and painted well-known characters from traditional tales. And, of course, we had time to just read and enjoy our books!
Invalid Displayed Gallery
Snow Fun
Adults may not be keen on snow but children love it! We made the most of the little snow we got in the cold snap, wrapping up warm to wonder, investigate and just play! Sadly, there wasn't enough snow for a snowman this time…
Invalid Displayed Gallery
Rocket Investigations
Making predictions is an important scientific skill which involves not just guessing, but making an informed guess based on our existing scientific knowledge. We had fun developing our skills as we investigated launching paper rockets with plastic bottles. We made predictions about what would happen if we changed how hard we squeezed the bottle, the size and shape of the bottle and the type of plastic it was made from.
Invalid Displayed Gallery
Gymnastics
In gymnastics this term we have been learning about making shapes in balances and jumps. We have worked by ourselves and with partners to create a range of shapes – long, star, tuck, straddle and pike shapes. We have learnt how to create power through bending our knees and using our arms. We have practised landing with good balance and control even when jumping from apparatus.
Invalid Displayed Gallery
Heart Smart
We have made a new friend this week called Boris the Robot. Boris is a very special robot because he has a heart, and he has been helping us to learn about how to look after our hearts; not the heart that pumps your blood around, but that special part inside of you that makes you you. We have thought about how God has made us all different and how He loves each one of us. We created word clouds on the iPads about some of the things which are special to us.
Invalid Displayed Gallery
Library Visit
We visited our local library and enjoyed having time just to explore their amazing range of books. The children were given time to choose a book which they liked and they explained why they had chosen it to their fiends. We then had the tricky task of selecting which we would take back to school to enjoy at leisure in our classroom. The children really impressed us with their ability to talk and listen to one another's ideas and to come to an agreement about which books we would borrow. Of course, you can always visit the library as a family – a great way to spend time together and foster a love of reading.
Invalid Displayed Gallery
Space Dome
Our Spring Space project was launched into orbit with a visit to school by the Space Dome, a 6 metre high inflatable planetarium. We stepped into a tent and out into space! We learnt lots of facts about Earth, our moon and the sun, as well as zooming across the solar system for a brief visit to other planets. We have keenly followed this up with our own research using the internet and books.
Invalid Displayed Gallery
Calendars
We started 2018 by looking at the days of the week and the months of the year. We made our own calendars, including a wipe clean weekly planner, and then wrote instructions on how to do this. We hope the children will enjoy using these at home.
Invalid Displayed Gallery
Junk Modelling: Landmarks of Liverpool
We brought in lots of junk and started by sorting this according to 3D shapes. From photos of the buildings we saw on our visit, we decided which shapes would be useful and chose junk of the right shape and size to match the features of the buildings. We worked in teams to join the materials together to create our own representations of some of the city's most famous landmarks. Perhaps you might like to have a g o at home to create some of the features of Westbrook.
Invalid Displayed Gallery
"Baubles"
Our Christmas play this year is all about reminding us of the true meaning of Christmas. Mr Potts the caretaker makes wonderful baubles for the school Christmas tree which retell the story of the birth of Jesus. There's lots of singing and dancing to enjoy, as well as some super acting. Thank you to all the parents who have provided great costumes; we're sure that you will agree that all of them look fantastic!
Invalid Displayed Gallery
Visiting Liverpool
We had a super time visiting Liverpool and exploring some of the great landmark buildings of the city. In the morning we visited the Anglican Cathedral. Some of us felt a little nervous because we hadn't been in such a huge building before, but everyone gave us a warm welcome and we loved finding out a little more about this special place. We looked carefully at the stained glass and spotted lots of stories we knew from the Bible, before having a go at designing our own. At lunchtime, we went down to the Waterfront and had a (chilly) walk along to admire the grand buildings. We loved the lambananas – perhaps we will find out some more information and have a go at designing some of our own. We finished the afternoon by viewing the Liverpool Cityscape by Ben Johnson and visiting some of the galleries in the Museum of Liverpool. Lots of fun and lots of learning!
Invalid Displayed Gallery
Preparing Food Safely: DT
After our visit to Tesco we wanted to find out more about how we can use fruits, so we completed some tasting of different apple products – fresh apples, dried apples, apple juice and tinned apples – to compare their tastes and textures. We were then ready for baking! We had to think about how to keep safe, so we followed Little Red Hen's safety rules about being clean and using knives safely. We had a chance to do some measuring and using our maths too. Of course, once it was ready we had to decide which was our favourite. We thought about what it looked like as well as the tastes and the textures. Perhaps you would like to try out other recipes with fruit or vegetables at home?
Invalid Displayed Gallery
Wash Days Past and Present
We borrowed some mystery items from Warrington Museum to find out more about wash days in the past. We looked carefully at the objects – what they were made of, their shape, any writing or marks – to look for clues about what they might have been used for. We made guesses using our observations. We then read a book and found out what the objects were called and how they were used. We tried out some role play comparing a modern washing machine and the old dolly tub. Phew! Washing was hard work!
Invalid Displayed Gallery
Tesco Healthy Eating Trail
We have been learning in school about how important it is to eat the right balance of food if we want to stay fit and healthy. We were very excited about our visit to Tesco to find out more information about where our food comes from, how it is stored and prepared and, of course, to try some healthy food tasting. A really big thanks goes to our parent helpers and the staff at Tesco, who made our morning of learning outside the classroom so successful.
Invalid Displayed Gallery
The Bible is a Special Book
We collected together lots of different versions of the Bible and talked about which was our favourite and why. We found some stories we knew well, and others which we would like to learn more about. We discovered that although the stories might be shown in different ways for children, the same stories are found in adults' versions of the Bible too. Do you have a favourite story? Is it from the Old or the New Testament?
Invalid Displayed Gallery
What is the Best Way to Wash Your Hands?
We have been learning about how important it is to keep clean if we want to stay healthy. We decided to design an investigation to test whether it is important how we wash our hands. We thought about things we could change – the type of soap, the temperature of the water, whether to use soap or not, how carefully we rubbed our hands together. We used a mixture of oil and cinnamon to make our hands 'dirty' and looked to see the difference after washing. We found out that using warm water and soap is the best way to clean our skin. We also need to remember to wash the backs of our hands and between our fingers too.
Invalid Displayed Gallery
Roald Dahl Day
We came to school dressed as characters from some of our favourite Roald Dahl stories. In Year Two we read 'The Enormous Crocodile' and how he had secret plans and clever tricks to gobble up juicy little children. Did you know children are tastier with their clothes on? We worked together in groups to retell the story through drama before producing a class version of the story. We loved looking at Quentin Blake's illustrations and created our own illustrations for a display.
Invalid Displayed Gallery