Welcome to our class page. Here, you will find information about the children's exciting learning, as well as any key dates or important pieces of information that you will need to know for the upcoming weeks and months.
Reminders and Dates
During school closure, daily learning tasks will be shown on the Year 2 page.
Please try to keep reading regularly with your child as before.Other useful activities to keep up with your child include regular spelling and handwriting practise – these could be linked to the tasks set.
For Maths, try to get recall really up to speed. Use TT Rockstars and 'Hit the Button' (just search for this) to really improve your Personal Best (PB).
Our Learning
Terrible Titanic!
Project Day
We launched our project with a special day to investigate life aboard the Titanic as a first class, a second class and a third class passenger. We all brought one or more items to school to help us get into role – a small case, an item of clothing, a (pretend) passport, even a baby doll! We visited each class of accommodation and got a a taste of the entertainments and facilities available. Most of us liked the luxurious amenities of the first class best, but some were swayed by Mr Callaway's ukelele playing in third class. We had lots of fun and learnt lots without even realising it was work!
Out of Africa
In this geography based project, we will have chance to explore a contrasting continent, learning about some of the physical features and cultural traditions as well as considering similarities and differences in our everyday lives.
Class Assembly
It was lovely to welcome so many parents, carers and friends to our class assembly. The children had worked so hard and with such enthusiasm to prepare learning to share. Everyone had a special role to play – sharing artwork, in a geography quiz, dancing, story role play, poems, safari facts. We will be building further on our studies – watch this space!
Celebrating Britain
Our Celebrating Britain project is based upon the national events of Remembrance day and Bonfire Night. We consider what historical events led to these special days and how these link to our modern day British Values.
Christmas Traditions
We had a great morning at Warrington Museum learning about the traditional British Christmas. Did you know that some of these winter customs predate Christianity? We had an active morning learning about cards, gifts and entertainments from Christmases past as well as enjoying some oral storytelling and hands on crafts to make our own toy to take home.
'Baubles'
We all worked really hard to put together our Y2 Christmas production, 'Baubles'. We were so proud of the children and the super singing and acting – it all came together in the end! A big thanks to families who came up trumps as our wardrobe department – the children all looked amazing! We hope the story reminded you of the true meaning of Christmas and brightened up what can be a stressful time of year.
This half term's project is called 'Happy, Healthy Me'. We will be learning about how to keep our bodies and our minds healthy through a wide range of active learning activities.
Healthy Eating
Making good choices about what we eat is really important. We have learnt about how we can sort foods into different food groups and that each of these has a different job to do. It is important that we eat a balanced diet with lots of different sorts of food.
Cathy from ASDA visited school with lots of different fruits for us to taste. We chose our favourites to add to plain yogurt to make a healthy fruit pot.
Washdays in the Past
We enjoyed exploring some washday objects from the past which we had borrowed from Warrington Museum. We looked carefully and predicted what the items might be used for. We acted out a Victorian washday using the wash tub, dolly and washboard and compared this to washdays today using our washer/dryers. We all agreed that keeping clean in the past must have been hard work!
The Bible as a Special Book
We have begun our study of the Bible by looking at a range of Bibles which we have in school. We enjoyed finding familiar stories in the different versions and choosing our favourites. If the children have a favourite Bible or Bible story book at home, perhaps they might like to bring it in to share with the class.
Last Year's Learning
Teddy Bears' Picnic
We had a wonderful time at our picnic on Thursday afternoon. It was lovely to see the children playing with their friends. Thank you to everyone who joined us. We hope you enjoyed it as much as we did.
no images were found
Westbrook Community Orchard
We had a wonderful morning at Westbrook Community Orchard. On our way there we looked for different signs of nature. When working with Kevin, our leader, we recalled our previous learning from Walton Gardens and Grappenhall Heys Walled Garden. Kevin was really impressed with all our suggestions and answers.
no images were found
Being Creative
We talked about how we can create something using lots of different things. For example, Lego, Playdoh, wooden blocks, paper, scissors and glue. We used these things to explore our creativity. We thought about how we felt about our creations.
no images were found
Class Visit
We had an absolutely fantastic day at Walton Gardens and Grappenhall Heys Walled Garden. We enjoyed looking for signs of nature around Walton Gardens. One of our favourite parts of the day was filling in our I Spy sheet to see if we could spot everything on it. In the afternoon we met Kate who told us all about the walled garden. We loved planting our seeds and can't wait to see how tall our sunflowers grow.
no images were found
Class Worship
What a wonderful time we had sharing our learning with you. We hope you enjoyed it as much as we did. One of our favourite parts was when we performed 'Our God is a Great Big God'. We really liked it when some of the adults joined in. Thank you so much for joining us.
no images were found
Maths
We have been working on our key number facts. We really enjoyed playing games to do this. Other activities have helped us with our number patterns.
no images were found
ICT
We have been working on our coding skills. We started by using a coding program called Fun With Fish. We needed to give the fish a set of instructions so it would move. Some of us found it a little tricky, but we persevered. We then went on to use another program called Bubbles.
no images were found
Shrove Tuesday
On Shrove Tuesday we visited church. We were very excited because we chose toppings for pancakes. Some of us were really brave and tried lemon juice which we hadn't tasted before. It wasn't a favourite for everyone! Thank you to everyone who helped to organise this for us.
no images were found
Gymnastics
We started our lessons by looking at different shapes we can make with our bodies. We looked at making these shapes on our own, before moving on to working with a partner.
no images were found
Knowsley Safari Park
We had a wonderful day at Knowsley Safari Park. We found out lots of interesting facts when we were working with one of the learning team. We were amazed at the size of the ostrich egg we saw, and we discovered that a baby uses its feet when it comes out of the shell. One of the highlights of our day was watching the birds of prey demonstration. We loved it when the different birds flew over our heads.
no images were found
Football
In our PE sessions with Miss Stubbs, we thought about how to send a ball to our partner. We needed to think about how to be accurate. It was also important to think about the speed of the ball.
no images were found
Christmas Party
We had a fantastic time at our party. We really enjoyed getting things ready, making party hats and placemats. We were really careful with our cutting, turning our placemats into snowflakes. Another exciting activity was making our 2019 calendars. Again we had to be really careful when using our two paint colours.
We enjoyed our competitions in the afternoon. We all tried our hardest with our colouring, and then showed off our best dance moves. A highlight of the party was when we were visited by a very special person. Can you guess who it was?
no images were found
Hey Ewe!
Wow! What a wonderful time we had performing our Christmas play to an audience. We all looked amazing in our different costumes, and we were really excited walking down to the hall. We were so proud of ourselves when we were performing, and everyone in the audience had huge smiles on their faces. Thank you all so much for coming to watch us. We hope you enjoyed it as much as we did.
no images were found
Say Hello
We have looked at Say Hello by Jack and Michael Foreman. In the story, the little boy was feeling very alone. We talked about what we could do to make the boy feel happier. At the end of the story, the boy felt better because he had made a group of friends. We discussed how we can ask others to join in with our games if we see someone on their own.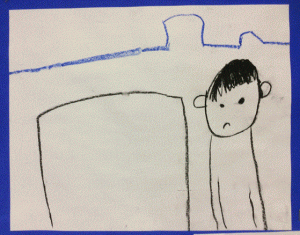 PE – Ball Skills
We have been looking at our throwing and catching skills. We started by throwing bibs to each other. We found this easier, because the bibs were travelling at a slower speed. We then moved on to throwing balls to our partner. We needed to think about accuracy.
no images were found
Library Visit
We had a wonderful time at our local library. We really enjoyed looking at lots of different books. It was difficult to choose a favourite. We talked about being a member of the library and how special it is to have your own ticket.
no images were found
Lego Workshop
We had a fantastic time during our Lego workshop on Monday. We had never seen so much Lego. Stephen, our visitor, showed us how to make our own houses. We had to make sure that they were really strong so they didn't fall apart. We added gardens to our houses, and then put them altogether using roads to join them. The most exciting part of the workshop was when we lit up our houses. It was amazing!
no images were found
PE Outdoor Adventurous Activities
This week in OAA we have been working on our problem solving and team building skills. We worked in teams, using different equipment to get from one side of the playground to the other. We had to communicate with the rest of our team. It was quite difficult at first, but we were determined to make it to the other side.
no images were found
Handwriting
We have been working on lots of different activities in these sessions. These have helped us with our fine motor skills. We were excited about trying lead ins for the very first time. We began with c. Some of us found it a little tricky, but we persevered.
no images were found
Learning from Reception
On Monday we spent the morning in our new Year One classroom with our new Year One teacher. We were so excited to find out that our new teacher is going to be Mrs Kennerley!
The children had a fantastic morning in their new classroom and were so enthusiastic when sharing news of their exciting experiences with Miss Parsons in the afternoon.
We decided that Mrs Kennerley might need some help learning our names and so we decided to write to her to introduce ourselves. We had to make sure our writing appeared ready for Year One so we tried very hard to include all of our writing targets. Here is a selection of the wonderful letters we have sent to her so far…
Messy Art Day
We have had a fantastic day participating in lots of messy art fun! The purpose of the day was to explore how imaginative, creative and artistic our wonderful children are…and what a day it has been!
The children have enjoyed using the mod-roc to make a 'World Cup', using oil pastels to design football kits, making sporting models from clay, cutting and sticking Pentecost hats (linked to our RE work), painting with our feet and our hands, 'paint-splatting' with string and rubber bands, chalking and playing in the gloop!
Keaton said, "I wish we could have a messy art day every day!"
Here is a snippet of some of the fun…
A nice day for a wedding
This week we have been sharing the Julia Donaldson story of 'The Scarecrows' Wedding'. We have enjoyed retelling the story and writing character descriptions, as well as solving some mathematical problems for the characters. In RE we have been learning about the features of a church, so we decided to combine our Literacy and RE learning by visiting our school church for a scarecrow wedding!
It is nearly time…
On Monday we couldn't believe how much bigger the caterpillars had grown! It looked like one of them had started to crawl up to the lid. This morning we were excited to see that all of the caterpillars have now begun the big change! We can see lots of chrysalises.
Caterpillar update…
…They are getting much bigger!! We have been keeping an close eye on our new friends this week, eagerly awaiting any clues that they are nearly ready for the big change! This morning we were stunned by how much bigger they seemed! And two of them have crawled up towards the lid. Will we see a chrysalis soon?
Lifecycles
Over the last couple of weeks we have been learning about the lifecycles of some animals. To help us with our learning we are pleased to announce the arrival of our new baby caterpillars. We are keenly looking after them and making sure that they eat lots of food in order to help them build up lots of energy for the big change! We will keep you updated with their progress…
Sports Day
What a lovely day for some sports! Despite the heat, the children persevered and tried their best in all of our races today. They showed determination and excellent sportsmanship and we are very proud of all of them, well done children! We are pleased to announce that our winning team was the BLUE team!
Reception visit Stockley Farm
We have had a wonderful day at Stockley Farm! The children enjoyed participating in lots of different activities including a tractor and trailer ride, bottle feeding the baby goats, meeting the new calves and piglets and lots more! Susan, our farm guide, commented that never before had she met a group of such inquisitive learners! We are very proud of our children. Here are some photographs of our adventures today. We hope the children all sleep well tonight!
Anyone for tennis?
The children had a fantastic tennis taster session this morning. Toby visited us from Live Wire to teach us some tennis skills. We practised throwing and catching the tennis balls, as well as travelling with the ball on the racket and some dribbling with the balls and rackets. The children loved it! They listened fantastically and really impressed us with their tennis skills.
All the children have been given an invitation to a 'Tennis Open Day' at Great Sankey Neighbourhood Hub tomorrow!
How does your garden grow?
The children have returned to school well-rested and full of enthusiasm for our new project. Here is a sneaky peak at some of the newly designed areas of our classroom that will support us with our new learning.
Holy Week
We have had a very busy week in Reception learning about the Easter Story. We learnt that it is the most important Christian festival because we remember that Jesus died to save us all and to show his love for us.
Our week began with an exploration of what Easter means to us. We talked about Easter eggs, bunnies and chicks. We even tasted hot cross buns and we loved them! Ask us why they have got crosses on them…
Following this we began to learn about Palm Sunday. We talked about why the people of Jerusalem were so happy to see Jesus and how they shouted 'Hosanna' and waved palm leaves. Some of the people even laid their cloaks down for Jesus. We decided to recreate this moment.
Our learning then moved on to Thursday, when Jesus had his final meal with his friends; The Last Supper. We found out that Jesus was sad because one of his friends (Judas) was going to betray him. We also broke the bread (to help us remember Jesus' body on the cross) and we poured the (pretend) wine to remind us of the blood that was spilled.
We looked at Leonardo Da Vinci's famous painting of 'The Last Supper' and we recreated this image in our classroom. We guessed where Jesus was in the picture but it was tricky to spot Judas. Then we retold the story, assuming roles of the Disciples and Jesus and Judas.
The Bible told us that Jesus went to pray with his friends but was arrested by some guards. He was then taken to the cross, where he died. But we were not sad for long because we soon learnt that Jesus came back to life! We made some Easter gardens to show how Jesus' tomb might have looked.
Today, Ethos Group hid some eggs in our classroom. We had to search for them and then put them into the Easter baskets we made. Ethos Group also chose 2 prize winners for an extra special egg because their baskets were so beautiful.
Warrington Fire Brigade Visit
Today we were visited by the fire brigade. They came to school to talk to us about the job that they do and the ways in which we can keep ourselves safe in a fiery emergency.
We enjoyed trying on some of their safety clothing and Miss Parsons was chosen to test out their breathing equipment (it made a funny noise when she breathed and laughed)! We also got to sit inside the fire engine cab and use the hose to squirt water. What a fabulous experience!
Science Week
Tuesday
Today we experimented in the outside classroom. Miss Parsons set us the challenge of blowing up a balloon without using our lips or our puff. We considered using water or a foot pump but neither of these (rather clever) ideas were the correct method.
Instead, we half-filled a bottle with vinegar, then we put some baking soda inside a balloon using a funnel. After this we carefully attached the balloon to the bottle and slowly tipped the baking soda into the bottle. Wow! The balloon began to inflate!
We talked about how the bubbles that were made when the vinegar and the powder mixed must be making a gas that was blowing up the balloon.
Also this afternoon, we made our very own rainbow…on a plate!
We carefully placed some Skittles in a circle and then poured some warm water on to the plate. As the warm water met with the sweets a rainbow began to appear on the plate.
The water made the colours disappear off the sweets. They didn't look like Skittles any more when we had finished…but they still tasted nice!
Monday
Science Week is underway! Our morning began with a visit from a 'Science Boffin'. She talked to us about being a scientist and told us how much fun she has doing experiments in order to find out why things happen and how things work.
She demonstrated a quick experiment using cups and water. We thought she was going to pour a cup of water over Mrs Vermiglio's head, but she has secretly placed some water-absorbing crystals in the cup!
It was very funny watching Mrs Vermiglio's anxious face. The Science Boffin told us that these are the same crystals that are found inside nappies!
This afternoon we learnt about the famous scientist Archimedes. We found out about his discovery whilst he was in the bath and how he shouted 'Eureka!' when he discovered the reason for the water rising and sinking.
Following this we did our own investigation. We wanted to know which toys are the best to play with in the bath by investigating to see which things float and which things sink.
Exciting News…
The egg has hatched!
When we arrived in the classroom this morning we discovered the egg had cracked open and something had climbed out, leaving some footprints heading towards the cupboard.
We were very surprised to learn that we were the new carers of a baby Triceratops!
The children were so excited that some of them wanted to write about the Triceratops. They used sound mats and spelling mats and worked very hard to make their writing easy to read.
Special Delivery!
When we came to school on Monday we received an interesting looking parcel from a Mr Terry Dactyl.
We were excited to discover that we had been sent a mysterious egg to look after. We hoped that it wouldn't hatch too soon, but Terry assured us that it wasn't due to hatch just yet.
We have been looking after the egg, being very gentle and quiet so that we don't disturb the baby growing inside (we think it might be a baby dinosaur). We looked in some information books about dinosaurs to find out about different dinosaurs. We hope it isn't a baby T-Rex! We decided to make a nice, soft nest for it.
Today the egg has started to crack! We are excited that we might soon have a baby dinosaur to look after!
World Book Day
We have had a great day celebrating all of our favourite books. The children looked wonderful in their outfits and they thoroughly enjoyed talking to each other about their chosen characters and why they like them so much.
Our day began with a visit to our own school library, where we shared a class story. Following this all the children shared their costumes and characters in our 'Storyteller's Chair.'
During the day we also enjoyed participating in the DEAR sessions (Drop Everything And Read). In our morning session we shared some of our favourite dinosaur stories as a whole class. In the afternoon session we each chose our own books to read and share with our friends.
The Land Before Time…Walking with Dinosaurs
We hope you are enjoying your half term rest. The teachers have been busy preparing the classrooms for our new project. Here is a sneaky peak at some of the exciting activities awaiting your arrival on Monday…
Chinese New Year
Kung hei fat choy! We had a great day celebrating Chinese New Year!
Our morning began with some dragon dancing in PE and then we settled down to share the story of Nian and Chinese New Year. We found out that loud noises, fire and the colour red scared the beast away from the villagers and that is why these things are used to celebrate Chinese New Year.
During the day we participated in lots of crafts; we made Chinese dragon puppets, fans and even beautiful lanterns. We copied Chinese numerals and letters into the mermaid fabric and we re-enacted the zodiac story…did you know that this year is the 'Year of the Dog'?
In the afternoon we enjoyed tasting some Chinese foods. We were very brave to try new things, including seaweed and chow mein! But we all agreed that the prawn crackers were our favourite.
Our warm and fuzzy treat!
Our fabulous children have filled our 'warm fuzzy jar'. They have been kind to their friends and tried really hard to make sensible choices. As a treat we thought we would sneak over to Westbrook Library to have a look for fiction and non-fiction books.
The children met Nick, who told them that even babies can join the library and when you become a member you are allowed to borrow up to 10 books!
We enjoyed exploring the books and then we completed a treasure hunt around the library. Before leaving we were all allowed to choose a book to bring back to school. Karen showed us how to sign the books out by putting them on the shelf in front of the computer. We had a great time!
Health Week in Reception
We have had a busy week working hard to keep ourselves fit and healthy.
Every day we have practised our exercises. Rory told us, "I can feel my heart beating really fast!"
We have been learning about how to stay healthy by eating well and drinking lots of water. We also thought about how important it is to be happy. Daisy told us, "I like it when my friends are kind. I feel happy in my heart."
We ended our healthy week by making some healthy snacks. We washed our hands and carefully cut our favourite fruits to make some delicious fruit kebabs for our snack time.
After break time we had a surprise visitor! Wolfie came into our classroom to check we were all making healthy choices. We found out that his favourite snack is a banana!
Superhero Mask Parade
Our children are so creative! Their superhero mask designs are fabulous! We couldn't wait to share them with the rest of the school so on Monday we eagerly put on our masks and went for a walk around the building. We visited classrooms and stopped to talk to teachers and everybody loved our masks. Here is a sneaky peak at our fantastic Reception superheroes…
A Supertato Emergency!
Today we came into the classroom to discover an incident had taken place.
The Evil Pea had vegi-napped our Supertato and trapped all his vegetable friends!
We had to use our reading skills to read the letter and the clues to try and rescue Supertato. Luckily, we had all had our brainy breakfasts and we managed to find Supertato safe and well in the role play jail!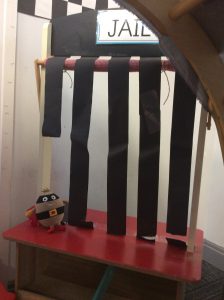 We set about thinking how we could find the cheeky culprit, the Evil Pea. We designed WANTED posters, we searched the unit with our magnifying glasses and we even made a trap to catch it!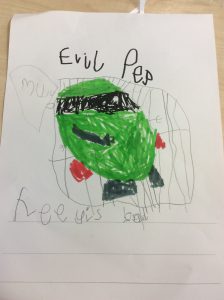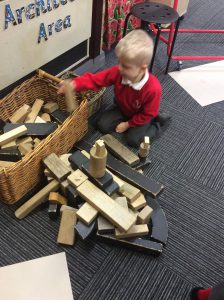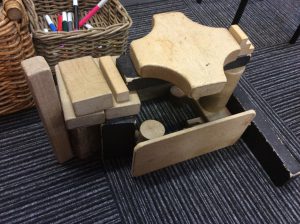 We kept checking the trap but we couldn't find the pea. We decided that it might return to the classroom over lunch time when we were not there. So we waited…and waited…and waited some more…until…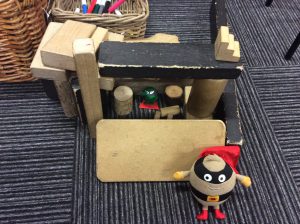 …our plan had worked! We captured the Evil Pea!
Superheroes to the Rescue!
Our new project has begun and the children have enjoyed exploring the new provision in the classroom. From designing and building 'Superhero Cities' to designing their very own superheroes, we have had a busy few days!
Our Christmas Party
We have had the most wonderful afternoon with the children.
We played some party games, we ate our party snacks and we even had a surprise visit from Santa himself!
Santa told the children how much he liked the new sleighs that they designed for him and awarded Charlie with a prize for his fantastic 'Sleigh Transformer' idea – well done Charlie!
Here are some photos showing the different places that Cookie has chosen to seat herself in our classroom this week.
We have really enjoyed searching for her and using positional language to describe her location.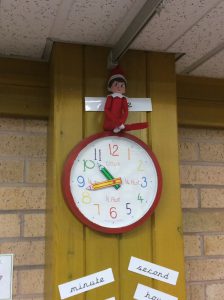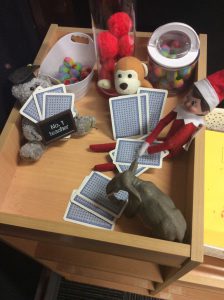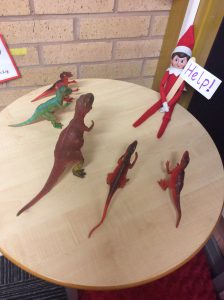 Welcome to Cookie the Elf!
This morning we were excited to receive a parcel from the North Pole! When we opened it we discovered that Santa has sent us an elf to join our class! We named the elf Cookie and we have tried our best to be super-sensible because we know that Cookie will fly back to the North Pole to see Santa each night and tell him how hard we have been working. We are excited to find out where Cookie will be when we come into the classroom tomorrow morning!
Poor Santa!
We watched the news this morning and were shocked to discover that Santa crashed his sleigh over the weekend! He was having a practise run at delivering his presents when the reindeer got a bit over-excited in our school car park and Santa fell out the sleigh!
Luckily we had the excellent idea of designing him a new sleigh in time for Christmas. We are practising our writing and drawing skills and will send our ideas to him so that he can pick his favourite!
Instructions
As part of our project " To Infinity and Beyond", we followed instructions to make Asteroid rock cakes. The children had fun sieving, rubbing and mixing the ingredients but enjoyed eating the cooked cakes even more!
After making the cakes we thought about how the mixture changed when we put it into the hot oven. We noticed that the cakes were hard and not sticky any more. We wondered if things always go hard when they get hot. We decided to investigate this with some chocolate. We held the chocolate in our hands to make it warm and we felt it change.
Grace said, "It feels all slimy!" Logan said, "I think it has melted." When we looked at our hands they were covered in gooey chocolate. We decided there was only one thing for it…we were going to have to clean our hands!
What do people eat in space?
We were wondering how people eat in space if they can't go shopping there. One of the children pointed out that 'there is no McDonald's in space!' We looked on the internet and discovered that the food in space is often freeze-dried and packaged in a way that stops it from going mouldy or smelly so that it lasts for a long time.
Today we tasted some real space food! We looked at some packets of special space ice cream.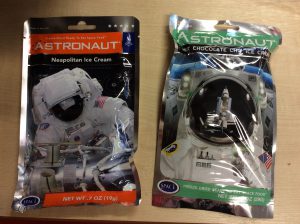 We noticed that the ice cream was not in a tub and the packet looked very small. When we opened the packet we were very confused! It didn't look anything like the ice-cream we normally eat. It was all crumbly and hard!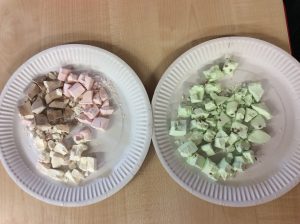 We were a little bit unsure about tasting it at first…..but it was delicious! Jason said, "It feels crunchy in my fingers but then it goes sticky in my mouth." Daisy said, "It is really yummy. It tastes like ice cream but it isn't cold!"
To Infinity and Beyond!
Our new project has begun and we are really enjoying learning lots about space! The children have helped us to plan our project by telling us the things that they want to find out. Some of their questions included:
Why do stars sparkle?
What do people eat in space?
How long does it take to get to the moon?
How do you travel around in space?
How long does it take to get to the moon?
What are the planets called?
We have already begun to investigate some of these questions and the children have impressed us by how curious and enthusiastic they are. Here is a snippet of some of the activities we have enjoyed participating in…
We are famous!
Just in case you missed us, here is our class photograph from the Warrington Guardian (November 9th issue).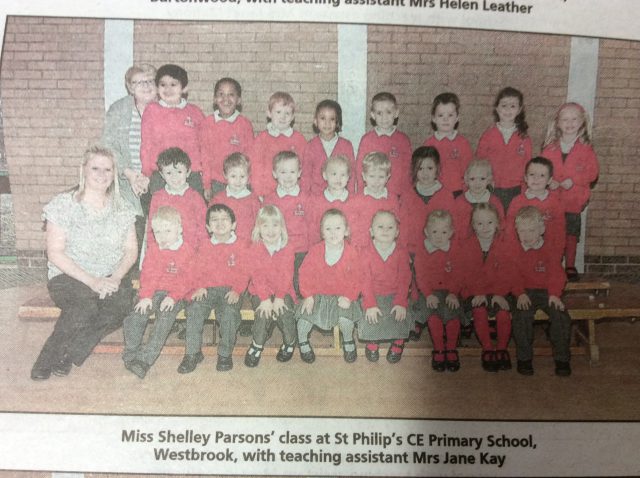 Diwali
Today the children learnt about the special celebration day of Diwali. Diwali means " rows of lighted lamps" and is also known as the "Festival Of Light"
The children took part in various activities connected with Diwali. They listened to the story of Rama and Sita and had the chance to make diva lamps. They made rangoli patterns , learnt an Indian dance and even tried some traditional Indian sweets.
Special thanks to Mrs Dhillon who talked to us about Diwali and how she celebrates with her family.
What would you like to be when you grow up?
Friday
After a very busy week (learning about lots of different occupations) we were excited to be visited by our very own headteacher, Mrs Wightman.
Mrs Wightman told us all about her busy days in school and we found out that her favourite thing about her job is meeting happy children who are working hard. We were also keen to find out Mrs Wightman's favourite colour. We thought it was probably red because it matches our school uniform. But we were wrong…it is turquoise!
Mrs Wightman was so impressed by our 'fabulous' listening skills that everyone received a special sticker…for being 'fabulous'!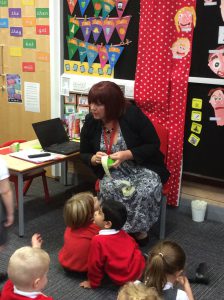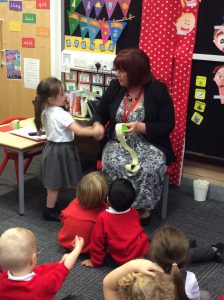 Thursday
Reverend Pete came to school today to talk to us about his job in the Church. He told us about the special things he does in Church and showed us his special clothes. We thought it was funny that he called his collar a 'dog collar'! Then we passed around his special stoles and enjoyed wearing them with our friends. They were very long because Pete is very tall!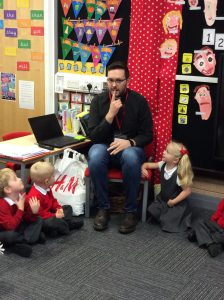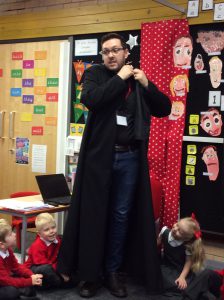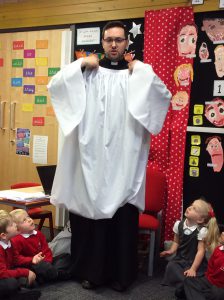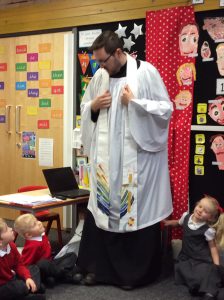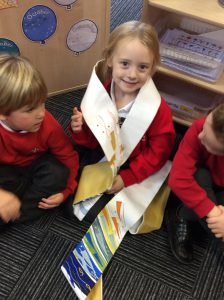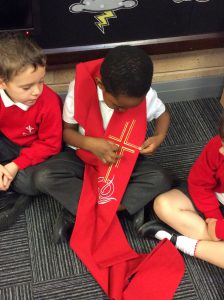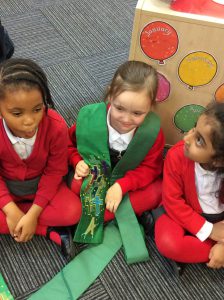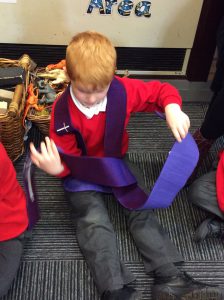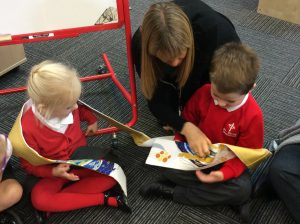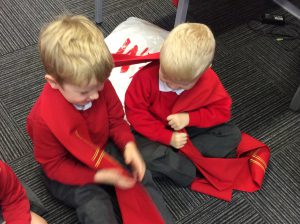 Wednesday
We had another wonderful visitor this afternoon! Mr Lomax came to talk to us about being a police officer. He showed us the equipment he has to carry with him and we even heard messages coming through on his radio. Mr Lomax told us about the things he has to do in his job and we were very excited to discover he had brought along a variety of police hats and helmets that we got to try on!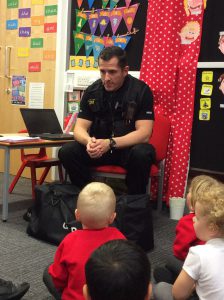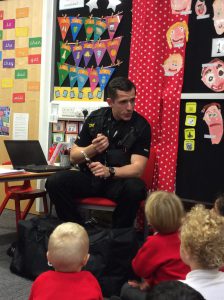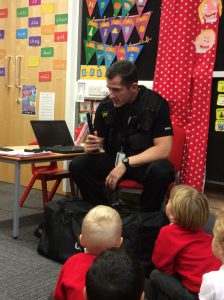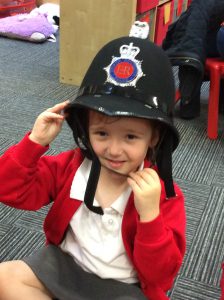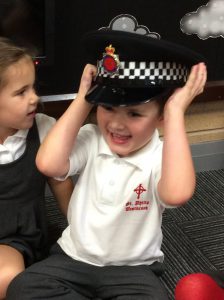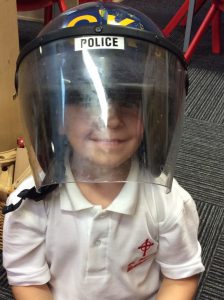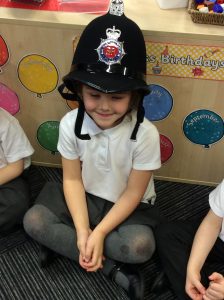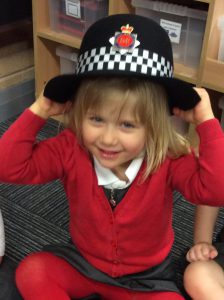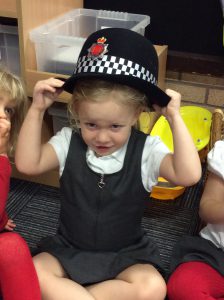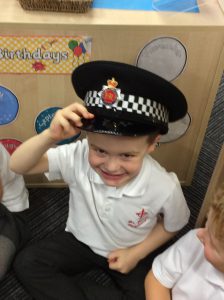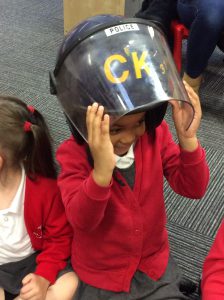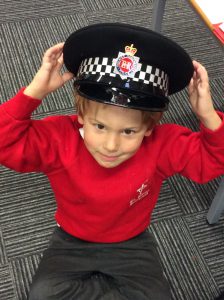 Tuesday
Dr Coutinho visited us this morning to tell us about her job as a children's doctor. She brought along her special teddy to help us learn about the ways in which we can stay healthy. We learnt about the importance of eating fruits and vegetables and drinking lots of water. Dr Coutinho let us use her stethoscope to listen to our chests. We also looked at special medicine syringes and spoons for helping us to take medicine.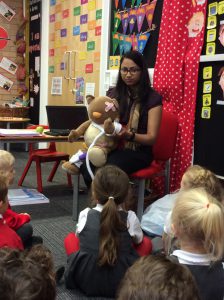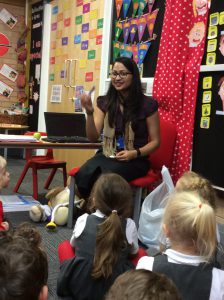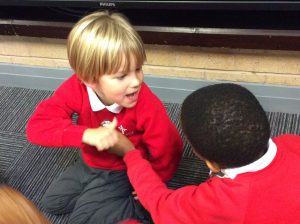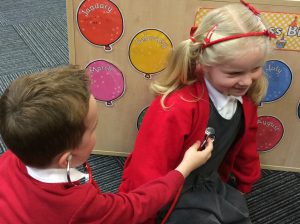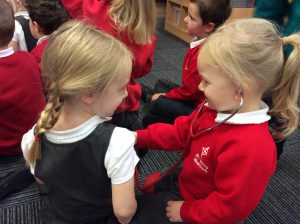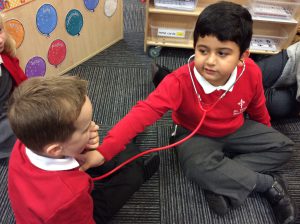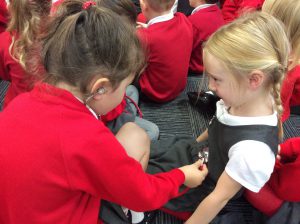 Monday
Today we were extremely lucky to be visited by Mrs Atkinson and her dog Dougal. Mrs Atkinson is a vet and she spoke to the children about the tools she uses to help animals to get well, as well as allowing the children time to interact with Dougal. We learnt how to check his ears for infections, listen to his chest, brush his teeth and even had the opportunity to bandage his paw. We thanked Dougal for his patience by rewarding him with lots of strokes and tummy rubs.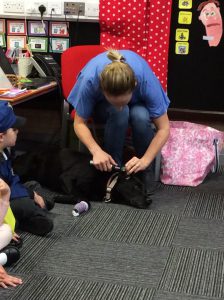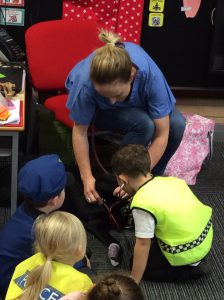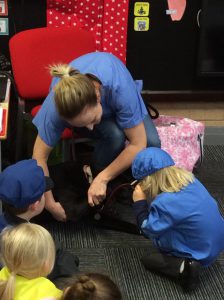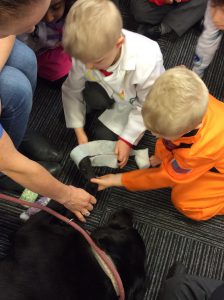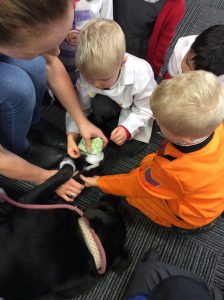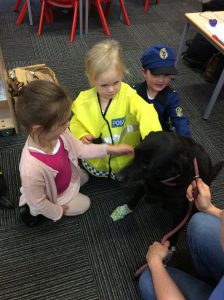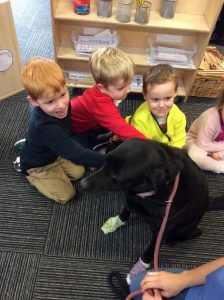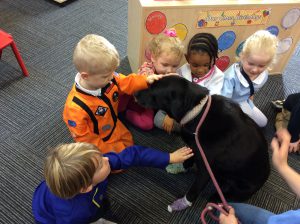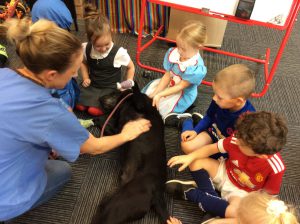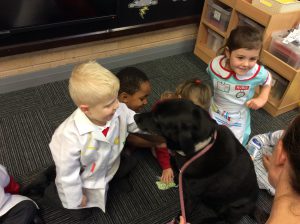 Today was 'Career Day' in Reception and it was a fantastic way to start our week, by sharing our hopes and dreams for the future with our friends. Our children have a wide range of hopes and dreams. Aspirations included police officers, nurses, builders, gymnasts, dancers, vets and many more!
PE
The children were very excited to have their first PE lesson in the small hall today and got changed into their PE kits with only a little help. We learnt about the importance of warming up our muscles before exercise and then cooling down afterwards. The children noticed how their bodies felt during exercise and after it. We played lots of fun games to warm up our muscles including the Bean Game and Captain's Coming.
We enjoyed celebrating Roald Dahl Day by looking at characters from his books and learning about his life. We found out that Roald Dahl liked to write his stories on yellow paper in a hut in his garden!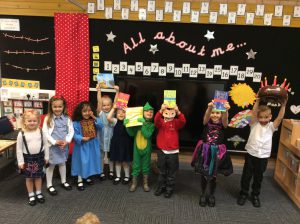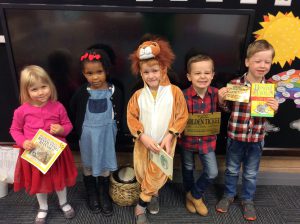 The children have been very busy exploring our classroom and making new friends. We are in the process of completing our initial assessments of the children and are thoroughly enjoying getting to know them and watching them play together. Here are some sneaky snaps of the fun we have been having…
We have had a fantastic first week in Reception! The children have enjoyed exploring lots of areas of learning and have confidently participated in a range of fun activities. We have taken lots of photographs and will begin to upload these as soon as we have confirmed all of our permission slips. If you have not yet returned your Data Collection form, please do so as soon as possible. Thank you!
In the meantime, here are some photographs of our new classroom: