Welcome to Miss Cragg's class page.
When you think of Year 6, what do you think of? When I asked the children this question the majority answered – SATs! When in fact, there is so much more to Year 6. Not only are we preparing for that one week of tests, but we are learning about the world and our great history, learning how to apply our mathematical knowledge to real life situations and preparing the children for life after St Philip's.
Keep checking this page for relevant information and details of our learning and you will be able to get a fly on the wall experience of your child's learning!
Miss Cragg
Reminders and Dates for the Autumn Term
Monday 6th November 2017- Back to School
Our Learning in Year 6
PE- Tournament 
On the last day of half term, year 6 took part in a tournament to test the skills we have been learning throughout this half term. Mr Henshaw's class and Miss Cragg's class went head-to-head in hockey and football matches.
Egypt's Got Talent
In History, we have been researching all about Ancient Egypt. Each group had to put together a presentation all about an Egyptian God. The groups were then judged on their delivery and presentation skills and also how informative their presentation was.
Diwali
On Thursday, we celebrated Diwali. Everybody came dressed in brightly coloured clothes and we spent the day learning about about the 'Festival of Light'. We were lucky enough to have Mrs Sen come and visit us to tell us all about how she celebrates Diwali; she was even kind enough to bring us some food to try! Mrs Sen also showed the class the outfits that may be worn and dressed Miss Cragg is a beautiful purple sari. We finished the day by having a go at some Bollywood inspired dances!
Our Trip to Warrington Museum – 2.10.17
On Monday, we went on our school trip to Warrington museum to learn more about the Ancient Egyptians. We explored the different artefacts in the museum and created our own sketch books to use for drawing and making notes and observations. Before going on our trip, during DT lessons, we learned about shabtis and their importance during the Egyptian period. Then, we planned what our shabti would look like using our research to inspire us. All of this was extremely useful when it came to making our shabti at the museum.
Whole Class Reading
Each day, we spend time looking at a new text (fiction, non-fiction, poetry) and explore the vocabulary and meaning behind the text. After a discussion, the children answer challenging questions about the text in their reading journals. Beth and Tom enjoyed reading the prologue of Moonlocket (by Peter Bunzl) so much so they said they can't wait to read the whole book! It is wonderful to see the children so engaged and inspired by different books.
After exploring the song 'airship', we unpicked the vocabulary and discussed the meaning behind the lyrics. Shortly after, the children had a go at performing the song to an audience thinking about how they use their voice effectively to deliver the song. They have thoroughly enjoyed it!
Science- Living Things and their Habitats
Our Science topic for this half-term is Living Things and their Habitats, and we started off by investigating micro-organisms. Three slices of bread were used: the control which was placed into a bag with minimal human contact; the second was touched by all of the children after they had shaken hands with each other; the final slice was touched by all of the children after washing their hands. This led to an important discussion about making sure we wash our hands properly to avoid spreading germs and becoming ill. We recorded our observations daily.
Here you can see what happened to the bread over the course of 11 days!
Following this, we had a great discussion (linked to Science and PSHE) on the importance of keeping yourself clean/ personal hygiene in order to stay healthy!
PE – Let's get competitive!
The children have been showing Miss Stubbs and I what excellent team players they are after we began to apply the skills they have learned to hockey and football matches. We have been focusing on competition in our PE lessons and thinking strategically in order to beat the opposing team. The children developed their skills even further by coaching one another to improve even further.
WOW History Lesson- Monday 18th September 2017
What an exciting lesson we had today! Today, we began our project all about the Egyptians. The children imagined they were archaeologists when they discovered Tutankhamen's tomb.  After exploring the tomb, the children thought about what artefacts they saw and why they were there. Following this lesson, the children wrote some excellent newspaper reports about Howard Carter's discovery of Tutankhamun's tomb.
PE – Football and Hockey
This half term, we are focusing on the invasion games football and hockey. Each week, we will build on our skills to play matches against one another.
Science Assembly
We were lucky enough to be joined by a Scientist on Friday 15th September, who showed us some exciting experiments. As you can tell by the smiles on the children's faces, they loved helping out with the experiments!
Roald Dahl Day – Wedndesday 13th September 2017
What an exciting day we have had today! The day started with a Roald Dahl assembly; followed by a workshop all about George's Marvellous Medicine. The children acted in role of different characters from the story to create pieces of drama. It was excellent to see the children thinking about how they can project their voice to an audience and really getting stuck into the task. I didn't expect to have so many brilliant actors in our class!
During the workshop, we created a class poem about George creating his marvellous medicine; watch the video to see our 'classterpiece'.
Our First Week in Year 6
We have had a fantastic first week in Year 6. Firstly, we started with Place Value in Maths. We explored different numbers up to 10 million and discussed the values of each digit.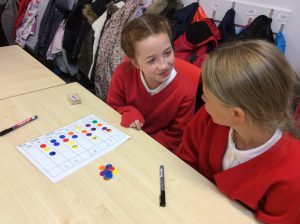 Science
In Science, we began our series of lessons with a WOW. We investigated the question: 'What happens to bread if it is subjected to unsanitary conditions?'  We discussed possible ways to investigate the question and the children planned how to carry out a fair test. We decided to put the first piece of bread into the plastic wallet without anybody touching it. For the second piece, we each shook hands to create 'dirty hands'  and then we each touched the bread. The third piece of bread was then touched by 30 pairs of hands that had been cleaned. Over the next week, we will be observing what happens to the bread.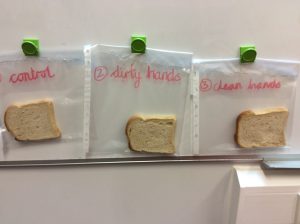 Our Learning in Year 5
Scroll below to look at the photographs detailing our exciting learning in Year 5.
Jingles
This half term in Music, we have been composing our own jingles.  Jingles are often used in advertising, and are short, catchy tunes, which stick in our head.  We had lots of fun with this topic, and Mr Callaway REALLY enjoyed listening to them!
St. Greg's Discovery Day
We have been on a really exciting trip to St. Greg's Secondary School to experience life as a secondary school pupil. We had an action packed day, sampling lessons such as Chemistry, DT, PE and English.  Here are some photos of our day!
Maths
23/06/17
Today in Maths, we have exploring area and perimeter.  We estimated the size of items in our classroom, in square metres, and then estimating a given area by drawing it out on the playground. Here are some photos of us trying it out!

Cheerleading
18/06/17
This half term, the children are continuing to work with Becky for Dance. The theme will be cheerleading, and I am sure their performance will be amazing at the end of the half term. Keep an eye out for the photos to follow!
Science – Flower Dissecting!
06/05/17
This week, the children have been dissecting flowers.  We had learnt all about the different parts of the flower and were now investigating to see if we could spot each one.  We have been fortunate enough to have some microscopes in school, and as a special one-off, we were able to look at each part of the flowers in microscopic detail! The children really enjoyed the afternoon and loved having the microscopes.
London Trip
Year 5 really enjoyed their trip to London. We visited the National History Museum and Buckingham Palace, watched 'The School of Rock' at the New London Theatre and called in for a cup of tea with the Queen in Windsor Castle on the way home.  Unfortunately, whilst the Queen was at Windsor Castle, we didn't see her!
We have lots of photos to share with you below. We did take more than one member of staff, but Mr Callaway just couldn't resist a photo opportunity!
DT
This half term, we have been designing and making our own boxes. Here are our results!
Performance Poetry
30/03/17
This week, we have been performing poetry to the rest of our class.  Our criteria was to perform with: projection, actions, expression and rhythm.
I think most of our performances are better suited to a stage in the West End! Here are the pictures of us performing.
Google Expeditions
30/03/17
We had a special visit from Alex, who works for Google.  We explored Mount Everest using Virtual Reality goggles.  We are all now really excited for the summer term where we will learn even more about the famous mountain.
Debate – Parliament Resources
28/03/17
School have been fortunate enough to receive a box from the Houses of Parliament containing exciting resources to hold our own debates.  Later in the year we will be studying all about the government and how parliament is run.  In preparation for our trip to London, we formed our own government and voted on our own laws.  We decided to ban uniform, not have more lessons and unanimously decided to abolish homework!
World Book Day – 2017
We have been celebrating World Book Day in school this week.  The children, and teachers, came dressed as one of their favourite book characters.  We started the day with a book swap.  Throughout the day, a whole school story was created, and we really enjoyed writing our paragraph – all about Keith the DJ monkey.
Here we are in our outfits this morning!
Music – Samba
This term, we have been exploring Samba music.  As part of our South America project we have learned about Rio, the home of Samba.  We have been performing our samba pieces, using call and response rhythms. Everyone took turns leading the group.  We finished the day outside, like a real Brazilian Samba Band!
Terrific Scientific
The children had a fantastic time taking part in the Terrific Scientific Taste Test. There was some fantastic science skills practised as we died our tongues blue and counted the number of papillae on our tongues. This told us whether we are a non taster, taster or super taster. We talked about scientists work into taste, and their idea that non tasters like bitter foods whilst super tasters do not appear to like them. The Terrific Scientific web page tells you how you can train your taste buds and brain to like new foods.
Comprehension
We have been exploring methods of answering comprehension questions this week.  On Friday, we explored a text – focusing on our understanding and predicting what the questions could be.  The pictures below show us working hard in our groups in our initial investigation.
Chinese New Year
For Chinese New Year, the children came in dressed in red, a lucky colour in China's culture.  We had a fun day making lanterns and learning all about China.  We ended the day with a special dance workshop.
Gymnastics
In PE, we have been working hard to improve our balancing skills with Mr Callaway and Miss Stubbs.  We have been learning to perform the different types of balances, such as tension, point, mirror, counter and patch.
Art Day
We had a special visit from an artist, who has helped us create some wonderful design. They will be displayed in the corridors around school in the very near future!
Year Group Science Experiment
I can explain why different materials produce more or less resistance and how it effects and moving object.
Year 5 Trip to the Liverpool Museums
Trip to Merseyside Maritime Museum and The Museum of Liverpool

Science
We have been exploring Forces this half term.  The children experimented, making their own parachutes, which material would create the most air resistance.
In September, we had a special Science theme day. Mrs Wilson came in and we saw an amazing variety of science experiments to help inspire us further with our topic of changes and properties of materials. This was followed by our own investigation into solids, liquids and gases.  We modeled the structure of the atoms in groups.
Here are some photos of our year so far.