Welcome to our class page. Here, you will find information about the children's exciting learning, as well as any key dates or important pieces of information that you will need to know for the upcoming half term.
Reminders and Dates
Monday 5th November – Back to School
Friday 16th November – Children in Need
Wednesday 28th November- Eucharist
Friday 14th December- Y4 Christmas Play (am) time to be confirmed
Monday 17th December – Y4 Christmas Play (pm) time to be confirmed
Our Learning
DT – Healthy Eating
Our focus in DT has been about Healthy Eating. The children devised their own healthy eating plate and compared foods to those of the Roman times.
Roman Banquet!
We ate our very own Roman banquet! The children analysed each food commenting on the texture, taste and aroma.
The children then planned, made and ate their own Roman meal.
Our trip to Chester!
We had an amazing day in Chester!
We looked round two galleries, took part in a workshop and dressed as Romans, whilst we marched and chanted through the streets of Chester! The children were taken to the amphitheatre remains where they learnt how to fight as a Roman and charged against the enemies (adults)!
English -Non-Fiction Texts
Our focus in English over the past two weeks has been on Non-Fiction information texts. The children have enjoyed learning all about the different features of an information text. Using Roman Non-Fiction books, the children have researched, planned and produced their own information text about: 'Everyday life as a Roman.'
Welcome to year 4!
Over the past two weeks we have been getting to know each other and have created our own class charter.
It is lovely to see how well the children have settled into their new class and are excited for their new learning!
Learning from Year 3
World Cup Tournament
To celebrate England's success in the World Cup, Year 3 held their own football tournament. The children were split up into teams which represented the countries playing in the Fifa competition. England progressed to the final but were beaten by Poland, who were deserving winners. Each teacher picked a player of the tournament in recognition of their team spirit, skill and determination.
Westbrook Orchard
The sun was shining this morning as we walked the short distance to the orchard. There we were met by Mary and Kev from the Land Trust who led our session. We learnt about the different plants and how they adapt to their habitat. We also looked at how plants compete for space and how they make seeds. There were so many exciting differences to spot. We had a fantastic time and impressed our hosts with our scientific knowledge. We are looking forward to a return trip in autumn to harvest the fruit, so we are keeping our fingers crossed that the birds don't eat it all.
Pompeii Drama
In English lessons we have been using the book, 'Escape From Pompeii' to inform us about the devastating effects of volcanoes and support our story writing.
Today, the children used drama to develop their ideas and to consider what daily life was like in Pompeii before the eruption.
Lego Workshop
We had an exciting morning working as engineers and designers. The children learnt how to program an electronic device to perform a series of actions. They then added lego pieces to build a fairground ride, they added images, words and sounds to enhance their design. Throughout the activity, the children had to problem solve and debug when things didn't go as planned.
Take a look at our finished creations.
Warrington Wolves Foundation
One of our PE topics this half term is rugby and we have been incredibly lucky to have the support of Wil, a talented coach from the foundation. He is going to work with the children to develop their playing skills and develop their collaboration and teamwork.
Active Cheshire
Today was fabulous! Active Cheshire set up an amazing afternoon of events for us to encourage more physical activity and help us to get fit and stay healthy. They are going to continue to work with us next year as we complete the 100 mile challenge.
Science – What is light?
This is the question posed to the children to begin our new science topic. We use dark tubes to see what happens when we remove light and then thought how we could change them so that we could see the object that had been hidden at the bottom.
Art – Clay Pots
We have learnt a great deal about Ancient Greek culture and today we had a go at making clay pots in the same way that Ancient Greeks would have made them. We are looking forward to decorating them when they have dried.
Sports Day
The children loved taking part in Sports Day, but sadly we had no time to finish the 3-legged race. As promised, we squeezed this in before the end of half term, and the teachers even joined in too.
Science – Seed Dispersal
As part of our science topic, we looked at a huge assortment of seeds and thought about how they were designed to travel away from their parent plant. The children found examples of seeds that floated on water, got attached to animals or eaten by animals and seeds that travelled on the wind.
Ancient Greece Day
What a wonderful day we have had, taking part in wonderful drama activities to learn about the lives of people in these ancient times. We took part in two drama workshops. One was hosted by an Athenian lady, and the other by a Spartan. We played games, and learnt about life in each city. At the end of the day, we voted on which city we would like to live in. Athens was the winner! Perhaps the black soup put our children off living in Sparta.
British Values Debate
Today we celebrated what is fantastic about our nation. We thought about what makes Great Britain great, and what makes each of us individual and unique. At the end of the day we had a debate to consider if individual liberty is something that we agree with. Overwhelmingly, we agreed that being able to speak your mind, and celebrate your individuality is a good thing so long as we stay within the law.
Crime Scene Science
What a disaster! A crime has been committed in our class rooms and plants have been killed! Our science topic this half term is all about plants and today we discussed how we know that plants are living things. We labelled parts of each plant and thought about the job of each plan part.
PE – Spanish Dancing
Becky, our dance teacher, has been impressed by the commitment from the children to learn this new style of dancing. Their final performance was watched by other year groups, and the comments form the older children were fantastic.
Art – Manga faces
Our focus in art has been learning to draw facial expressions, and Manga has helped us with this. The children have loved exploring the style, and using their sketch books to record their ideas. Their final pieces were wonderful.
PE – Javelin
This half term, we have learnt how to use a shot put and javelin. The children's throwing skills were impressive, and we held a competition to see who could throw furthest.
Easter Treasure Hunt
We were really lucky today as Ethos Group organised a treasure hunt for all of the classes. There were clues hidden all around the school which we had to find, and then solve the riddles. We completed the challenge successfully and were rewarded with a tasty treat.
Author Visit – Andrew Glennon
Today, we had a wonderful morning meeting Andrew Glennon, a local author who has written a wonderful book, 'The Loneliest Robot'. Andrew told the children about the inspiration for his book, and how he invents new characters. The illustrations he brought in to show us were magnificent, and we all agreed that Matt Dixon is extremely talented. The highlight of the morning was listening to Andrew read the first chapter with some help from us. We are all really excited to find out what happens next, and write our book reviews.
British Science Week
What an incredible week we have had investigating so many different things in so many different ways. On Monday, Science Boffins came into school to launch Science Week, and showed us some exciting experiments. In the afternoon we were delighted to have a visit from the education team from Air Products. They taught us about gases, and demonstrated the effects of liquid nitrogen. It was very exciting.
Later on we made slime and recorded our observations at each stage. We drew labelled diagrams and wrote notes about what we could see, hear and smell.
On Tuesday, we learnt more about forces and how they make a balloon rocket fly. We worked with our groups to try and make our rocket balloons fly faster. We changed the angle of the string, the size of the rocket straw and the size of the balloon engine.
On Wednesday, we worked outdoors to count the different birds that we find in our local area. We were surprised at how few birds there were in the afternoon, so went back outside the next morning. There were lots more then. Lucy thought that they must be coming to eat our snacks from the playground. When we returned to class, we recorded our results on bar graphs and pictograms.
On Friday, we explored the local environment and collected items that represent nature in Westbrook. When we took these back to class, we looked at each object carefully using magnifying glasses and microscopes, and sorted and grouped the items using descriptive vocabulary.
Library Visit
In Year 3, we learn about different types of fiction; how story books can be ordered depending on their theme. During our visit to the library today, we had a treasure hunt searching for books from different genres.
World Book Day
The children looked fantastic in their costumes, and lots wore pyjamas and brought in a favourite bedtime story. The day was filled with exciting activities, but most importantly we shared some wonderful books and stories, and really thought about the magic of books.
Snow Day
Whilst others were tucked up indoors, we were enjoying the fun of the snow. We went out with the other year 3 classes and tried our hardest to make snowmen and snow angels. We are keeping our fingers crossed for more snow soon.
Egyptian Day
To end our topic, we held a day to celebrate the Ancient Egyptians and learn some more exciting facts about them. We held an Egyptian banquet and feasted on foods that the Ancient Egyptians would have enjoyed. The children learnt a dance about the gods; made mummies from modroc, used hieroglyphs to break codes, and designed their own death masks. The day was full of exciting learning and was a wonderful way to end the half term and the topic.
Building Pyramids
We are proud of our bespoke curriculum in our school which is led by the children's questions. Our class wanted to learn how the pyramids had been built. We used the internet and video to research the techniques that the Ancient Egyptians had used and then used sugar cubes to build our own pyramids. It was not as easy as we thought.
Bollywood Performance
As we have now concluded our dance topic, we performed our finished dance to the year 6 children. Everyone was fantastic and the older children were impressed bu our performance and made complementary comments.
Softball Competition
To end our PE topic, we had a morning of competition. We split the class into teams and played games against each other. Everyone played in the true spirit of the game, congratulating those who scored and encouraging their team mates to try their best.
Class Assembly
The children performed magnificently today in our class assembly. The focus was love and the children talked about what they love, different types of love, and the wonderful things that they can achieve with the love of those around them. They shared singing,dancing and lots of their writing: poems, stories and recounts of their trip. Everyone at school is very proud of all the hard work that they have put into their lovely assembly.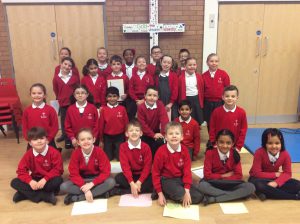 Visiting Artist
We have been so very fortunate to work with a fantastic artist this week. Every child has been part of producing some wonderful art which is soon to hang in our hall.
Catalyst Trip
We have been looking forward to this all half term, and we were not disappointed. The day was a fabulous learning adventure from beginning to end. The children explored the many floors filled with interesting activities; they wore lab coats in the science lab where they learnt how to be scientists; and they took part in a workshop to investigate magnets. The children behaved magnificently and showed the enquiring minds that St Philip's children have.
Writing
As part of Health Week, and in preparation for our school assembly, the class have produced some wonderful writing. They were inspired by the book: Words and Your Heart.
Science – Marble Run
We have learnt that forces make things stop and start, but today we thought about gravity. Gravity pulled the marble towards the floor without us pushing or pulling the marble. The children were given a challenge to slow down the effect of gravity. They did this by designing a series of ramps to slow the journey of the marble.
The children worked on a very important science skill: Trying different things out to find an answer. They worked as teams to design their marble run, and then tested to see what went well. They recorded their observation and then redesigned and retested. They enjoyed working like real life scientists.
Health Week
This week has been incredible. We have learnt about nutrition; what we need to put into our bodies to stay healthy, and what happens if we eat too much of the wrong types of food or too little of some foods. We have been physically active every day; had a very exciting visit from England pro footballer, Sue Smith and made our own healthy hummus. Our debate about sugary drinks led to a class vote, and the majority agreed that sugary drinks should not be allowed in school. A highlight of Friday was Wil's visit. Wil is a fabulous inspiration to us all. He works for Warrington Wolves Foundation, and has completed many incredible achievements, including climbing the 3 peaks in under 24 hours.
PE – Bollywood and Softball
Our PE topics are exciting this half term, and the children are developing a range of skills. In all of their PE lessons, they are thinking about the effect that fitness has on their bodies, and why exercise is so important. One of the things to focus on is how working together can improve your performance. This is proving successful. It is fantastic to listen to the children giving each other positive feedback and praising hard work.
Science – Forces
Last week we learnt that objects stay still unless a force acts upon them. We looked at examples of pushes and pulls, and thought about how they can make things start or stop. This week's lesson was lots of fun, and forced us to use our learning style of collaboration. We were given the challenge of moving the cups to make a pyramid, but we were not allowed to touch them. We could use the elastic bands, but two people had to move each cup. It was exciting to work like real scientists. We thought about what we would do, and wrote our ideas down. Then we tried those ideas out. We recorded what did and didn't work, and thought of new ideas. We kept on repeating this until we came up with a successful plan.
Times Tables
This week we have been trying a range of different methods to learn our times tables. By the end of the year, we need to know x2, x3, x4, x5, x8 x10 and all of the corresponding division facts. We have played games and made lotus flowers and had fast recall tests.
PE – Softball
One of our PE topics this half term is softball. In our first lesson we talked about which skills we would need to play this game, and learned to bowl a ball, strike the ball using our hands, and field to return the ball to the bowler.
Happy Christmas
We had a fantastic last day. Our carols in the morning were wonderful and put us all in a good mood for our party. We played lots of party games and made snowmen decorations from socks, but a highlight was a surprise visit from Miss Tomlinson.
What Christmas Means to Me
Our Christmas performance was fantastic! Than you to all of the children for working so hard to learn their lines, dance moves and songs. Everyone enjoyed watching, and you looked wonderful in your costumes. The message was delivered loud and clear. Whilst there's lots going on with presents, shopping, dinner and family, the most important thing is the story of how that special baby came to save us all.
D.T – Spanish Tortillas 
This half term, we have designed our own Spanish breakfasts. We learned the Spanish names for a range of food and drink and  worked with the rest of our group to make a tortilla. The children practised chopping, slicing and dicing, and mixing ingredients. The classroom smelt incredible, and other teachers kept popping in to see what we were up to.
Maths – Using Counters to Support our Learning 
Each of our maths lessons begins with a problem which the children unpick with their partner. The use of counters, blocks and other tools is vital, and supports the children's thinking and develops strategies for them to use to solve the problem. We are always amazed by the number of different ideas children come up with to find an answer.
Science – Investigating Bones and Muscles 
This week we have been thinking about investigations that involve looking for a pattern. Is there a relationship between two factors. After looking at pictures of Olympic athletes we asked the question: 'Do people with longer femurs jump further?'  The children planned their own investigations and recorded a prediction before conducting their tests.
The children had to use scientific skills to measure their femurs and the length of their jumps accurately, before recording their work.
Science – Investigating Muscles 
Following on from our skeletons lesson, the children were curious to learn how our bodies moved. To help us to understand this we dissected chicken wings to examine how muscles and bones work together.
The children were fascinated to see how the movement of a muscle affected the bone.
Design and Technology 
This half term, our topic is all about Spain. The children expressed and interest in learning abut Spanish food, and so we decided to research Spanish breakfasts. The children in Spain often have breakfast much later than us and tortilla is a tasty favourite. Today we have planned our tortillas. The children took great pride drawing and listing their ingredients. They thought about how they would prepare each ingredient, and wrote a method for cooking.
We are all looking forward to next week when we will get to make them and share a traditional Spanish breakfast.
Science – Skeletons
We begin each new science topic with a lesson we call, Wow, Awe, Inspire! This is an opportunity for us to engage the children in their new topic, and allow them the opportunity to raise questions, and think about what they would like to learn. We can then make sure that we teach to the children's interests. Take a look at the wonderful representations of human skeletons that the children were able to make, before their learning begins. Although not completely anatomically correct, they were fantastic, and I was excited to see the children working together as a team and sharing ideas.
The children want to answer these questions:
How many bones are in my feet?
How does a skeleton make me move?
What would happen if I didn't have a skeleton?
Does everyone have a skeleton?
We are going to plan some exciting investigations to see if everyone moves in the same way.
Remembrance 
All week, we have focused on the theme of remembrance in our writing.
We used the wonderful book 'Flo of the Somme', and we learned that war involves animals as well as humans. In World War 1 over 50,000 dogs were used. Flo was a mercy dog, sent into danger to search for injured service men who were in need of help.
The children wrote some wonderful poems, thinking about what Flo may have experienced. They also designed some beautiful artwork to remember the bravery of those who serve for us using the poppy as their inspiration.
Science – Sweet Rocks
Today we used Starburst sweets to investigate how different types of rocks are formed. We have already learnt that rocks can be classified into three groups, igneous, sedimentary and metamorphic. We looked at what happens when intense heat is applied – bubbles can be seen in the rock (Starburst) and the different colours mix together. We applied pressure to make representations of sedimentary rock, and heat and pressure to make metamorphic rock. The classroom smelt very fruity at the end of our lesson, and we could all explain how rocks are made.
Library Visit
Reading is incredibly important, but should also be fun. Today we visited our local library. We enjoyed taking time to share new books and talk about them with our friends. We brought some of our favourites back to class to help us with our topic and to share at story time.
Art – Paul Klee 
We have looked at the work of the artist Paul Klee, and learnt that he loved to use bright colours and geometric shapes. We liked his picture 'Castle and Sun', and have used wax crayons and an ink wash to imitate his style.
We took our time to draw our castles. Usually, we would not use a ruler when drawing a piece of art, but because we wanted nice straight lines, we used a ruler, and took our time to build our pictures from the bottom of the page. Harry said, "Just like you would  build a house ." The children are very proud of their art, and we plan to use digital images of famous Warrington buildings next week and reproduce them using the style of Paul Klee.
PE – Gymnastics 
We started our new PE topic today, and the children demonstrated that they had learnt a lot about gymnastics in Year 2. They used basic gymnastic shapes –  star, tuck, pike and straddle, The children balanced alone and with their friends.
Roald Dahl Day 
Wow! The children looked incredible in all of their amazing costumes.
We spent the day focusing our activities on the stories of Roald Dahl; in particular Fantastic Mr Fox. You can see from our photographs that we all enjoyed the drama workshop. The children used alliteration to introduce themselves and their friends, and had to work in groups to make poems that rhyme.
Greatest Rock in the World Competition
Today we launched our science topic – Rocks and Stones. The children brought their favourite rock into school, and we examined them closely, comparing their similarities and differences. The children were excited to see the huge variety of stones and rocks, and thought of different ways of sorting them.
Our Learning in Year 2
Happy Days!
We are loving the sunshine!
Masizani Day
We had a lovely day learning about our partner school in South Africa and completing lots of wonderful activities. We started the day with an assembly where we learnt lots about Masizani Primary School. We then watched some South African dances and made up our own. After that we made some South African necklaces out of paper plates. In the afternoon we watched Tinga Tales and learnt about some traditional tales from South Africa. Finally, we created some South African art. Check out our South African necklaces!
Class Assembly
Thank you to everyone who came to watch our class assembly.  It was so lovely to see you all and share our learning with you. We hope that you enjoyed it as much as we did.
Below is a video of us performing the poem Flip-Flop Frolic in our class assembly.
Formby
We went to Formby to learn all about different animal habitats. We walked through two different woods, along some sand dunes and on the beach. We stopped in each place and discussed what we could see, what we could smell and what we could hear. We then talked about the different animals that might live there and decided if there was water, shelter and food for them. We had a fantastic time! The staff noted how well behaved and knowledgeable we were.
Sports Day
We have been having lots of fun practising for Sports Day! We hope that you will be able to join us on Wednesday 24th May.
Our Westbrook Walk
For our Geography lessons we are learning about the local area. We went on a walk and tried to draw a map of Westbrook on our whiteboards but it was so rainy that our work kept on rubbing off! We saw St Philip's School and Church, British Heart Foundation Shop, Westbrook Medical Centre, ASDA Opticians, two hairdresser shops, ASDA, Westbrook Carpets and  Westbrook Library.
Ella said she had a brilliant time because it was fun to learn outside.
Daniel said it was fantastic because we saw lots of new things.
Lauren enjoyed our walk back to school along Mary Ann Meadows because she had never walked that way before.
Plants
To launch our new Science topic all about plants we went on a hunt to see how many different plants we could spot around the school grounds. We then named the different plants and looked at the different features of the plants.
R.E .- What does Heaven look like?
To begin our new R.E. topic of Ascension and Pentecost we shared the story of Ascension and thought about times when we have had to say goodbye to somebody that we loved and how this made us feel. We then shared our own ideas of Heaven and what we think it looks like.
Erin said, "I think the people in Heaven are stars and angels fly around the stars to check if they're okay. I think it is very calm, peaceful and warm in Heaven. The sun shines on all of the stars."
Dylan said, "I think that from the outside Heaven looks like a huge hotel. Inside there are lots of rooms and every time somebody dies a new room appears."
Leah said, "I think Heaven has stars all around it and Jesus in front of it. I think that when people die they go to Heaven, meet Jesus and turn into crystals. It has the same weather as Florida."
We then drew and painted our own pictures to show what we think Heaven looks like.
Easter
We were very excited about the egg decorating competition and worked eggstra hard to create our eggs. Do you recognise any of these characters? The judges loved all of our designs and with much deliberation finally narrowed it down to Marley (Superman) in 2nd place and Leah (sheep) in 1st place!
In the afternoon we had our eggsiting egg rolling competition. Joel was our winner with his speedy minion egg!
READY!
SET!
GO!
Writing Instructions
In our English lessons we have been learning to write clear instructions. We followed a set of instructions to create some Easter sun catchers and then we wrote our own set of instructions.
Now all we need is some sunshine!
Google Expeditions
We had an exciting visit from Mr Google and he took us all the way to Antarctica. We learnt all about Antarctica and saw some fascinating animals. It really felt like we were there! Did you know that Gentoo Penguins swim really fast because of their long tails?
Church Visit
In R.E. we have been learning all about church. Mrs Dunning kindly organised a special trip to St Philip's Church for us. She showed us around the church and we talked about the different features. We counted all the crosses around the church. How many can you see? We had our own mini service where we said some prayers, listened to some music and sang some songs. A huge thank you to Mrs Dunning for a lovely afternoon.
Gymnastics
We have been working really hard in Gymnastics this half term. We have been learning all about different balances and shapes, making shapes on different equipment and making sequences of shapes.
Exotic Bird Collages
We had lots of fun making our exotic bird collages. We thought carefully about the types of features that exotic birds have and the shapes that we could use. We then selected different materials for our collages thinking about the textures and colours that we wanted. Thank you for bringing in such wonderful resources for us to use!
Music
In our Music lessons we have been looking at music from around the world. When we were looking at South African music we combined singing and the drums. Below is a video of the song that we are currently working on. Sanibonani!
Tesco Healthy Food Trail
We visited Tesco to learn about keeping healthy and the importance of a balanced diet. We tasted lots of healthy foods, went shopping to find items from the different food groups, learnt about different types of fish and stood inside the freezer.
Victorian Washday
We borrowed some resources from Warrington Museum to learn about Victorian washdays. We had great fun pretending to be Victorians and were surprised about how tiring washday used to be.
Fun Run
We had a super Fun Run! Thank you to everybody who sponsored us.