Welcome to Miss Ashton's class page. We hope this will give you an insight into our weekly adventures! Please keep checking back for updates and photos.
Welcome back! It has been lovely to hear the children's holiday news. This half term's project is called 'Green Fingers'. We were a little confused when we first heard the name and thought very carefully about what it could mean. We can't wait to plant our own seeds and learn more about plants. We are SO excited for our trip to Walton Gardens and Grappenhall Heys Walled Garden! Please take a look at our curriculum map for more information.
Reminders and Dates for the Spring Term
PE days are Wednesdays and Fridays
Monday 23rd April 2018 – British Values Day. Come to school dressed in red, white and blue.
Thursday 3rd May 2018 – School trip to Walton Gardens and Grappenhall Heys Walled Garden.
Our Learning
Tennis
We loved our tennis session. What a great way to spend a morning in the sunshine! We learned how to control the ball using our hands and rackets. Look at the concentration on our faces! We shows resilience and determination. Our tennis coach was so impressed (he said that we were one of the best classes that he had worked with!).
Space Science
We have enjoyed learning about space inventions and the work that astronauts do in space. We have looked at great female scientists including Helen Sharman and Marie Curie. We have also loved learning about Tim Peake. We were set a challenge by Helen and Tim to find out how long the craters of the moon are and how tall the aliens are. We had to use our knowledge of measuring from maths to help us. Watch the video below for more information.
To measure the length of the craters, we had to use non-standard units of measure (units that can change, such as footprints and strides). We know that some people have larger footprints than others so this will affect the results! To measure the height of the aliens, we had to first find the starting point, in order to make our measurements accurate and fair. We then used standard units of measure (units which are always the same) such as cubes and paperclips. Miss Ashton set us a challenge by telling us the heights of various aliens and then asking us to draw aliens that were taller, shorter or the same size as them.
We had a great time working as a team and testing our predictions! We couldn't decide whether standard or non-standard units of measure are better to use, as it can depend on what you want to measure! Tim and Helen were very impressed with our hard work and team work.
Easter Celebrations
Wow! What a great week we have had celebrating Easter. We hope you all enjoyed our Easter service, we worked really hard to learn the songs and create our art work and prayers. We had a great Easter egg hunt and decorated our own Easter egg baskets. Well done to Dylan and Isla who won the prizes for their baskets!
We Love Reading!
We had a fantastic time celebrating World Book Day! We loved dressing up in our costumes. We had a great time meeting the author Caryl Hart. She inspired us to keep writing and reading! Maybe one day we can be an author just like her.
Do You Want to Build a Snowman?
We loved having fun in the snow! What great teamwork we used to build our snowmen.
Chinese New Year
We had a great time celebrating Chinese New Year! We retold the legend of Nian using drama. Take a look at the video below to see more! We also made our own Chinese dragons, listened to Chinese music and watched a real dragon dance. Kung hei fat choy!
Designing Zoo Enclosures in DT
We used our Science learning to help us design zoo enclosures. We thought carefully about what each animal would need. We also classified them to ensure that the carnivores and herbivores were separated. Later, we refined our work to make it even better. The children have shown great maturity when reflecting on their work. I am so impressed with their teamwork!
Knowsley Safari Park
Well, what an exciting day we had at Knowsley Safari Park! We really enjoyed going on safari and travelling from Africa to Asia and back again. Our favourite animals on safari were the baboons and the lions. We had a special treat eating our lunch whilst watching the sea lion display. In the afternoon, we really enjoyed our classification workshop. We used everything we have learned during Science to help us group the animals. We were all very brave and met a royal python called Anna and a bearded dragon called Logan. Our trip was a roaring success! Take a look at the video below to see how much fun we had.
Health Week
During Health Week, we thought about the first Heartsmart rule which is 'Don't Forget to Let Love In'. We used the book 'Words and Your Heart' to think about how powerful our words can be. We also thought about how to keep our minds healthy and took part in some meditation. At first, it was hard to keep still but we enjoyed the challenge. We also thought about healthy eating. We designed, created and tasted our own animals which were made from fruit and vegetables.
We were really excited to meet gymnast Jenny Dawes. She gave us lots of information about how to keep our bodies healthy. We have lots of budding gymnasts in Year 1 and they loved watching Jenny's videos. Jenny also enjoyed hearing about their achievements in gymnastics and sports.
Science
This half term, we have been learning about animal body parts. We began by thinking about the human body parts we already knew and compared these with our favourite animals.
We then discussed the similarities and differences between animals. We grouped the animals and thought about their characteristics. We looked at mammals, reptiles, birds, minibeasts, amphibians and fish. Can you think of a similarity between reptiles and birds?
Computing
This half term, we are looking at photo and animation. We went on a class room safari and practised using the iPad to take clear photos of the animals. During the half term, we will create posters for our safari and learn to animate our pictures!
Christmas Celebrations
We have really enjoyed celebrating Christmas. We had a great time at our Christmas party! We have also completed some Christmas crafts.
Science with Ice
We have completed lots of experiments to find out how ice melts. We began by helping Sunny free his penguin friends from the ice bergs. We had to choose the best material to melt the ice first. We then experimented with using salt to melt ice. We were shocked to find out that the texture of the ice changed from smooth to bumpy. The salt made beautiful ice crystals! Finally, we helped Olaf and Kristoff to melt Anna's frozen heart. We found that hot water was best. We know that water can be made into ice when it is frozen in a cold place. Heat melts ice and turns it back into water.
Computing
This half term, we have been looking at programming in our Computing lessons. Linking to our project, we needed to help the Beebots travel around the world to visit their friend Sunny the meerkat. We began by familiarising ourselves with the Beebot buttons and functions. We were challenged to make the Beebot move backwards, forwards, left and right and make full and half turns. We then had to learn how to help the Beebots travel to different countries around the world. We worked with a partner to generate a set of instructions, or an 'algorithm', to help us travel from A to B. We created our own maps and roads to help us. We then recorded our algorithms using the symbols on the Beebot to help us. We combined our maps to create more complicated algorithms. This was much more challenging! Finally, we swapped maps and had to de-bug one another's algorithms to help the Beebots travel to each place correctly.
Our Christmas Play 'Prickly Hay'
This year, our Christmas play is called 'Prickly Hay'. It is all about the stable that baby Jesus was born in and it has a Wild West theme! It also reminds us that we are all important, regardless of how big or small we think that our job is.
The children absolutely loved learning all of the songs, dances and words for the play and they looked fantastic in their costumes!
Hot and Cold Countries
We arrived at school on Monday to find something very exciting. There was a brand new icy igloo in the classroom! We got straight to work writing our predictions about who, or what, could have put it there.
We then discovered a penguin inside the igloo and a message from our friend Sunny. He asked us to gather as much information as possible about the penguin to help us create a fact file. We had already begun looking at non-fiction texts during reading times so we were definitely up to the challenge. Ibrahim was surprised to find out that penguins can hold their breath for up to thirty minutes underwater! Sarah discovered that they are expert swimmers and that their special waterproof feathers help them to glide through the water. Max found out that the daddy emperor penguins have to look after the eggs, whilst the mummies go to hunt for food! Harry told us that not all penguins live in cold places and some prefer to live in warmer places like the Galapagos Islands. As you can imagine, our penguin fact files were packed with information!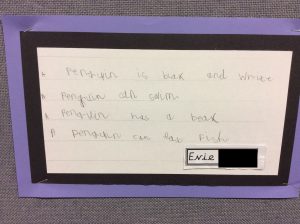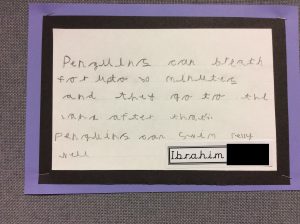 Later in the week, we continued our work about hot and cold countries during Geography. The children told me that they really wanted to learn more about sporting events in hot and cold countries… in particular, MotoGP! Dylan told us that MotoGP has 18 races that take place in 15 different countries around the world. Some of them are hot and some of them are cold. We had to help Sunny pack a suitcase for each trip, thinking carefully about what he would need to take and why. We used the conjunction 'because' to join our sentences.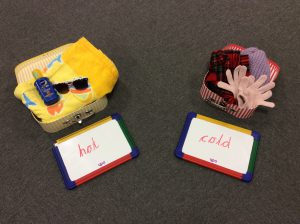 We rounded off the week with lots of exciting activities linked to cold countries. We completed an amazing experiment making magic snow and used penguins to help us practise our high frequency words and number bonds. Our favourite activity was making our snow globes. It was so much fun!
Children in Need Day
Prediction Writing with Sunny
We were very excited to begin the new half term with a brand new parcel from Sunny. We explored the clues and used what we knew to help us make predictions about where he had been this time.
Daniel said he thought that Sunny had been to China because he noticed some beautiful writing on the lantern. Isla thought the colourful fan had come from somewhere in Asia! Sunny's letter also told us that he had been eating sushi in Tokyo and was finding it very tricky to use chopsticks to eat! Where do you think he could have been?
We discovered that Sunny had been to Japan! We then began reading the 'Meerkat Mail' story. In the story, Sunny visits a different place every day. This inspired us with our writing. We know that days of the week need capital letters, so we used our magic punctuation glasses to help us remember where to include them! We also tried to extend our sentences by using the conjunction 'and' to join two sensible ideas.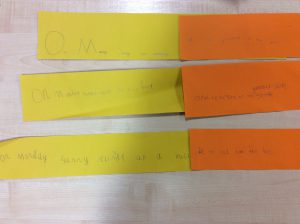 Sunny the Travelling Meerkat
Our next project is called 'You've Got Mail' and will focus on hot and cold countries around the world. We were thrilled to receive a special parcel this week. The parcel was from Sunny the Meerkat who is travelling the world to find a new home. There were lots of clues inside the parcel and we had to work out where we thought Sunny could be. The clues included rice, a tealight, a beautiful necklace, an elephant and some unusual money called rupees. We used what we knew about our Diwali celebrations to help us and we decided that it must have come from India.
We are so excited to receive more parcels from Sunny.
Diwali
We had an exciting time celebrating Diwali! We learned that Diwali is known as the 'Festival of Lights'. We had a whole school Diwali celebration and learned lots about it. We enjoyed learning about the different Diwali traditions. One of our favourite activities was looking at the amazing rangoli patterns. We created some of our own using oil pastels and thought carefully about the mirrored shapes and curves. We were very fortunate to be able to decorate a beautiful rangoli template using sand paints which were very kindly donated by Mrs Odak.
We thoroughly enjoyed reading the story of Rama and Sita. We used roleplay to retell the story. Can you tell which characters we are?
We also took part in a traditional Indian dance workshop. We learned some mudras, which are hand gestures that look like different animals. These included the lion head, the crab and the crocodile.
Art with Andy Goldsworthy
For our seasons work, we looked at the artist Andy Goldsworthy. Andy uses natural materials such as leaves, twigs and stones to create amazing pieces of art. We were inspired by Goldsworthy and tried to gather as many natural materials as possible from the playgrounds. I am always so impressed with the children's team work. They are very patient and considerate of one another's ideas. Isabella gathered lots of leaves to create a picture of a nest. Dylan enjoyed working as part of a team to create a very unusual piece of art!
Outdoor Adventurous Activities (OAA)
We have been focusing on the key words 'team work', 'collaboration' and 'communication'. We played a team game which needed us to apply our mapping skills learned in Geography. We had to use the map to navigate the playground and find coloured cones for our team. However, we had to make sure that we held onto our team hoop at all times! If anybody tried to race ahead and let go of the hoop, the whole team faced a ten second penalty. We had to use our listening skills to communicate with our team, so they knew where we needed to go. We used encouragement to ensure the team worked well together. We then had to take our cones to the quiet area of the playground and use this half term's phonics learning to unscramble words. We could identify the 'ur', 'er', 'aw' and 'au' sounds. This half term, our 'Sports Star' is Swasti, because she listens to her team and communicates well to achieve the objective.
Harvest Food Tasting
We have learned all about Harvest. We began by talking about the Harvest process. We know that many crops are planted in spring, grow during summer and are then harvested in autumn (before it gets too cold!). We wanted to find out more about how our favourite fruit and vegetables are harvested. We are so used to being able to go to a supermarket and pick any food that we like that we don't always think about where it has come from. We were amazed to find out that some of favourite foods are grown all over the world! We used our atlases to find the different places. We were shocked to find out that cocoa beans can be grown in South America and rice can be grown in Asia! We then food tested different foods that are grown all over the world. The children enjoyed food including pineapple, watermelon, plum, pomegranate and aubergine. They were very brave and gave everything a go.
During the week, we have also been learning songs and creating art work and prayers for our Harvest assembly. Miss Ashton was SO proud of our beautiful sitting, singing, speaking and listening during the assembly. We hope that all of the adults enjoyed it. A big "thank you" for all of the generous donations for the food bank.
How Strong is the Gingerbread Man? A Science Experiment.
We know from reading traditional tales that the Gingerbread Man can be very cheeky and very tasty. However, we wanted to test just how strong he was. We planned to put one Gingerbread man into a beaker of milk and another into a beaker of water. We made predictions about which biscuit would break first. We then tested our predictions. Take a look at the video below for some more information.
Into The Forest Story Path
We used what we knew about traditional tales to help us with our drama work based on the 'Into The Forest' story. The story is about a boy who gets lost in the forest and bumps into lots of different fairy tale characters. Before reading the book, we looked at the front cover and found lots of hidden clues. We used these to help us create a story map of drawings, labels and ideas. We thought about what we would see, hear, taste, smell and feel if we were walking through the forest. We then had to walk down the path carefully, using role-play to imagine what it would be like.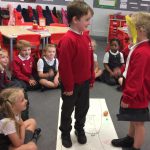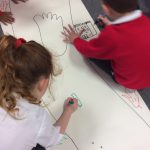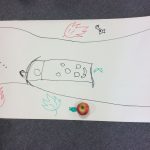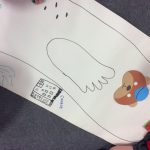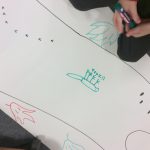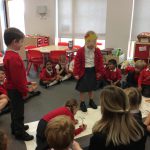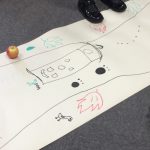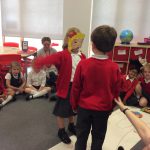 Lego Workshop
We were so excited for our Lego Workshop! Stephen showed us the best ways to build a strong house. We made bungalows, hotels, shops, schools… They had a roof, balconies, gardens and lifts. Each one looked completely different. We tried to overlap the bricks to make our buildings stronger. When we had finished constructing our own houses, we joined them all together to make a huge Lego city! Stephen showed us how to make the bulb inside our house light up using a battery, wires and a switch. This was very tricky! However, our Lego city looked fantastic and all of our buildings looked very warm and cosy.
Jack and the Jelly Beanstalk
We had a very strange start to the week! We found a giant beanstalk growing in our classroom. Linking to our alternative traditional tales project, we loved the story of 'Jack and the Jelly Beanstalk'. We discussed which materials we thought would create the strongest beanstalks. Sarah thought rock would be strongest because it is solid. Max thought that metal would be best because it can't blow down in the wind. Annabelle preferred wood, but Aarin pointed out that it would get soggy if it rained!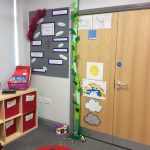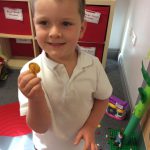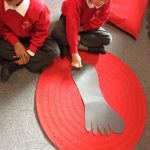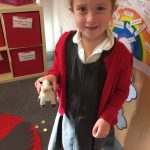 For our Science learning, we had to find the strongest material to build a new beanstalk for Jack, however….inspired by the story, Miss Ashton challenged us to use sweets to build it! We thought about the different reasons why the beanstalk needed to be strong: it needed to be able to hold Jack's weight and it needed to stay upright during different types of weather. We enjoyed investigating just how strong our beanstalks really were. We found chocolate to be the strongest material, although Lucas hoped that it wouldn't melt in the sun!
Roald Dahl Day 2017
Well, what an exciting day! We began with a whole school assembly led by the Altru drama group. It was so much fun! They helped us to put the Dahl books into a timeline. We loved dressing up and had a special character parade. The best part of all was using the Green Screen app on the iPads. Miss Ashton put us inside our favourite books! We had a good giggle and talked about why we liked the characters so much. Watch the video below!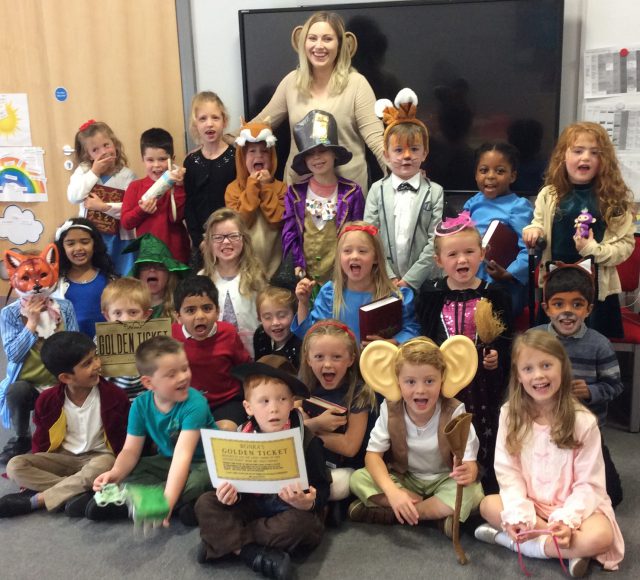 Roald Dahl Day Miss Ashton's Class
Who Lives in a House Like This?
On Monday morning, we were shocked to find a brand new house in our class room! We wondered who could live there. We searched inside and found lots of clues! We collected the clues and made predictions using the pronoun I. We used what we know to help us.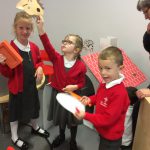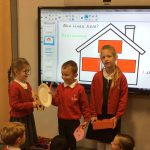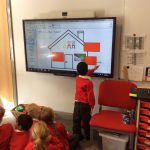 Tanatswa said, "I think it is the three little pigs because there are three chairs!"
Ilyas said, "I think it is the wolf because there is a knife and fork!"
Miss Ashton said, "I think it is Little Red Riding Hood's Grandma because she lives in a little cottage like this."
We wrote about our predictions and found out later that… it belongs to the three little wolves! Our predictions were not correct but we were proud that we all had a go. We read the story 'The Three Little Wolves and the Big Bad Pig' and painted and decorated the house for the wolves. We will continue to learn about alternative traditional tales throughout the half term.
A Fantastic, Fun-filled, First Week in Year 1
It has been lovely getting to know the children and welcoming them into Year 1. We have had a very exciting first week full of giggles and discoveries. The children have enjoyed exploring their new classroom and taking on new learning challenges.
To introduce our new project, 'Down My Street', we looked at lots of familiar homes and lots of unusual homes! We LOVED junk modelling. Take a look at some of our fantastic creations.
Evie, Sarah and Ilyas made lighthouses with lights on top, so all of the boats could see them in the dark. Swasti made a detached house.  Oliver made a bungalow. Isla and Aarin made a house with a chimney. They even made smoke clouds! Delilah, Isabella and Max made a disco house with a light up floor! We'd all like to visit their house.
It was fantastic to see the children working together and sharing resources and ideas.
We also enjoyed PE. This half term, we will be learning outdoor, adventurous activities (OAA). We discussed the tricky word 'co-operation'. We worked in teams and had to think of the best ways to pass the hoop around the circle whilst holding hands. This was a challenge but the children loved working together!
Eva and Dylan were our PE stars of the week for being such fantastic team leaders.
Reception Learning
Our visit to St Philip's Church
This half term we have been learning about 'Special Times' in RE. We have been thinking about the special times we have experienced in our lives so far and how these have made us feel.
Today we went to church to learn about the special times that take place there. Mrs Dunning showed us around and we saw the font, the altar, the stained glass windows, the lectern, the cross and even the bread and the wine. We then assumed some roles and pretended we were celebrating a christening and a wedding. We had a great time with lots of giggles! Congratulations to the doting parents and the happy couple…
Masizani Day
We had a lovely day learning all about our partner school in South Africa. We enjoyed looking at photographs of the school, its learners and staff and even received a video message from Mr Marivate, the head teacher! We also enjoyed designing and making some African jewellery and South African flags.
Traditional Tales Day
We have had a wonderful day! The children looked fantastic in their outfits and they could all talk about the characters they had chosen.
This morning the children enjoyed participating in lots of craft and drama activities. After break we joined together with Miss Daley's class and Miss Campbell's class to sing along to some of our favourite songs, before dancing at the 'Once Upon a Time Ball'.
How long did it take Jack to climb up the beanstalk?
This week we have been solving measure problems. The week began with us investigating different ways in which we could measure Jack's beanstalk. We used rulers, measuring tapes, cubes and even our hands and feet!
Today we have enjoyed retelling the story of Jack and the Beanstalk using clocks. We thought about what time Jack might have woken up in the morning and then made times on our clocks to show when he took the cow to market, when he got back home and when mum threw the beans out of the window!
Following this, we thought about other tools we could use to measure time and this led us to thinking about how long it took Jack to climb up the beanstalk and take the gold, the hen and the golden harp. We decided to turn the climbing frame into the beanstalk so that we could find out! The children used the iPad as a stopwatch and had races up and down to see who could be the fastest 'Jack'!
The children had to decide the quickest and safest way to climb down the beanstalk. The fastest time we measured was Max in 16 seconds!
Who's afraid of the Big Bad Wolf?
Our new project is well under way! This week we have been sharing the story of 'The 3 Little Pigs'. On Monday we received an email from the pigs asking for our help in finding the wolf. We designed some posters to display around the school to help us find him. We had to think about exciting descriptive language, as well as all of our good writing tricks!
Following this, we worked with our friends to retell the story in the right order. We also practised using some of the familiar story language, including 'Once upon a time', 'He huffed and he puffed', 'Not by the hair on my chinny, chin, chin', 'happily ever after'.
This morning we received a letter from the 'Once Upon a Times' newspaper. They asked us to write some articles for the paper to tell their readers about the mischief caused by the Big Bad Wolf. Nancy News came to see us to interview us and then we got to work. We knew that we had to make our writing clear so that people could read it. We used spelling mats and story words to help us with our writing.
We decided that we needed to investigate exactly how the wolf managed to blow down the houses. Why didn't they stay standing? What would be the best material to build a house from? We used the words 'strong', 'steady' and 'heavy' to help us make our predictions and then we set to work investigating using straws, sticks, paper, card and bricks.
We discovered that the materials had to be joined together really well to prevent them from falling over. Isla and Ibrahim also observed that the houses should be joined firmly to the floor to stop them from being blown along! We huffed and we puffed (we even used a hairdryer!) and we all agreed that the brick houses were the most successful!
PE
We had a fantastic PE session with Miss Stubbs this morning. We played some games with the parachute. We had to use control so that we didn't bump into anyone, and we had to problem solve in order to find the best path way under the parachute.
Our favourite parachute game was called 'Cat and Mouse'. The cats had to crawl on top of the parachute and try to find the mice who were crawling underneath it. The mice were fantastic at finding hidden pathways to hide from the cats…except Miss Parsons, who was pounced on very quickly by some very determined cats!
Fantastic Sporting Achievements
A number of children in our class participated in some wonderful sporting events and competitions over the holidays. Well done to Isabella and Annabelle for their fantastic gymnastics awards, to Max and Daniel for excellent football skills and to Amelie for participating in a 3km race. We are very proud of you all!
Reception visit Manchester Airport Viewing Park
What a great day! Despite the morning rain we had a wonderful time and the children were fantastic! Our day began with a session on board a former Monarch DC10. We learnt about how the aircraft was changed from a passenger plane to a grounded educational resource at the viewing park, and how all the aluminium that was cut away was recycled to make things like foil and drinks cans!
We were lucky enough to visit the flight deck and take on the role of captain. We were amazed at all of the buttons, switches and levers which the pilot is responsible for!
Even the adults joined in!
We also learnt about all of the different jobs people do at the airport and got to dress up in some of their clothes.
Next, we went over to the viewing platform to watch the aeroplanes take off and land. It was very noisy but when we waved some of the pilots waved back! We were lucky enough to see an Emirates Air Bus land. It has two floors, four engines and twenty wheels!
Then it was time for the Concorde! The fastest plane ever! Isla said it looked like "..a really sharp pencil that you can sit in!" We had a look around the aircraft inside its hangar. We found out that the Queen used to sit above the 'capital H' in the British Airways logo. People can have tours on board the Concorde or even get married inside it.
We also had a look around a smaller former passenger aircraft called the Avro RJX 100. We felt the nose of the plane and stood in the under carriage where the wheels go. On board we saw some of the old seats and all of the ceiling cables.
Are we nearly there yet?
Dylan is very enthusiastic about motorbikes. This week he brought in some of the protective clothing he wears when riding his toy motorbike. All of the children had the opportunity to look at and to hold the different items (helmet, jacket, gloves and boots). We discussed why the clothes were important and how they help to keep Dylan safe. Dylan then put on all of the clothing to show everybody how they should be worn.
Our new project is well under way and we are enjoying learning about different types of transport. Last week we used non-fiction books to help us learn more about motorbikes, helicopters and trains. This week we have enjoyed the story of 'The Hundred Decker Bus' by Mike Smith. We used this story as inspiration for designing our own decks for the bus. Here are some examples of our fantastic designs:
Some children were so enthusiastic about how the story ended that they wrote their own stories about what happened next.
Isla's hot air balloon went to visit Grandad Jim in New Zealand:
Eva went to Australia in her hot air balloon:
Sarah's hot air balloon traveled back in time to a dinosaur land!
Our wonderful home learning
What an egg-cellent, egg-citing day!
Thank you for all of your hard work and support in making and decorating the wonderful Easter eggs! The children loved sharing them and talking about their designs. (The teachers were very glad that they were not responsible for judging the contest!)
Ava and Olivia from Ethos Group came to judge the competition…and they were very impressed! It was an extremely difficult decision but they announced our class winner to be…
…Joshua with his beautiful peacock egg!
Following the competition we took all of our eggs outside ready for our egg rolling. Some of the children chose not to roll, whilst others were extremely keen!
And the winner, with one mighty big roll was…
British Values Day
What a wonderful day! We welcomed lots of colourful, patrotic children into the classroom this morning.
We had some helpful heroes in our class.
We even had Queen Swasti!
We started the day by thinking about all of the things we love about Britain. Our ideas included fish and chips, the Queen, roast dinners, the seaside, Blackpool, Loch Ness and even a nice cup of tea! We thought about our Christian values and we linked these to the British values. We agreed that the British values are very important and we particularly liked talking about 'Mutual Respect' ,The Rule of Law' and 'Tolerance of Different Faiths'.
We chose a range of learning tasks to help us embed our learning. Here are some photographs of some of our chosen activities:
Drawing sea creatures
Today we practised our observational drawing skills. We began by looking at a picture of a Clown Fish and carefully drawing our own. We looked at the shape of the body, the position of the fins and the patterns we could see.
We then shared our drawings with our friends. We talked about what we liked about each other's drawings and suggested ways in which they could make them even better.
We decided that we needed to add colour to our drawings to make them even better. We learnt how to use oil pastels to make our work extra bright. We then used a special ink called Brusho to create a sea-coloured background. We enjoyed watching the Brusho run off the oil pastel!
Here are a selection of our finished pictures.
Mother's Day Assembly
Thank you to everyone who attended our Mother's Day assembly. I am sure you will agree that the children were wonderful! Here are some video clips of the children explaining exactly why they love their mums so much.
Science Week – Thursday:
What an explosive day! The children carried out an experiment to make a 'minty geyser' by adding mint sweets to a bottle of cola. The reaction caused the cola to explode out of the bottles but luckily the children were very quick to get out of the way!
They learnt that a special gas called Carbon Dioxide was made when the mints sank to the bottom of the cola. This rushed upwards towards the spout of the bottle making a geyser.
Science Week – Wednesday:
This morning we continued our learning about things that float or sink. We made predictions about suitable materials for a boat and then made our models and tested them in the water tray.
Also today, the children made their own 'clouds' and watched them rain. We filled a glass with water and then  topped it with shaving foam. This was the cloud. We then used a pipette to drip coloured water into the cloud until it could hold no more. We watched the rain drip into the water below.
This is what happens in the sky on a rainy day. Real clouds are made up of water vapour, mixed with air. The more moisture that is added, the larger the droplets of water vapour become until they fall as rain.
Science Week – Tuesday:
Today the children made "a bag go boom!" They mixed sodium bicarbonate and vinegar together in a bag, stood back and waited for it to explode! Carbon dioxide was created, which filled the bag. As there was no way for it to escape, the bag expanded and then…BOOM!
A few children commented afterwards that the vinegary smell made our classroom smell of fish and chips!
We were also visited by the 'Science Boffins' today  who led an assembly full of exciting experiments. The assembly ended in a rocket launch on the school field. It was hugely exciting for the children and the staff as the rocket took off from its launch pad, flying into the sky and over the school! Where would it land? Who would discover it first?
Science Week – Monday:
To kick off Science Week, the children made a rainbow on a plate using skittle sweets and warm water. Skittles are coated in food colouring and sugar. When they were placed in liquid, the coloured coating dissolved and we saw colour spread through the water.There were actually two processes happening in this activity which the children observed. The colour and sugar dissolved and then diffused through the water.
Science Week
We are very excited about Science Week and we can't wait to investigate and find things out!
Our focus scientist for the week is Archimedes. We will be learning about the discovery he made whilst he was having a bath, and using this knowledge to help us make predictions when we investigate floating and sinking.
Also this week, we will be visited each afternoon by Scientist Sally. Scientist Sally will be conducting some additional fun and exciting experiments with children in order to help us find things out!
World Book Day 2017
What a wonderful day! We loved sharing our costumes and talking about our favourite books and characters.
When we came into school we had to add the next part  to the school story of 'The Head Teacher's Day Out'. Following Year One's story introduction, we decided to send Mrs Wightman to the London Aquarium to swim with the sharks, as we know she is very brave…and we thought this would be very funny!
We loved our book swap and were amazed at the wonderful books that we could choose from. We also enjoyed participating in the 'DEAR' sessions (Drop Everything And Read). We read our newly swapped books and enjoyed a class story…read by our class teacher, the Frog Prince!
Monday 27th February
We hope you had a relaxing half term break. We are looking forward to an exciting half term and are very enthusiastic about our new project, 'Imagine a day….under the sea.'
We launched our project this morning following the discovery of a message in a bottle.
We reminded ourselves about the tricks of a good reader and then set about hunting for the clues to help us find the story.
We talked about using the picture to help us to predict words, and we looked at the first sound in words.
We sounded out the words and talked about the 'ear' sound and 'ea' sound.
We thought about words that would make sense in the sentence, like 'slide' and 'water'.
We looked for words we already know and read lots of words on sight. Miss Parsons was amazed at our super reading!
We followed all of the clues to our Reflection Area where we found…
Our focus story for the week- 'The Rainbow Fish'.
Superheroes to the rescue!
Over the last two weeks we have enjoyed learning about real-life super heroes.
This week we welcomed Police Community Support Officers Tony and Neil into school. The children were excited to learn all about the work that they do. We found out that they do a lot more than just "taking the bad guys to prison". They told us about the work they also do in schools to help children learn about ways to stay safe. Following our talk we enjoyed having our finger prints taken and dressing up in some of their police clothes. We also got to look at their police cars and listen to the sirens…which were very, very loud!
Last week Fire Fighter John Boswell came to school to tell us all about his job and how he saves lives. He brought some of his special clothes with him and dressed Miss Campbell as a fire fighter!
We decided we would like to learn more about real-life superheroes so we have been looking at non-fiction books to help us learn more. We looked at the photographs on the front covers and then used the contents page, the index and the glossary to help us learn more. In fact, we were so engaged by the non-fiction books that we went over to Westbrook Library to look at some more (as well as some nice fiction books too!).
Kung Hei Fat Choy!
What a busy day, but a day of great fun!
We have loved learning about China and the wonderful festival of Chinese New Year.
Our day began with an investigation of what we already know about China. Ideas included that people in China speak Chinese, eat with chop sticks and that dragons are very special. Following this we learnt about the Chinese flag, the Great Wall of China and saw some pictures of special foods that are often eaten in China.
We were curious about why Chinese New Year is celebrated so we  shared the great Chinese legend about Nian the beast and made some masks to help us retell the story.
In our maths work we have been learning about time, so we thought it would be fun to practise saying the days of the week in Chinese. We also worked on our finger exercises by practising using chopsticks…which even Miss Parsons found tricky!
This afternoon we shared the story of the Chinese Zodiac and we were all in agreement that the rat was very sneaky! We took on the role of the animals in the story and pretended we were swimming in the race. Then we lined up in the order of the finishers. We know that this year we are celebrating 'The Year of the Rooster.'
We have thoroughly enjoyed exploring a range of fun and exciting mark making, drama, dance and crafty activities throughout the day. Please see our gallery below for a snippet of some more of our learning from today.
Happy New Year!
We hope you all had a peaceful and relaxing Christmas. Thank you very much for your kind wishes, cards and gifts.
Our new project has begun – Superheroes to the Rescue!
The children have been extremely busy over Christmas creating fantastic superhero masks. We loved sharing our superhero names with each other and discussing our special powers. We paraded our masks around the school and in some of the classrooms. Everybody loved our designs!
This week we have been sharing the story of Supertato. We were surprised to see a real life crime scene in our classroom! The cheeky pea had trapped some of the fruits and vegetables!
We had to use our reading tricks to help us read and follow the clues that the pea had left around our classroom. He led us into the sand tray, the reading corner, the writing table and the jail! But we finally found Supertato trapped under the iPad and we were able to rescue him.
We decided to set a trap to catch the pea using the construction bricks:
The following morning we discovered that the trap had worked!
We asked Mr Dodd to put the cheeky pea back into the freezer so that he couldn't cause any more mischief. Some vegetables are frozen for a very good reason!
Autumn term
The children thoroughly enjoyed participating in our fun run and have now received their medals as a reward for their efforts. Well done everyone!
Career Day
Some of our favourite areas of learning