Welcome to our class page. Please check regularly to find out all about our exciting learning.
Reminders and Dates for the Spring Term
Please ensure your child's indoor and outdoor kits are in school at the beginning of half term and they will be returned home at the end of the half term.
This half term, PE lessons will take place on Mondays and Wednesdays.
Homework and Reading Records
Homework is set on Fridays and is due in the following Thursday.
Reading records will also be checked for 3 signatures on Thursdays.
Our Learning
Health Week
We had a fabulous Health Week, experiencing a yoga class, a rugby fitness session with Warrington Wolves and completing a mile run.
RE – Exodus
This half-term, we will be exploring why the Exodus was a significant event for Jews and Christians. We reminded ourselves of the story of the Exodus through videos and drama. We also considered how we might feel if we experienced the Exodus from Egypt.
RE – Building God's Kingdom
Our RE topic this half-term is 'People of Faith' where we are exploring how faith affects people's lives, how early Christians helped to build God's kingdom and how present Christians are continuing to do so. Paul was an early Christian and helped to spread the word of Christ. We read Acts 21 together and the children re-enacted different parts of the passage.
Dance – Cheerleading
The children produced an amazing cheerleading routine which included their own choreography in groups as well as some impressive lifts!
Science – Electrical Circuits
This half-term, the children have been investigating how components in electrical circuits are affected by voltage, and drawing circuit diagrams with the correct symbols.
Children in Need
This morning, for Children in Need, the children took part in Joe Wick's Big Morning Move with a very lively exercise routine.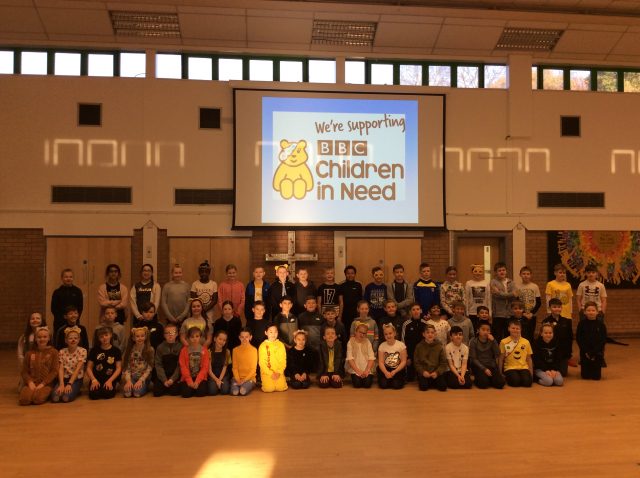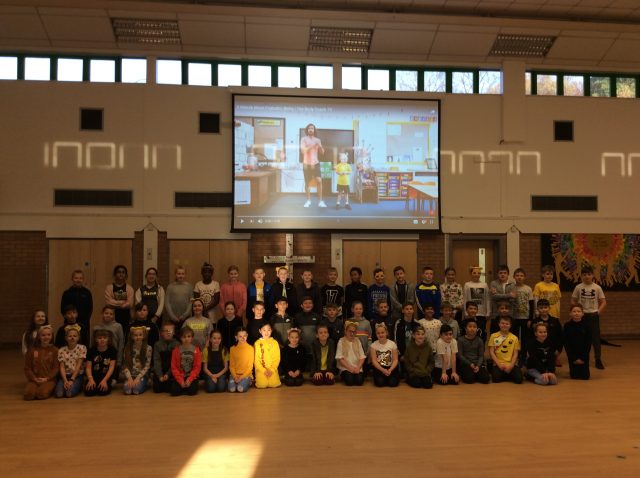 The children were also lucky enough to receive a visit from Pudsey Bear who came personally to collect donations!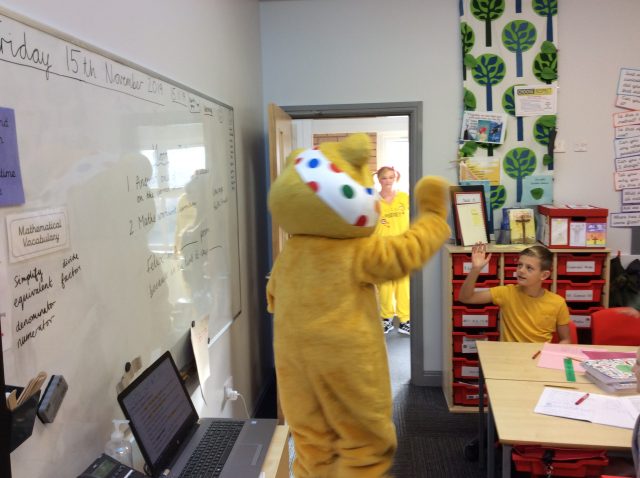 Poppy Debate
This week, we held a debate: "Should it be compulsory to wear a poppy for remembrance?" The children completed research for why people might be for or against wearing a poppy. 2 people were selected as the speakers of the debate to make sure everyone had the chance to express their points.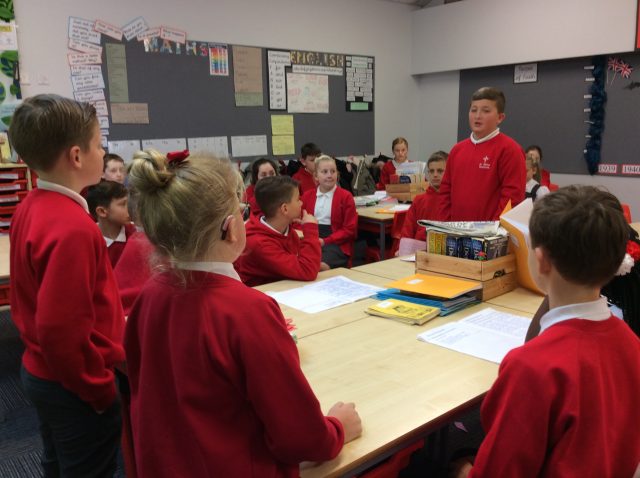 Worship Team
A huge thank you to our worship team for this half term who did a fantastic job assisting in class worships. On the final week of the half-term, they planned and led worship, asking brilliant questions and reading the story with excellent expression and confidence.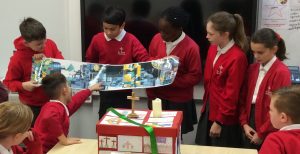 Westbrook Library Visit
We had a fantastic visit to Westbrook library, where Chris Bent gave a fascinating talk to the class. He told us all about his father's story from World War II and the children were captivated!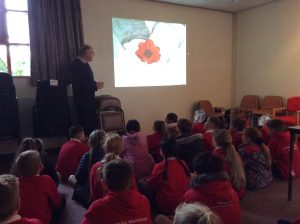 Design and Technology – Bug Hotels
Linking to our science topic of classifying living things, the children designed and made bug hotels from clay. They thought carefully about what bugs would like from a bug hotel as well as other design criteria such as durability and making it weather proof.
Tatton Park Trip
We had a fantastic (but wet!) day at Tatton Park, learning all about the lives of servants in the Victorian era. We found out about jobs that boys and girls would do, including setting tables ready for dinner and preparing cucumber sandwiches for the family's afternoon tea. We also learnt about the role of a garden apprentice and saw the rose garden, orchard, vegetable patches and several of the greenhouses at Tatton.
Street Child Drama
This half-term, our topic is The Victorians and we have chosen to read Street Child by Berlie Doherty. It centres around the life of Jim Jarvis, who is orphaned early on in the book. The children thought carefully about the rent collector, Mr Spink, who evicts the family from their room, by participating in role play and creating freeze frames to help them plan a character description.
Year 5
Trips to IM Marsh and St Gregory's
Year 5 have had two wonderful days this week. Firstly, we travelled to Liverpool to visit IM Marsh. The children had an exciting day, trying lots of new and interesting sports, such as trampolining and kin-ball, which we don't normally get the chance to try in school. The following day we visited St. Gregory's High School for a Year 5 Discovery Day. The children experienced a day in the life of a secondary pupil, studying a range of subjects, such as Science, PE, DT. Again, the children really enjoyed their day, and it was a thoroughly worthwhile experience. You will find some photos below.
We Have Butterflies!
The children were really excited this week. It was time to set the butterflies free! We walked to the orchard and set them free – hopefully providing them with the best possible habitat.
Metamorphosis
We have been very excited by the arrival of caterpillars in Year 5. Having watched them grow from 5mm long to 5cm long, we were intrigued this week to observe them hang from the lids of their pots and become chrysalises. Soon we'll move them into their pavilion, where we cannot wait for them to emerge as beautiful butterflies!
London
The children really enjoyed their trip to London. We had lots of exciting activities, such as visiting Buckingham Palace, a tour of Parliament and, of course, watching the AMAZING 'School of Rock'.
DT
For DT this half term, we have been exploring Tudor recipe's. The children have explored some of the unusual ingredients the Tudors used. They were very shocked to find beer and ginger being top of the ingredients list! For our bread, we have used a range of traditional herbs to flavour the bread. The children thoroughly enjoyed their experience. We are sure we will soon have our own bunch of Paul and Prus leading their own TV show.
Drama
To support our writing in English and RE, we have acted out a scene from the book 'The Lion, The Witch and The Wardrobe'. The children chose their favourite scene and had to act out, in their own words, what happened. We had some very creative ideas and the writing the produced as a results was wonderful!
PAN
Each year, our Year 5 children take part in the PAN (Primary Arts Network) in the Parr Hall. This year's theme was about Warrington, and our chosen theme was Burtonwood Air Base. We took our inspiration from the American visitors England, and Warrington, had over WW2, dancing to Lindy-Hop and Big Band style music. The children thoroughly enjoyed their day! Our children were fantastic and really stepped it up during the final performance.
The children not taking part in the show at the Parr Hall all took part in an art project to create a giant flag. This was inspired by the same theme, and the children created a dotted design of an American/British flag. A really lovely (and VERY BIG) piece of work.
Science
This half term in Science, the children are working scientifically to develop their science skills. In year 5, we are exploring all the different factors which help make a successful launch of a rocket. So far, we have explored the aerodynamics of paper planes, having a competition to see whose plane could fly furthest. This was a really fun lesson, teaching us lots about how things fly and why. We have also looked at the thrust force needed to allow a rocket to take off. We designed our own experiment and the children had to choose what variables they would change and measure. Some photos of the two lessons are below.
Foodbank and Archbishop of York Youth Trust Award
As part of our on-going project from the AYYT award, the children decided a brilliant way of working with the local community would be to set up Foodbank Collection points in local businesses. We are very grateful that the local Pharmacy and Odeon have allowed us to place collection points in their staff rooms, which the children have now collected their parcels from. We are looking forward to continuing the project in our own classrooms and using the school staff room to build a much needed collection for the Warrington Foodbank. We are very proud of the effort the children have gone to and they are all thrilled with the collection we have so far. A big 'well done' to all involved.
Archbishop of York Youth Trust Award
We have embarked on our Archbishop of York Youth Trust Young Leader's Award Programme. As part of this programme we will be learning all about teamwork, leadership skills and how we can 'be the change that we want to see' in our school, home and community. During the first two sessions, we learnt how to work together as a team and what an inspirational leader looks like. Over the next few weeks, we will be exploring our local area to choose a community project and we will be carrying out smaller projects in our own neighbourhood.
May the Force be with you
We have had a fantastic day at the Museum of Science and Industry in Manchester. Following our class teaching about forces, we have looked at the impact of gravity on falling objects, learnt about the first flight across the Atlantic Ocean and experimented with magnetic forces. We were amazed when our brave teachers volunteered to jump out of an airplane – they really are super heroes! Have a look at our faces, they tell the whole story!
Chocks Away!
As part of our science work on forces, we have been thinking about air resistance. This week we made parachutes, to see if height, size, shape and materials made a difference to how fast a parachute dropped. We took our parachutes out to the red bridge to test them, which was really fun.
Respect
St. Gregory's High School came for a visit and some of their students spoke to us about their experiences with bullying. They taught us a fabulous dance and gave us the opportunity to take part in their Positive Footprints Award. One of their students read a lovely letter to Mrs. Hogan and another student read one to Mrs. Lydon, which made them both a bit emotional. We have been challenged to think about who we could give the award to.
Safety Quest
Year 5 had a really exciting day at Lymm Safety Quest last week. It was a very informative day, and made us really think about some of the choices we are making. We learned about being safe around water, what to do if a fire breaks out in our house, the importance of anti-bullying, how to be safe crossing roads and railways, and so much more!
A Surprise from 'Down Under'
This week, we were very excited to receive a surprise package. Mrs. Bradley and a teacher in Queensland, Australia have set up an exciting project, so that both of their classes can find out what it is like to live on the other side of the planet. We couldn't believe it when we were given a letter from a child in a school in a completely different hemisphere! We have read the letters, planned and written our responses in English lessons and, finally, we have typed the letters and added pictures which are typical of us, our school, Warrington and England. We are also interested to know, as part of our RE topic, how they celebrate Christmas in Australia – do they really have a BBQ on the beach?
Chemistry with Cabbage
We are very excited after our amazing science day. We loved watching, doing and exploring different acids and alkalis – creating and designing our own experiments to identify and classify these. Our favourite part was seeing the gloves inflate. Thank you so much Mrs. Watson, for helping us create unexpected chemistry with red cabbage.
Chinese Visitors
This half term, we have had the pleasure of welcoming our Chinese visitors. In our class, we had 5 children who were buddies with Owen, James, Daniel, Ellie and Sophie. Throughout their stay, they joined in with our maths and English lessons and we taught them a thing or two in Rugby too! The visitors in our class were enthusiastic to learn what happens in an English school and they amazed us with how fast their times tables recall was when we played some interactive games.
Dance & Rugby
In Pe this half term, we have really enjoyed having the Warrington Wolves come in to teach us some Rugby skills. I was so proud of my class in every lesson as all the children were commended for how well they had listened and how well their skills had progressed from year 3. On Tuesday 17th July, 5 children from our class had the pleasure of taking part in a Rugby festival held at Crossfields. It was so hard to choose which children to send to the festival, but to the credit of all children in my class, Wil, the Wolves coach who was training our children said that we could send anybody from our class as they were all so good at the skills they had been taught.
Our other PE sessions have been to learn dance skills. Throughout the half term, the children had the opportunity to learn different dance compositions whilst using a variety of props that dance groups use. By the end of the half term, the children will have composed their own dance routine using props – watch out for the videos.
Science
We have continued to learn about 'Living Things and Their Habitats' this half term. After exploring what living things lived in our school grounds, the children collated their information and presented this in graphs. Since then, we looked around the wooded area at the sides of our playground and school field, and we decided to build a 'Bug Hotel'. We achieved this with the help our our night care taker, John, who took the time to make us the outer shell of our hotel. Since then, both year four classes gathered many natural resources to fill the hotel with in the hope that we can attract more wildlife to our environment. The children have all worked so hard with this in a very compassionate way as they all wanted to make sure that the wildlife around our school was safe and looked after.
Mosque and Synagogue Trip
As part of our RE topic 'The Church', the children had the opportunity to visit Manchester Central Mosque and Manchester Reform Synagogue. The children were fantastic during both visits. They listened well and asked lots of questions. We learnt about the services that take place in a synagogue and the traditions that they Jewish people follow.
In the afternoon, we were warmly welcomed in the mosque where the children had their lunch and were taken on a tour around the different areas. We were given the change to ask lots of questions (both children and adults) and we were even able to watch the 1.45pm prayer. I was so proud of the children as they were silent and respectful during this time and just wanted to learn more.
Oral Health Visit
Today we took part in a workshop run by Marion Stocks who is Warrington's Oral Health Lead. We looked at the different types of teeth that we have as a child and as an adult and what the function of these teeth are. Later on, some of us were involved in an experiment to see how well we brush away the plaque on our teeth! We definitely have a class full of healthy teeth. Have a look at the photographs to see how much fun we had.
The Vikings
So far this half term, we have been studying the Vikings for our project. This has covered where the Vikings came from, where they invaded and we are going to be learning lots more about everyday life as a Viking.
In English, we have been reading different versions of the Viking story 'Beowulf' which was originally written as a poem. We are all thoroughly enjoying this gruesome story and are going to be writing our own descriptive versions of it soon. Watch out for some of our work on here.
PE
As it will be our sports day this half term, we have been learning about Athletic skills. So far we have evaluated our running and have been trying to improve our long jump techniques.
We're also having some dance classes, with Becky, to learn an African dance. Once it's all been put together, we will post some photographs of the finished piece.
Science
In Science, we have been studying 'Animals, Including Humans'. Although we have previously covered some of this topic in health week, we will continue to look at animals and insects that are in our environment, create food chains and think about the importance of looking after these food chains in order for everything in them to survive.
Warrington Detectives
As part of our project this half term, we have been learning all about Westbrook and Warrington. We have studied a range of different maps including aerial photographs where we could see our school and the surrounding streets. The children designed their own surveys that they completed on our walk around Westbrook to find out why people come to the Westbrook Centre. They also conducted a traffic survey where they found out what vehicles pass through.
United Utilities Water Cycle Workshop
In science, we have been learning about different 'States of Matter'. We have found out the difference between solids, liquids and gases; investigated the best way to melt chocolate and taken part in a workshop let by United Utilities about how the Water Cycle works. We were fascinated to learn that the water on our planet has been here since life began and that we even drink the same water that the dinosaurs drank! Thankfully, we found out that we now treat our water nowadays to make sure it is clean and doesn't make us poorly. To help keep our water systems free from blockages, the children learnt what should and shouldn't be put down toilets and drains.
Health Week
Health week began with an assembly all about being 'Heart Smart'. Boris the robot joined us last year teaching us different ways to keep ourselves healthy. Throughout the week, our theme was 'Let Love In' and we started by reading a story called 'Words and your Heart' by Kate Jane Neal. The story talked about how words can change the way we feel in so many ways. We really enjoyed different ways of using words to make each other feel good – there were so many huge smiles around the classroom!
We also took part in at least 30 minutes exercise every day and investigated how this changed our heart rate in maths where we presented our results in line graphs.
In science, we looked at how our digestion system works and what organs make up our digestive system. As always, this topic was thoroughly enjoyed by the children, especially when they had to sort organs into the correct place on a body.
Badminton
During our PE lessons, we have been learning skills for gymnastics and badminton. In gymnastics, we have worked on our own independently and in partners/small groups. We have used control and balance to be able to perform a range of gymnastic shapes which we put together at the end to create a sequence.
In badminton, we have learnt the key skills needed to be able to strike the shuttlecock effectively and begin to build up a range of techniques to help us score higher points and win the game.
Christmas Play
Today we did our first performance of our Christmas play 'Gimme Gimme Gimme'. We hope that everyone has left remembering the true message of Christmas and that it's not just about presents, and that there are many people in the world who are not as fortunate as us. We need to remember that Christmas is about giving our time, our love and our friendship and that we were given God's greatest gift, Jesus, to remember and celebrate each Christmas. Merry Christmas, everyone!
Ancient Greek Workshop
As part of our learning about the Ancient Greeks, we took part in a Greek workshop called 'Greek Gods and Monsters'. We had a really exciting morning where we learned a lot more about different Greek gods and goddesses. Also, we took part in lots of drama to act out some of the myths.
After our Greek workshop, we designed our own plate of healthy, Greek food. We learned about foods that are good for us and how much of each food group we should aim to have on our plates. The morning was a great success and lots of us tried foods that we haven't tried before.
Happy Diwali!
Towards the end of our first half term, we took part in lots of activities to learn about how Diwali is celebrated. These included creating artwork, learning about what Diwali is and showing our creativity through some Bollywood dancing.
Roald Dahl Day Fun
We had lots of fun on Roald Dahl Day. The children all looked fantastic and had gone to so much trouble to make their costumes look so good. During the day, we took part in exciting workshops where the children focused on the story 'Charlie and the Chocolate Factory'. We participated in some drama activities where we created our own freeze frames and designed our very own sweets in the style of Roald Dahl. This meant that we were able to be very creative in our designs and make them as bizarre as possible!
A great day was had by all and the children had lots of fun.
Science
Our topic in science this half term is 'Sound'. We will be learning about what sound is, how it travels, how our ears work and what happens to sound as we move further away from it.
As well as following our year four topic, the children will also be taking part in science assemblies where we have different people coming in to show us just how exciting science is.
Project
Our project this half term in all about the Ancient Greeks. We will be learning both Geography and History throughout this topic, finding out where Greece is and how the Ancient Greeks lived.