Welcome to our class page. Here, you will find information about the children's exciting learning, as well as any key dates or important pieces of information that you will need to know for the upcoming weeks and months.
Reminders and Dates
Homework can be found on the year group page every Friday and it should be completed and returned by the following Thursday. Spellings will be posted on the year group page too on a Friday and should be practised in preparation for our spelling test every Thursday. As there are no reading records going home, you should complete your three reads on Reading Plus.
PE kits will need to be in school for our lessons which take place indoors on a Tuesday and outdoors on a Monday.
Reminders and Dates
Our Learning
Peace Centre Residential
We spent an amazing couple of days at the Peace Centre. We did team challenges and problem solving, we played games, we learned how to tie knots and we did a quiz. It was great fun sleeping over and we can't wait for our next residential!
British Science Week
We had a brilliant week learning so much about science and scientists. We met some real scientists and we did lots of fun experiments including making exploding lunch bags, invisible ink and gloop. Some of us even decided we would like to be scientists in the future!
Design Technology: Westbrook Buildings
We had a very busy day designing and making our own models of the buildings around Westbrook. We had previously explored different building materials and how to make structures strong, so we used this learning to make sure our buildings were as strong and stable as possible. We evaluated our structures and whilst we were pleased with them, we identified ways to improve them and what we would do differently if we made models again.
World Book Day
We had a fabulous day doing all things book-related. We read books, we shared our favourite books, we made book marks, we did book word searches, we watched masterclass videos by children's authors and we designed stickers for Warrington Lit.Fest. We also dressed up as characters from books or we wore our pjs and even our classroom doors were dressed up for World Book Day! In the afternoon, we all went to different classes and we read a book then did lots of fun activities based on the book with children from all age ranges across the school. It was great fun!
Science: Water Cycle Workshop
We had a brilliant morning working with United Utilities learning about water and the water cycle. We found out about how the water cycle works, we sequenced the different stages of the water cycle and we learned lots of facts about water and how it gets to our homes. We also learned about why it is important to save water and we made water promises. It was a great workshop and we learned so much!
Geography: Warrington Detectives
We spent a morning in and around Westbrook carrying out our geography fieldwork as Warrington Detectives to find out more about our local area. We did traffic surveys to find out which vehicles types and colours were most common, local business surveys to find out which businesses were used most and we interviewed people to find out how they used Westbrook, what they thought of it and how it could be improved. We had a brilliant morning and we found out lots about our local area.
Health Week
We had an amazing health week! We did lots of PE (fitness sessions, running, dancing, gymnastics and work outs) and we also learned about healthy eating and how to look after our mental health and wellbeing. We also used the ipads to research world champion diver Tom Daley. We then used this research to produce presentations about him and his successful career. We felt exhausted but very fit by the end of the week!
Science: States of Matter
We have been learning about solids, liquids and gases. As part of this, we wanted to find out if air was 'nothing' and whether it had a mass, so we blew up some balloons and tied them to a coathanger, then we saw if there was a difference between the mass of the two balloons. There was because the full balloon was lower than the empty one! We learned that air does have a mass, otherwise the balloons would balance whether they were full of air or empty!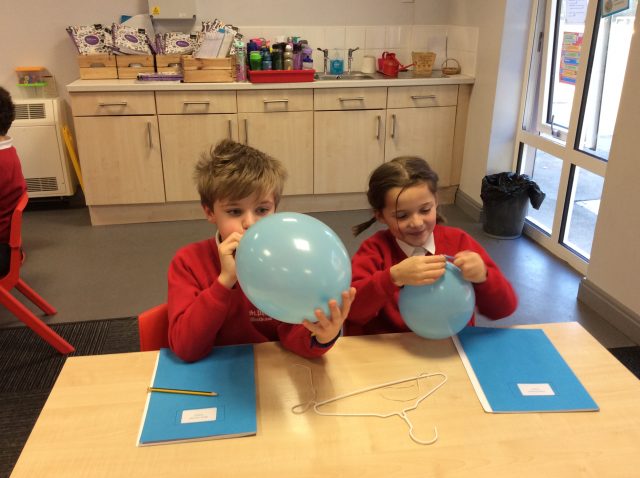 PSHE: Friendships
In PSHE, we have been learning social skills and learning how to get along with each other and make new friends. We played lots of games with children from all year four classes to try to form some new friendships. It was great fun!
English: Performance Poetry
This week, we have been reading and writing poems. We practised performing poems using our voices by using intonation and by changing the volume, and we also added actions to the poems. We then evaluated each other's performances.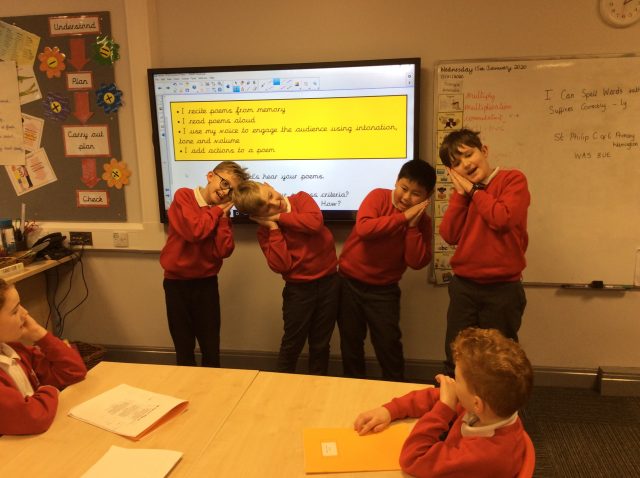 Geography: Debate
In geography, we have been learning about the differences between cities and villages. To end our studies in this area, we had a debate about whether it is better for children our age to live in a village or a city. We had two teams: the proposition (cities) and the opposition (villages) and then we asked questions and voted on the issue. We voted in favour of living in villages because we thought it would be better to have fresh air, space and nature all around us.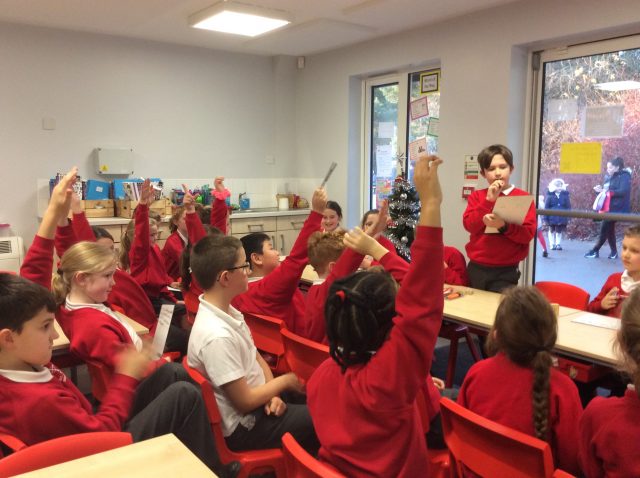 Science: Electricity Workshop
We had a fabulous hands-on day learning about electricity. We learned about mains and battery power, different electrical appliances and how they work. We also learned about the components of a circuit and how a circuit works and we got to make lots of different circuits using special circuit boards. We also learned how to draw a circuit diagram. It was a great day!
Children in Need
Today, we were very lucky because we had a visit from Pudsey Bear. The children came to school in yellow, spots or Pudsey themed clothing and they were very excited to meet Pudsey. He made the children giggle, he joined in with our learning and he even signed a few autographs! Thank you, Pudsey! We all brought in donations for this very worthy cause and we learned about the work that this wonderful charity does.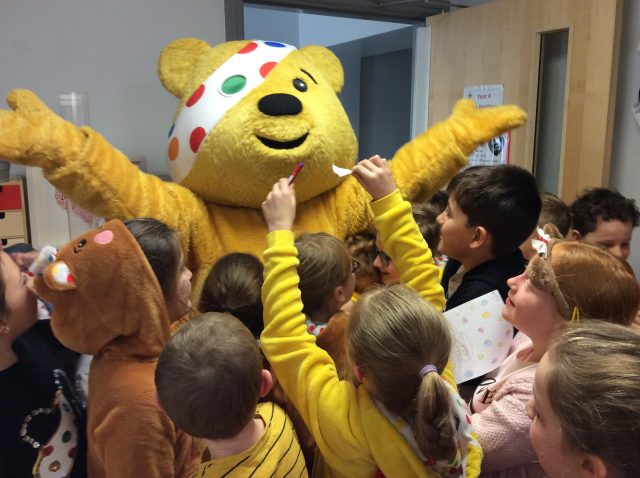 Odd Socks Day – Anti-Bullying Week
Today, we wore odd socks to help us all remember that we are all unique and special. We learned about what bullying is and what we should do if we feel we are being bullied or if we see someone else being bullied. The most important message is that we should TELL an adult we trust.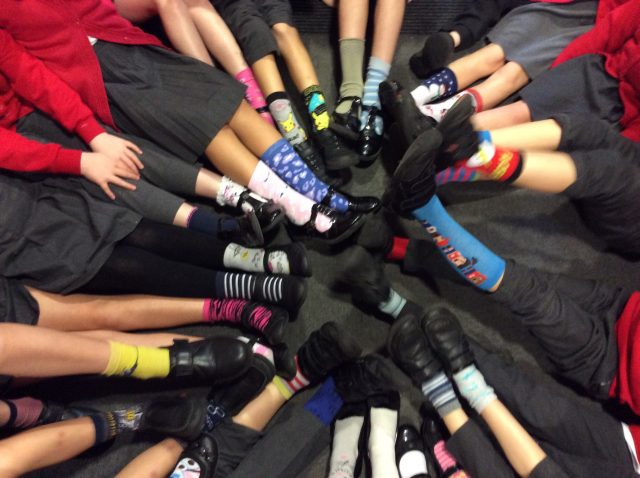 Class Worship
Our first worship group of the year led our class worship at the end of the half term. They did a fantastic job! They shared the Bible story of the walls of Jericho and they built a wall from blocks which they then knocked down. They discussed the story and linked it to our Christian value of the week, fairness. A brilliant job! Well done!
Design Technology: Nutrition
After finding out about healthy choices and after tasting a variety of Roman foods, we designed and prepared our own plates of healthy food using some Roman ingredients. We focused on food safety, thinking about hygiene and staying safe. We really enjoyed making our plates of food, but we enjoyed eating them even more! We evaluated our plates of food using appearance, smell, texture, and taste.
History: Chester Visit
We had an amazing day in Chester learning more about the Romans. We did a workshop where we were archaeologists and we excavated some artefacts, we investigated how the Romans cooked and how a bathhouse was heated. We then visited the remains of the amphitheatre with a Roman centurion where we did some battle formations including the wedge – we even defeated the fearsome Celts (Mrs Davidson and the parent helpers!). We then explored the artefacts in the museum and we tried to complete a quiz about the Romans. It was a fantastic day that we won't forget!
RE: The Psalms
We did a psalm hunt in the spiritual garden, then we spent time reflecting on the psalms and what they show us about the nature of God. We then listened to some psalms in the classroom and we even sang some. We decided that the psalms were written to praise God and to thank Him. We spotted that God is often compared to a rock, a fortress or a shepherd in the psalms because He is our strength and our protection. He is always with us, no matter what, and He loves every one of us.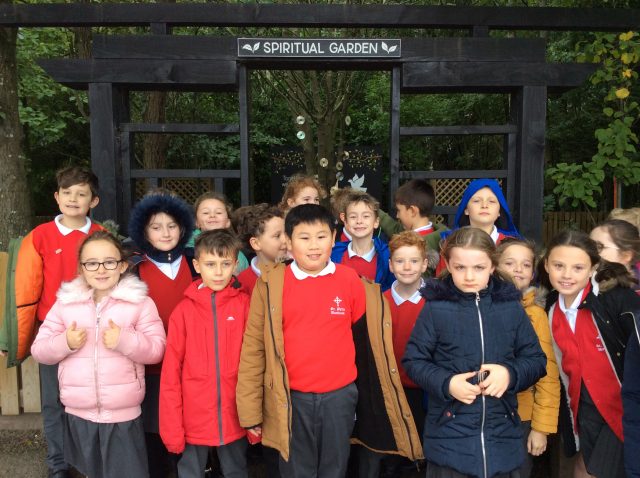 History: What did the Romans eat?
Today we were archaeologists and we excavated some Roman poo to find out what the Romans ate. We found out that their diet was quite different from ours today: they ate lots of fruit and vegetables, some meat and fish (if they were wealthy!) as we do, but they had to grow, rear or hunt everything they wanted to eat. There were no supermarkets or takeaways. The rich ate differently from the poor as they would have huge banquets, whereas the poor would eat lots of pottage (a porridge like stew).
RE: David Spares Saul's Life
We did some drama of the story 'David Spares Saul's Life'. We used this story to learn about forgiveness and what it means to not fight evil with evil, as God wants us to. We linked our Christian values to the story and we reflected on the story thinking about what we might have done if we were in David's position. We voted that he made the right decision because he was a good person and he was pure of heart.
Library Visit
Today we visited Westbrook Library. We spent some time exploring the books and sharing books with partners then we listened to a story. We love to read!
Class Charter
We have spent some time learning about rules, rights and responsibilities. We then used this learning to create our own class charter to help make our classroom a safe and happy place to be!