Welcome to our class page. Here, you will find information about the children's exciting learning, as well as any key dates or important pieces of information that you will need to know for the upcoming weeks and months.
Reminders and Dates
This half term, PE lessons will be on Mondays and Fridays. Children should keep their PE kit in school, it will be sent home at the end of each half term for washing.
Homework will be sent home each Friday, and should be completed and returned by the following Thursday. Every other week, we will send home some times table facts to be learnt. These will be tested the following Friday.
Spellings will also be sent home on Friday and should be practised in preparation for our spelling test each Thursday.
Friday 25th October – Finish for half term
Monday 4th November – Return to school
Friday 6th December – Year 3 Christmas performance (9:30 a.m)
Monday 9th December – Year 3 Christmas performance (2:15 p.m)
Tuesday 10th December – Friday 13th December – Year 3 Foxhowl residential trip
Friday 13th December – Christmas Jumper Day
Friday 20th December – Christmas Party and finish for Christmas
Our Learning
Worship Team
This is the worship team from our first term in Year Three. The children did a fantastic job when leading the worship each week. The children enjoyed singing their favourite songs and participating in drama performances.
Starburst Rocks
During a Science lesson, the children worked in partners to make three types of rock; sedimentary, igneous and metamorphic with starburst sweets. The children cut up the sweets, squashed them together and melted them in a microwave to make the different rocks. Lots of fun was had!
Mystery Box
To start our topic for this half term, the Year Three classes opened a mystery box. Inside the mystery box, were clues for what topic we would be learning about. After a while, the children guessed correctly and are looking forward to learning all about the Stone Age.
PE
In PE this half term, we are taking part in netball and football. During the sessions, we are learning skills such as; throwing, catching, dribbling and kicking with accuracy. Children have already shown how well they can work as a team and in partners and how they strive to and complete challenges given.
Learning in Year 2
Orchard Visitor
We were disappointed that our visit to Westbrook Orchard had to be cancelled due to bad weather. However, Kev kindly visited us at school and we had lots of fun learning about how habitats develop. It helped to build on our learning from Wirral Country Park and our knowledge of food chains. We used drama to build up the habitat from the first plant to a thriving community of plants and animals.
Minibeasts
We created our own habitat map of minibeasts and where they live. We then researched facts about these fascinating creatures and wrote some of our own riddles for our Class Worship to share our learning with our families.
I have lots of eyes so that I can stare at you.
Sometimes I do a funny dance to show where the food is.
Me and my friends live near lots of flowers.
We are herbivores because we eat pollen.
We usually fly but we don't often walk.
If I come near, look but don't touch because I might sting.
What am I?
Wirral Country Park
It was a beautiful sunny day for our visit to Wirral Country Park. We had a fabulous time exploring the different habitats on site – the pond, the meadow and the sea shore. Chris the Ranger shared fascinating facts about the pond creatures in our pond dipping session. In the meadow we used nets to sweep through the long grass and chase butterflies. On the seashore we completed a scavenger hunt and enjoyed watching the shore crabs scuttling along the muddy sand. We had a great fun and set off back to school ready to extend our minibeast research in the classroom.
Sorting Seeds
We started our Science study of how seeds grow by using our observation skills to sort seeds into groups. We looked carefully at the size, colour, shape and texture of the seeds before sorting them into groups. We enjoyed learning how to use the hand held microscopes and hand lenses to magnify the seeds to help us.
Mary Ann Plantation and Meadows
Having postponed our local walk due to heavy rain, we especially enjoyed the warm sunshine as we visited the woodlands behind school known as Mary Ann Plantation and the popular open playing fields of Mary Ann Meadows. We had already looked at maps of the local area and followed the route identifying physical and human features. We played nature detectives along the way, identifying flowering plants and trees and collecting interesting items that caught our eye. Back at school we thought about the facilities we have in our area of Westbrook and why they are important to our local community.
Happy Easter!
A big thank you to our Ethos Group who organised and led some fun Easter activities with an egg and spoon race and an egg hunt. We're still hunting for the final 2 eggs – where can they be?
Design Technology
In DT we have been busy exploring ways of joining materials in different ways to develop our construction skills. We looked at a range of bags and their design features before creating our own designs and constructing these from used materials. Finally we used paint to give them a quality finish.
Water Workshop
As part of British Science Week we enjoyed a workshop from United Utilities explaining where our water comes from and how we must use it wisely. We had lots of fun and lots of learning!
Maths: Measuring Temperature
We have been looking at thermometers and learning how to use the scale to measure the temperature. We have compared the temperature of cold water, warm water and a mixture of both. Now we are ready to apply this skill by using the thermometers in a scientific investigation. We'll keep you posted!
Westbrook Library
We enjoyed a visit to our local library, where we spent some time browsing the shelves and sharing books with friends. We each had our own favourites – picture books, information books, longer chapter books, even recipe books. Several of us are returning so we can borrow books to take home and enjoy at our leisure. Happy reading!
RE: The Ten Lepers
The title of our latest RE Unit is "Jesus: Friend to Everyone." We shared the story of how Jesus met and healed ten lepers. We thought about what their life must have been like before they met and Jesus, and how this changed once they had been healed. We used drama to explore this, working together in groups to create 'before' and 'after' tableaux .
Ndeble Art
It is traditional for the people of the Ndeble tribe in South Africa to decorate the walls of their homes in bright geometric patterns. We learnt a little about this custom and looked at some images of their paintings. We used these ideas as inspiration for our own designs on our African Art Day using similar shapes, colours and patterns. Here are just some of our finished pieces.
Welcome to the New Year
We got the New Year off to a good start by making personal organizers/calendars. This formed part of our English learning of spellings and use of capital letters. Once we had made the calendars, we wrote some detailed instructions on how to do this, before taking the planners home to use.
Born in a Barn
What a fantastic performance we gave! Our Year Two Christmas play production this year was called 'Born in a Barn' and it told the story of how the animals reacted when they found out that a king had been born in their barn. The Christmas story of Jesus' unfolded in music, dance and dialogue, reminding us of the real meaning of Christmas. We had worked hard in rehearsals and parents provided great costumes to make the final performances a real winner. Family and friends left with wide smiles and warm hearts. Merry Christmas!
Choose Respect
We showed our support of the 'Choose Respect' Anti-Bullying Week by wearing odd socks. Everybody's choice was different but that's because we are all different and special in our own unique way.
Landmarks of Liverpool
We have started our project about Liverpool by exploring the cathedral and visiting the waterfront to see some of the historic and famous buildings of our closest city. We received a very warm welcome from our tour guide,Pauline, who showed us around the cathedral, sharing interesting facts and helping us to think about why this is such a special place. After lunch the coach took us down to the banks of the River Mersey where we enjoyed a brisk walk and a little sketching time before being wowed by the fantastic view from the modern Museum of Liverpool building. We did catch sight of the wonderful dazzle ferry, but time didn't allow us to make that famous journey across the river.
Class Worship
This week our Worship Team led our class worship, planning the activities and leading worship time themselves. They started with a fun guessing game – could we guess who it was just by feeling them with a blind fold on? We all watched and listened carefully as they read and acted out the story of how Jacob tricked Isaac into believing he was Esau. We reflected on times when we have not been fair to one another. A big thank you and well done to this half term's team for doing such a super job!
Monday is Washing Day
Have you ever wondered what it was like before washing machines? We investigated artefacts from Warrington Museum before using role play to recreate a washday from the past. It was hard work; and just when we thought we had finished we had to give the floor a good scrub too!
Healthy Yogurts
Eating well is important to keeping ourselves healthy. Cathy from Asda brought us lots of lovely fruits to look at, taste and choose from to make a delicious yogurty snack. We tried pineapple, mango, raspberries, blueberries and mandarin. We all had our favourites, but mango was the most popular. Cathy showed us how to make our snacks by layering fruit and yogurt before adding a little squirt of honey. Mmmm, delicious!
What is the Best Way to Clean Your Hands?
We discussed what we could do to investigate different ways of cleaning our hands. We used oil and cinnamon to make our hands feel and look dirty. We then cleaned them in one of four ways – soap and water, hand gel, a wet wipe or just water. We made a note of our observations and used these to draw our conclusions. Soap and water was the only way of removing all the brown specks of cinnamon and the oil. The hand gel made very little difference at all.
Why is the Bible Special?
We have been learning about the Bible and why this book is special. We enjoyed looking at lots of different types of Bibles. We noticed that not all Bibles are the same, although the stories within them there. We chose our favourite version of the Bible and explained our reasons.
Learning from Year 1
Wow, what a year we have had in Year 1! We have overcome challenges, we have worked exceptionally hard, we have become much more independent and we have done it all with HUGE smiles on our faces. It has been an absolute pleasure teaching such a fantastic group of caring, determined, enthusiastic, polite and hard-working children. I will miss them all very much and I wish them the very best of luck as they move into Year 2. They are more than ready for it! I know that they will impress their new teacher as much as they have impressed me. Keep smiling, Year 2!
You're a very SPECIAL person and I want you to know
how I LOVED to be your teacher, how fast the year did go!
Please keep working hard in school, as through the years you GROW.
Try hard to LEARN all that you can, there is so much to know.
One thing I tried to teach you to last your whole life through
is to know that you are special just because you are YOU!
Library Visit
We really enjoyed our visit to the library. We chose books to share with our friends, and then Miss Ashton read us a story. We were then told about a reading challenge that the library are holding during the school holidays called "Mischief Makers". We were excited that we would get a medal when we had read six books!
Our Class Assembly
On Thursday we had our class assembly based on our 'Let's Play' project. Some of us were a little bit nervous, but we really enjoyed sharing all our learning. We all wore superhero masks to begin the assembly with 'Jesus You're My Superhero'. We did some fantastic singing, and all the adults had big beaming smiles, which made us smile too. We all joined in reciting an exciting poem about going on a bear hunt, along with some percussion sound effects. Then we shared our toy pictures. When some of us pretended to move and dance like a musical box doll, and a robot, everyone was impressed. Some of us acted out part of a story about Kipper's Birthday, and others dressed up as Toy Story characters whilst we sang 'You've Got a Friend In Me'. We hope you all enjoyed our assembly as much as we did. We all felt really proud of ourselves, and we know our families and teachers were proud too.
Miss Ashton's Magically Marvellous Teddy Bear Museum!
What a fantastic time we had creating our very own Teddy Bear Museum! The children created their own tags for their teddy bears. They included fascinating facts including their bears' special powers and features (Josie's teddy even smelled like mint!). We enjoyed sharing our work with Miss Parson's class. We have been thinking about developing our speaking and listening skills so we created a list of things to remember. Daniel said it was important to always smile at new people and Isabella said we should speak clearly and try to look at the person we are talking to. Afterwards, we enjoyed having a chit chat and sharing a biscuit (as did the cheeky teddies!). We're so happy that we were able to share our work and make some new friends too. A big thank you to all the children for creating such brilliant teddy tags!
Scooter Training
Wow! What a fun afternoon we had at Scooter Training! We learned lots of top safety tips to help us to keep safe on the paths and when we cross the road. Then we had chance to scoot around at our own pace. We all had a great time, including the adults!
Sports Day Fun!
What a gloriously sunny day it was for our Sports Day. Everybody tried their very best and that's what counts! Well done to the winners, Red Team. They scored 62 points! We also enjoyed watching the parent and toddler races. Everybody had such a great time and we all went home with big smiles on our faces!
Our Trip to Walton Gardens and Grappenhall Heys Walled Garden
We were so excited for our trip. We enjoyed our woodland walk around Walton Gardens. We explored the sensory garden. We even thought we spotted Mr McGregor's house!
Afterwards, we enjoyed counting the terrapins at the pond and the new baby goats at the zoo. We ate our lunch and had a surprise visit from Mrs Wightman! We loved dancing along to the samba music on the field!
At Grappenhall Heys, we saw Peter Rabbit's house! Kate told us all about the different edible plants that grow there. We even got the chance to plant our own sweet pea plants!
Tennis
We loved our tennis session. What a great way to spend a morning in the sunshine! We learned how to control the ball using our hands and rackets. Look at the concentration on our faces! We showed resilience and determination. Our tennis coach was so impressed (he said that we were one of the best classes that he had worked with!).
Space Science
We have enjoyed learning about space inventions and the work that astronauts do in space. We have looked at great female scientists including Helen Sharman and Marie Curie. We have also loved learning about Tim Peake. We were set a challenge by Helen and Tim to find out how long the craters of the moon are and how tall the aliens are. We had to use our knowledge of measuring from maths to help us.
To measure the length of the craters, we had to use non-standard units of measure (units that can change, such as footprints and strides). We know that some people have larger footprints than others so this will affect the results! To measure the height of the aliens, we had to first find the starting point, in order to make our measurements accurate and fair. We then used standard units of measure (units which are always the same) such as cubes and paperclips. Miss Ashton set us a challenge by telling us the heights of various aliens and then asking us to draw aliens that were taller, shorter or the same size as them.
We had a great time working as a team and testing our predictions! We couldn't decide whether standard or non-standard units of measure are better to use, as it can depend on what you want to measure! Tim and Helen were very impressed with our hard work and team work.
Easter Celebrations
Wow! What a great week we have had celebrating Easter. We hope you all enjoyed our Easter service, we worked really hard to learn the songs and create our art work and prayers. We had a great Easter egg hunt and decorated our own Easter egg baskets. Well done to Dylan and Isla who won the prizes for their baskets!
We Love Reading!
We had a fantastic time celebrating World Book Day! We loved dressing up in our costumes. We had a great time meeting the author Caryl Hart. She inspired us to keep writing and reading! Maybe one day we can be an author just like her.
For our Science learning, we had to find the strongest material to build a new beanstalk for Jack, however….inspired by the story, Miss Ashton challenged us to use sweets to build it! We thought about the different reasons why the beanstalk needed to be strong: it needed to be able to hold Jack's weight and it needed to stay upright during different types of weather. We enjoyed investigating just how strong our beanstalks really were. We found chocolate to be the strongest material, although Lucas hoped that it wouldn't melt in the sun!
Roald Dahl Day 2017
Well, what an exciting day! We began with a whole school assembly led by the Altru drama group. It was so much fun! They helped us to put the Dahl books into a timeline. We loved dressing up and had a special character parade. The best part of all was using the Green Screen app on the iPads. Miss Ashton put us inside our favourite books! We had a good giggle and talked about why we liked the characters so much. Watch the video below!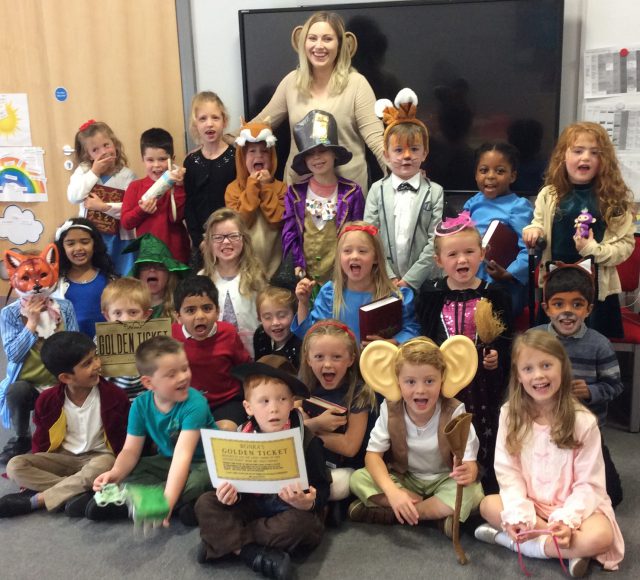 Who Lives in a House Like This?
On Monday morning, we were shocked to find a brand new house in our class room! We wondered who could live there. We searched inside and found lots of clues! We collected the clues and made predictions using the pronoun I. We used what we know to help us.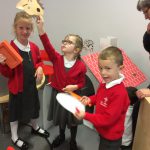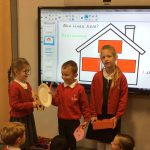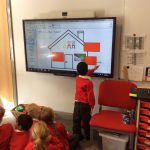 Tanatswa said, "I think it is the three little pigs because there are three chairs!"
Ilyas said, "I think it is the wolf because there is a knife and fork!"
Miss Ashton said, "I think it is Little Red Riding Hood's Grandma because she lives in a little cottage like this."
We wrote about our predictions and found out later that… it belongs to the three little wolves! Our predictions were not correct but we were proud that we all had a go. We read the story 'The Three Little Wolves and the Big Bad Pig' and painted and decorated the house for the wolves. We will continue to learn about alternative traditional tales throughout the half term.