Welcome to our class page. Here, you will find information about the children's exciting learning, as well as any key dates or important pieces of information that you will need to know for the upcoming weeks and months.
Useful Information
PE days are usually Monday and Thursday.
On 'my program' in the Reading Eggs app, you can find extra books to read – matched to your Reading Eggs level.
Homework is currently being set via Google Classrooms. This can be found in the 'classwork' tab under homework. Spellings should be practised for a test on Friday. Other homework is due in for Thursday.
Just a reminder – please make sure you are reading 3x per week with your child. They can swap their book Mondays and Thursdays in school, the other chance to read can be using Reading Eggs or any other suitable book you have.
World Book Day 2021
For World Book Day, we have had a fantastic day. We have shared books, had a 'guess the book' quiz, and guess the masked teacher poem reader. Throughout the day, we also spent some time designing our own books. For this, we designed a setting, some characters and then the book cover and wrote the blurb. Finally, we wrote the story! It has been a fantastic day, and even more enjoyable to see us all dressed up, too.
Orchard Trip
This week, we have been to the Westbrook Community Orchard. Whilst we were there, we learned all about different habitats for different animals, and how we know plants and animals are living things. We really enjoyed our trip.
Year 1 Learning
Welcome to Year 1
We have had lots of fun as we have embarked on our new adventure in Year 1. We have applied our maths and phonics skills through games and different activities. We have also started to learn our cursive handwriting style. The children have made a great start to this year and we are excited for all the learning we are going to do.
Phonics fun!
We have had such fun in Phonics this week. We have been looking at; 'ai', 'ay' and 'a-e'. We especially loved playing 'snowballs'. For this game, we have to read our word, make it into a snowball, throw it and then find a new snowball to read. We even learnt new words containing 'ai', 'ay' and 'a-e' and we found out what they mean. We are really impressing Miss Cain with our super Phonics!!
We had a special visitor!
Last Friday, the children had a special visitor who came from Knowsley Safari Park to do an animal themed story-telling session with them. They enjoyed listening to a story, joining in with some games and learning some songs too.
Our adventure to Chester Zoo!
On Friday 17th January, we got on a coach and travelled to Chester Zoo. When we arrived, we each got our own 'trainee conservationist' sticker and off we went to see the animals. We saw; elephants, monkeys, iguanas, giraffes, lions, jaguars, sloths, ants and penguins. After lunch, we really enjoyed being detectives in our workshop where we investigated some interesting items including elephant poo! What a fun day!
Gymnastics fun!
We really enjoyed our PE lesson on Friday. We showed Miss Cain how amazing we are at making shapes with our bodies. Miss Cain said we were being super gymnasts. We even learnt the special names for each shape.
Everybody say Christmas Jumper Day!
We loved joining in with Christmas Jumper Day on Friday. We enjoyed wearing our Christmas jumpers to raise money for 'Save the Children'. We even had to take a class photo!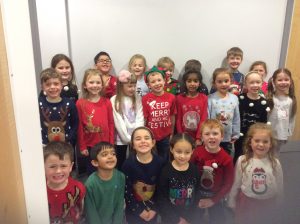 Christmas Cheer!
We have had so much fun decorating our classroom for Christmas. We have also enjoyed performing our Christmas production this week. We have worked really hard to make it fabulous! Our teachers are so proud!!
Everybody say 'Fruit Kebabs'
On Wednesday, we went on an exciting adventure to The Orchard. We were greeted by the team who work there and took part in our very own cooking demonstration. One of the lovely volunteers, Patsy, provided us with different types of fruit. We discussed the fruit, looked at the different fruit-bearing trees and we put the fruit on our kebab sticks to create a tasty fruit kebab. Patsy told us the health and safety rule so we could all stay safe:
"We hold the blunt end and keep the pointy end away from our face".
We listened really well so we could make our delicious fruit kebabs. Miss Cain was so impressed with our listening skills and manners. We made sure that our empty sticks and any other litter went in the bin. Our fruit kebabs looked and tasted amazing.
Lego Workshop
On Wednesday, we had our very own Lego workshop. We had lots of fun creating models of buildings in our local area. We spent time listening to Steven (our Lego expert) and then we designed and made our models using all of the different Lego pieces.
Lucy said, "This is the best day ever! Look at my house. I have a front door and a back door."
Henry said, "I am making Costa. It has big glass windows."
Stranded in our PE lesson!!!
In PE, we have been learning all about communication. We know that we can communicate in 3 main ways; talking, using facial expressions and using hand gestures. This week, Miss Stubbs and Miss Cain told us that we were stranded on a desert island and we needed to get back to shore without the sharks getting us. We had to use our limited amount of equipment to travel back to shore safely. Miss Stubbs and Miss Cain were really impressed with our communication and leadership skills. We finished our lesson with an evaluation of our communication and teamwork skills. We said what we did well and what we would need to do better next time, if we got stranded again.
Delightful Descriptions
In English, we have been reading the story of Jack and the Jelly Bean Stalk. We have enjoyed opening our story bag each week to explore the clues for the next part of the story. We enjoy making predictions, using the clues to help us, ready to read the next part of our story. This week, we could not believe that the jelly beans grew into a giant jelly bean stalk. Miss Parsons wanted to know all about it, so we have created wonderful descriptions for her to read.
Brilliant Bee-Bots
As part of our Computing learning, we are exploring algorithms and have used the Bee-Bots to begin this learning. We created algorithms for Miss Cain's Bee-Bot as it travelled around Miss Cain's map. Then, we created our own maps so our Bee-Bots could visit places we had added to our map.
Reception Learning
Bye bye butterflies…
When we arrived in school on Monday morning we discovered that one of our butterflies had already emerged from its chrysalis. We have been watching closely everyday and by this morning the final butterfly had emerged and they were all fluttering around inside the net. We released the butterflies this afternoon. Some of them needed some coaxing because they didn't want to leave us!
PE in the sunshine
What a fantastic PE lesson! Today we took the parachute outside with Miss Stubbs and Miss Parsons and we played lots of fun games. We had to show excellent listening skills and strong team work in order to complete the challenges.
Westbrook Orchard
Yesterday we enjoyed a lovely morning at Westbrook Orchard. We met Kevin and Mary and learnt all about how insects help to spread seeds. We explored the orchard, hunting for wild flowers, bees and butterflies and surprised Kevin with our impressive knowledge about seeds and plants!
Meta…meta…metamorphosis!
Our caterpillars are all in their cocoons! We came into the classroom this morning to discover that they are all ready for their big change, but one lazy caterpillar decided to stay in the food tub rather than crawl up to the lid. We have named him 'The Very Hungry (and lazy) Caterpillar'.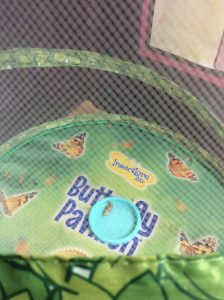 From caterpillar to butterfly…
We are currently the proud guardians of 5 baby caterpillars! They arrived last week and we couldn't believe how tiny they were. This week we have all noticed how big they are getting. We have learnt that they need to eat lots of food so that their bodies have lots of energy ready for 'metamorphosis'.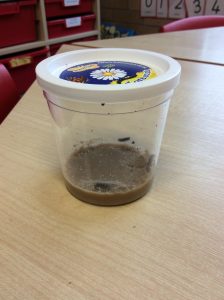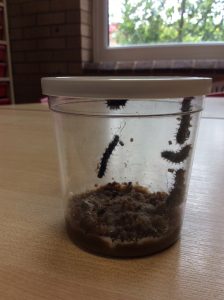 Planting seeds
Last week all of the children planted a sunflower seed. They are now in charge of making sure that their seed is looked after every day.
Emilia said, "We are going to have to water it so that it can have a drink!"
Benny said, "We need to put it outside so that it is in the sunshine."
We are enjoying keeping an eye on our seed pots and can't wait to see them start to grow!
How Does Your Garden Grow?
Our new project has begun and the children are enjoying exploring the new areas of provision. Here is a sneak peak at our classroom this half term…
Rhyming Detectives
This week we have been investigating words that rhyme. We enjoyed sharing the poetry book 'Commotion in the Ocean', where we had to guess the rhyming words. Following this, we went to the outside classroom to look for hidden rhyming words. We sorted the words we found into their rhyming strings and then had fun making up silly rhyming sentences, including 'The goat had a coat', 'There was a stain on the train'.
Our trip to the Blue Plant Aquarium
We could not be more proud of our wonderful children. They have been fantastic today. They listened brilliantly and were so enthusiastic that even George, the workshop leader, commented on what a super (and very knowledgeable) group they were!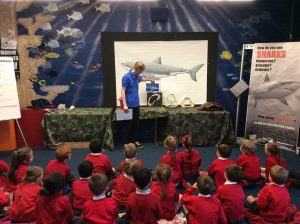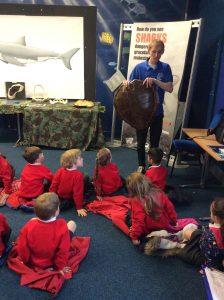 We have had a brilliant, yet very busy day! We spent some time learning about sharks and turtles this morning, before taking part in a 'fish hunt'. We finished the morning in the Aqua Theatre, watching the divers feed the sharks and stingrays in the large tank.
This afternoon we looked at the rock pools, where a nosy crocodile popped up to say hello! Then we saw the pelicans and had a little play on the playground before venturing into the tunnel to see what it is really like under the sea!
Imagine a Day…Under the Sea!
Our new project is well underway and the children are enjoying exploring the new provision. We are already impressed by their curiosity and knowledge of sea creatures and we can't wait for our school trip!
Here is a sneaky peek at some of our new classroom areas…
RSPB visit Reception
We were lucky enough to be visited by the RSPB who came into school to help us learn more about our outdoor environment.
We went out on to the school field and explored the area using 4 of our 5 senses; We closed our eyes and counted the things we could hear, we smelt flowers and herbs that were growing, we completed colour swatches of leaves, petals and sticks and we compared the textures of leaves and plants. What a great day!
Holy Week
We have had a very busy couple of weeks in Reception learning about the Easter Story. We learnt that it is the most important Christian festival because we remember that Jesus died to save us all and to show his love for us.
Our learning began with an exploration of what Easter means to us. We talked about Easter eggs, bunnies and chicks. We even tasted hot cross buns and we loved them! Ask us why they have got crosses on them…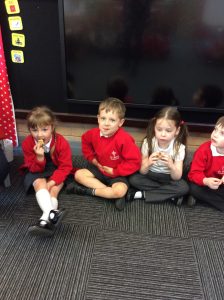 Following this we began to learn about Palm Sunday. We talked about why the people of Jerusalem were so happy to see Jesus and how they shouted 'Hosanna' and waved palm leaves. Some of the people even laid their cloaks down for Jesus.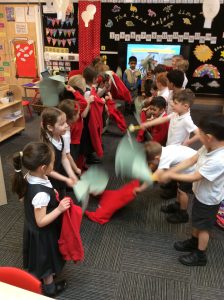 Our learning then moved on to Thursday, when Jesus had his final meal with his friends; The Last Supper. We found out that Jesus washed his friends' feet as they arrived. This surprised us because Jesus was like a king! Miss Parsons washed somebody's feet so we could imagine what it would have been like. It made some of us giggle!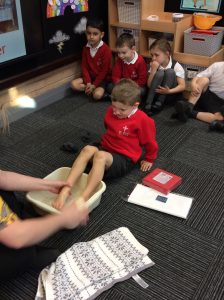 We talked about how Jesus was sad because one of his friends (Judas) was going to betray him. We also broke the bread (to help us remember Jesus' body on the cross) and we poured the (pretend) wine to remind us of the blood that was spilled.
We looked at Leonardo Da Vinci's famous painting of 'The Last Supper' and we recreated this image in our classroom. We guessed where Jesus was in the picture but it was tricky to spot Judas. Then we retold the story, assuming roles of the Disciples and Jesus and Judas.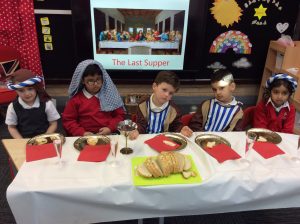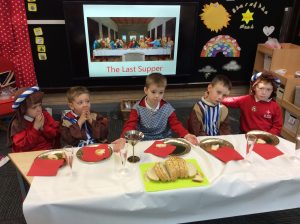 The Bible told us that Jesus went to pray with his friends but was arrested by some guards. He was then taken to the cross, where he died. But we were not sad for long because we soon learnt that Jesus came back to life! We made some Easter gardens to show how Jesus' tomb might have looked.
Our trip to Westbrook Library
On Thursday we visited Westbrook Library. This was our third visit so we knew exactly where to find the fiction and non-fiction books. We enjoyed sharing our chosen books with our friends and our teachers. Before we left we had a whole class story about a T-Rex that saved his dinosaur friends from a meteor!
PE
We are developing our throwing and catching skills in PE. We are working hard on ensuring that our hands are always in the right place to throw and receive and that our eyes are always watching the ball. We practised some foot work skills with partners and are building up our awareness of space in order to play a game of Handball.
World Book Day
We had lots of fun celebrating World Book Day yesterday. We visited our school library, we did some drama linked to our costumes and we designed book covers for our favourite books. The children looked wonderful. Thank you for your support with this.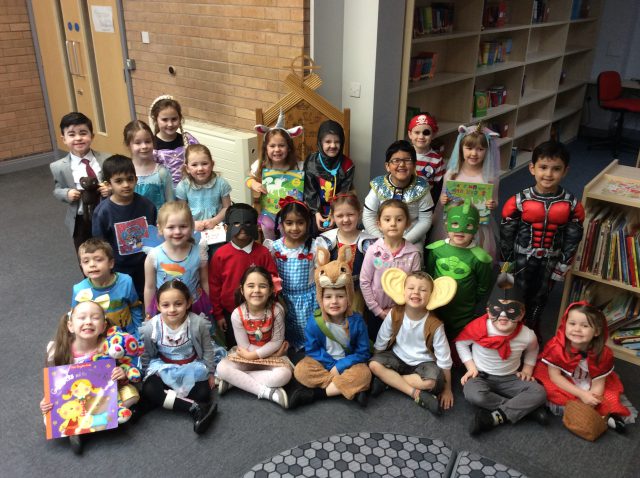 Shrove Tuesday
We were invited to our school church on Tuesday to eat some yummy pancakes. We talked about why we eat pancakes on Shrove Tuesday, in preparation for Lent. The children were very sensible in church and thoroughly enjoyed filling their pancakes with sugar and lemon!
The baby has arrived!
Our baby dinosaur has hatched out of the egg! When we came into the classroom this morning we found the egg had hatched open and some little footprints were leading towards the cupboard.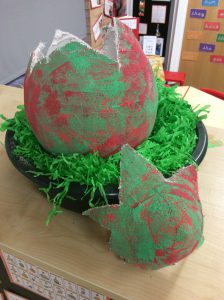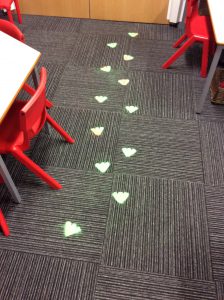 We followed the footprints and discovered that we are the new proud carers of a baby Triceratops! We immediately wrote to Terry to tell him the good news and to describe the dinosaur. We used an information book to help us learn more about this creature.
The egg has started to crack!
We were so excited this morning to discover that the egg has started to crack!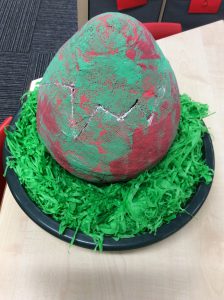 We received an email from Terry asking us some questions about the egg. We had to work hard to read the words and sentences. He is still feeling poorly so we thought we would use our writing skills to reply to his message and cheer him up a little bit.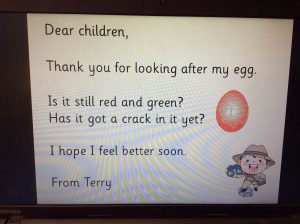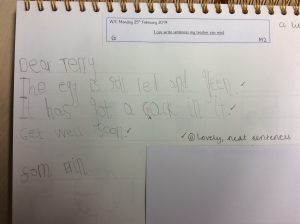 Special Delivery!
When we arrived in school on Monday we discovered an interesting looking parcel from a Mr Terry Dactyl. We were excited to discover that we had been sent a mysterious egg to look after. We hope that it doesn't hatch too soon, but Terry assures us that it isn't due to hatch just yet.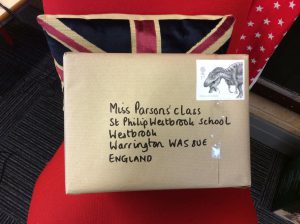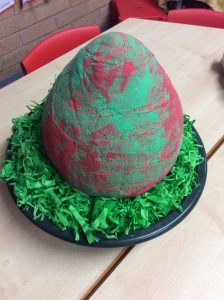 We have been looking after the egg, being very gentle and quiet so that we don't disturb the baby growing inside (we think it might be a baby dinosaur). We looked in some information books about dinosaurs to find out about different dinosaurs. We hope it isn't a baby T-Rex! We decided to make a nice, soft nest for it.
The Land Before Time…Walking with Dinosaurs
We hope you all had a restful break. The children have returned to school full of enthusiasm for our new project! Here is a snippet of some of their learning so far…
Kung hei fat choy!
We have had a wonderful week learning about Chinese New Year. We have enjoyed making Chinese crafts, retelling Chinese legends and even tasting Chinese food (but we found the chopsticks tricky so we used spoons to eat it with instead!)
Real-life superheroes
Our Literacy work this week is taking a non-fiction focus. We are using information texts to help us with our learning about real-life superheroes. We listed the different people who we thought fell into this category:
Henry said that police officers are real-life superheroes because they are brave.
Leo said that fire fighters are real-life superheroes because they rescue people.
Georgia said that teachers are real-life superheroes because they help children with their learning.
Charlotte said that doctors are real-life superheroes because they save people who are poorly.
This afternoon we were lucky enough to be visited by some real-life superheroes. Some fire fighters came to school to talk to us about their job and to explain how they help people. They brought their fire engine for us to sit in and even let us wear their clothes and hold one of the real hoses….it was very heavy!
Superhero Mask Parade
We have very artistic children in our class…their masks were fantastic! This morning we shared our masks with each other and then we went on a mask parade around the school building. We were even invited into classrooms to share our wonderful work with the older children. When we visited Mrs Wightman and Mrs Deakin we called out our superhero names and made a superhero pose!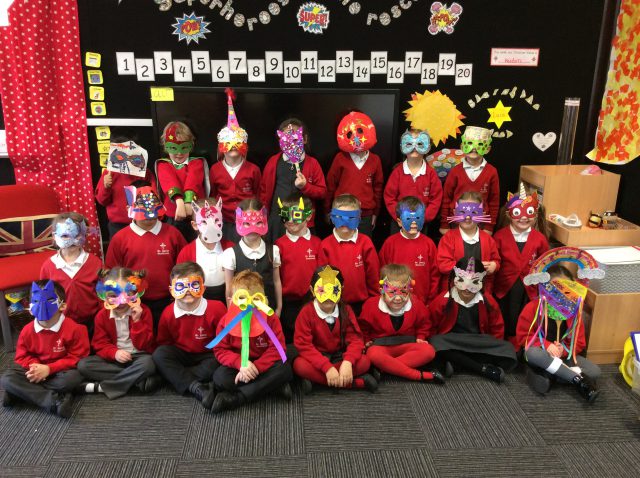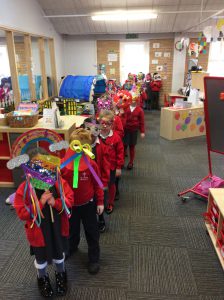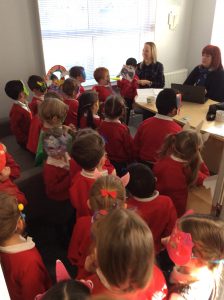 Health Week
We have had a super week keeping healthy! Yesterday we had a Zumba lesson. We did some beanbag dancing and we jumped on the Mickey Bus! Today we took part in a skip-a-thon with the rest of Reception. We are looking forward to a restful weekend!
We are enjoying learning about lots of ways in which we can keep ourselves healthy. Today we thought about why it is important to make healthy choices at snack time. We made our own fruit kebabs and enjoyed our healthy snacks at break time.
A Supertato Emergency!
Today we came into the classroom to discover an incident had taken place!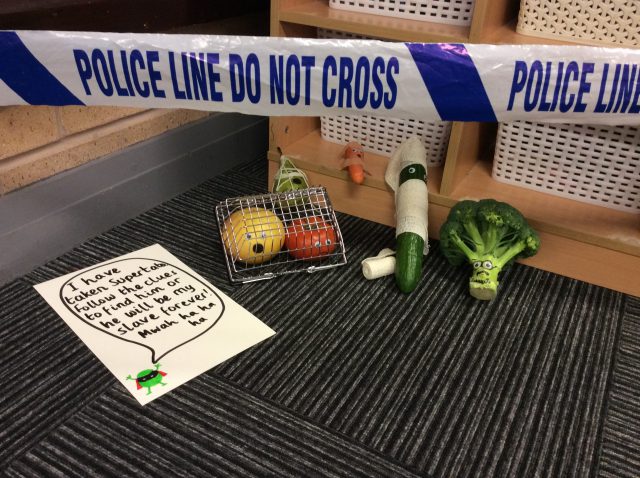 The Evil Pea had vegi-napped our Supertato and trapped all his vegetable friends!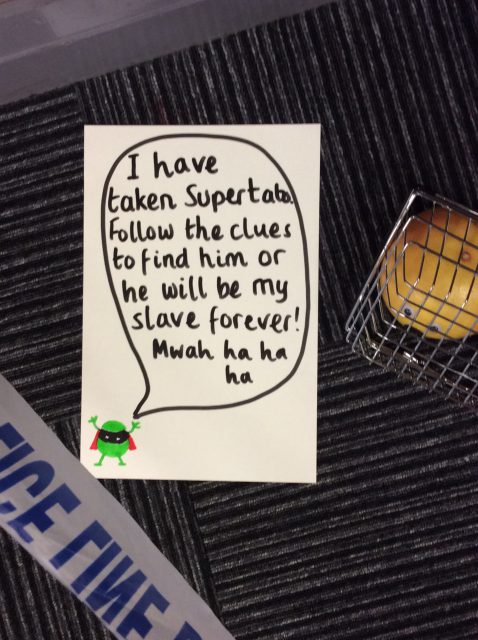 We had to use our reading skills to read the letter and the clues to try and rescue Supertato. Luckily, we had all had our brainy breakfasts and we managed to find Supertato safe and well, tied up behind the iPad!
We set about thinking how we could find the cheeky culprit, the Evil Pea. We designed WANTED posters, made maps of the classroom and we even made a trap to catch it!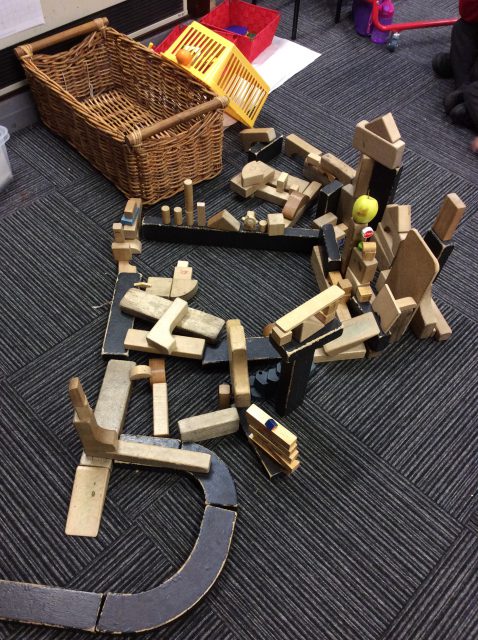 We kept checking the trap but we couldn't find the pea. We decided that it might return to the classroom over break time when we were not there. So we waited…and waited…and waited some more…until…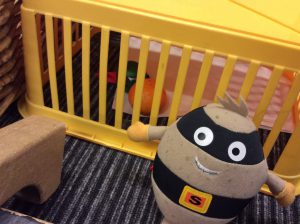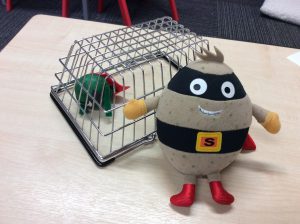 …our plan had worked! We captured the Evil Pea!
Happy New Year!
We hope you all had a peaceful and relaxing Christmas break. Thank you very much for your kind wishes, cards and generous gifts. The staff and children have been extremely eager to share their Christmas news with each other and we are all excited for the challenges of the term ahead.
Here is a selection of photographs from our final week in school before the Christmas break. The children had great fun at our Christmas party where they met Santa. They also enjoyed planting some 'magic seeds' from our class elf, Star, and they each concentrated very hard to make a Christingle to remind us of how Jesus is the light of the world.
It's a Baby!
Thank you to our wonderful parents for all of your support and encouragement leading up to our Christmas performance. We are so proud of our fabulous children for participating so well. They worked very hard learning lines, singing songs and practising dance routines and I am sure you will agree that they were fantastic!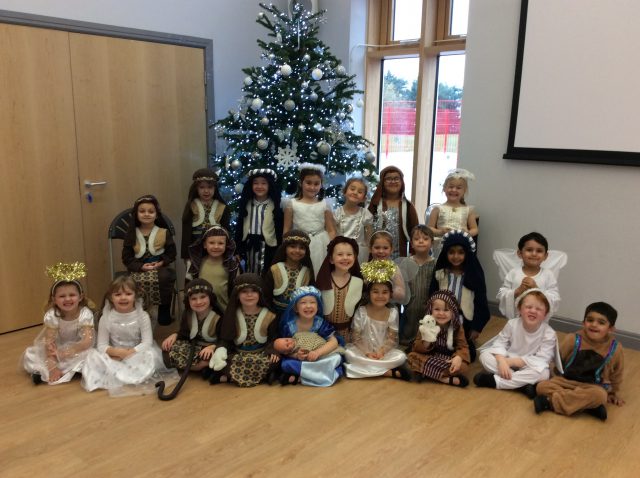 The adventures of Star – the Christmas elf!
The children have been coming into school very enthusiastically this week in order to find our new friend, Star the Christmas elf. We have been using special positional vocabulary to describe her hiding places. Here are some of her antics so far…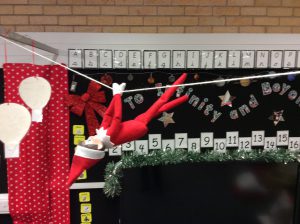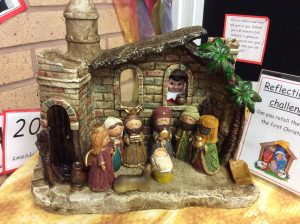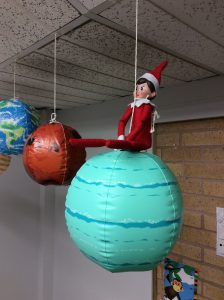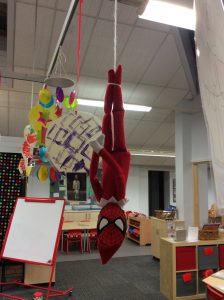 Special Delivery!
What an exciting morning! This morning we received a parcel from the North Pole.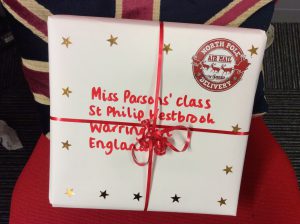 We opened it to discover that Santa has sent us an elf friend to help us with our learning. We decided to call our elf 'Star'. Star has been watching us during our learning time this morning. We have really enjoyed tackling our new Christmas challenges in the classroom.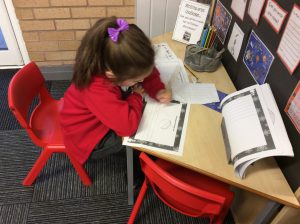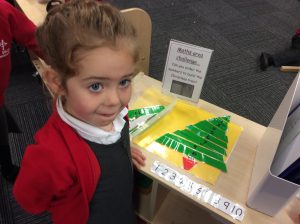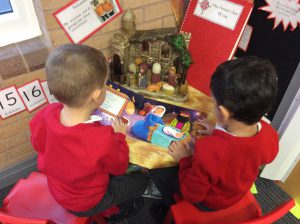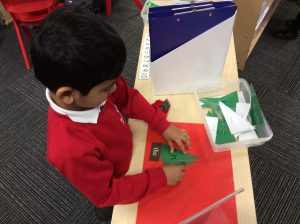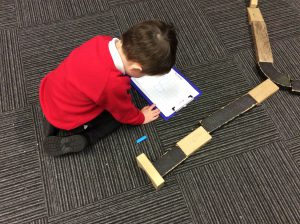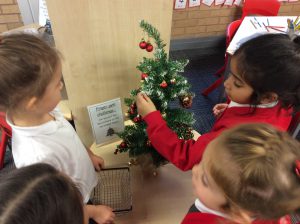 Asteroid Rock Cakes
This week we have been learning about instructions. We talked about why instructions are useful and when we might need to follow instructions.
William said, "We need instructions when we bake cakes!"
Erin said, "You need to follow instructions when you build things."
We decided to combine our project work about Space with our language work and some maths! We have been finding out about asteroids and we discovered that there is an 'asteroid belt' in Space. We decided to write some instructions for some 'asteroid rock cakes' and then measure out the ingredients with the scales.
We reminded ourselves of the skills of a good writer and tried so hard to include these in our writing.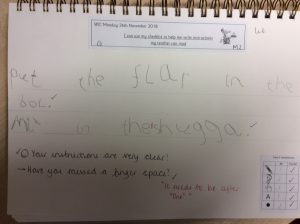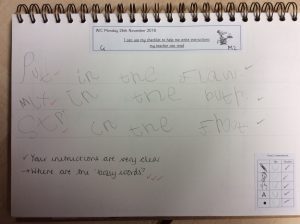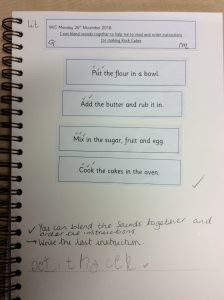 Our instructions were clear enough to read back and follow so we made the cakes and then we gobbled them all up!
Space
The children are really enjoying our space project this term. We were really excited to have the opportunity to try a variety of space food. We tried strawberries, blueberries, apples, raspberries and ice cream. Ice cream was definitely the favourite.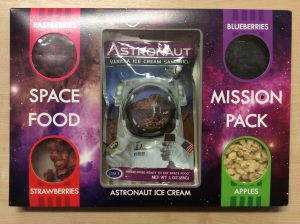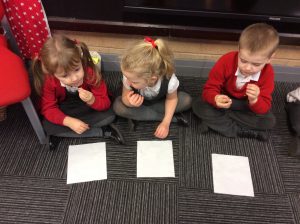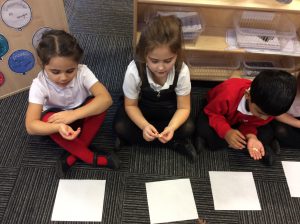 Our Learning
Career Week
We have been so lucky this week. We welcomed lots of visitors into our classroom who have all helped us with our learning about different careers.
On Monday we all thought we knew what we wanted to be when we grow up. By Friday we had changed our minds!
Thank you to our wonderful visitors – Our local PCSO's, Mr Copperwheat (astronomer), Mrs Atkinson (vet), Miss Stulp (photographer of babies), Mr Ellis (clothing designer and maker) and Miss Dumencic (solicitor).
What do I want to be when I grow up?
We have had the most wonderful day with the children, learning about their hopes and dreams for the future. We appear to have a class of aspiring doctors, chefs, teachers, air stewardesses, vets, fire fighters, police officers, pilots, motor-bike stunt drivers, nurses and even an astronomer and a magician!
We talked about why these careers are exciting and how hard we need to work to achieve our dreams. We also talked about how our aspirations can change as we get older. By home time, two children had already changed their minds!
We are looking forward to welcoming lots of exciting visitors into our classroom this week to tell us about their careers. Until then, here are our fantastic outfits from today (thank you to our wonderful parents).
I am Special
This week in our RE work we have been thinking about the things that make us special. Miss Parsons passed a secret basket around the circle. She told us that in the basket was something very special. When we peeked inside it was a mirror!
We talked about how God made us all wonderful and that we are all special in lots of different ways. We made mind maps of the things that make us special and we all painted our hands to make a special display of our hand prints.
Now that we are in school full time, we are very busy! We have been impressing Miss Parsons and Ms Bradbury with our fantastic phonics and even Geoffrey the monkey had to wear goggles to stop his eyes from popping out because we were so clever!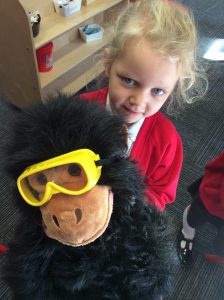 The children have participated in lots of different activities around the classroom and they particularly enjoyed getting changed for PE with Miss Stubbs!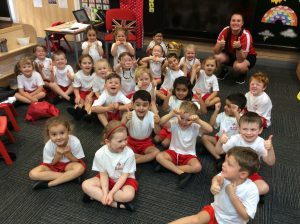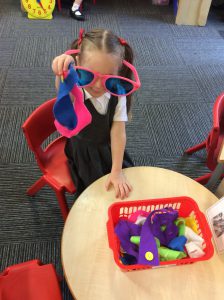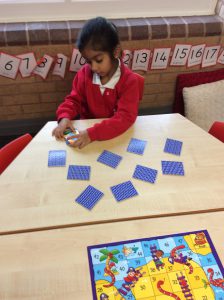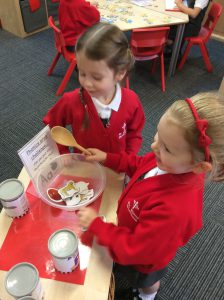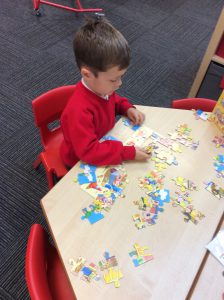 Our worship box
We have really enjoyed decorating our worship box. The children had some fantastic ideas about things that they wanted to see on our box.
Ben said, "We need some gates because God opens the gates."
Molly said, "God is in our heart. We could put a sparkly heart on it."
Benny said, "God made the animals."
William said, "God is in Heaven, high above in the sky."
All of the designs on our box were thought up by the children and we also added on some of their lovely quotes. We think our box is wonderful!
This morning we took the box to Mrs Wightman, who gave us some exciting things to put inside it, ready for our special worship time next week.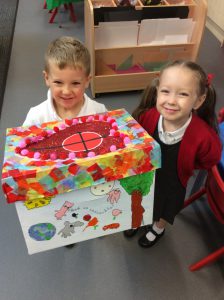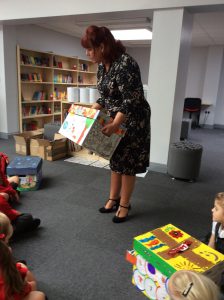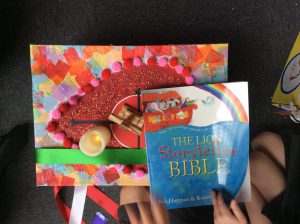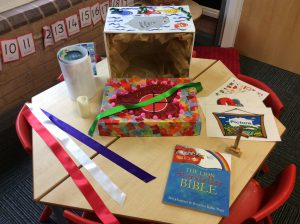 Our second week at St Philip's!
We have had another lovely week in Reception. We are so proud of how well the children have settled into school. They have been so enthusiastic in their activities and we have enjoyed watching their confidence grow, along with their smiles! We have continued with Spanish dancing, exploring our outside classroom and we even went on an adventure around the school building…
Our first week at St Philip's!
We have had a fantastic first few days in Reception! The children have been busy exploring our classroom and making new friends, whilst participating in a range of fun activities. These activities have included role play, making music, painting and even some Spanish dancing! Here are some sneaky snaps of the fun we have been having…
Miss Parsons and Ms Bradbury are so excited to welcome the children into Reception. We have been working hard to prepare our classroom for you all. We hope you like it!