Welcome to our class page. Here, you will find information about the children's exciting learning, as well as any key dates or important pieces of information that you will need to know for the upcoming weeks and months.
Useful Information
PE this half term will be every Monday afternoon.
Our Learning in Year Two
Our Learning in Year One
Investigating Animal Poo!
What an exciting morning we have had! In science, we had to investigate poo left behind by different animals! After learning all about carnivores, herbivores and omnivores we observed the poo and used our knowledge to identify which poo belonged to which animal! The children had lots of fun and matched the poo to the animal correctly. Don't worry, it wasn't real poo!
Knowsley Safari Park Storytelling Session
On Friday we had a special visitor from Knowsley Safari Park. Nicola came to tell us a story called 'Rainforest Rumble' which was all about a family of Bush Dogs named Lola, Simon and Bella. We went on an exciting journey to the Amazon Rainforest which was being destroyed so that trees could be planted to provide treats such as chocolate, coffee and sweets. Nicola taught us how to be responsible shoppers when we go to the supermarket so that we do not further harm our environment or hurt animals and their homes. She told us to look out for the 'little green frog' logo which shows us that these products have been taken from the rainforest in a sensible way with the help of the Rainforest Alliance. In the story, this meant that the Bush Dogs homes were saved!
It was an exciting morning filled with drama, games and singing. We all really enjoyed the story and it had an important message about how we can all do our bit to help to the amazing world that we live in.
Chester Zoo
What a great day we had at Chester Zoo! We saw lots of animals and learnt lots of new facts. First, we went to see the elephants, the monkeys and the lions. After that, we walked to the giraffes. There were lots of babies and they kept running in and out of their house speedily! After lunch, we had an exciting workshop with a lady called Steph. We played a fun game where we were given clues and we had to guess which category the animals belonged to. We were very good at it! Finally, on the way out of the zoo we saw the penguins. They were so fast and were splashing around in the water. What a brilliant day!
Prickly Hay!
We hoped you enjoyed our Christmas performance 'Prickly Hay'! We are very proud of all of the children for their hard work. They did a fantastic job of retelling the Christmas story. Thank you for all of your hard work at home helping the children to learn their lines, dances and buying/making such fantastic costumes. Here are some pictures of our fantastic cast. Merry Christmas!
A visit from Pudsey!
Today, we had a surprise visitor! It was Pudsey Bear! He came to collect all of our generous donations for Children in Need. All of the children looked wonderful in their outfits. A huge thank you for any donations made for such a great cause.

Lego Workshop
What a great day we have had! On Wednesday, we had a special visitor who taught us how to make models using Lego. We made models of buildings in Westbrook such as houses, bungalows, shops, places of worship and much more. Once we had made our buildings, we made gardens and roads for our models. At the end, we put all of our models together to make Lego towns. We had such a fun day!
A Jelly Beanstalk!
On Monday morning, we were shocked to find a huge beanstalk growing out of the carpet in our classroom! We could see a cute cow, a golden harp, a large giant and colourful jelly beans at the bottom of the beanstalk. We talked about what we could see and tried to predict what story we would be learning about in our English lessons.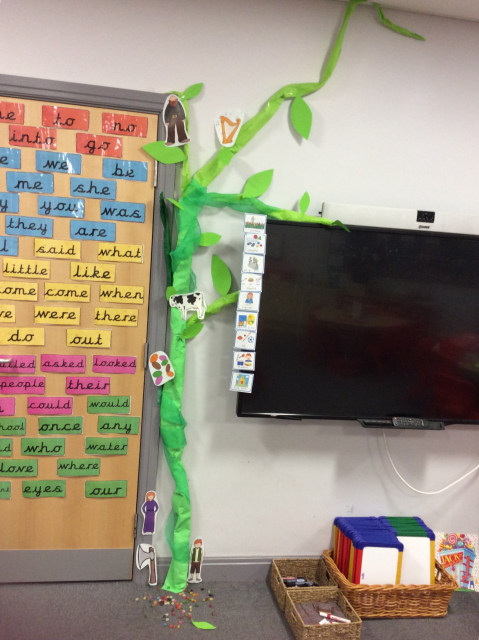 Programming Bee-Bots
What a great first week we have had! The children have quickly settled into Year One and we are all very proud of them! In computing, the children have been learning how to program Bee-Bots. We used forwards, backwards, left and right commands to make the Bee-Bots travel from place to place. Later in the week, we made maps with houses, shops, places of worship, parks and lots more! We used our programming knowledge to make the Bee-Bot travel to different places on our maps. Take a look at our maps below!
Life cycle
During this half term, Reception have learned about the life cycle of a butterfly. We received tiny caterpillars and we have observed how they have changed. We now have butterflies that will be released ready to start the cycle again.
Orchard Visit
Today Reception went to visit the Orchard. We learned about living things such as plants and animals. The children were able to answer what a living thing does. We also learned that human beings are mammals and are a type of animal.
Music
In music the children have had a chance to design music in a group and perform it to our class. Children had to keep to the pulse of the rhythm. As well as keeping the pulse children had to sing. Then they shared what they liked about each others music and discussed how to make their work even better.
Blue Planet Aquarium
What a fantastic day! The children have behaved so well today and we are so proud of them. We have learned lots of facts about lots of sea creatures. We now know an octopus has nine brains; they have a small brain in each arm. We got to see the pelicans being fed too. Then after lunch we went through the shark tunnel and saw some venomous animals. We also watched the divers in the aquatheatre. Thank you to our parent helpers for you support today.
Friendships
As part of RE this half term we are learning about how Jesus was a good friend. We have learned that Jesus' friends were called disciples. We have been retelling stories which demonstrate Jesus performing miracles and helping others. Today we retold the story 'Calming of the Storm'.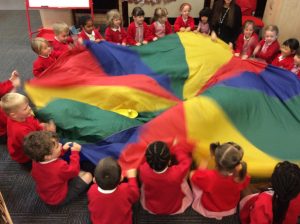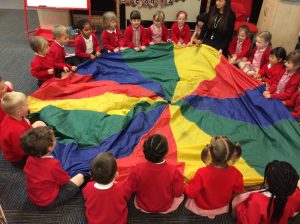 Holy Week
This week Reception have been learning about the events leading up to Easter Sunday. We have used drama and art to represent Palm Sunday, The Last Supper, Good Friday and Easter Sunday.
Science Week
During the week reception have been taking part in lots of science experiments. The children were very eager to learn and amazed with the science they had seen. On Monday Science Boffins came to school. We learnt lots about reactions and then the whole school went outside to watch a rocket launch, as we learnt about pressure. In reception we have been learning about floating and sinking, absorption with colour mixing and pressure in the outdoor classroom. Children have been using lots of scientific language and thoroughly enjoyed the science throughout the week.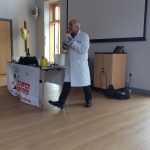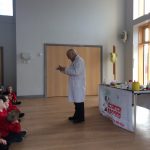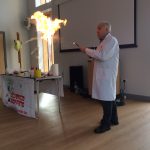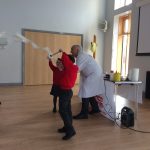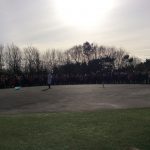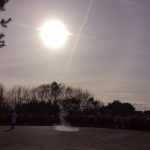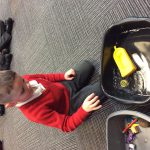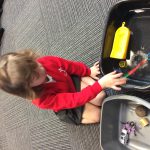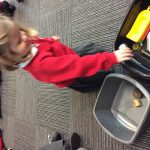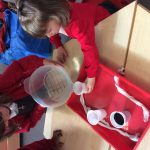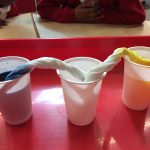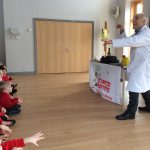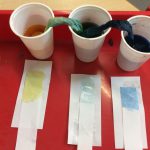 Shrove Tuesday
Today we visited our Church and made pancakes for Shrove Tuesday. We remembered how Christians use up rich foods to prevent temptation during Lent. Children squeezed lemon and sprinkled sugar on their pancakes before enjoying eating them. Children remembered their Christian values as they shown respect in Church, showing good listening and manners.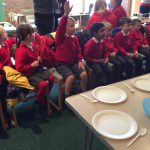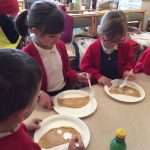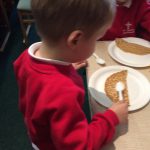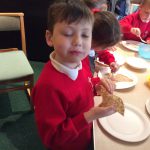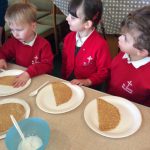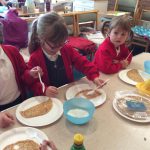 Kung Hei Fat Choi!
Today Reception have been very busy celebrating Chinese New Year. We have made Chinese dragons, performed a dragon dance and tried some tasty Chinese food.
Real Life Superhero
This term we are learning about superheroes including real life heroes who help to protect the community. We have linked this to our Christian values and discussed how we trust them, how they show compassion, hope and respect for others.
Mask Parade
Reception had the opportunity to create their very own superhero mask. They have worked hard at home to create a superhero mask and think about what powers they may have. We went on a mask parade and shared our fabulous work with other children in our school.
Health Week
This week Reception have learned different ways to stay healthy. We have concentrated on exercising and eating fruit and vegetables. We have also learned how to keep our minds healthy. We have focussed on meditation and yoga to help develop our mindfulness too. We made fruit kebabs and tried a variety of fruit, yummy!
Gymnastics.
In PE this term Reception are learning gymnastics. Today they learned how to make shapes using their body, such as a straight shape, mushroom shape and a star shape. They focussed on being creative and thinking of their own ideas. The children worked really hard to work in pairs and small groups. Miss Daley and Miss Stubbs were extremely proud.
Bee-Bot
In ICT this week children have been using Bee-Bots to find letters on an alphabet mat. They have used directional language and linked this to their prior learning of positional language. The children also demonstrated fantastic listening skills.
Asteroid space cakes
The children have been learning about instructions this week and have been following instructions to make their own asteroid space cakes. Children then ordered and wrote the instructions to make their cake, using bossy verbs and the correct order.
Children in Need
The children have come to school looking fantastic today in spots, to help contribute to raising money for Children in Need. We have seen some lovely spotty outfits, with some children getting a little creative in making their own. Thank you to all parents for helping us to support this day and raise money for Children in need.

Career's Day
Thank you to all parents who have supported our Career's Day. The children looked wonderful and they were so excited to share what they would like to be in the future. We have enjoyed seeing children aspiring to be doctors, nurses, midwives, mechanics and vets. Children also shared how they would like to be soldiers, builders, firefighters, teachers, ballerinas, rugby players, gymnasts, train drivers and explorers.
Number Formation
This week in Maths Reception have been learning to form numbers the correct way using string and playdough. We have learned rhymes to help us form our numbers the correct way. We have also practised writing the numbers correctly.
PE
In PE this half term children are learning to develop skills such as throwing and catching. Reception are already able to find a suitable space independently. They have been warming up by moving in different ways in a space. The children have been demonstrating fantastic listening skills and they are following instructions very well during our PE activities.
Worship Box
We have been working very hard together to design and create our special worship box. The children will use this to help Miss Daley lead the class worship every Friday. The children will use the special items inside the box each week.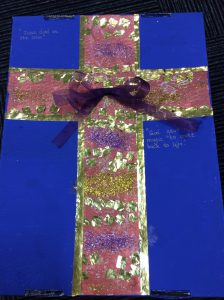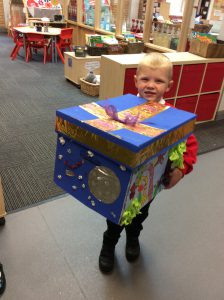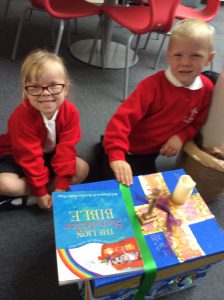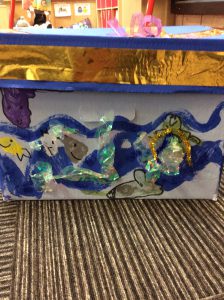 Reception Classroom
Here are some pictures to show the areas of learning children will be exploring this year. Each week different challenges will be set up to enhance the children's learning. These areas help children to flourish and become independent learners.
Children have enjoyed exploring both the indoor and outdoor classroom. Here are some examples of how children are settling in and using the areas and activities.