Below, you will find the work/activities to be completed by those children who are learning remotely. The following activities DO NOT need to be completed by critical worker children who are currently in school.
Thursday 21st January 2021
Good morning Year 1!
Please find below the timetables for our learning today. Due to each class completing activities at slightly different times, we have uploaded separate timetables for each class. Please find the timetable for your class below:
Miss Birchall's class timetable
All resources below are on the appropriate platforms that we will use throughout today. We will direct you to them as we work through each lesson. We have also added them below in case you would prefer to print them.
You will need to access Google Classroom (using your coloured log in card) and join the Google Meet at 9:10am. This will be the same link for the whole day and you can just re-join the same meeting for each lesson after completing your activities.
Handwriting
Today we are going to practise the letter 'y' again.
Watch the video to learn how to form the letter correctly:
Have a go at practising this letter on paper. Then, try some words with the letter 'y' e.g. you, your, they.
English
Yesterday, we read to the end of our English book, 'Lost and Found'. We then sequenced the events in the story.
Today, we are going to have a go at retelling the story.
Use the pictures on the sheet below to write 1 or 2 sentences per picture to retell the events of the story.
Challenge: Can you write a different ending to the story?
Maths
Today, we are going to complete the workbook pages for the lesson we began yesterday.
21.1.21 – Maths Workbook Pages
Have a go at this challenge if you feel confident:
Phonics
Today, we are going to learn the 'ear' sound again e.g. pear. We will be focusing on writing words which contain this trigraph.
Thursday 21st January – ear (pear)
There will be no live lessons this afternoon. Please complete the following activities:
Art
This week, we will be using paper to create 'feathers'.
Look at the examples in the presentation below and look at how paper has been used in different ways to create feathers.
Spring 1 Art Lesson 3 – Home Learning
You can try cutting or tearing the paper to create feather shapes. You might want to experiment and try different types/colours of paper or you can decorate your paper with drawings or paintings before cutting and tearing it into feather shapes.
Next week, you will need a piece of cardboard or polystyrene (e.g. a pizza base), some paper and two paperclips if you have them. Please don't worry if you don't have these resources available.
PSHE
Today, we will be discussing 'wants and needs'.
You can find some information in the presentation below.
Once you have read the information, complete the activity sheet.
How to upload work on Purple Mash
To share any work that you have completed with your teacher, please take photographs and up load it to Purple Mash.
1. Select the 'Work' tab at the top of the page:

2. Click 'upload'

3. Click to add a photo or file.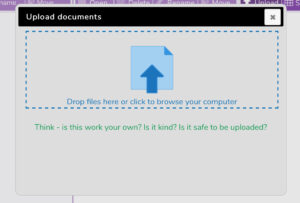 Some of this week's work requires you to upload files to Showbie.
You will find more information on how to do that here: https://support.showbie.com/en/articles/1420194-uploading-files
When children login to Showbie, they should click on the name of their class teacher on the left. They should then select the folder in which they wish to upload the work e.g. 'Isolation Work'.
Once they have selected the correct folder, they will see a '+' towards the right of the screen (next to where it says 'Write a comment'). Click the + and then the children will be able to upload a picture of their work by using the camera or uploading a file.