Welcome to Miss Daley's class page. Here, you will find information about the children's exciting learning, as well as any key dates or important pieces of information that you will need to know for the upcoming weeks and months.
Useful Dates
Thursday 2nd May- Reception class photographs
Monday 13th May – Sports Day 2pm
Friday 24th May- End of term
This half term, Miss Daley's class PE lessons will take place on Wednesdays and Fridays.
Holy Week
This week Reception have been learning about the events leading up to Easter Sunday. We have used drama and art to represent Palm Sunday, The Last Supper, Good Friday and Easter Sunday.
Science Week
During the week reception have been taking part in lots of science experiments. The children were very eager to learn and amazed with the science they had seen. On Monday Science Boffins came to school. We learnt lots about reactions and then the whole school went outside to watch a rocket launch, as we learnt about pressure. In reception we have been learning about floating and sinking, absorption with colour mixing and pressure in the outdoor classroom. Children have been using lots of scientific language and thoroughly enjoyed the science throughout the week.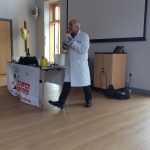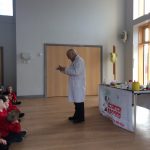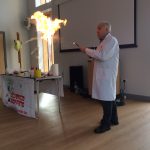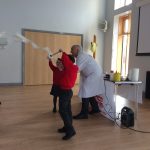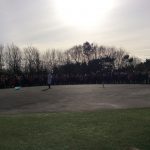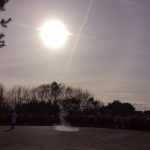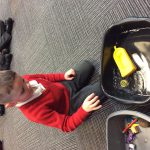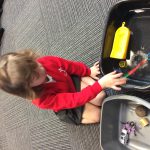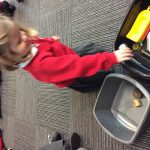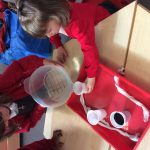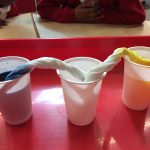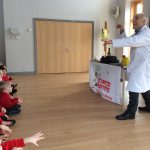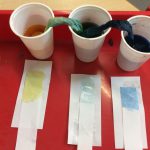 Shrove Tuesday
Today we visited our Church and made pancakes for Shrove Tuesday. We remembered how Christians use up rich foods to prevent temptation during Lent. Children squeezed lemon and sprinkled sugar on their pancakes before enjoying eating them. Children remembered their Christian values as they shown respect in Church, showing good listening and manners.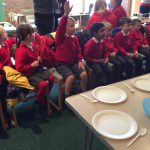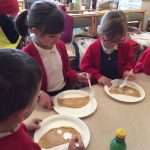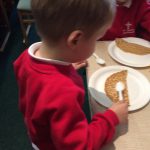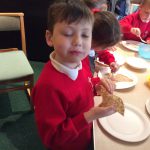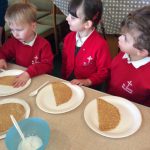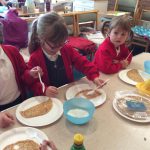 Kung Hei Fat Choi!
Today Reception have been very busy celebrating Chinese New Year. We have made Chinese dragons, performed a dragon dance and tried some tasty Chinese food.
Real Life Superhero
This term we are learning about superheroes including real life heroes who help to protect the community. We have linked this to our Christian values and discussed how we trust them, how they show compassion, hope and respect for others.
Mask Parade
Reception had the opportunity to create their very own superhero mask. They have worked hard at home to create a superhero mask and think about what powers they may have. We went on a mask parade and shared our fabulous work with other children in our school.
Health Week
This week Reception have learned different ways to stay healthy. We have concentrated on exercising and eating fruit and vegetables. We have also learned how to keep our minds healthy. We have focussed on meditation and yoga to help develop our mindfulness too. We made fruit kebabs and tried a variety of fruit, yummy!
Gymnastics.
In PE this term Reception are learning gymnastics. Today they learned how to make shapes using their body, such as a straight shape, mushroom shape and a star shape. They focussed on being creative and thinking of their own ideas. The children worked really hard to work in pairs and small groups. Miss Daley and Miss Stubbs were extremely proud.
Bee-Bot
In ICT this week children have been using Bee-Bots to find letters on an alphabet mat. They have used directional language and linked this to their prior learning of positional language. The children also demonstrated fantastic listening skills.
Asteroid space cakes
The children have been learning about instructions this week and have been following instructions to make their own asteroid space cakes. Children then ordered and wrote the instructions to make their cake, using bossy verbs and the correct order.
Children in Need
The children have come to school looking fantastic today in spots, to help contribute to raising money for Children in Need. We have seen some lovely spotty outfits, with some children getting a little creative in making their own. Thank you to all parents for helping us to support this day and raise money for Children in need.

Career's Day
Thank you to all parents who have supported our Career's Day. The children looked wonderful and they were so excited to share what they would like to be in the future. We have enjoyed seeing children aspiring to be doctors, nurses, midwives, mechanics and vets. Children also shared how they would like to be soldiers, builders, firefighters, teachers, ballerinas, rugby players, gymnasts, train drivers and explorers.
Number Formation
This week in Maths Reception have been learning to form numbers the correct way using string and playdough. We have learned rhymes to help us form our numbers the correct way. We have also practised writing the numbers correctly.
PE
In PE this half term children are learning to develop skills such as throwing and catching. Reception are already able to find a suitable space independently. They have been warming up by moving in different ways in a space. The children have been demonstrating fantastic listening skills and they are following instructions very well during our PE activities.
Worship Box
We have been working very hard together to design and create our special worship box. The children will use this to help Miss Daley lead the class worship every Friday. The children will use the special items inside the box each week.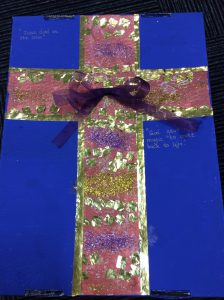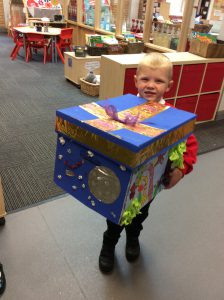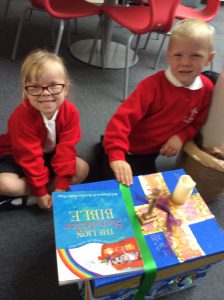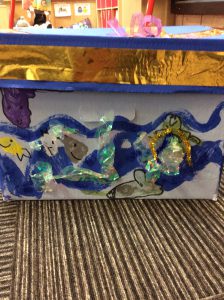 Reception Classroom
Here are some pictures to show the areas of learning children will be exploring this year. Each week different challenges will be set up to enhance the children's learning. These areas help children to flourish and become independent learners.
Children have enjoyed exploring both the indoor and outdoor classroom. Here are some examples of how children are settling in and using the areas and activities.