Welcome to our class page. Here, you will find information about the children's exciting learning, as well as any key dates or important pieces of information that you will need to know for the upcoming weeks and months.
Important dates
Monday 23rd September – Children start school full time (8:40-3:15)
Tuesday 8th October – Parent Consultations
Thursday 10th October – Parent Consultations
Monday 21st October – School photographs
Tuesday 22nd October – Reception Careers Day
Friday 25th October – End of half term
PE will take place Tuesdays and Wednesdays
PE
In PE Reception are learning to find a space and how to roll and stop a ball working with a partner. The children have attempted to undress and dress themselves independently in order to get ready for PE. They did a great job! Please continue to encourage your child to dress themselves for school.
Dance
This afternoon the children did some Spanish dancing! They listened carefully to instructions and followed different actions.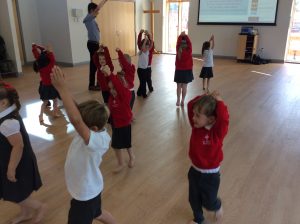 Busy Reception
Reception have settled in so well this week. We are so proud of all of the children coming into school with smiley faces ready for their learning. Miss Daley and Miss Emery are looking forward to making fun memories this academic year. Take a look at activities children have been selecting this week!