Welcome to our class page. Here, you will find information about the children's exciting learning, as well as any key dates or important pieces of information that you will need to know for the upcoming weeks and months.
Important dates
Friday 15th November – Children in Need (Wear something spotty or yellow for a contribution of £1)
W/C Monday 18th November – Book Fair (open each day after school in the library)
Wednesday 4th December – Reception Christmas performance 'A Present for the Baby' @ 9:30
Thursday 5th December – Reception Christmas performance 'A Present for the Baby' @ 2:15
Friday 13th December – Christmas Jumper Day
Tuesday 17th December – Reception Christmas party afternoon
Friday 20th December – End of term
PE will take place Tuesdays and Wednesdays
Christmas Performance
Wow! What a performance! Reception worked so hard for their Nativity. Well done to everyone.
Children In Need
We have enjoyed dressing in yellow and/or spots today to raise money to support Children in Need. Children were very happy to meet Pudsey as he visited our school today to collect our donations. Thank you for all your sopport and donations to help us with this cause.

Careers Week
Thank you to all of the parents who have offered to talk to the children about their occupations. We have had a very busy two days learning about the job role of a vicar, a vet, an engineer and police officers.
Paralympic Cyclist Manager
This afternoon the children got the chance to see real bicycles that Paralympic cyclist use. We looked at how the bikes are adapted for the athletes to use effectively. We found out which bike was for the road and which was used on the valadium cycle track.
Police Officer
The children were very excited about our visit from the police officers today. We learnt about what police officers do and the equipment they use. Children particularly enjoyed looking at the police car and were excited by the opportunity to sit inside one.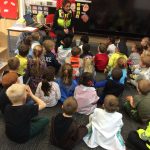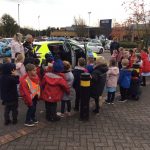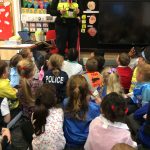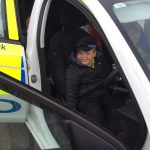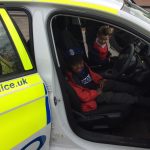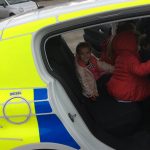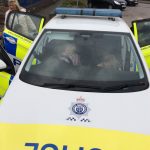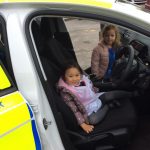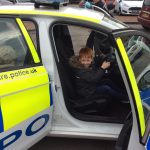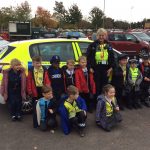 Engineer
Mr Oyedokun visited our class today and taught us about what engineers do. We learnt about different types of engineers and that engineers fix, create, design and make.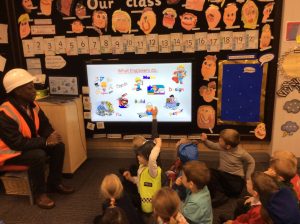 Vicar
The children were amazed to see the vicar wearing his cassock and surplice. We learnt what the different colour stoles represent and how the pictures on the stole link to Jesus.
Vet
Mrs Atkinson came to visit Reception with Dougal the dog. Dougal was very well behaved and the children were delighted to learn about the role of a vet. We practised bandaging a poorly animal's leg and listened to the heartbeat using a stethoscope.
PE
In PE Reception are learning to find a space and how to roll and stop a ball working with a partner. The children have attempted to undress and dress themselves independently in order to get ready for PE. They did a great job! Please continue to encourage your child to dress themselves for school.
Dance
This afternoon the children did some Spanish dancing! They listened carefully to instructions and followed different actions.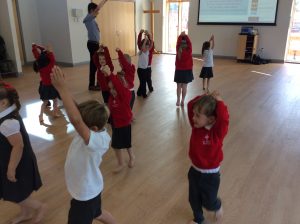 Busy Reception
Reception have settled in so well this week. We are so proud of all of the children coming into school with smiley faces ready for their learning. Miss Daley and Miss Emery are looking forward to making fun memories this academic year. Take a look at activities children have been selecting this week!