Welcome to our class page. Here, you will find information about the children's exciting learning, as well as any key dates or important pieces of information that you will need to know for the upcoming weeks and months.
Important dates
Monday 23rd September – Children start school full time (8:40-3:15)
Tuesday 8th October – Parent Consultations
Thursday 10th October – Parent Consultations
Monday 21st October – School photographs
Tuesday 22nd October – Reception Careers Day
Friday 25th October – End of half term
This term our PE lessons will take place on Tuesdays and Wednesdays.
Our Learning
What do I look like?
Our new project, 'All About Me', is well underway and we are enjoying learning lots of things about our children. Each week we will focus on a question to help us with our learning about ourselves and our friends. This week we have been thinking about the way we look. We have been using special vocabulary to describe our faces and have been presenting our ideas in different ways.
Henry said, "I have got blue eyes."
Alex said, "My hair is curly."
Belle said, "My lips are rosy pink."
PE
Yesterday all the children got themselves changed for PE. It was a very busy time, but the children listened carefully to the instructions and managed to put all of their PE kit on with minimal help. They were very proud of themselves, and rightfully so! Well done everyone!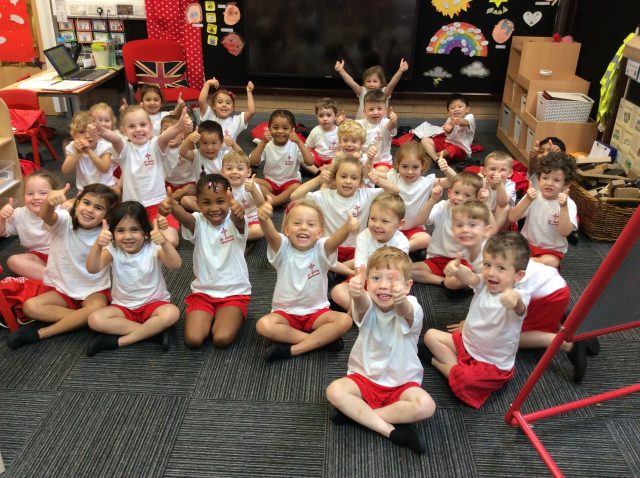 Lunch Time
The children always look forward to lunch time. They have responded very well to the lunch time routine and it has been lovely to see such happy faces when they are filling their tummies!
Our second week at St Philip's!
We have had another lovely week in Reception. We are so proud of how well the children have settled into school. They have been so enthusiastic in their activities and we have enjoyed watching their confidence grow, along with their smiles! We have continued with Spanish dancing, exploring our outside classroom and we even went on an adventure around the school building…
Our first week at St Philip's!
We have had a fantastic first week in Reception! The children have been busy exploring our classroom and making new friends, whilst participating in a range of fun activities. These activities have included role play, making music, painting and even some Spanish dancing! Here are some sneaky snaps of the fun we have been having…