Welcome to our class page. Here, you will find information about the children's exciting learning, as well as any key dates or important pieces of information that you will need to know for the upcoming weeks and months.
Important dates
W/C Monday 20th January – Health and Well-being Week
Friday 24th January– Chinese New Year Celebration Day in Reception
Thursday 30th January – Fire Brigade to visit Reception
Tuesday 11th February– Safer Internet Day
This term our PE lessons will take place on Tuesdays and Fridays.
Our Learning
A Supertato Emergency!
This afternoon we came into the classroom to discover an incident had taken place!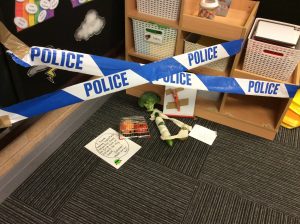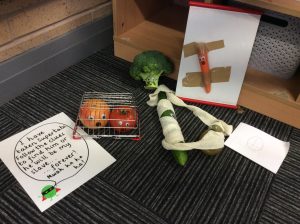 The Evil Pea had vegi-napped our Supertato and trapped all of his fruit and vegetable friends!
We had to use our reading skills to read the letter and the clues to try and rescue Supertato. Luckily, we had all had our brainy breakfasts and we managed to find Supertato safe and well, hiding in the jail!
We set about thinking how we could find the cheeky culprit, the Evil Pea. We designed WANTED posters, searched the classroom and we even made a trap to catch it!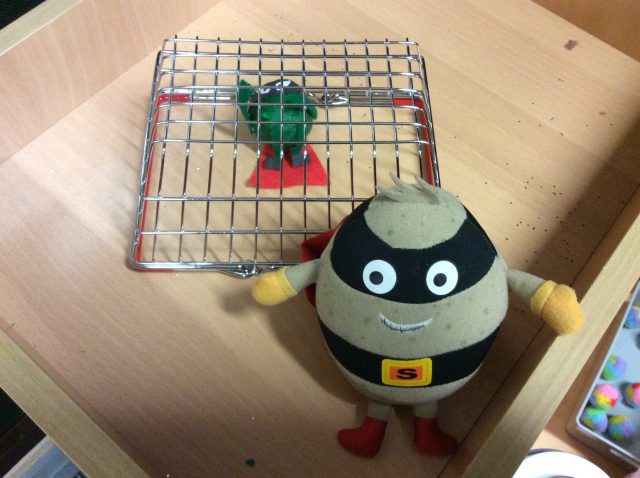 …our plan had worked! We captured the Evil Pea!
Happy New Year!
Thank you so much for all of your kinds wishes, gifts and cards from before Christmas. We hope you had a relaxing break and are well rested.
Our new project is entitled, 'Superheroes to the Rescue'. We can't wait to share our new provision with the children!
Christmas
We have had a wonderful few weeks with the children enjoying the Christmas celebrations. Thank you so much for all of your kind words, gifts, cards and wishes. We wish all of our children and families a wonderful Christmas and a very happy new year!
Here is a glimpse at some of the fun we have been having…
The Christmas Story
We have enjoyed learning about why we celebrate Christmas. We shared lots of different versions of the Nativity story and chose our favourite characters to describe. Can you guess who we are?
Getting ready for Advent
This morning we went into the hall with Mrs Wightman to switch on the Christmas lights. We were very excited to see the beautiful tree and the lovely red and gold decorations. We talked about why these colours are important at Christmas time and then counted down for the big switch on…5…4…3…2…1…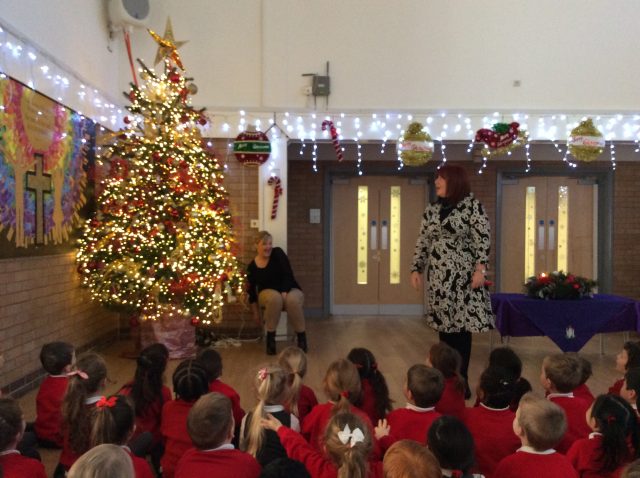 To Infinity and Beyond!
Sharing our learning
Over the last few weeks we have been learning about space. Each week we have been updating our display with our new learning. Our display is a reflection of our learning journey. Along the way we will share our learning through our 'Literacy' work, our 'Mathematics' work, our 'Understanding the World' work and our 'Art and Design' work.
Exploring our classroom
The children have enjoyed exploring the different areas in our classroom over the last couple of weeks. They have also been tackling some of the table top enhancements in order to develop their turn taking and communication skills.
The children have returned to school full of enthusiasm for our new project. We are looking forward to finding out what the children already know about space and building on this knowledge over the course of the half term. Here is a peak at some of our new classroom activities…
What do I want to be when I grow up?
Another very special visitor…
This afternoon we were lucky enough to be visited by Mrs Nagarajan. She came into school to talk to us about her very important job. We guessed from her clothes that she was a special kind of doctor. She told us that she was a surgeon and she performs operations to help make people feel better. The children watched eagerly whilst she showed us how to plaster a broken bone. We then had the chance to participate in a science experiment to see what happens when we mix bicarbonate of soda with coloured vinegar. We made lots of lovely colours!
A visit from the police!
We were very excited to welcome police officers Sophie and Vicky into our classroom this afternoon. We learnt about the important job they do and the safety equipment they have to carry. We even heard some talking on the police radio! After talking to Vicky we went outside and were lucky enough to sit inside the police car!
Careers Day
We have had the most wonderful day with the children, learning about their hopes and dreams for the future. We appear to have a class of aspiring doctors, teachers, vets, fire fighters, police officers, pilots, train drivers, nurses, builders and even a unicorn farmer!
We talked about why these careers are exciting and how hard we need to work to achieve our dreams. We also talked about how our aspirations can change as we get older.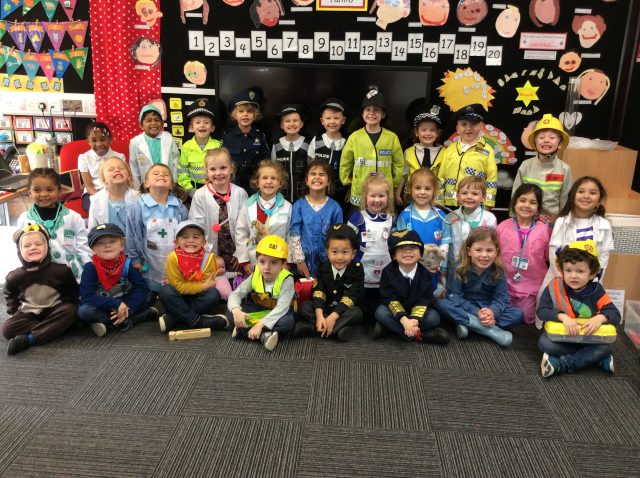 This week in Reception is 'Careers Week'. Over the course of the week we will be learning about different occupations and thinking about which ones we might like to have when we are older.
Today we had two special visitors who came to school to tell us all about their jobs.
Pete works in a church. He told us how he helps people to learn about Jesus. He showed us his special clothes and even let us try on his very special stoles. Each one was a different colour for a different celebration. We loved looking at the little pictures and patterns on them.
This afternoon we were visited by Elaine and Dougal. Elaine is a vet for small animals. She told us about how she helps animals to feel better and Dougal was her patient. We learnt about how to examine a dog from its head to its tail. We then had the chance to practise bandaging Dougal's paw and we gave him some invisible medicine in a syringe. Dougal was so friendly and patient that we gave him a thank you stroke before he left.
Where do I live?
This week we have been learning about different types of homes and familiar buildings in our local area. This afternoon we decided to go outside and explore. We stood at the front of our school and looked around to see what we could see.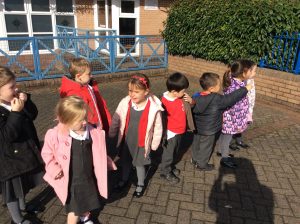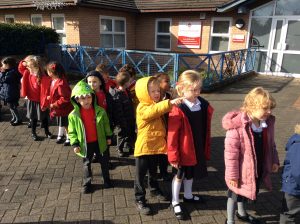 We spotted the cinema and Costa. When we looked left we saw the church and the library. We even found the doctors next to the church. We couldn't see Gulliver's World but we guessed where it was in the distance. We decided to go back into the classroom and build a map of our local area.
After talking about the buildings in our local area, we decided to work together to make some models of them. We had to think about the different shapes we would need to make the windows, the doors and the roof. We also talked about how we would join the parts together and we used the words 'cut, 'stick', 'rip', 'bend', 'fold' and 'join'.
What do I look like?
Our new project, 'All About Me', is well underway and we are enjoying learning lots of things about our children. Each week we will focus on a question to help us with our learning about ourselves and our friends. This week we have been thinking about the way we look. We have been using special vocabulary to describe our faces and have been presenting our ideas in different ways.
Henry said, "I have got blue eyes."
Alex said, "My hair is curly."
Belle said, "My lips are rosy pink."
PE
Yesterday all the children got themselves changed for PE. It was a very busy time, but the children listened carefully to the instructions and managed to put all of their PE kit on with minimal help. They were very proud of themselves, and rightfully so! Well done everyone!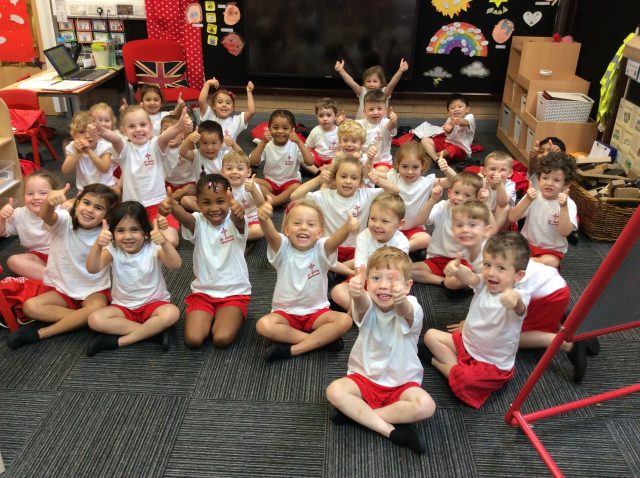 Lunch Time
The children always look forward to lunch time. They have responded very well to the lunch time routine and it has been lovely to see such happy faces when they are filling their tummies!
Our second week at St Philip's!
We have had another lovely week in Reception. We are so proud of how well the children have settled into school. They have been so enthusiastic in their activities and we have enjoyed watching their confidence grow, along with their smiles! We have continued with Spanish dancing, exploring our outside classroom and we even went on an adventure around the school building…
Our first week at St Philip's!
We have had a fantastic first week in Reception! The children have been busy exploring our classroom and making new friends, whilst participating in a range of fun activities. These activities have included role play, making music, painting and even some Spanish dancing! Here are some sneaky snaps of the fun we have been having…