Welcome to Miss Cragg's class page.
Our Learning in Year 6
Last Day at St Philip's
I would just like to say a huge thank you for a fantastic year! You are all wonderful and I am extremely proud of you all. I will miss each and everyone of you; I wish you the best of luck for high school! Don't forget to come and visit us and keep us updated on your adventures.
Miss Cragg  :)
Sports Day 
We had some visitors from Wuhan Primary School in China for 3 days. During their time with us, we showed them what a typical school day is like in England and the range of subjects we learn. We showed them what our sports day looks like and also played a game of rounders! Our St Philip's buddies were fantastic role models to the visitors and represented our school brilliantly.
Science – Circuits
In Science, we have been learning about electricity. The children created series circuits with different components (lightbulbs, buzzers and motors), and investigated what happened to the components when more were added or when extra cells (batteries) were added. We then progressed to looking at parallel circuits and we found out that our houses use parallel circuits!
Liverpool Cathedral – Leavers' Service
It was a lovely service for our leavers' at Liverpool Cathedral. We took part in a variety of workshops throughout the day that all reflected on the children's journey through primary school.
Menai
Year 6 had the best week in Menai. I am extremely proud of all our children and they were an absolute delight to take away! Thank you for a memorable week, year 6!
Tuesday
Wednesday
Thursday
Friday – lunch at Rhos-on-Sea on our journey home.
100 Mile Challenge Launch
It was a lovely, hot sunny day for our 100 mile challenge launch. Active Cheshire, in partnership with New Balance, came to St Philip's to launch the 100 mile challenge. It was an excellent day and aimed to inspire children to be active. We can't wait to start the 100 mile challenge in September!
Freedom- RE Drama
In the run up to the leavers' service, the children have been investigating the story of Moses and they thought about the links to the theme 'freedom'.
Warrington Wolves Tournament
I am extremely proud of our rugby team who took part in two matches at the Warrington Wolves' stadium. They won their first match, but sadly lost the second; however, they all played brilliantly! Well done!
Personal Safety
We had an excellent personal safety session which taught them the fundamentals of staying safe in different environments.
Music
The children have been enjoying our music lessons on composition all related to the song 'Happy'.
Curtis Jobling
We were lucky enough to be visited by Curtis Jobling. We had a fantastic assembly led by Curtis where he told us all about his journey to becoming and author and illustrator. Later on in the day, we had a writing workshop with him where he imparted his knowledge of creative story writing; we produced some excellent pieces of descriptive writing based on 'the box'.
Victorian Britain
We have been reading 'Street Child' by Berlie Doherty which is set in Victorian Britain. We researched, using the iPads, what life was in Victorian Britain and the workhouses and used this information to put ourselves into the main character's shoes.
Here are some freeze frames of the first part of the story when Jim and his family are ordered to leave their home by their landlord as they didn't have any money to pay the rent.
Body Balance
Michelle from Body Balance came in to do a workshop with the children. She taught them the importance of meditating as a way to relieve stress, the fundamental moves in yoga and tai chi. The children loved the workshop and found out that it isn't as easy as it looks!
World Book Day
World Book Day has to be one of our favourite days in school! We discussed our favourite books and characters and what makes them special to us.
Indian Art Workshop
DT: Smoothies
Mr S. Mooth, who owns a large smoothie brand, informed the children that sales are down by 20% this year, so Mr S. Mooth has contacted the children to ask for help; he wants the children to do some research in order to design and create a new flavour that is going to increase his sales. The children began by completing some market research about different types of fruits. They used the iPads to search for different fruit within their budget and unusual combinations. They completed their market research by finding out what the most popular fruit and fruit combinations were. The children the planned out their smoothies ready to make next week.
Geography
This half term, we have been using our investigative skills to research different geographical locations. We have used a variety of sources to gain an insight into different areas around the world.
We have learnt about the important lines of latitude which are:
the equator (0°)
the Tropic of Cancer (23.5° north)
the Tropic of Capricorn (23.5° south)
the Arctic circle (66.5° north)
the Antarctic circle (66.5° south)
the North Pole (90° north)
the South Pole (90° south)
We used the atlases to find and locate different deserts around the world and we found out that deserts aren't all hot and sandy as there are areas in the polar regions that are deserts due to the lack of precipitation.
Health Week
This week, we have been learning all about having a healthy body and a healthy mind. Every day, we completed 30 minutes of exercise. Have a look at the pictures below to get insight into our exciting week!
One of our 30 minutes of exercise consisted of a Joe Wicks Workout – high fives and smiles all round once it was completed!
The children raised many questions about the effects of drugs and alcohol on the body at the beginning of the topic, so following their interests, the children researched all about this using a range of sources. The children took part in a carousel of activities involving researching different areas of this topic and they had the opportunity to try on some glasses to understand the effects that alcohol has on your vision.
The year one and six classes 'buddied up' for an exercise circuit. Working together, they had to complete each exercise, this involved: frog jumps, jumping in and out of a hoop, high knees/ sprinting on the spot, star jumps and many more. It was wonderful to see the year six children helping and teaching the younger children.
We were very fortunate to be visited by football legend, Sue Smith. Sue delivered an inspiring assembly to the whole school , then each KS2 class took part in a workshop where she demonstrated her skills and taught the children the importance of team-work.
PE: Handball
This half term, we are learning how to play handball. After researching the rules of handball and watching some video clips of professionals in action, we had a match to assess our strengths and weaknesses in the sport. Following this, we identified the different types of throws the professionals used in handball, and we went outside to practise them; we also looked at different techniques for passing the ball to a team-mate whilst the opposition tried to intercept the ball. We had to think tactically when using the space around us.
Our next lesson focused on team-work. Macy explained that in handball, if you don't communicate effectively with your team, then you won't win.  Using the blindfolds, the children had to communicate with their partner in order to direct them around the obstacle course. It was quite tricky! Lydia said, "This activity links to handball because if we don't co-operate and communicate with each other, then we won't be able to play well as a team in order to win our match."
Health and Well-Being
We have started our project all about Health and Well-being. The children have raised some questions about what they want to find out during this project. We have already looked at how the circulatory system works. We created a model outside: we used bean bags to act as the oxygen, cones to act as the carbon dioxide and ourselves to act as the blood cells. We travelled to each organ transporting the oxygen from the lungs around the body.
We are looking forward to the rest of the project!
A Class Compliment
After our lesson all about kindness last half term, Lydia, Katie and Jess D decided they wanted to put a smile on all of their class-mates' faces! Over the holiday, they wrote a class compliment to make us all smile. Thank you, girls! Read it below.
A Poem Inspired by Nelson Mandela
Charlie M loves to write poems; he has written a wonderful poem inspired by Nelson Mandela. He has sent it to Her Majesty the Queen, South Africa House and local papers. Well done, Charlie!
Merry Christmas!
Thank you for working extremely hard this term. Have a wonderful Christmas and I will see you all in the New Year! Be safe, be merry and enjoy the time with your families and friends!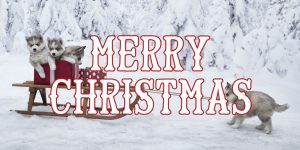 Christmas Party
A party filled with lip sync battles, dancing, sweet treats and Christmas selfie props. What a fabulous Christmas party it was!
Christmas Fun!
Like the elves in Santa's workshop, we have been hard at work with Christmas preparations such as: preparing Christmas cards, designing calendars and, of course, making snowmen biscuits! We had to be very precise with the amount of icing we put on to prevent them dripping and the children found it too hard to resist having a sneaky taste!
Christmas Play
I would like to say a massive congratulations to all our wonderful children for making our Christmas play a huge success; I am so proud of you all! They have worked extremely hard and they loved performing it to you. Thank you to those at home who prepared costumes for the children and helped them to learn lines.
"It's Nice to be Nice"
In the run up to Christmas, we have be thinking about being kind to others. As well as a chocolate calendar, we have a kindness advent calendar. We all thought of a good deed (whether it be holding the door for someone or cheering somebody up) and placed it in our kindness advent calendar to open every day to inspire the children to think of others.
In PSHE, we thought about "It's nice to be nice" and what that actually means, what the impact of being nice to somebody has and how that makes you feel. We discussed different scenarios and how people may feel. After this, we wanted to spread love and joy to one another, so the children wrote lots of nice things all about someone in our class on a post-it note. When we were done, each person got to read the lovely things that somebody else had written about them.
Here are some of the comments from those post-it notes which left enormous grins on the children's faces.
"You are so funny and I can always count on you if I need you."
"Your smile brings me joy. You're wary of other people's feelings and are always up for a new challenge. You always look on the bright side."
"You are very kind and always make me smile."
It was lovely for the children to read nice comments about themselves.
PE- Stars of the Lesson
Well done to our 'Stars of the Lesson' for working well in a team and demonstrating excellent dodging skills.  As you can see by their wonderful smiles, they were very proud of their achievement!
PE- Dodgeball
We have been learning the skills involved in the sport Dodgeball. We have been practising throwing skills involving accuracy and power. Many matches have taken place and we have some real sport superstars in our class. We can't wait to play our tournament at the end of the half term against Mr Henshaw's class!
Week 3 – Putting our accuracy skills to the test in a game.
Week 2- Developing accuracy skills using different targets.
Week 1- A match to begin the series of lessons to see what skills we need to develop further.
Anti-Bullying Week
Throughout the week, we covered a range of topics linked to anti-bullying. We focused upon how to be a good friend and what a good friend looks like, peer pressure, and being influenced by the media and others and how to be assertive in certain situations.  Using drama, we acted out various scenarios that the children may encounter. We focused on thinking of a suitable solution and what we could do if something were to happen. We also highlighted the importance of telling an adult if they feel like they are being bullied. Remember: you can also use the TootToot login you have been given in your reading record.
Celebrity Meet and Greet!
To conclude Anti-Bullying Week, St Philip's had a special visit from St Gregory's High School who delivered an assembly entitled  'All Different, All Equal, No Bystanders'. This assembly highlighted the importance of being unique, it was dedicated to Viola Beach and they even taught the children a dance! We then got a special invite for a selected group of children to visit the school to watch a special Anti-Bullying assembly for the year 7 pupils where they joined in a special dance to 'Boy that Sings' by Viola Beach.
A special visitor, and past St Gregory's pupil, came to the assembly who the children were extremely excited to meet – Mo from The Voice! And of course, they had to have their picture taken with him!
B
BC's Feet Investigation
We launched our new topic of 'Evolution and Inheritance' by carrying out an investigation into the flexibility of our feet as part of the BBC's Terrific Scientific scheme. This was to contribute to research for the University of Kent which is currently studying how our feet may be adapted depending on our location – particularly the terrain we walk on. It is thought that people who live in the countryside have more flexible feet than those who live in towns and cities.
We took various measurements of our feet to find the Arch Height Index which helped us to find out our feet flexibility. To see how we collected our data, follow this link to the BBC website. We applied our mathematical knowledge in order to measure accurately and calculate some complex calculations!
Debate: Should a Poppy Be Worn During Remembrance?
During the Remembrance period, we discussed the question 'Should a poppy be worn during Remembrance?'. We had a very interesting discussion on the purpose of the poppy and what the proceeds go towards. Later in the week, we held the debate and every child got to voice their views. The children planned out their argument in order to play an effectively role in the debate. After the debate finished, the children thought about their own opinions and many changed their minds!
PE- Tournament
On the last day of half term, Year 6 took part in a tournament to test the skills we have been learning throughout this half term. Mr Henshaw's class and Miss Cragg's class went head-to-head in hockey and football matches.
Egypt's Got Talent
In History, we have been researching and learning all about Ancient Egypt. Each group prepared a presentation all about an Egyptian god. The groups were then judged on their delivery and presentation skills and also how informative their presentation was.
Diwali
On Thursday, we celebrated Diwali. Everybody came dressed in brightly coloured clothes and we spent the day learning about about the 'Festival of Light'. We were lucky enough to have Mrs Sen come and visit us to tell us all about how she celebrates Diwali; she was even kind enough to bring us some food to try! Mrs Sen also showed the class the outfits that may be worn, and dressed Miss Cragg in a beautiful purple sari. We finished the day by creating Bollywood inspired dances!
Our Trip to Warrington Museum 
On Monday, we went on our school trip to Warrington museum to learn more about the Ancient Egyptians. We explored the different artefacts in the museum and created our own sketch books to use for drawing and making notes and observations. Before going on our trip, during DT lessons, we learned about shabtis and their importance during the Egyptian period. Then, we planned what our shabti would look like using our research to inspire us. All of this was extremely useful when it came to making our shabti at the museum.
Whole Class Reading
Each day, we spend time looking at a new text (fiction, non-fiction, poetry) and explore the vocabulary and meaning behind the text. After a discussion, the children answer challenging questions about the text in their reading journals. Beth and Tom enjoyed reading the prologue of Moonlocket (by Peter Bunzl) so much so they said they can't wait to read the whole book! It is wonderful to see the children so engaged and inspired by different books.
After exploring the song 'Airship', we unpicked the vocabulary and discussed the meaning behind the lyrics. Shortly after, the children had a go at performing the song to an audience thinking about how they use their voice effectively to deliver the song. They have thoroughly enjoyed it!
Science- Living Things and their Habitats
Our Science topic for this half-term is Living Things and their Habitats, and we started by investigating micro-organisms. Three slices of bread were used: the control which was placed into a bag with minimal human contact; the second was touched by all of the children after they had shaken hands with each other; the final slice was touched by all of the children after washing their hands. This led to an important discussion about making sure we wash our hands properly to avoid spreading germs and becoming ill. We recorded our observations daily.
Here you can see what happened to the bread over the course of 11 days!
Following this, we had a great discussion (linked to Science and PSHE) on the importance of keeping yourself clean and ensuring good personal hygiene in order to stay healthy!
PE – Let's Get Competitive!
The children have been showing Miss Stubbs and I what excellent team players they are after we began to apply the skills they have learned to hockey and football matches. We have been focusing on competition in our PE lessons and thinking strategically in order to beat the opposing team. The children developed their skills even further by coaching one another to improve their skills.
WOW History Lesson
What an exciting lesson we had today when we began our project about the Ancient Egyptians. The children imagined they were archaeologists when they discovered Tutankhamun's tomb.  After exploring the tomb, the children thought about what artefacts they saw and why they were there. Following this lesson, the children wrote some excellent newspaper reports about Howard Carter's discovery of Tutankhamun's tomb.
PE – Football and Hockey
This half term, we are focusing on the invasion games football and hockey. Each week, we will build on our skills to play matches against one another.
Science Assembly
We were lucky enough to be joined by a Scientist on Friday 15th September, who showed us some exciting experiments. As you can tell by the smiles on the children's faces, they loved helping out with the experiments!
Roald Dahl Day 
What an exciting day we have had today! The day started with a Roald Dahl assembly; followed by a workshop all about George's Marvellous Medicine. The children acted in the role of different characters from the story to create pieces of drama. It was excellent to see the children thinking about how they can project their voice to an audience and really focused upon the the task. I didn't expect to have so many brilliant actors in our class!
During the workshop, we created a class poem about George creating his marvellous medicine; watch the video to see our 'classterpiece'.
Our First Week in Year 6
We have had a fantastic first week in Year 6. Firstly, we started with Place Value in Maths. We explored different numbers up to 10 million and discussed the values of each digit.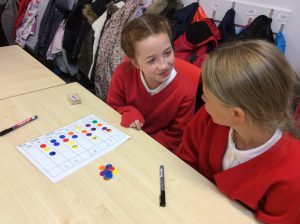 Science
In Science, we began our series of lessons with a WOW. We investigated the question: 'What happens to bread if it is subjected to unsanitary conditions?'  We discussed possible ways to investigate the question and the children planned how to carry out a fair test. We decided to put the first piece of bread into the plastic wallet without anybody touching it. For the second piece, we each shook hands to create 'dirty hands'  and then we each touched the bread. The third piece of bread was then touched by 30 pairs of hands that had been cleaned. Over the next week, we will be observing what happens to the bread.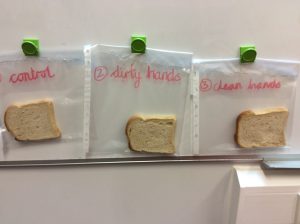 Our Learning in Year 5
Scroll below to look at the photographs detailing our exciting learning in Year 5.
Jingles
This half term in Music, we have been composing our own jingles.  Jingles are often used in advertising, and are short, catchy tunes, which stick in our head.  We had lots of fun with this topic, and Mr Callaway REALLY enjoyed listening to them!
St. Greg's Discovery Day
We have been on a really exciting trip to St. Gregory's High School to experience life as a secondary school pupil. We had an action packed day, sampling lessons such as Chemistry, DT, PE and English.  Here are some photos of our day!
Maths
Today in Maths, we have exploring area and perimeter.  We estimated the size of items in our classroom, in square metres, and then estimating a given area by drawing it out on the playground. Here are some photos of us trying it out.

Cheerleading
This half term, the children are continuing to work with Miss Williams for Dance. The theme will be cheerleading, and I am sure their performance will be amazing at the end of the half term.
Science – Flower Dissecting
This week, the children have been dissecting flowers.  We had learnt all about the different parts of the flower and we are now investigating to see if we could spot each one.  We have been fortunate enough to have some microscopes in school, and as a special one-off, we were able to look at each part of the flowers in microscopic detail! The children really enjoyed the afternoon and loved having the microscopes.
London Trip
Year 5 really enjoyed their trip to London. We visited the National History Museum and Buckingham Palace, watched 'The School of Rock' at the New London Theatre and called in for a cup of tea with the Queen in Windsor Castle on the way home. Unfortunately, whilst the Queen was at Windsor Castle, we didn't see her! We have lots of photos to share with you below. We did take more than one member of staff, but Mr Callaway just couldn't resist a photo opportunity!
DT
This half term, we have been designing and making our own boxes. Here are our results!
Performance Poetry
This week, we have been performing poetry to the rest of our class.  Our criteria was to perform with: projection, actions, expression and rhythm.
I think most of our performances are better suited to a stage in the West End! Here are the pictures of us performing.
Google Expeditions
We had a special visit from Alex, who works for Google.  We explored Mount Everest using virtual reality goggles.  We are all now really excited for the summer term where we will learn even more about the famous mountain.
Debate – Parliament Resources
Our school has been fortunate enough to receive a box from the Houses of Parliament containing exciting resources to hold our own debates.  Later in the year we will be studying all about the government and how parliament is run.  In preparation for our trip to London, we formed our own government and voted on our own laws.
World Book Day – 2017
We have been celebrating World Book Day in school this week.  The children, and staff, came dressed as one of their favourite book characters.  We started the day with a book swap.  Throughout the day, a whole school story was created, and we really enjoyed writing our paragraph – all about Keith the DJ monkey.
Here we are in our outfits this morning!
Music – Samba
This term, we have been exploring Samba music.  As part of our South America project we have learned about Rio, the home of Samba.  We have been performing our samba pieces, using call and response rhythms. Everyone took turns leading the group.  We finished the day outside, like a real Brazilian Samba Band!
Terrific Scientific
The children had a fantastic time taking part in the Terrific Scientific Taste Test. There was some fantastic science skills practised as we died our tongues blue and counted the number of papillae on our tongues. This told us whether we are a non taster, taster or super taster. We talked about scientists research into taste, and their idea that non tasters like bitter foods whilst super tasters do not appear to like them. The Terrific Scientific web page tells you how you can train your taste buds and brain to like new foods.
Comprehension
We have been exploring methods of answering comprehension questions this week.  On Friday, we explored a text; focusing on our understanding and predicting what the questions could be. The pictures below show us working hard in our groups in our initial investigation.
Chinese New Year
For Chinese New Year, the children came in dressed in red, a lucky colour in China's culture.  We had a fun day making lanterns and learning all about China.  We ended the day with a special dance workshop.
Gymnastics
In PE, we have been working hard to improve our balancing skills with Mr Callaway and Miss Stubbs. We have been learning to perform the different types of balances, such as tension, point, mirror, counter and patch.
Art Day
We had a special visit from an artist, who has helped us create some wonderful work. They will be displayed in the corridors around school in the very near future!
Year Group Science Experiment
We explored why different materials produce more or less resistance and how it effects and moving object.
Year 5 Trip to the Liverpool Museums
A fabulous trip to Merseyside Maritime Museum and The Museum of Liverpool.

Science
We have been exploring Forces this half term.  The children experimented, making their own parachutes, which material would create the most air resistance.
In September, we had a special Science theme day. Mrs Wilson came in and we saw an amazing variety of science experiments to help inspire us further with our topic of changes and properties of materials. This was followed by our own investigation into solids, liquids and gases. We modelled the structure of the atoms in groups.
Here are some photos of our year so far.