Welcome to our class page, here we will keep you up to date with relevant information and some photographs detailing our learning.
Reminders and Dates for the Autumn Term
Our Learning in Year 6
Please scroll down to see our exciting learning.
Stars of PE
Well done to this week's Stars of the Lesson! They showed great perseverance in using accuracy and power, practising skills in preparation for games of dodgeball.
Anti-bullying Week
This week, we have had several PSHE sessions, focusing on peer pressure and being influenced by the media and other people. We did a role play exercise where each group acted out a different scenario, involving someone being pressured by someone else. We watched the performances and discussed how we could respond to the different situations.
Feet Investigation
To launch our new science topic, Evolution and Inheritance, we carried out an investigation into the flexibility of our feet as part of the BBC's Terrific Scientific scheme. This was to contribute to research for the University of Kent which is currently studying how our feet may be adapted depending on our location – particularly the terrain we walk on. It is thought that people who live in the countryside have more flexible feet than those who live in towns and cities.
We spent the morning taking various measurements of our feet to find the Arch Height Index, and then their flexibility. To see how we collected our data, follow this link to the BBC website. The children worked really well in their partners to ensure that they were accurate and working scientifically. They also applied their learning on long division and rounding from last half-term to solve some tricky calculations.
We put our results into a class bar chart which gave us the mode (the most common result), as seen in the last picture below. We have also submitted our results to the BBC and they now appear on a map where you can compare them with other schools across the country.
Poppy Debate
With Remembrance Day approaching, we held a debate about whether it should be compulsory to wear a poppy. The children researched the topic first and the class was split into two sides: for and against. They all had the opportunity to express their points and a vote was held at the beginning and the end to see if anyone had changed their mind because of people's effective debating skills.
Country-Western Dance
This half-term, the children have been learning about country-western dancing. They followed common steps for the style and worked in groups to choreograph their own sequence of steps. Mr Callaway's class came to watch and gave some reasons why they enjoyed the dance and some areas for improvement.
Hymn Practice
One of our pianists had the opportunity to wow Key Stage 2 with his fantastic playing at the start of Hymn Practice on Tuesday. Well done!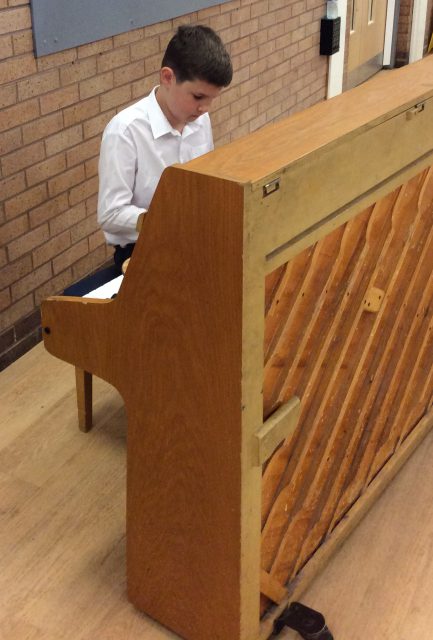 Egyptian Gods
Continuing with our Egyptian topic, the children researched an Egyptian god in groups and presented their findings to the rest of the class. The children spoke clearly and knowledgeably about what they discovered about their god.
Branching Diagrams
In science, we have been classifying living things using branching diagrams. The children worked together to ask yes or no questions to classify animals in a different way, using large paper and sticky notes so they could easily change their diagrams.
Trip to Warrington Museum
We all really enjoyed our trip to Warrington Museum earlier this week! We were given a talk by the museum staff and got to look at various artefacts from Ancient Egypt. We were also shown how to make clay Shabtis, and the children showed off their creativity with some fantastic designs.
Tutankhamun's Tomb Discovered!
In History, the children had the chance to explore an Egyptian tomb, looking at pictures and artefacts to learn about Howard Carter's Discovery of Tutankhamun's tomb.
Bread Experiment
Our Science topic for this half-term is Living Things and their Habitats, and we started off by investigating micro-organisms. Three slices of bread were used: the control which was placed into a bag with minimal human contact; the second was touched by all of the children after they had shaken hands with each other; the final slice was touched by all of the children after washing their hands. This led to an important discussion about making sure we wash our hands properly to avoid spreading germs and becoming ill. We recorded our observations daily.
Here you can see what happened to the bread over the course of 11 days!
PE – Football and Hockey Dribbling Skills
In our PE lesson, we worked on dribbling skills using footballs and hockey sticks and balls. It was important to have control of the ball, using correct technique and the right amount of power depending on how far it was necessary to move the ball. The children did really well, and showed fantastic improvement during the lesson.
Science Assembly
We had a special assembly where some scientists from the company 'Mad Science' showed us some exciting experiments.
Roald Dahl Day
We had a fantastic day celebrating the work of Roald Dahl. The day started with an assembly led by special visitors who gave us some information about this famous author and his wonderful novels. Year 6 concentrated on George's Marvellous Medicine and we participated in a fantastic drama workshop where we explored the different characters and made freeze frames.
The children also worked in groups to create a poem based on the idea that the medicine turned Grandma to jelly! After the workshop, we created our own recipes for some medicine, and in the afternoon, we used the Green Screen App on the iPads to perform our poems from earlier in the day.
Our Learning in Year 5
Mocktail Party
Cheers! This morning, we had lots of fun making and tasting our own mocktails, as part of our DT project. One of the best parts was making our own tasty garnishes! We made use of our Maths skills to create recipes with effective ratios, and we used our English skills to design our own persuasive posters to advertise our finished creations!
Masizani Day
Year 5 had lots of fun on Masizani Day! As it was Nelson Mandela Day, we learnt all about the life of this South African idol. We wrote poetry inspired by the hope that Nelson Mandela had when he was imprisoned on Robben Island. We also created some beautiful art work to go with this writing. In the afternoon, we learnt a South African song, which we performed to the other Year 5 class.
St. Greg's Discovery Day
We have been on a really exciting trip to St. Greg's Secondary School to experience life as a secondary school pupil. We had an action packed day, sampling lessons such as Chemistry, DT, PE and English.  Here are some photos of our day!
Street Dance
In Dance, we have been learning about a modern style of dance called 'Street'. Becky has been very impressed with our choreography skills!
Rap Stars!
We have now completed our Music project that was all about rapping. We enjoyed learning a rap about bullying and we worked in groups to compose our own verses. As you can see from the picture below, our class has many budding rap artists!
Debate – Should we conform or be individuals?
We finished last half term with a lively debate around the topic: individuality vs. conformity. The majority of the class felt that we should encourage one another to be individuals, so that the world is a more diverse and creative place. However, we also appreciated the need for rules and conformity to keep us safe and to ensure equality. By the end of the debate, many of us admitted to being '50 – 50′ and seeing both sides of the argument. What is your opinion?
Cheerleading
This half term, we have been exploring the lively dance style of Cheerleading. We learnt that timing was very important, as we had to use our Maths skills to keep track of our counts and to maintain a strong rhythm. Our ability to work as part of a team was also tested, as we worked together to create human pyramids. We performed our final piece to teachers and Year 4 pupils, who were all really impressed with our energy and enthusiasm.
London Trip
Year 5 really enjoyed their trip to London. We visited the National History Museum and Buckingham Palace, watched 'The School of Rock' at the New London Theatre and called in for a cup of tea with the Queen in Windsor Castle on the way home. Unfortunately, whilst the Queen was at Windsor Castle, we didn't see her!
We have lots of photos to share with you below. We did take more than one member of staff, but Mr Callaway just couldn't resist a photo opportunity!
Parliament Loan Box
We have been fortunate enough to recieve a loan box from the Houses of Parliament. It contained a range of items representative of the House of Commons. See if you can spot them in our debate; ask the children if they remember who uses what, why, and when.
The class decided to motion two 'Bills' – rules of our school which could affect our everyday lives. The first debate concerned the 'use of mobile phones during break times'. There were some excellent, mature arguments, both for and against the motion. Common sense prevailed (MPs take note) and the class narrowly voted against the idea. Our second debate centred around the suggestion that 'detention should be a sanction, as a consequence of wrong decisions being made'. This idea seemed to captivate their young Year 5 minds, and there was an overwhelming majority in favour of introducing detention. Maybe they can explain why!?
Design and Technology
Having recently learned many facts about the Maya Civilization, we begun to think about small, special containers, suitable for precious treasure belonging to a Maya King. We then explored methods of making our own personal containers.
During recent D&T lessons we have used 'nets' to form prototype 3D shapes, evaluated their effectiveness, produced independent design specifications and written accurate instructions to build our own containers. Using many cereal boxes, we then began to put our design skills to the test by creating containers 'from scratch'.
So far, so good…
Science Week Experiment
Mixtures: reversible and irreversable changes – over the course of the year we have explored different types of mixtures. Some materials can be mixed up, but the small particles remain seperate. We saw this when we mixed sand and water. Other mixtures, such as salt and water, create a solution – in this case the solute (salt) dissolves in the solvent (water). Earlier in the year we saw similar results with a polystyrene cup dissolving in nail varnish remover! In all these examples the changes which occur are reversible. This means that the materials can be separated again.
We recently added cornflour to water; the resulting mixture is known as a non-Newtonian fluid. This mixture is similar to the sand/water mixture, in that the tiny cornflour particles remain seperate from the water. Ask the children to describe how it felt. We left this mixture overnight to see if the water would evaporate, leaving the cornflour behind and confirming that it was reversible. Unfortunately, some concienciously-clean and organised person (certainly not Mr Scott!) cleaned the bowl.
We shall attempt this again. Also, watch this space for an exciting irreversible change, which occurs to a mixture when energy is added in the form of HEAT!
Terrific Scientific
The children had a fantastic time taking part in the Terrific Scientific Taste Test. There was some fantastic science skills practised as we died our tongues blue and counted the number of papillae on our tongues. This told us whether we are a non taster, taster or super taster. We talked about scientists work into taste, and their idea that non tasters like bitter foods whilst super tasters do not appear to like them. The Terrific Scientific web page tells you how you can train your taste buds and brain to like new foods.
Chinese New Year
Our whirlwind dance session, incorporating Chinese fans into our routine, for added flourish, was performed for the juniors at the end of the day.  We spent the morning researching Chinese culture, cuisine and education, to enable us to create a factual text persuading tourists to visit the country. We also made Chinese lanterns and tangram images.
Music
We have been studying simple jazz tunes, and using the glockenspiel to play a tune. Originally we had to find the pulse (the beat) and specify the various instruments we could hear. We then indicated the rhythm and tune by creating our own unique movements.
Gymnastics in PE
Having begun by discovering gymnastic shapes, we then incorporated them into jumps and leaps. Our next steps involved balancing on points and patches. Ask the children to describe (or show you a picture of) which is which.
Studying in St. Philip's Church
Cheshire Fire Service
Fire Safety. What is our plan of action during an emergency?
Trip to Liverpool
Having recently explored and researched Burtonwood Air Base, we knew how life used to be in our local area, how things have changed and what remains the same. With this in mind we set out for the museums in Liverpool to see: if much has changed in Liverpool since WWII; what is still the same; the role of Liverpool during the war; and how the war might have affected the people living there.
Merseyside Maritime Museum
We spent our time following a trail around 'The Battle of the Atlantic' exhibition. There was plenty to discover about this longest, and most crucial, naval campaign of the Second World War.
Museum of Liverpool
Every individual made fascinating discoveries, not just in the exhibitions relevant to WWII, but throughout this interesting museum. We found out more about life for all concerned during WWII, as we spent the afternoon researching: The Evolution of Charities Since WWI;  A Timeline of Toys; Bootle in the Blitz; City Soldiers; and The Liverpool Overhead Railway.
Fancy Dress and Fun Run.
Religious Education: To Appreciate Different People's Views and Opinions of the Bible.
Q&A Session – Mrs Dunning graciously paid us a visit, so we could find out why she thinks the Bible is important, and what it means to her.
Design & Technology:
Making Native American Indian Feathers.
Science Day