Welcome to our class page. Please check regularly to find out all about our exciting learning.
Reminders and Dates for the Autumn Term
PLEASE NOTE: PE lessons are on Mondays and Thursdays – make sure you have full indoor and outdoor kit in every day.
19th and 20th December – Y5/6 Christmas Play
Thursday 21st December – Finish for Christmas (Back Thursday 4th January)
Our Learning
Below you will find lots of photographs about the learning in our class.
Museum of Science and Industry
22/11/17
We had a fantastic time on our trip last week.  We explored different forces in the 'hands-on' exhibitions, experienced the wonder of machines powered by water, steam, air, gas and coal, and took part in a 'Forces and Flight' workshop.  We found out that Sir Isaac Newton discovered the concept of gravity when an apple fell on his head!  This experience has helped us to understand different forces in action and we cannot wait to follow this up with our classwork.
Diwali
Learning about Diwali today has been fun and interesting.  We have used many of our senses, as we tried some delicacies made by Mrs. Sen, drew some traditional pictures with powdered rice and designed our own mehndi patterns.  Mrs. Sen explained what Diwali is all about and she dressed Mrs. Bradley in a beautiful sari. We can't wait for our dance workshop tomorrow.  Happy Diwali!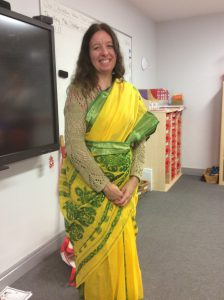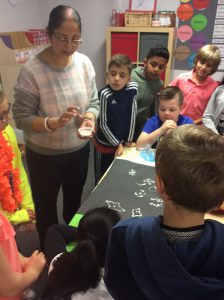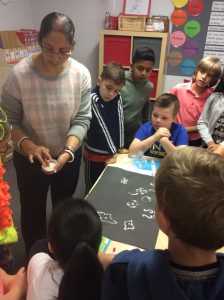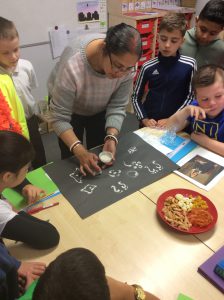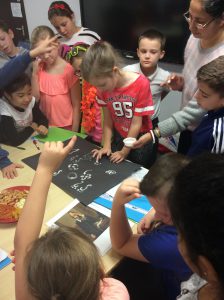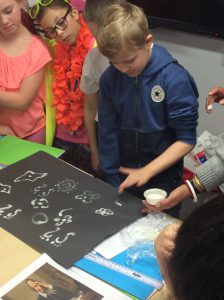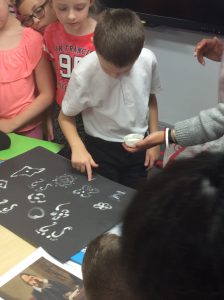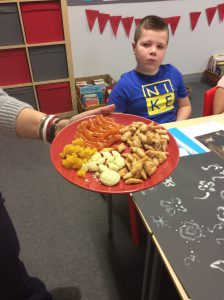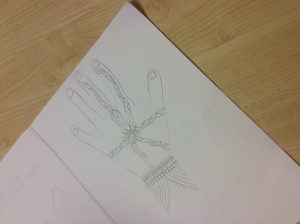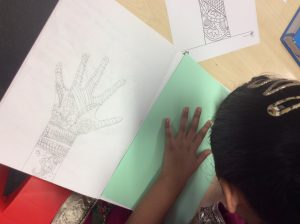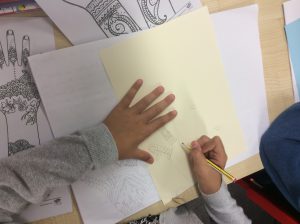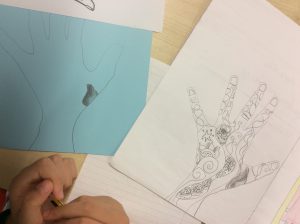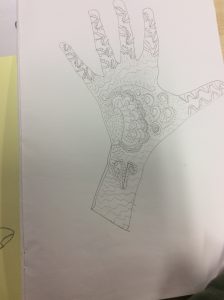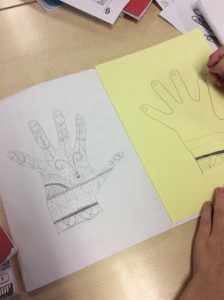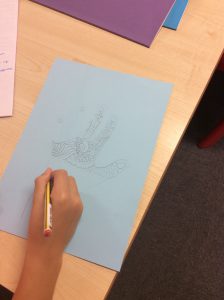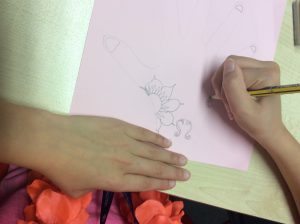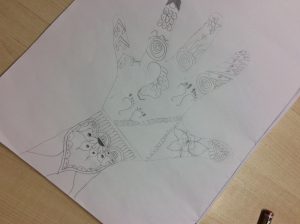 We are Historians!
17th October
Today we have been using our Historical skills to answer questions about the Native Americans.  We were given a general area – such as food, houses, etc. – then we had to develop a question we wanted to answer.  In our groups, we used cooperative skills to search for information and decide if it was useful and/or accurate.  Deciding if we were looking at primary or secondary sources was challenging, as sometimes it's hard to tell.  We thought about asking Mrs. Wightman if we could go to North America to look at some real totem poles and tipis….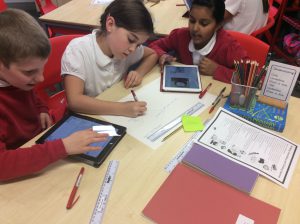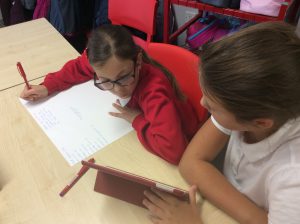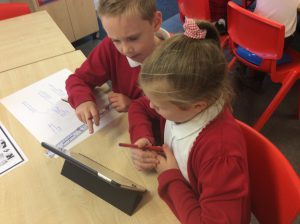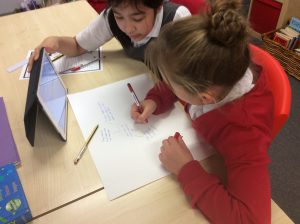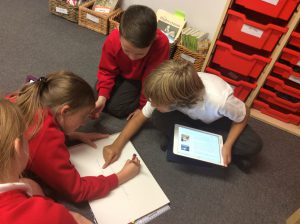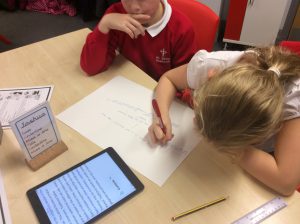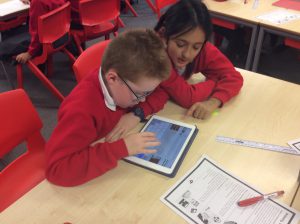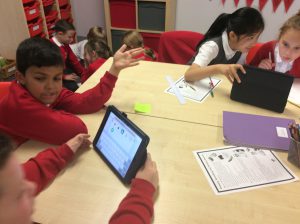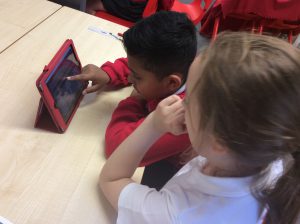 Rock Kidz
9th-13th October
Well, what a fantastic time we had with Cy and Jonathan from Rock Kidz.  We discovered many things about ourselves, including that it's cool to be me, we should respect everyone and we definitely don't want any bullying here!  Mrs. Bradley learnt how to rap nursery rhymes – well, almost – and we all learnt that perseverance really pays off!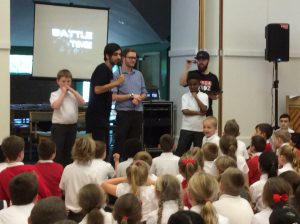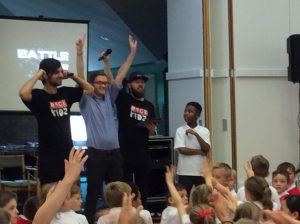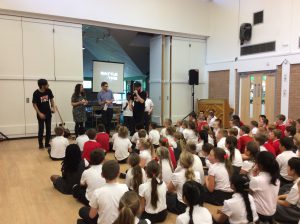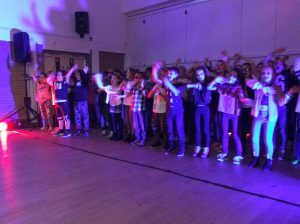 Christmas – What? Already?
9th October 2017
Yes, sorry to say that Christmas is not that far off and we have been creating some fabulous Christmas cards.  The children brought them home on Friday and I'm sure you'll agree that they are very impressive?  If you haven't done so already, please return the completed form and money as soon as possible and no later than 18th October.  If you do this, then we can get the completed cards back to you, all ready for sending at Christmas.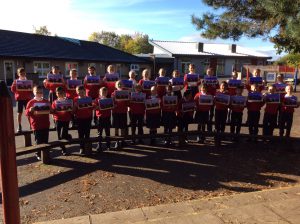 Chemistry with Cabbage
The lovely Lorelly Wilson came into our class on Friday and we were totally amazed!  We had no idea that you could use cabbages to do Science investigations, did you?  We tested lots of everyday liquids to see if they were acids or alkalies, we discovered how our stomachs break down foods, so that we can digest them and we made some lovely slime to take home.
We also discovered that nail varnish remover dissolves polystyrene in the same way that water dissolves sugar – incredible!
We had a fabulous day and said, "Wow!" a lot!  We can't wait to do Chemistry at High School.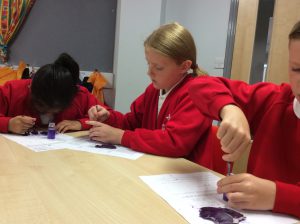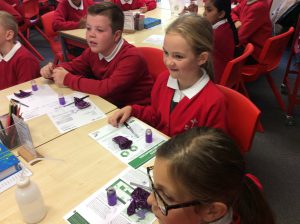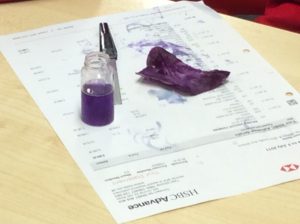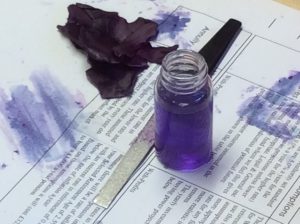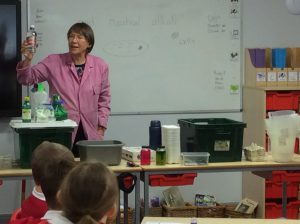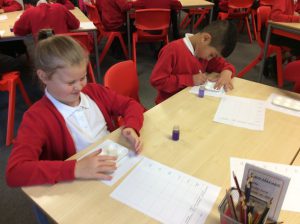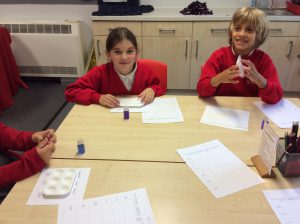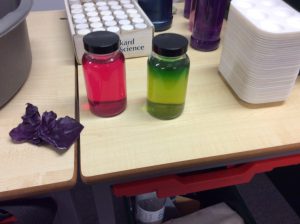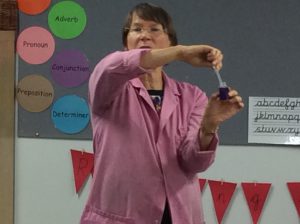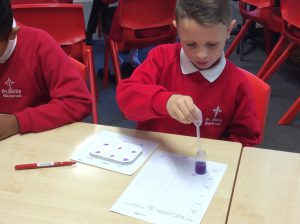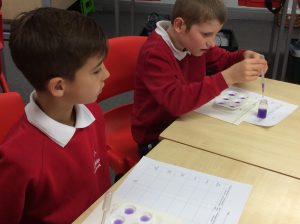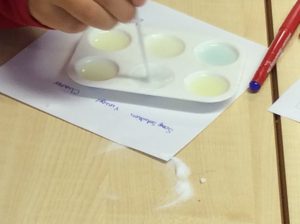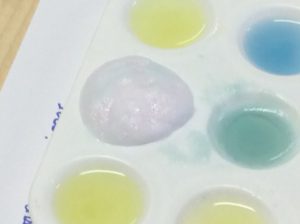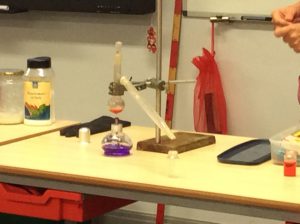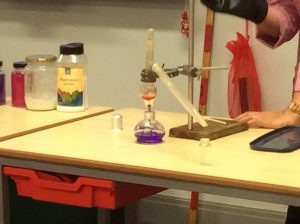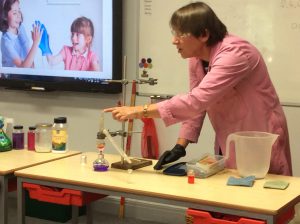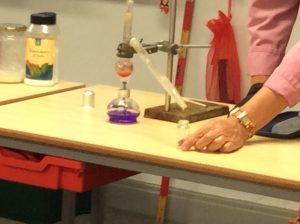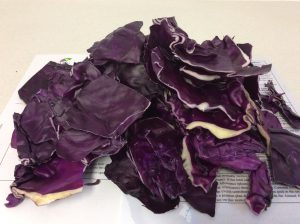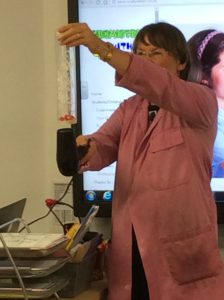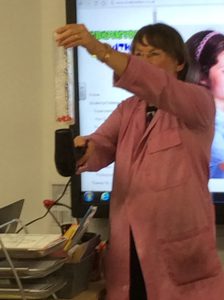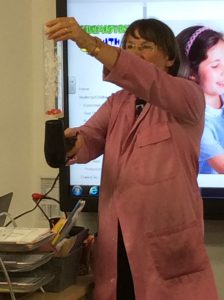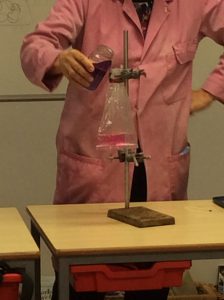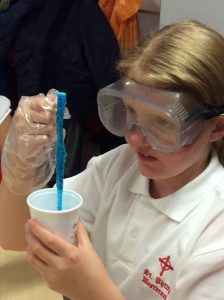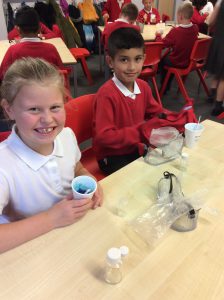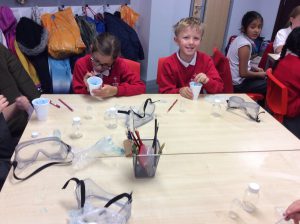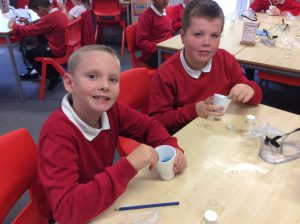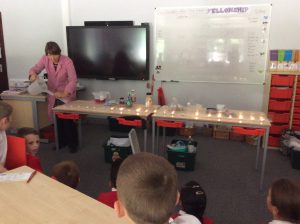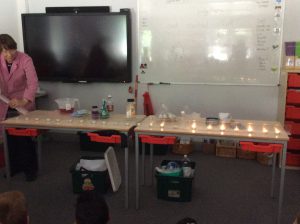 Road Dahl Day
13.9.17
We had a fantastic day, dressing up as characters from the wonderful Roald Dahl's books.  Taking part in the workshop with Michael was brilliant, as we pretended to be James (from James and the Giant Peach), his awful aunts and some of the creatures from the story.  Incredibly, we also discovered that it's possible to pretend to be a city, like New York!
Later, we made up verses of a song about James and the Giant Peach and then sang them to each other.  Some were funny, some were tuneful and some will keep Mr. Callaway and Mrs. Bradley humming for a while to come! Perhaps we should produce our own record?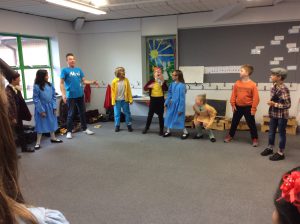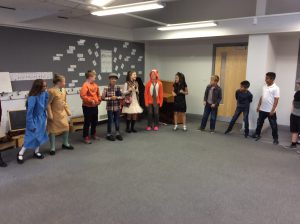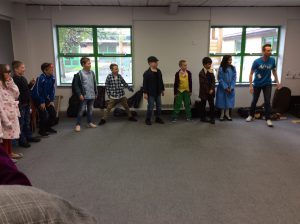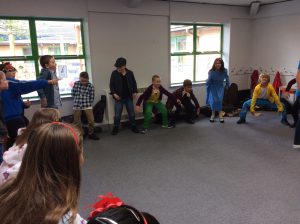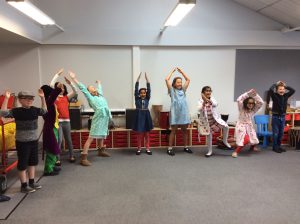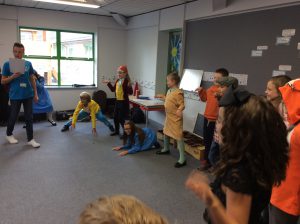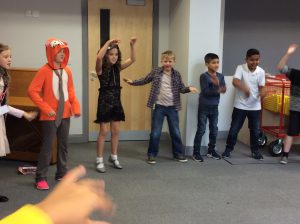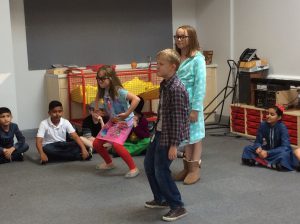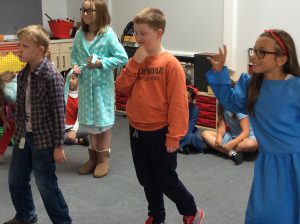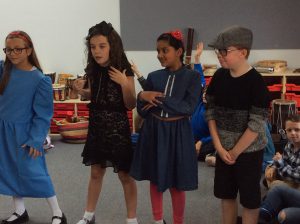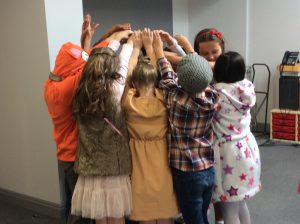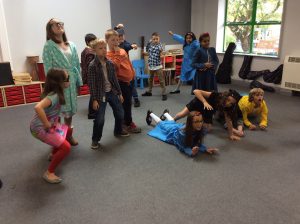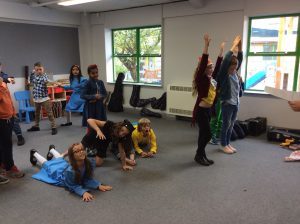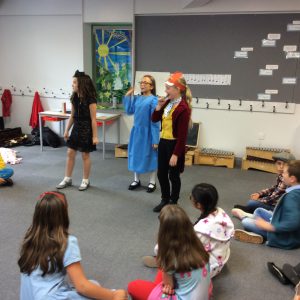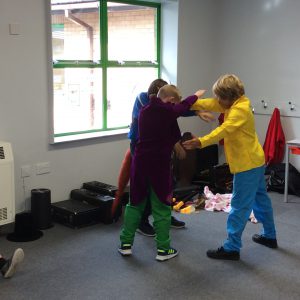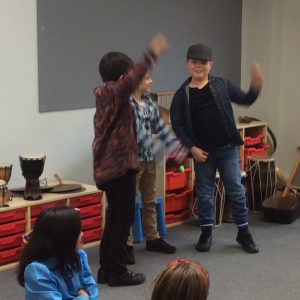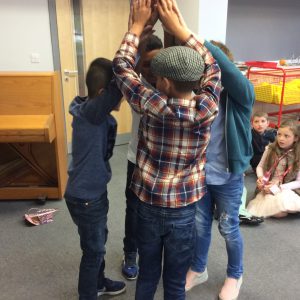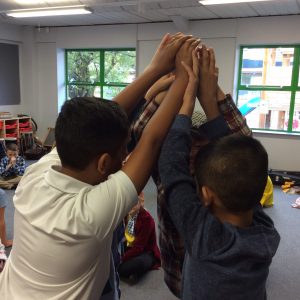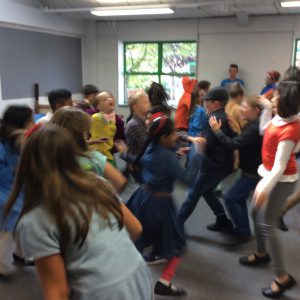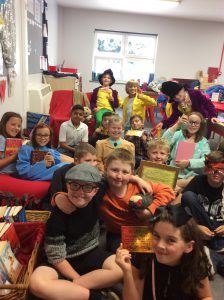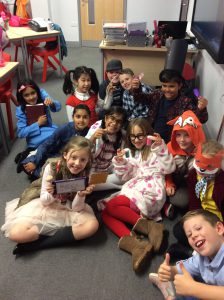 Our Learning in Year 4
Warrington Wolves Rugby
This term, we have had great fun with Warrington Wolves in our PE lessons.The children learned lots of different rugby skills.
Weaver Hall Museum Trip
This week, we enjoyed our trip to Weaver Hall Museum to learn more about the Vikings.  It was an exciting day that began with us becoming a human time line to see where the Vikings fit in amongst the Romans, Saxons and Normans.  After that, we were on an archaeological dig where we discovered a Viking grace and began to investigate what we could find out about the body.  Thanks to Daniel, we were able to recreate the Viking tomb! Next, we had a go at making our own Viking clay models – some were very good!
In the afternoon, we were able to visit a Viking's home.  His name was Olaf and he told us all about what life was like for him in the Viking times. He was a friendly Viking, and even let us recreate a Viking army, with the very brave Nathan being our leader!!
All in all, we had a great day.  Have a look through some of the highlights of the day in our gallery.
Easter Eggs!!!!
We have had lots of fun today taking part in the Easter egg competitions.  Well done to the two children who won extra eggs for the best egg and for the fastest roller!  Unfortunately, most eggs ended up in the bin as they were slightly destroyed from the egg rolling (including an explosion!). Well done to everyone for taking the time to decorate your egg and having so much fun.
What have we been learning?
Our Class Debate
We have been lucky enough to receive a chest of exciting things from the Houses of Parliament to be able to take part in our own debate.  We discussed what a debate is, saw some examples of debates in parliament and voted to debate whether school children should have to wear a school uniform.
In the end, the overall majority lay with not wearing a school uniform!  Have a look at some of our pictures.

Design Technology
Before half-term, we had a whole day of DT where we designed houses that fit into the Westbrook area.  We had to use our measurement skills, as well as the knowledge that we have learned about how buildings are designed and built around a strong frame.
Chinese New Year Day
This weekend sees the celebration of the Chinese New Year.  We are celebrating the year of the Rooster this and we have been taking part in lots of different activities related to the celebration.
At the beginning of the day, we read the story of how the Jade Emperor ordered all the animals to race to decide which order they would appear in the Chinese calendar.  After that, we took part Chinese Dance Workshop, then practised some chinese writing and artwork.  Lastly, we have created our own fact-files about the Chinese New Year.
Warrington Detectives
We have been working hard on our new topic all about Westbrook and Warrington.  During our geography lessons, we have been learning how to read maps and labelling some with symbols to show different areas of interest.  We're now looking forward to our trip on1st February where we will discover more about what's around our area and what attracts people to visit Westbrook.
Science
This half term we are studying the topic 'States of Matter'.  We have already explored different liquids, solids and gases; made and played with 'gloop' and had a go at making our own ice-cream to investigate the temperature that liquids turn to solids.
Ancient Greeks – Autumn Term
During our project about 'Ancient Greeks', we tasted some Greek food and designed our own healthy plate of Greek food.  This was very exciting and some of us tried foods that we haven't had before.  Have a look at our finished plate.
Science – Autumn Term
This half-term, we are learning about Electricity.  We have had lots of fun using the electrical components and creating our own, working simple circuits.  Watch out for photographs from our trip to the Catalyst Museum on 30th November.