Welcome to our class page. Please check regularly to find out all about our exciting learning journey.
Reminders and Dates for the Summer Term
This half term, our PE will be on Thursday and Friday. PE kits should remain in school and should only be taken home at the end of the half term.
Homework is given out on Fridays and should be handed back in by Thursday at the latest.
Children should be reading at home with an adult at least 3 times each week. Every time you read with your child, please sign their Reading Record. Records will be checked every Thursday and children who have collected 3 adult signatures will receive a sticker for their bookmark. Children who have not completed their homework or home reading will visit Homework Club, which takes place on Thursday lunchtimes.
Tuesday 12th & Wednesday 13th June – Summer Concert Auditions
Thursday 14th June – 100 Mile Challenge launch
Friday 15th June – Westbrook Big Party – Gulliver's World 6:30 p.m
Monday 18th June – Lego Workshop
Thursday 21st June – Miss Evans class assembly
Thursday 12th July – Summer Concert
Tuesday 17th July – Warrington Wolves Festival
Friday 20th July – Ukulele Performance
Friday 27th July – Finish for Summer
Our Learning
Below you will find lots of photographs about the learning in our class.
Escape from Pompeii
For our last topic in Year 3 we are learning about Volcanoes. We have specifically focused on the story of Pompeii and the eruption of Mount Vesuvius. In English we are reading the book 'Escape from Pompeii' and this week we are learning about the setting of a narrative. To help support our ideas for writing we produced a piece of drama first. We started to imagine that we were in Pompeii and acted out the type of activity we would be doing during a normal day in the city.
Christianity through the Arts
In our RE lessons this half term we are exploring how Christianity can be shown through the arts. This week our focus was on exploring Christianity through dance. We started by listening to a piece of music and discussing what type of movements would fit to this music. By looking at different Christian symbols we then started to think about how these symbols could be shown through dance. We then went into groups and shared our ideas with each other and choreographed dances that represented the Christian faith.
Clay Pots
As part of our Ancient Greece topic we have made our own clay pots. We started by sketching our pots and chose our designs and patterns. We then started to mold our clay using our thumbs to get the correct shape. We used the clay tools to draw our designs onto our pots and we then painted them.
Sports Day
The children loved taking part in Sports Day, but sadly we had no time to finish the 3-legged race. As promised, we squeezed this in before the end of half term, and the teachers even joined in too.
Ancient Greek Day
Today we have had an entire day learning all about the lives of people that lived in Ancient Greece. We had two people come visit school that had come all the way from Athens and Sparta. They spent the whole day arguing about which city was the best, but at the end of the day we got to choose. Before we could choose we had to find out a bit about each place. We took part in drama activities and games, there was also lots of dressing up. At the end of the day most of our children chose to live in Athens because they liked that in Athens the people had the power! A big thank you to all family and friends who helped children with their dressing up outfits they all looked fantastic.
Crime Scene Science
To launch our new Science topic of plants we recreated a crime scene. The plants you can see below had been hurt and damaged. We started to discuss if this was true and if plants could be hurt and killed. Many of the children in our class said they could as plants are alive. After this, we learnt about what it was that showed us that plants were living organisms. We then got a closer look at the plants on our table and started to think about the different parts that make up a plant and what their job role is. Some of us inspected the plants in more detail and looked at them under a microscope.
Athletics 
During this half term in PE we have been learning about different athletic events. We started by learning about shot put and the key techniques needed. One of the techniques that underpinned all of our activities was chin, knee, toe. We also learnt how to throw a javelin with a run up. Finally, our last two lessons were running. The running lessons were focused on sprinting, long distance and relay. Lots of us struggled at first to pace ourselves during  the long distance running . However, by the end of the lesson we managed to run around the ball court for 5 minutes. We finished our athletics lessons with a whole class relay, you can see our pictures from it below.
British Science Week
This week was British Science week and to celebrate we have been taking part in different investigations and experiments. The week started off with a visit from Science Boffins and an action packed assembly. In the afternoon, we had a special visit from the company Air Products. During their visit we learnt all about liquid nitrogen and how it is used.
For the rest of the week it was our turn to become scientists! We started off by making slime and to do this we had to use the scientific skill of observation. In addition to this we went outside to do some bird watching. Using our results we constructed tables which we then turned into bar graphs. We ended the week learning about classification, we collected items from outside. Once we had collected the items we classified them into different groups. Some of us found a worm in the soil and wanted to have a closer look at it.  So we bought it inside and took it in turns to look at it under a microscope.
Below you'll find our pictures from the week.
World Book Day
We all looked fantastic today in all of our costumes and pyjamas. We had a really busy day that started off with a trip to the Westbrook library. Whilst we were there we took part in a world book day quiz and Nick shared a story with us. Once we got back to school we started to think about how reading at bedtime made us feel, from this we produced some artwork. We finished our day by writing poetry and Miss Evans was so impressed with our creative ideas!
Egyptian Day
The children have had an exciting day, it was our Egyptian day. We took part in lots of fun activities. We learnt about hieroglyphics and made death masks and  mummies. We even took part in some Egyptian dance. Halfway through the day we had an Egyptian banquet. There were different fruits, breads and dips for us to try. A big thank you to all our adults for providing us with such great fancy dress outfits to wear, we all looked amazing.
.
Marble Run Challenge
Today we had another exciting science lesson. Our challenge was to slow down gravity. To do this we created a marble run using card and ramps. We created lots of different tunnels and stuck them onto the card for the marble to travel down. As we are real scientists in Year 3, we tried lots of different ways after deciding what was working for us and what wasn't.
Catalyst Museum
Today we spent the day at the Catalyst museum in Widnes. We took part in many exciting and different activities whilst we were there. In the morning, we got to become real scientists and we undertook a variety of investigations. To do this we had to wear our lab coats and safety goggles. After lunch, it was time to learn about magnets. Our workshop had  lots of different games to play that involved attracting and repelling magnets. We finished our day by exploring the museum, we really enjoyed going up to the observatory. When we were up there we had fun looking at the two bridges and even had a chance to build our own bridge that we walked across.
Health week
Wow, what a busy week we have had! This week in school is Health Week and we have taken part in lots of fun activities and have also met some very inspiring people. We started off the week by learning all about nutrition in Science and what we have to put into our bodies to keep them healthy. Keeping with this theme we then had a class debate. We had to debate if we thought children should be allowed sugary drinks. Lots of the children came up with some fantastic points. It was decided as a class that sugary drinks are okay in moderation, but we should not be drinking them all the time.
Also, this week we have had some really exciting visitors. Our first visitor of the week was football superstar Sue Smith. She coached us in a football session and we played lots of fun team games. We also got to look at one of her England caps and also her silver medal from one of her football tournaments. Our other visitor was Wil Maudsley from the Warrington Wolves Foundation. He told us all about the fantastic things he had done such as, bike riding and running from Warrington to Newcastle to raise money for charity! We were all left feeling really inspired.
Finally, we finished off the week by making our own hummus. Lots of us had tried hummus before but did not know which ingredients were in it. We found it really interesting to see all the healthy things that were used to make it. Some of use decided that we were going to eat it regularly as a healthy snack option.
Cup Stacking
This half term we are studying forces and magnets in science. In our lesson today, we became real scientists. Miss Evans told us that we had to try and stack cups into a pyramid. However, she then told us that we could not use any part of our body! We could only use elastic bands to move and stack the cups. We started off by discussing an idea on our tables. We then tested it. After this we considered what worked and what did not work, and used this to come up with a new idea. It took all groups at least 3 attempts to make the pyramid but we finally did it!
Christmas Party
On our last day we had our Christmas party and we played lots of different games and enjoyed the snacks that our adults had provided for us. Prior to this we have had an exciting week of creativity. We have made sock snowmen, Christmas cards, tree decorations and our calendars for 2018.
What Does Christmas Mean To Me?
This week we performed our Christmas play 'What does Christmas Mean to Me?'. We have been working really hard rehearsing our play and we were really excited to show all of our adults. Our performance was to highlight the real importance of Christmas that sometimes people take for granted. This is spending time with our loved ones and making memories, something we are all looking forward to doing over the festive period!
Is Warrington a Fair Place to Live?
In class we took part in a debate. The question for this was 'Is Warrington a fair place to live?'. We started off by discussing what a debate was and what would be the key skills that we would use when debating. Next we decided if we would be on the yes or no side and our reasons why we chose this. We then wrote these on our whiteboards. Then we shared our ideas during the debate. We came up with lots of fantastic ideas e.g- It is a fair place to live because we have access to education, food, water and health care.
Spanish Breakfast

 
After researching and planning how to make a Spanish omelette, called tortilla, we had a Spanish breakfast morning. We had a go at making bruschetta as well as the omelette. To do this we had to chop and dice a variety of ingredients such as peppers, mushrooms, onions and tomatoes. We also had to crack and whisk the eggs to add to the omelette. All of the Spanish breakfast food was delicious!
25 December Lane
In our class we have started to look at the book 25 December Lane and we are all really enjoying it! In our English lesson we used drama to help us think of ideas for our writing. We had to imagine that we had walked into the toy shop from the book and we were the little girl. In the lesson we used freeze frames, conscience alley and thought tracking. Each one of these activities helped us to imagine what the character could see, feel, hear and smell. Once we had finished our drama we then went on to write some fantastic descriptions of the toy shop.
Countries in Europe
This half term in Geography we have been learning about Spain. However, lots of us in the class had asked whether we could also learn different facts about a variety of countries in Europe. We split off into groups and each group was given a country to research using iPads and a variety of books. After our research time we made a presentation about our country to the rest of the class. It was really interesting to learn about so many different countries, we especially enjoyed learning about the capital cities of each country. After everybody had completed their presentations we made fact files about each country.
Science Skeletons 
To begin our new Science topic this half term we opened with a really exciting lesson. We started to think about the human skeleton and what bones we have and where these are. To do this we used biscuit bones to create a human skeleton and then labelled the bones with post it notes. All the children worked fantastically well, and really showed that they already had some great prior knowledge! Each group communicated ideas clearly with one another and there was some great collaborative work taking place. Have a look at some of our representations of skeletons below. 
Design Technology Stone Age Bags 
In Design Technology, we have been busy designing our own Stone Age bags. We first started with a design specification that we used to help us with our planning. Our bags had to be eye catching, strong and a good size to carry on a Stone Age hunt. We chose the materials that we would use to create our bags and then we used a needle and thread to sew them all together. After we had completed our bags, we had to evaluate them. Quite a few of us agreed that we found the sewing a bit tricky however, we all thought our bags looked very eye catching but we didn't get the size right for carrying things back from a hunt!
Country and Western Dancing
This half term in PE we have been learning country and western dancing. We learnt various movements and put these together to create an entire sequence that we performed to Miss McKinnon's class.  The Y1 pupils gave us some great feedback! When we were performing we used a variety of formations, sometimes performing in lines and then changing into small circles. Have a look below at us in action. 
Next half term we will be starting to look at the Spanish dance flamenco.
The Story of The Good Samaritan 
On Thursday we looked at the story of The Good Samaritan. We started to make links between the story and the ten commandments. In our groups, we discussed how the story shows us how to love our neighbours, and that our neighbours could be anybody, not just those who live next door.  In class we recognised that it was important to help everybody if they need it.
To show how well we knew the story, we produced a retelling of the story. A few of us did this through drama and created freeze frames, others produced some excellent writing, and one group retold the story through pictures.
Have a look below at some of our drama and art work.
Learning About Different Rocks – 27.09.17
Today we took part in a really exciting Science investigation using Starburst sweets.  We were investigating different types of rocks and looking at how they are made. To do this we started off by looking at a representation of an igneous rock. This was made by applying extreme heat to the Starbursts and melting them together. We investigated the holes in the rock and discussed how this happens to igneous rocks.
Then it was our turn! We started off by showing a representation of sedimentary rock, we did this by applying pressure to our Starbursts and cutting them up. We then made our metamorphic rock, our method for replicating this rock was to apply heat and pressure by wrapping the Starburst up in greaseproof paper and lightly squeezing it.
Have a look at some of our pictures from our investigation.
Roald Dahl Day
It was a really exciting day for our school on Wednesday! To celebrate Roald Dahl day we all dressed up as different characters from his books. It was such an action-packed day, and we would like to thank everybody who helped us all to look so fantastic.  In the morning we had a character parade to share all of our costumes with Year 3, everyone looked great.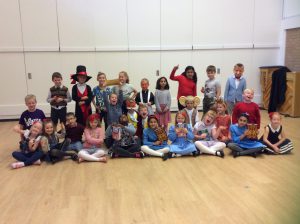 We were exploring the story of Fantastic Mr Fox and because we know how much he likes his eggs we did an experiment with them. After our science lesson,  we had a drama workshop with our visitor Kate. In the workshop we learnt all about alliteration and then we got the chance to use rhyme in our drama to introduce our friends- It was great fun!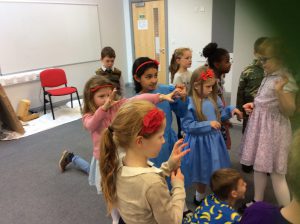 Our Learning in Year 2
PE – Striking and Fielding 
In PE this half term we have learned all about striking and fielding. We started by practising our throwing and catching skills, making sure that we were hitting our target, and throwing with accuracy. We have now moved on to striking a ball with different objects, such as a tennis racket and a bat. We are getting to be much more accurate!
Formby 
We went to Formby to learn all about different animal habitats. We walked through two different woods, along some sand dunes and then on to the beach. We stopped in each place and discussed what we could see, what we could smell and what we could hear. We then talked about the different animals that might live there and decided if there was water, shelter and food for them. We had a fantastic time! The staff noted how well behaved and knowledgeable we were.
Minibeast Hunt 
This half term, our topic is 'Oh! I do like to be beside the seaside.' To link with this topic, in Science we will be learning all about animals and their habitats. To begin our learning, we  went for a minibeast hunt around the school grounds, to see what minibeasts we could find, and where. We found out that snails and slugs like very wet and damp places, because we found lots in the shade under logs and in the grass. We made a tally to show how many of each minibeast we found, and made a note of where we found them. Take a look!
R.E – The Creation Story
This half term we we be learning all about the creation story in RE. We started our learning by reading the story, and thinking about different times we have seen something being created. We then made our own creations out of LEGO, and thought about how we felt making our creations, and how we felt after it was made. Take a look!
Pentecost and the Holy Spirit 
This half term we have been learning about Jesus' ascension, and Pentecost. To finish our topic, we thought about how the Holy Spirit might help us. We discussed how we could not see the Holy Spirit – but we know that the Spirit is always there. We linked this to wind – we can't see the wind, but we know it's there because we can feel it – just like the Holy Spirit. We made wind-catchers to always remember this.
Jim and the Giant 
This week we have enjoyed learning through the story called 'Jim and the Beanstalk.' At first, we thought that the giant would be mean and scary like he is in 'Jack and the Beanstalk,' but he turned out to be kind and thoughtful! As part of our learning, and to help us to retell the story later on in the week, we chose part of the story to retell and to illustrate. Take a look!
Westbrook Walk 
This half term, our topic is 'Our Local Environment.' This afternoon we took a walk around Westbrook to look at the different buildings around Westbrook, who uses the buildings and why they might be there. We were very lucky to have such gorgeous weather. What a beautiful afternoon it was! Take a look at some of our learning.
Planting Seeds
We are continuing our learning about plants and seeds this half term in Science. Today,  we learnt how to plant seeds. We worked in groups to plant broad bean seeds, making sure we followed the instructions we were given very carefully. We have given our seeds water, and put them in a sunny place – we are hoping that the seeds germinate very soon so that we can start to see bean shoots. We then used this as a context for writing, and we wrote our own instructions, explaining to others how to plant a seed.
Parts of a Plant
We are really good at knowing, and labelling, the different parts of a flowering plant.
Easter Fun!
Sunday 9th marked the start of Holy Week. For our final week at school we have been enjoying lots of Easter fun. Spring has definitely sprung at St. Philip's and we have enjoyed looking at all of the beautiful flowers around our school.
We started the week making sun catchers, from which we will write some instructions to let others know how to make them. The eggs that we brought in for the competition were super – we all worked very hard at home. A huge well done to Harrison who was chosen as the winner! We finished the day with a egg rolling competition – Well done to Imaan for winning the egg roll!
British Values Day
On Friday 7th April we celebrated British Values Day at St. Philip's! We spent the day learning about, and celebrating, everything great about Britain. Our day started by thinking about foods, places, events and people that are very 'British,' and that make us proud to be British. We created our very own class bunting to display, which shows everything that we love about living in Britain. To continue our learning, we looked at a map of the UK, and talked about the different places that we recognised, that we had been to and what we had done there. Lots of us loved the beautiful beaches around the British coast. What do you love about Britain?
Science – Plants
This half term, our Science topic is living things. We spent today learning all about the life cycle of a plant. Did you know that it starts life as a seed, then starts to germinate? We then looked around our school grounds to see if we could find any plants, and we tried to identify what part of the life cycle they were up to. Take a look at what we found!
Google Expeditions
On Friday we had some exciting visitors at school, who brought some new and exciting tools for learning. We spent Friday afternoon exploring Antarctica using the iPads. We saw lots of penguins and learnt lots of interesting facts! We were all amazed – it was a fantastic experience!
Our Visit to St. Philip's Church
In R.E. we have been learning all about church. Mrs Dunning kindly organised a special trip to St Philip's Church for us. She showed us around the church and we talked about the different features. We counted all the crosses around the church. How many can you see? We had our own mini service where we said some prayers, listened to some music and sang some songs. A huge thank you to Mrs Dunning for a lovely afternoon!
PE – Gymnastics
The children have all been working really hard in PE this half term. We have been learning all about different balances and shapes, making shapes on different equipment, and making sequences of shapes. Take a look at some of our super shapes!
British Science Week
What a fun-filled week we have had! To start our week, Science Boffin Harry came to visit us. He showed us lots of Science experiments, made elephant toothpaste and even blasted a rocket over our school. Continuing our Science learning in class, we researched Scientist Rachel Carson. We then made our own lava lamp, and tested which objects would float and sink. Did you know that Coca Cola sinks, but Diet Coke floats? To end our exciting week, we were visited by Mr Taylor. We had a very exciting assembly, where we learned all about waves. He then made waves with fire, and then made the fire dance to music – we were fascinated!
World Book Day
The children all looked great in their book character outfits! We all had lots of fun sharing our favourite book characters, and also sharing our favourite stories with each other. One of our favourite parts of the day was DEAR (drop everything and read). We really enjoyed just getting stuck into a good book!
Chinese New Year
We had lots of fun learning all about the different ways that Chinese people prepare and celebrate the New Year. Did you know that this year is the year of the rooster?
To start the day we had a quiz, to see what we already knew about the tradition. We then had lots of fun learning to write the numbers 1 to 10 in the Chinese calligraphy. To finish the morning, we measured the tails of all the different animals in Chinese New Year  story. Which animal do you think had the longest tail?
We spent the afternoon completing lots of fun craft activities – we made fish, dragons and learned a Chinese dance.
Take a look at all of our exciting learning!
Our Visit to Jodrell Bank
We went to Jodrell Bank to launch our new topic, The Moon and Beyond. In the morning we enjoyed a workshop were we learned a lot about Tim Peake. We watched videos of different astronauts in space and decided what we would need to take to space. We thought that the idea of having to wear a nappy in space was very funny!  Afterwards we got to make our own rockets and watch them blast off into the air! This was very exciting! After lunch we went inside an Inflatable Planetarium and learnt more about the different planets.
DT – Our Cracking Contraptions
This half term our topic is 'How is it Made?' – and we are really enjoying it! In DT, we started our topic by watching clips of Wallace and Gromit's cracking contraptions, taking inspiration, before designing our own contraption. The children had lots of wonderful ideas for their own inventions – from cameras to find lost dogs, to sweet machines. Take a look at some of our junk modelling representations of our inventions. Can you guess what they are?
Making Healthy Desserts
We have been learning all about healthy food, and the importance of a balanced diet. To put what we've learnt into practice, we investigated, designed, and evaluated our own healthy desserts. We thought that they tasted delicious, and, after our evaluation, we decided that they are the perfect balanced dessert.
Tesco Visit
The children all enjoyed their visit to Tesco. We learned all about healthy foods, and the importance of a balanced diet. We had lots of fun searching around Tesco for items from our very own shopping list, learning about the different parts of the shop and their function, and trying different healthy foods including cucumber, tiger bread, carrots and cheese.
Maths Homework
The children have been working extremely hard in class and at home. They were all very excited to show the class their home-made Maths games, and explain the rules of their games. Here is a little snapshot of a few of their games.