Welcome to our class page. Here, you will find information about the children's exciting learning, as well as any key dates or important pieces of information that you will need to know for the upcoming weeks and months.
Reminders and Dates
PE lessons will be on Mondays and Tuesdays, and kits should be left in school for the half term.
Homework will be sent home each Friday, and should be completed and returned by the following Wednesday. Spellings will also be sent home on Friday and should be practised in preparation for our spelling test each Thursday.
Friday 11th January – NSPCC assembly
Week commencing Monday 21st January – Health Week
Tuesday 22nd January – Year 3 trip to Liverpool World Museum
Tuesday 5th February – Safer Internet Day
Thursday 7th February – Mrs Hogan's class assembly
Wednesday 13th February – Eucharist service
Friday 15th February – finish for half term
Our Learning
Science – Forces
To launch our new science topic, the children became parts of their own Rube Goldberg machines. Machines which take longer to do a task than is necessary, such as the ones designed in Wallace and Gromit films. They each became a different part of the machine and demonstrated pushes and pulls to move each part.
no images were found
PE – Dance
Our topic about the Ancient Egyptians has prompted us to choreograph our own dances based on the Egyptian Gods. Today, we made a start by looking at images from tombs and artwork that shows the gods in different poses. We used these to help us to make our own and share them with our group. We are excited to see how these dances turn out and share them as part of our class assembly.
no images were found
Christmas Party
Today was very exciting. We had a wonderful party day with games, a talent competition, colouring competition and of course our delicious part plates. Thank you to all of you for all of your support in 2018, and best wishes for 2019.
no images were found
Worship Group
The worship group delivered our class worship today, and did a magnificent job. They read and performed the story clearly and deserve their certificates for all of their hard work this half term. They have now chosen the new members of the worship group, who will assist in the delivery of weekly worship in class.
British Values Debate
Today we talked about the British Value – Rule of The Law, and debated, 'Is Warrington a Fair Place to Live?' Lots of the children immediately said that yes it was, but the group of children who thought that it wasn't managed to change some other's minds. They said that not everything was fair because there were too many people without homes and without enough food. The children were saddened at this and were glad that the choir had managed to raise so much money for 'Room at the Inn' to help people without homes this Christmas.
no images were found
Worship Group
Our worship team led our class worship on Friday and they did a fantastic job.  They planned and delivered the session by themselves, and  listened to the ideas of all of the children. Well done!
Spanish Breakfast
As part of our DT topic this half term, we made a Spanish tortilla. The children designed their own tortillas, and then prepared all of the ingredients in class. We chose to make two, one contained ham and the other was a vegetarian option.
no images were found
While the tortilla was cooking, we prepared our bruschetta by mashing tomatoes and drizzling olive oil onto crusty bread slices. Then at last we got to taste everything that we had prepared. Most of us thought that the dish was delicious, so we wrote letters to the school cook to try and convince her to put our dish on the school menu.
no images were found
Foxhowl
What a fabulous time we all had on our recent residential adventure. The children were magnificent and their survival skills in the forest would put Bear Grylls to shame. They enjoyed den building, forest art and stream dipping, but lots of the children said that their favourite thing was the food. Our pictures tell a wonderful story, so have fun looking through them.
Christmas Performance
Our Christmas performance this year was fantastic. It taught us all about the tradition of Christmas and how it has evolved over the centuries to become the Christmas we enjoy today. The children loved learning about all of the different periods that have had an influence on our festivities, but we all agreed that we need to remember to hold Jesus in our hearts.
The Word became flesh and made his dwelling among us. We have seen his glory, the glory of the one and only Son, who came from the Father, full of grace and truth. John 1:14
We would like to thank you all for your support in making such wonderful costumes and helping the children to learn their lines and songs.
no images were found
Save The Orangutan
This half term, we have been learning about the plight of the orangutans and the other animals, plants and people that live in the Indonesian Rain-forest. The Indonesian Rain-forest is a risk because of the devastation caused by companies growing palm trees for palm oil manufacture. To finish our learning the children designed posters and we held a march to raise awareness of the use of dirty palm oil.
no images were found
PSHE – Risks
Today we looked at lots of different scenarios that present risks to us. The children acted out a range of scenarios like: being jostled and pushed on a train station platform, receiving a request to post a picture online, and getting up in the morning and being cold. Should you light the gas fire? The children were able to identify the risks, dangers, and hazards and say how these risks could be minimised.
no images were found
Science – Muscles and Bones
Today we looked at chicken wings and compared them to human arms. We located the shoulder, elbow and wrist, and looked at how they were similar and different to ours. We dissected the wings to look at the muscle pairs and worked out how they work to make limbs move. The children were very sensible conducting this tricky investigation, but had lots of fun.
no images were found
RE – Harvest
As part of our RE topic this half term, the children have learnt about the celebration of Harvest. We have explored the Christian celebration, and how this differs across the world. The children compared our school Harvest Festival with Christian celebrations in India, New Zealand, Germany and Italy. The children also thought about how people of other faiths celebrated harvest and were interested to discover that people of no faith also gave thanks and thought of less fortunate people at this time of year. They were very interested to learn about the Jewish festival of Sukkot, when people of this faith build a sukkah and live outdoors for 7 days to offer thanks to God for the gifts He provides them with. The children enjoyed building their own sukkahs in class and thought about what it would be like to sleep inside them.
no images were found
Pebble Art
The focus in art was linked to our science topic about rocks and stones. We looked at the work of a range of artists who had all produced wonderful artwork of pebbles and stones. The children enjoyed looking at all of the different styles but chose the work of Ester Roi to use as a stimulus for their finished pieces.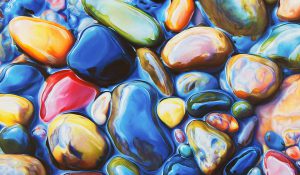 Ester Roi uses a technique that uses pencils and a heated bed that we were unable to replicate, so we chose oil pastels for our artwork. We are extremely pleased with the results and have sent an invitation to Ester to view our work.
no images were found
I sent a message to Ester Roi to share the wonderful work that the children have made. She replied with this very exciting response.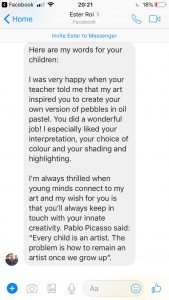 Science – Bones
Today we launched our new science topic which is all about bones and muscles. For a wow launch, the children were asked to build a group skeleton using bone shaped biscuits. We then named some of the bones and learnt why skeletons are important and that not all animals have the same type of skeleton.
no images were found
Science – Which soil drains best?
We conducted our first fair test of the year to investigate water draining through a range of soil types. We enjoyed using the science equipment boxes and choosing which would be the best equipment to measure the water that had drained through the soil.
no images were found
Westbrook Orchard
What an adventure we had today! We are so lucky to have such a fantastic space so close to our school, and we have thoroughly enjoyed our outdoor learning today. We were joined by Mary and Kev from the Land Trust who taught us all about the wonderful creatures and wild plants that live in the orchard. We thought about how different the orchard will look in different seasons and we are looking forward to returning in the summer.
no images were found
Leaf Man
The stimulus for our poetry writing this week has been the book, Leaf Man. To spark our imagination we worked in groups to create our own leaf creatures which will be the focus of our poems this week, and our stories next week.
no images were found
Stone Age Workshop
Today, we were fortunate to have a visit from a wonderful visitor from Warrington Museum who came to teach us about the Stone Age. We learnt about Stone Age tools and used a bow and drill to make holes in flint to wear as jewellery. Later on, we worked as a team to twist fabric and make our own rope. We were all surprised by how difficult all of these jobs were. Stone Age people had to work very hard.
no images were found
Christian Values
Today, we thought about the rules that we all agree to live by and how these rules affect us and those around us. We wrote rules for our class and linked them to our Christian Values, and then a groups of children used drama to show what each of our values looks like as a freeze frame. The rest of the class found it really easy to guess which value was which.
no images were found
Our Learning from Year 2
Library Visit
What a super time we had at the library! We all enjoyed finding books about things that we are interested in, which was lovely to see. Don't forget to sign up for the Library's Summer Reading Challenge!
no images were found
Minibeast Hunt
We all enjoyed a mini-beast hunt around the school grounds, looking in lots of different micro-habitats. We found ants, butterflies and lots and lots of spiders! We then made a tally to see which mini-beast was the most common, and used this to create a pictogram.
no images were found
Scooter Training
The children had lots of fun on their scooter training this week. We learnt all about how to stay safe when riding a scooter. Did you know that you should always get off your scooter when you cross the road? It's much safer!
no images were found
Planting seeds
We are really enjoying learning about plants this half term. We have been very busy planting seeds and writing instructions to help others if they would like to plant their own! Mrs Ryan thinks that we've all definitely got 'green fingers!'
no images were found
Westbrook Walk
The children had lots of fun on our Westbrook walk. They looked at different trees and plants, noticing similarities and differences, searched for different animals in different habitats, and used natural materials to create some artwork.
Plants
We had a super, sunny day starting our new Science topic, 'Plants.' We started off by looking at different flowers, naming their parts. We then discussed their function and created our own labelled diagram. Taking advantage of the beautiful weather, we took our learning outside, drawing and labeling trees on our school grounds.
no images were found
Finger Puppets
Take a look at some of our super finger puppets! We designed them from our favourite Indian animals and worked really hard to sew very carefully. All of the adults who helped us were very impressed with our sewing skills!
no images were found
India
Our topic for this half term is 'India,' and we have enjoyed learning all about the country and it's culture. This week we have been extremely lucky as Mrs Sen came in to our class to tell us all about India, the country that she grew up in!
no images were found
British Science Week
British Science Week is always a fun-packed week, full of exciting Science learning, and this week has been no different! Our week started with a visit from the 'Science Boffins.' We had a super assembly, where we were shown lots of exciting experiments and investigations. We were then lucky enough to have a workshop with the Science Boffins, where we learnt all about filtering water, food chains and keeping our environment clean and healthy.
To continue our Science learning, we started to think of our own questions and investigations that we could complete. Using some milk, food colouring and washing up liquid, we enjoyed testing and predicting what would happen when we put all of the liquids together. When we used a pipette to put the food colouring and fairy liquid in the milk, there was an array of 'WOWs' around the classroom!
We then chose to find out the answer to the question: Do the children with the longest legs jump the furthest?
We created our own table for recording and using a tape measure we set out to try to find an answer to our question!
no images were found
World Book Day
It is always lovely to see all of the children sharing and enjoying their love of books on World Book Day. There were some fantastic outfits, and the children all enjoyed discussing their favourite characters and their favourite books. Our day involved lots of reading, a trip to our new library to enjoy a bedtime story, and using our art skills to create alternative front covers for our favourite books. Take a look at some of our fantastic outfits!
Fun in the Snow
The snowy weather meant that we all enjoyed some time making snowballs and snowmen. You can tell by the big grins on our faces that we all had so much fun!
no images were found
Which sweet makes the best brick?
This half term our focus in Science has been materials. Today we completed a fair test to see which was the best sweet to use to make bricks. We chose to test fudge, marshmallows and chocolate buttons. After thinking about the properties a brick needed, we used our cement (icing sugar) to create our wall. We made sure to keep the number of sweets we used and the ball used to test the strength the same, in order to keep it a fair test. We found out that the fudge pieces were best for stacking, and that they held up in our strength test. They were also opaque, solid and not bendy!
no images were found
Astronaut Food
As our topic is 'Space' this half term, this week we have had the chance to try something very exciting – astronaut food! Using our senses, we described how the food looked, felt, smelt and then finally we got to taste it! Most of us thought it was very delicious but a little strange looking!
no images were found
Library Visit
I was very much looking forward to taking the children to the library because they are so enthusiastic about books! Of course, on our visit it was no different. The children were respectful of the library and other people and they behaved impeccably. They loved nothing more than choosing a great book and sharing it with a friend! We definitely have some authors of the future in our midst! Linking to our current project, we looked for non-fiction books about space. The children could identify a variety of non-fiction features, including contents pages, index pages and glossaries.
no images were found
Making Healthy Drinks
This week is 'Health Week.' Throughout this week, our learning will concentrate on looking at how to keep our bodies and minds healthy. Today, we started with how to keep our bodies healthy by recapping our learning about healthy eating. We remembered the 'Eat-Well Plate,' and how important it is to have a balanced diet. From this, we enjoyed creating and making our own healthy drinks!
We started this by trying lots of different fruit juices: orange, pineapple, cranberry and apple, thinking about what we liked and didn't like about the juices. We then chose two juices to mix together, measuring our juices exactly using a measuring jug! Using our knife skills, we finished our drinks with fruit that we chopped carefully using a knife. They tasted delicious!
no images were found
Space Day
On Tuesday we all had lots of fun during our 'space' themed day. Firstly, the children enjoyed a workshop all about Space, in a fantastic Space Dome which was huge!
We learnt lots of exciting, new things about Space. We were amazed to see a sea of shooting stars in the sky, called a meteor shower. Did you know this only happens around every 100 years? We also learnt about the moon's phases and why the moon looks like it is a different shape each night. The children and teachers had a fabulous time!
We then went back to the classroom to complete a science experiment – what is the best material to make a space suit? We had lots of fun testing the different materials to find an answer to our question.
Finally, we ended the day looking at artist, Peter Thorpe, who paints pictures of rockets. We had a go at creating our own artwork, in his style. A fantastic day was had by all!
no images were found
Christmas Party
The children had lots of fun at their Christmas party. We enjoyed pulling crackers, playing pass the parcel and dancing to our favourite songs. Have a lovely Christmas break – Merry Christmas everyone!
no images were found
Junk Modelling
Our topic this half term has been called 'Lively Liverpool.' Throughout our Geography lessons, we have been learning all about the differences between Liverpool and Westbrook. To follow on from this learning, we used junk to create a small-scale model of Liverpool's waterfront, and of Westbrook. We explored different ways of joining materials, and learnt to join materials using tabs. Take a look! Can you guess which buildings we have re-created?
Our Christmas Play
The children have been working extremely hard, practising for their Christmas play, and WOW, wasn't it fantastic? From our dancers to our elves, each and