Welcome to Miss McKinnon's class page. Below you will find photographs of your child's learning and any important information. Please check regularly to find out all about our exciting learning journey.
This half term's project is 'Down My Street'. We are very excited to learn all about our local area and make our own model buildings! This half term we will be reading and exploring alternative fairy tales in our English sessions. Please take a look at our curriculum map to find out more information.
Reminders and Dates for the Autumn Term
Tuesday 4th September – Start of term
Wednesday 10th October – Harvest service 9am
PE is taught on Wednesdays and Thursdays.
Please ensure that children are reading at least three times at week at home.
The children's spelling books need to be back in school on Thursdays.
Lego Workshop
Year 1 were very excited to take part in the Lego Workshop this week. The children were challenged with the task of creating their own building using lego. At first, they were given red bricks, white bricks, doors and windows to build their houses. Next, they were given lots of different pieces of lego to make their outside areas. Some children decided to make swimmings pools! After the houses were built, the children were given roads to attach their buildings to and we made a little villages on our tables! Have a look at our fun-filled morning below.
Jack and the Jellybean Stalk
This week we came into school and discovered that a beanstalk had grown in our classroom! After a close inspection we realised that it was covered in jelly beans! We did some fantastic writing about what we could see in the classroom and worked really hard to use adjectives to make our writing interesting.
Junk Modelling
What a wonderful first week we have had in Year 1! The children have settled into their new classroom really well. This week we started our project 'Down My Street' by designing and making buildings that we might find in our local area. We had lots of different ideas including houses, schools and shops – some children were very adventurous and made an airport!  The children had lots of fun building their designs and they were very excited to share their creations with the rest of the class.
Our Learning in Reception
Library Visit
Reception had a visit to the library. We discussed different type of books such as fiction and non-fiction. The librarian also gave us some important information about a reading challenge during the Summer.
Dance
In dance this half term Reception are learning about cheerleading. They have been counting to keep in time and follow a routine. They have been able to perform and review their performance.
.
Messy Art Day
Reception have had a busy day getting messy. They have made flags based on teams from the Fifa World Cup using pom poms to paint with. They have designed football kits and footballs using oil pastels. Children have explored the texture of sand mousse. In the outdoor classroom children have felt the textures of the foam and gloop.
The Scarecrows' Wedding
Today we went to church to learn about what things are in a church. We found crosses,  font, an alter, a lectern and a piano. We also celebrated the wedding for Harry and Betty from our book 'The Scarecrows' Wedding'.
Stockley Farm
Today we went to Stockley Farm to learn about how to look after animals. First we went on the tractor and arrived at the woodlands for our nature walk.
After lunch we went to the park for the play.
Then we went to bottle feed the hungry baby goats.
Here are some more snaps from the day.
Guiseppe Arcimboldo
Today we have been budding artists and worked in the style of Arcimboldo. Children have used fruits and vegetables to create portraits. Some children designed their portraits by drawing and labelling them.
Tennis Fun
Today a tennis coach came to teach the children tennis. We warmed up first ready for our exercise. Then we played tennis hockey. We had to really concentrate to ensure we did not lose the ball.
Welcome Miss Emery
We would like to give Miss Emery a warm welcome as she begins working in our class.
Happy Retirement!
We would like to wish Mrs Cunliffe a very happy and fulfilling retirement. The children sang Mrs Cunliffe a goodbye song which she thoroughly enjoyed. Mrs Cunliffe has worked at St Philip's for a very long time and has imprinted on lots of children's hearts. We thank Mrs Cunliffe again, she will be greatly missed. Here is a picture with the last class she has worked with.
Making Rain
Today our class have been investigating how to make a rain cloud. The children poured food colouring into shaving foam and investigated what happened.
Floating and sinking
This week we have been investigating which objects float and sink. Children have made predictions and recorded their findings. We wanted to explore if all heavy items sank. We thought about boats and asked why can heavy boats float? The children made their own boats and selected from a range of materials. They then tested out if their boat floated. We found out that boats can float if they are not dense and not full of stuff.
Firefighters
Our class met local hero firefighters. We got to see the equipment inside the fire engine. The children got to sit inside the fire engine and spray water from the hose. The children said it was very powerful. The firefighters told us how their uniform helps to protect them.
Science Week
We have started our science week with a visit from the Science Boffins. Children were excited to see how the water was solidified.
Archimedes
Our class have read Archimedes Bath. Children predicted which objects will float and which objects will sink. Then they carried out their investigation and sorted out which objects floated and which objects sank.
How to Grow a Dinosaur
We have been learning about the story ' How to Grow a Dinosaur'. Children have enjoyed designing their own seeds using lots of descriptive language. Some children made instructions on how to plant the seeds. We had the pleasure of meeting the author of the book, Caryl Hart. Here is a photograph of the children with Caryl Hart.
Curtis Jobling
The children in our class have been inspired today by the famous author/ illustrator, Curtis Jobling. He modelled how to draw Bob the Builder and the characters from the show. Some children from our class decided to draw the characters too. Take a look and see their fabulous work.
Budding Illustrators!
Fun in the Snow!
Our class had the opportunity to enjoy the snow today in our outdoor classroom. We had lots of fun exploring it.
Police Officers Come to Visit
We have been learning about real life heroes and we have had some hero visitors this morning. We learned how police officers help people and keep people safe. We also got to see the police car. We saw the flashing lights and one of our pupils put the siren on by beeping the horn.
Health Week
This week we have been learning about how to keep healthy. We have discussed being 'heartsmart', doing regular exercises and eating healthily. We made fruit kebabs this week and chose our favourite fruit from a range of different fruits provided. Some children tried raspberries and mango for their kebabs and everyone really enjoyed eating their fruit kebab creations!
We also had a special visitor, Wolfie! The children were very excited to meet him.
Superhero Mask Parade
Children have been busy with their home learning task. They have created some wonderful masks and we went to share them in our parade around school.
Supertato
The children have been learning how to write speech bubbles for characters from the book Supertato. When we entered the classroom we found a crime scene. The children have designed and built traps for the Evil Pea. Children have also produced some fantastic independent writing in our different areas of learning.
Christmas Party
We have had such a fun filled afternoon. We have played pass the parcel, corners and musical statues. The children had a surprise during singing from a very special visitor. Children also enjoyed eating their party food alongside their friends.
Asteroid Cakes
Children have been making asteroid cakes this week in order to prepare for our writing.  Children have been practising using finger spaces.   Some children have used checklists in order to write sentences that we can read.  They have included all that they need to remember to ensure good writing, such as – forming letters correctly and listening to sounds in order.  They have also practised using  finger spaces, capital letters and full stops.
Children in Need Day
Thank you to all who dressed up in spots and donated money to children who need it.
What do Astronauts Eat in Space?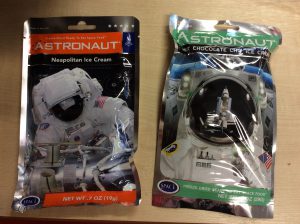 Today we tried some space food. The children explained how it was different to the ice cream we normally eat. Despite being dry, warm and crunchy the children thought that the mint ice cream tasted similar.
Reception 2017
Here is our class photograph from the Warrington Guardian Newspaper.
Happy Diwali!
What a fantastic day we had! We have learned about the meaning of 'Diwali' and how it is the festival of light. Children have learned about the story 'Rama and Sita'. Children came into school wearing bright coloured clothing in order to celebrate.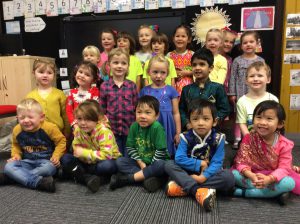 We practised and performed a Bollywood dance in the hall.
We made some diva lamps and painted them in bright colours.
We also tasted some authentic Indian sweets. They were very sweet and sticky.
Our Headteacher 
Mrs Wightman came into our classroom  to discuss her  role as a Headteacher. The children thought of some great questions to ask in order to find out answers. Children asked: 'What classrooms have you worked in?'  'What do you do?' 'Is your job fun?'
Who works in the church?
Reverend Pete came to visit Reception today. Lots of children have met him already and they were keen to share their experiences from church. Pete showed the children what he wears during his service. The children had the opportunity to try on a stole too. We learned that the stoles are different colours and each colour matches a Christian season.
Police Officer
Today we met a Police Officer who spoke to the children about his uniform and explained what his job entailed. Children got the opportunity to try police helmets on too.
Doctor! 
Children have had another visitor today. A doctor came to visit and talked to children about their job. Children learned about keeping healthy. They also got to use some equipment too.
Careers Day
Today we asked the question 'What do I want to be when I grow up?' Children had the opportunity to express their future aspirations.
We also had a visitor who shared her role working as a vet. She brought along a friendly visitor too. The children found out what equipment a vet may use including a dressing, stethoscope,otoscope and eye drops.
Busy Busy Reception!
Reception have had a fun and busy week this week. Firstly, in maths reception have been learning to count objects without moving them and match the correct numeral to an amount. Some children have also ordered numbers and recorded them too.
Family Portraits
In literacy children have been learning how to label members of their families. We have also been representing our family members using a range of materials to represent faces. Children selected their own materials such as chickpeas, wool, buttons and pasta to make their faces.  Can you recognise anybody?
Roald Dahl Day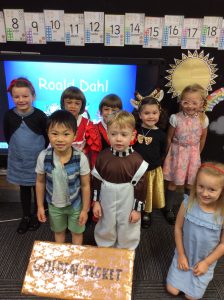 Children had the opportunity to dress up as a character from the infamous Roald Dahl. We discussed characters from stories and children were keen to discuss their favourite ones.
Our Learning
We have had a fantastic first week in Reception! The children have enjoyed exploring lots of areas of learning and have confidently participated in a range of fun activities. Children have all shown a  positive attitude towards their new class. Here is a glimpse of the children's learning during our first two weeks.