Welcome to Mrs Vermiglio & Miss Buckard's class page. Here, you will find information about the children's exciting learning, as well as any key dates or important pieces of information that you will need to know for the upcoming weeks and months.
Reminders and Dates for the Autumn Term
Friday 17th November – Children In Need (wear something spotty!)
Wednesday 6th December – Reception Nativity (am)
Thursday 7th December – Reception Nativity (pm)
Our Learning
The children have enjoyed tasting space food today. We had freeze-dried Neopolitan Ice Cream and an Ice Cream Sandwich. It made our mouths watery!
We have been making some rockets today using junk modelling materials.
We are famous! Our class photo has been printed in the Warrington Guardian, hope you managed to get a copy.

Measuring
We have been learning how to estimate and measure with our hands. Some children had a go at using their new skill to measure rockets; well done guys!
Diwali
Today the children enjoyed learning about the Festival of Light. We learnt a Bollywood dance, ate some Indian sweets and made Diva lamps.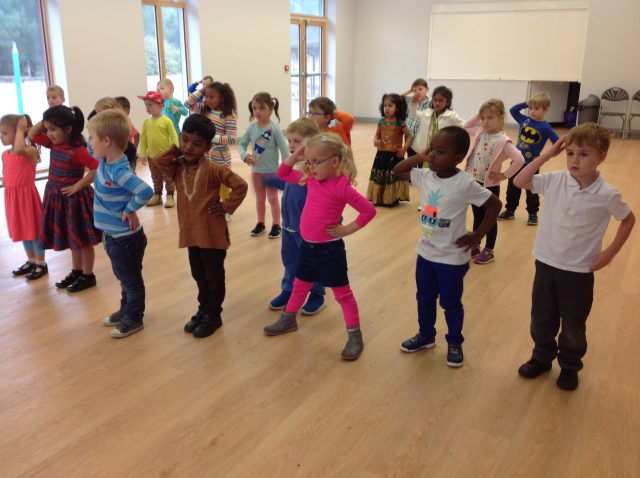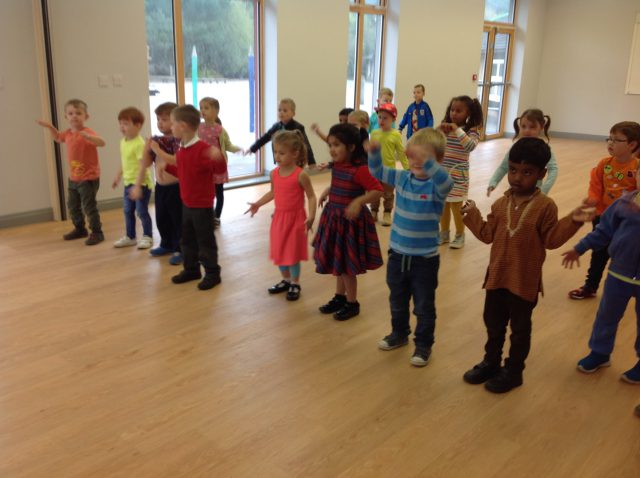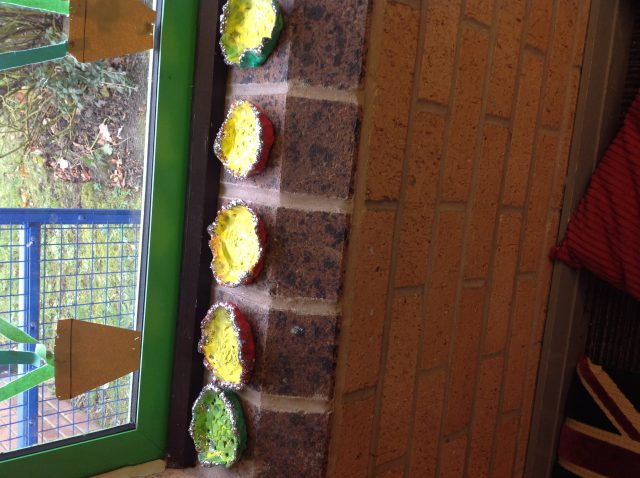 What would we like to be when we grow up?
Monday
On Monday the children came to school dressed as what they would like to be when they grow up. They all looked fantastic!
In the afternoon, we were very excited to be visited by Mrs Atkinson and her dog Dougal. Mrs Atkinson is a vet and she spoke to the children about the tools she uses to help animals to get well. All of the children enjoyed having time to interact with Dougal. Mrs Atkinson taught us how to check his ears for infections, listen to his chest, brush his teeth and even had the opportunity to bandage his paw. We thanked Dougal for his patience by rewarding him with lots of strokes and tummy rubs.
Tuesday
On Tuesday we had another special guest. Dr Coutinho is a paediatrician and brought a very special teddy into school to show us how doctors help us when we are unwell. We learned what we need to do to be healthy and then the children enjoyed exploring some medical equipment. We took turns to listen to each others heart beat and we practised using banadges and plasters.
Wednesday
Today we had a visit from Mr Lomax who is a police officer. He talked to us about what he carries around with him when he is working. We learnt that police officers are here to help us and keep us safe. The children got to look at a police radio, handcuffs and try on a police helmet!
Thursday
Today we had a visit from Mr Atkinson who has a very important job to do. He is a vicar in our Church and he is also Noah's daddy! We were very lucky and we got the chance to wear some of his special clothes. Can you remember the names of each piece of clothing?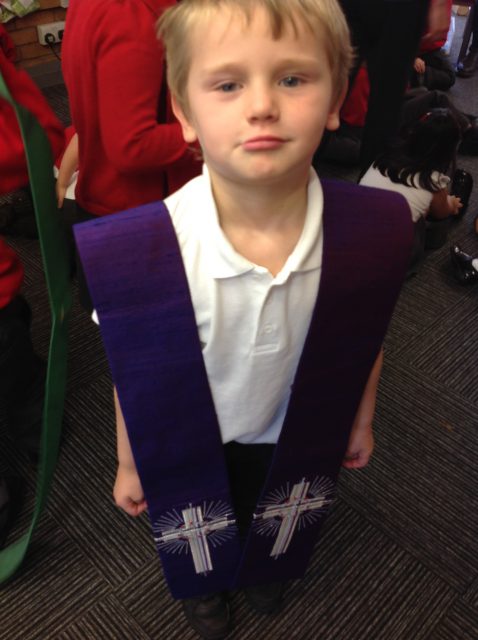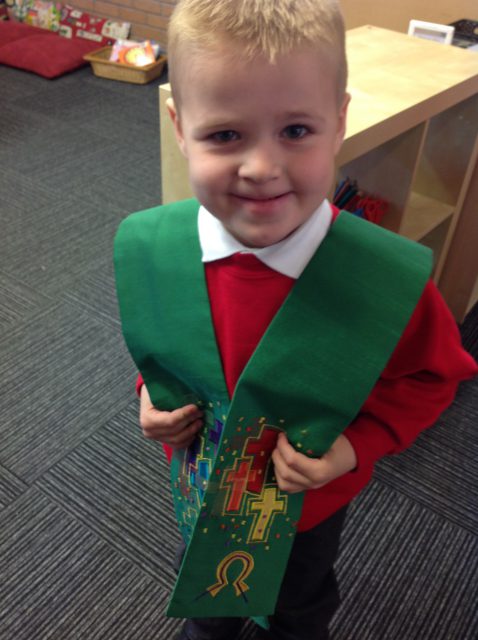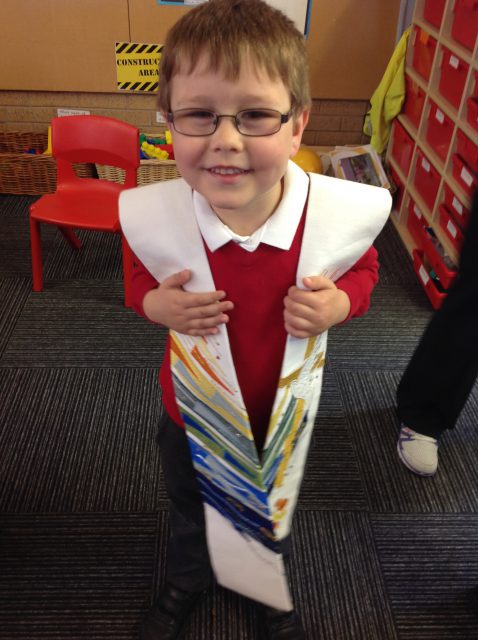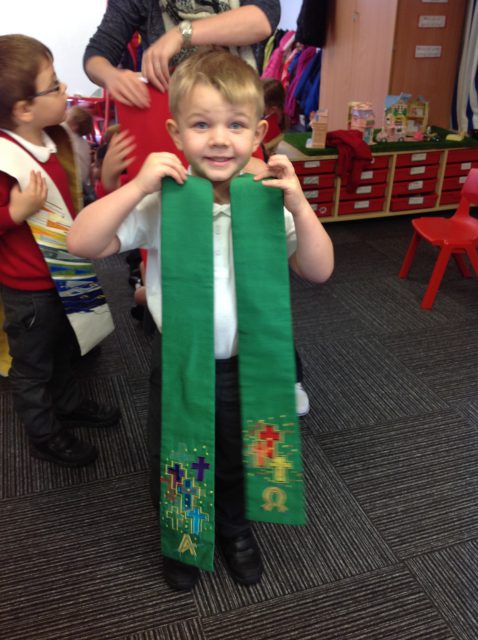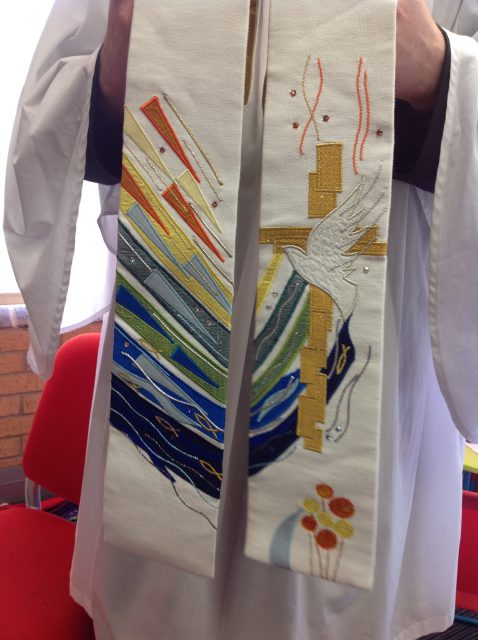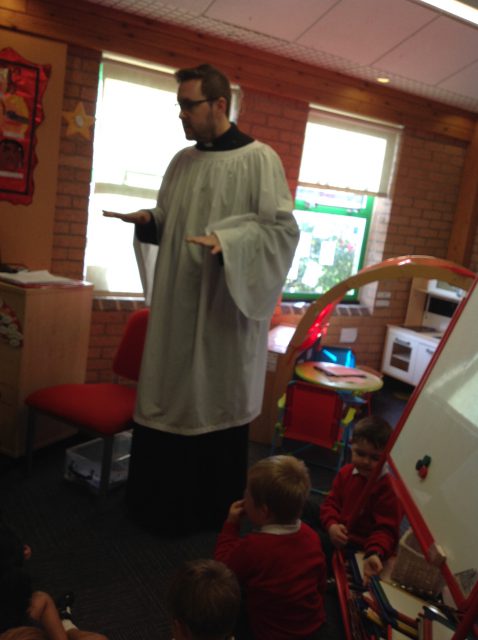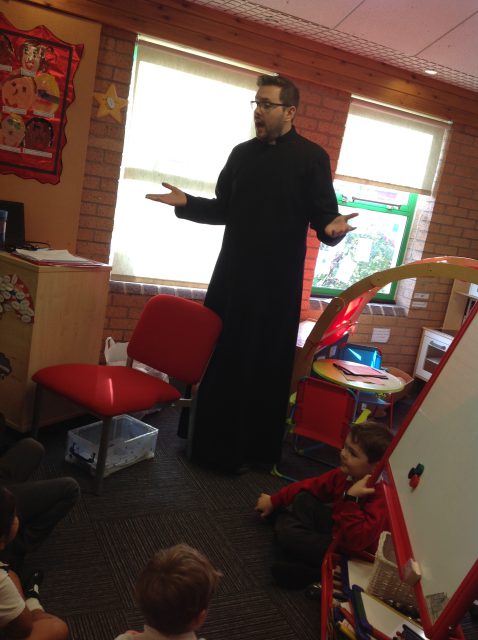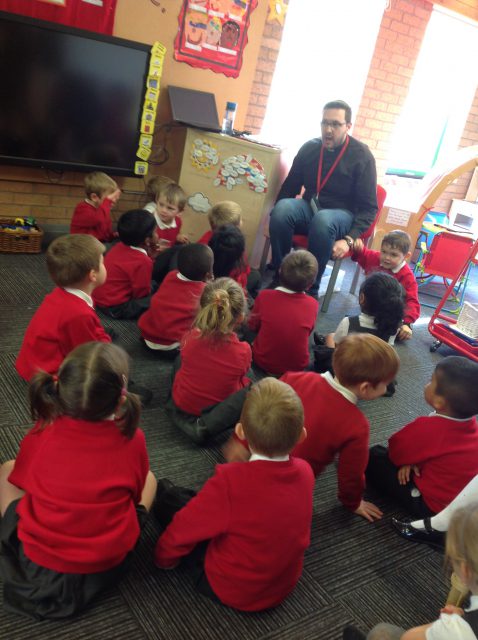 Friday
We had a special visit from our Headteacher today, and the children enjoyed asking Mrs Wightman lots of questions about her job. Would you like to work in a school when you are older?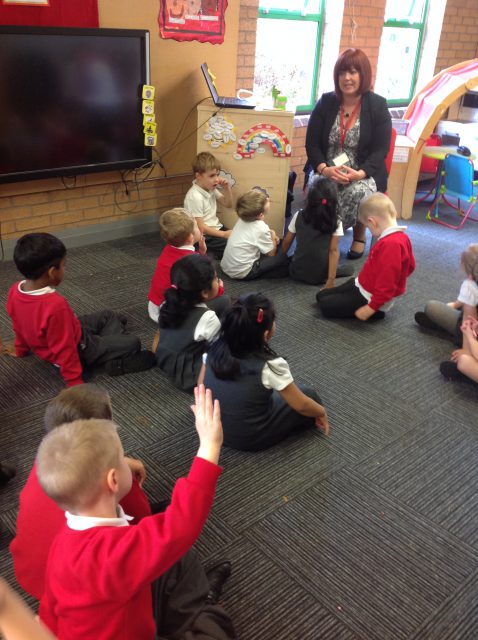 We are special
We have been thinking about what makes us special. Using a range of materials we made collages and paintings of our faces, talking about our unique features. We hope you enjoy our art work!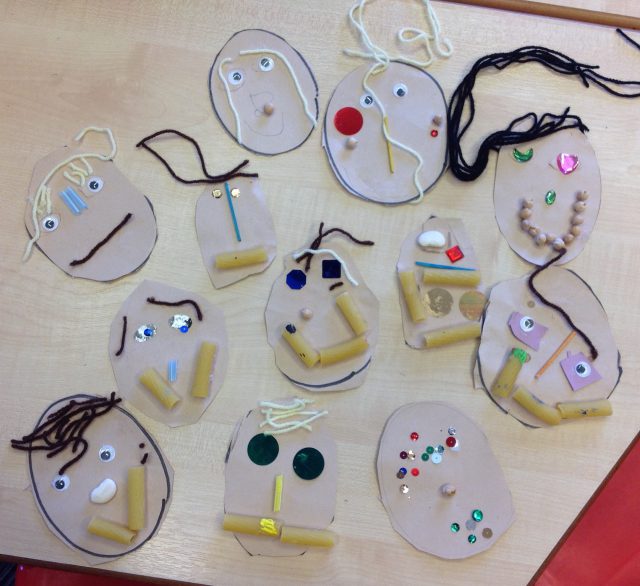 On Tuesday we thought about why we need to wash our hands. We read a book and then followed instructions to wash our hands properly.
The children are having lots of fun exploring the different areas of the indoor and outdoor classrooms. Here are a selection of photographs to show what the children have been doing.
We have had a fantastic first week in Reception! The children have enjoyed exploring lots of areas of learning and have confidently participated in a range of fun activities. We have taken lots of photographs and will begin to upload these as soon as we have confirmed all of our permission slips. If you have not yet returned your Data Collection form, please do so as soon as possible. Thank you!