Welcome to Miss Daley's class page. Here, you will find information about the children's exciting learning, as well as any key dates or important pieces of information that you will need to know for the upcoming weeks and months.
PE ( Thursday and Friday)
Reminders and Dates for the Spring Term
Thursday 4th January – Back to school
Friday 19th January – Home Learning due back
Monday 22nd January – Superhero Mask Parade
Tuesday 6th February – Safer Internet Day
Friday 16th February – End of half term
Police Officers Come to Visit
We have been learning about real life heroes and we have had some hero visitors this morning. We learned how police officers help people and keep people safe. We also got to see the police car. We saw the flashing lights and one of our pupils put the siren on by beeping the horn.
Health Week
This week we have been learning about how to keep healthy. We have discussed being 'heartsmart', doing regular exercises and eating healthily. We made fruit kebabs this week and chose our favourite fruit from a range of different fruits provided. Some children tried raspberries and mango for their kebabs and everyone really enjoyed eating their fruit kebab creations!
We also had a special visitor, Wolfie! The children were very excited to meet him.
Superhero Mask Parade
Children have been busy with their home learning task. They have created some wonderful masks and we went to share them in our parade around school.
Supertato
The children have been learning how to write speech bubbles for characters from the book Supertato. When we entered the classroom we found a crime scene. The children have designed and built traps for the Evil Pea. Children have also produced some fantastic independent writing in our different areas of learning.
Christmas Party
We have had such a fun filled afternoon. We have played pass the parcel, corners and musical statues. The children had a surprise during singing from a very special visitor. Children also enjoyed eating their party food alongside their friends.
Asteroid Cakes
Children have been making asteroid cakes this week in order to prepare for our writing.  Children have been practising using finger spaces.   Some children have used checklists in order to write sentences that we can read.  They have included all that they need to remember to ensure good writing, such as – forming letters correctly and listening to sounds in order.  They have also practised using  finger spaces, capital letters and full stops.
Children in Need Day
Thank you to all who dressed up in spots and donated money to children who need it.
What do Astronauts Eat in Space?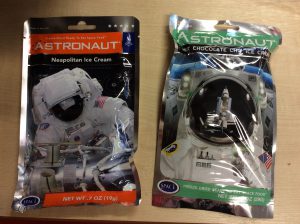 Today we tried some space food. The children explained how it was different to the ice cream we normally eat. Despite being dry, warm and crunchy the children thought that the mint ice cream tasted similar.
Reception 2017
Here is our class photograph from the Warrington Guardian Newspaper.
Happy Diwali!
What a fantastic day we had! We have learned about the meaning of 'Diwali' and how it is the festival of light. Children have learned about the story 'Rama and Sita'. Children came into school wearing bright coloured clothing in order to celebrate.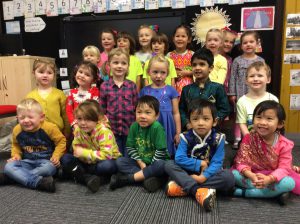 We practised and performed a Bollywood dance in the hall.
We made some diva lamps and painted them in bright colours.
We also tasted some authentic Indian sweets. They were very sweet and sticky.
Our Headteacher 
Mrs Wightman came into our classroom  to discuss her  role as a Headteacher. The children thought of some great questions to ask in order to find out answers. Children asked: 'What classrooms have you worked in?'  'What do you do?' 'Is your job fun?'
Who works in the church?
Reverend Pete came to visit Reception today. Lots of children have met him already and they were keen to share their experiences from church. Pete showed the children what he wears during his service. The children had the opportunity to try on a stole too. We learned that the stoles are different colours and each colour matches a Christian season.
Police Officer
Today we met a Police Officer who spoke to the children about his uniform and explained what his job entailed. Children got the opportunity to try police helmets on too.
Doctor! 
Children have had another visitor today. A doctor came to visit and talked to children about their job. Children learned about keeping healthy. They also got to use some equipment too.
Careers Day
Today we asked the question 'What do I want to be when I grow up?' Children had the opportunity to express their future aspirations.
We also had a visitor who shared her role working as a vet. She brought along a friendly visitor too. The children found out what equipment a vet may use including a dressing, stethoscope,otoscope and eye drops.
Busy Busy Reception!
Reception have had a fun and busy week this week. Firstly, in maths reception have been learning to count objects without moving them and match the correct numeral to an amount. Some children have also ordered numbers and recorded them too.
Family Portraits
In literacy children have been learning how to label members of their families. We have also been representing our family members using a range of materials to represent faces. Children selected their own materials such as chickpeas, wool, buttons and pasta to make their faces.  Can you recognise anybody?
Roald Dahl Day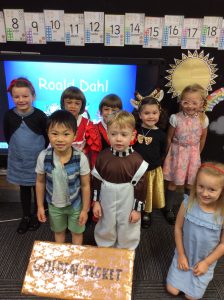 Children had the opportunity to dress up as a character from the infamous Roald Dahl. We discussed characters from stories and children were keen to discuss their favourite ones.
Our Learning
We have had a fantastic first week in Reception! The children have enjoyed exploring lots of areas of learning and have confidently participated in a range of fun activities. Children have all shown a  positive attitude towards their new class. Here is a glimpse of the children's learning during our first two weeks.