Welcome to Miss Daley's class page. Here, you will find information about the children's exciting learning, as well as any key dates or important pieces of information that you will need to know for the upcoming weeks and months.
Useful Dates
Wednesday 7th November – Diwali
Friday 16th November – Children In Need
Wednesday 5th December – Reception nativity @ 9.30
Thursday 6th December – Reception nativity @ 2.15
Tuesday 18th December – Reception Christmas party
This half term, Miss Daley's class PE lessons will take place on Mondays and Wednesdays.
Asteroid space cakes
The children have been learning about instructions this week and have been following instructions to make their own asteroid space cakes. Children then ordered and wrote the instructions to make their cake, using bossy verbs and the correct order.
Children in Need
The children have come to school looking fantastic today in spots, to help contribute to raising money for Children in Need. We have seen some lovely spotty outfits, with some children getting a little creative in making their own. Thank you to all parents for helping us to support this day and raise money for Children in need.

Career's Day
Thank you to all parents who have supported our Career's Day. The children looked wonderful and they were so excited to share what they would like to be in the future. We have enjoyed seeing children aspiring to be doctors, nurses, midwives, mechanics and vets. Children also shared how they would like to be soldiers, builders, firefighters, teachers, ballerinas, rugby players, gymnasts, train drivers and explorers.
Number Formation
This week in Maths Reception have been learning to form numbers the correct way using string and playdough. We have learned rhymes to help us form our numbers the correct way. We have also practised writing the numbers correctly.
PE
In PE this half term children are learning to develop skills such as throwing and catching. Reception are already able to find a suitable space independently. They have been warming up by moving in different ways in a space. The children have been demonstrating fantastic listening skills and they are following instructions very well during our PE activities.
Worship Box
We have been working very hard together to design and create our special worship box. The children will use this to help Miss Daley lead the class worship every Friday. The children will use the special items inside the box each week.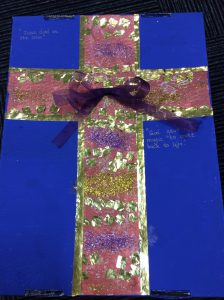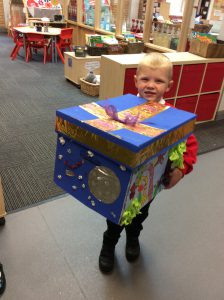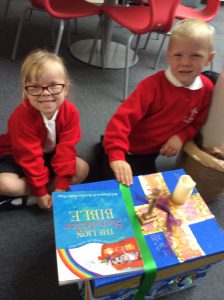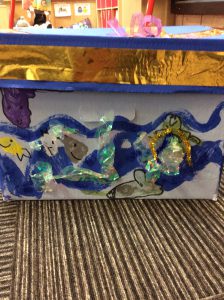 Reception Classroom
Here are some pictures to show the areas of learning children will be exploring this year. Each week different challenges will be set up to enhance the children's learning. These areas help children to flourish and become independent learners.
Children have enjoyed exploring both the indoor and outdoor classroom. Here are some examples of how children are settling in and using the areas and activities.