Welcome to Miss Parsons' class page. Here, you will find information about the children's exciting learning, as well as any key dates or important pieces of information that you will need to know for the upcoming weeks and months.
Reminders and Dates for the Autumn Term
Friday 17th November – Children In Need (wear something spotty!)
Wednesday 6th December – Reception Nativity (am)
Thursday 7th December – Reception Nativity (pm)
Wednesday 20th December – Reception Reindeer Run for St Rocco's
Thursday 21st December – Finish for Christmas
Thursday 4th January – Back to school
Our Learning
What do people eat in space?
We were wondering how people eat in space if they can't go shopping there. One of the children pointed out that 'there is no McDonald's in space!' We looked on the internet and discovered that the food in space is often freeze-dried and packaged in a way that stops it from going mouldy or smelly so that it lasts for a long time.
Today we tasted some real space food! We looked at some packets of special space ice cream.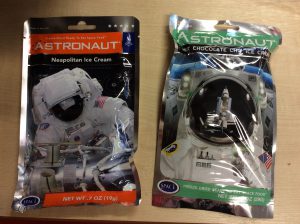 We noticed that the ice cream was not in a tub and the packet looked very small. When we opened the packet we were very confused! It didn't look anything like the ice-cream we normally eat. It was all crumbly and hard!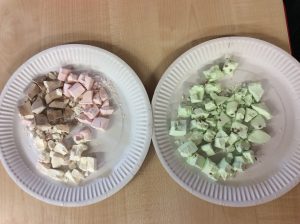 We were a little bit unsure about tasting it at first…..but it was delicious! Jason said, "It feels crunchy in my fingers but then it goes sticky in my mouth." Daisy said, "It is really yummy. It tastes like ice cream but it isn't cold!"
To Infinity and Beyond!
Our new project has begun and we are really enjoying learning lots about space! The children have helped us to plan our project by telling us the things that they want to find out. Some of their questions included:
Why do stars sparkle?
What do people eat in space?
How long does it take to get to the moon?
How do you travel around in space?
How long does it take to get to the moon?
What are the planets called?
We have already begun to investigate some of these questions and the children have impressed us by how curious and enthusiastic they are. Here is a snippet of some of the activities we have enjoyed participating in…
We are famous!
Just in case you missed us, here is our class photograph from the Warrington Guardian (November 9th issue).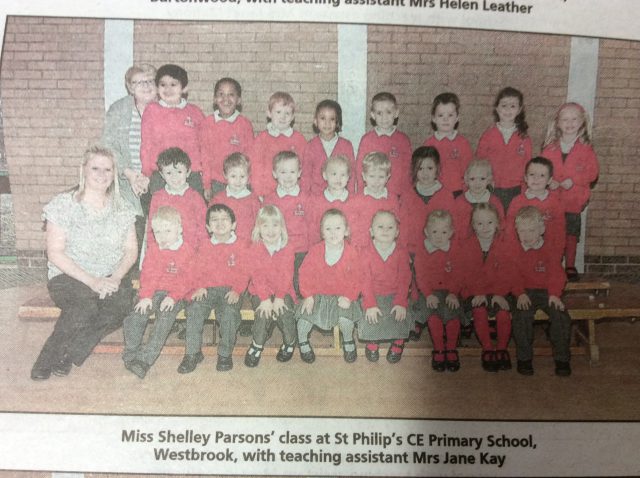 Diwali
Today the children learnt about the special celebration day of Diwali. Diwali means " rows of lighted lamps" and is also known as the "Festival Of Light"
The children took part in various activities connected with Diwali. They listened to the story of Rama and Sita and had the chance to make diva lamps. They made rangoli patterns , learnt an Indian dance and even tried some traditional Indian sweets.
Special thanks to Mrs Dhillon who talked to us about Diwali and how she celebrates with her family.
What would you like to be when you grow up?
Friday
After a very busy week (learning about lots of different occupations) we were excited to be visited by our very own headteacher, Mrs Wightman.
Mrs Wightman told us all about her busy days in school and we found out that her favourite thing about her job is meeting happy children who are working hard. We were also keen to find out Mrs Wightman's favourite colour. We thought it was probably red because it matches our school uniform. But we were wrong…it is turquoise!
Mrs Wightman was so impressed by our 'fabulous' listening skills that everyone received a special sticker…for being 'fabulous'!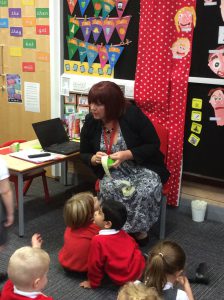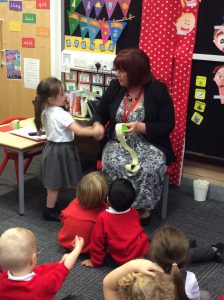 Thursday
Reverend Pete came to school today to talk to us about his job in the Church. He told us about the special things he does in Church and showed us his special clothes. We thought it was funny that he called his collar a 'dog collar'! Then we passed around his special stoles and enjoyed wearing them with our friends. They were very long because Pete is very tall!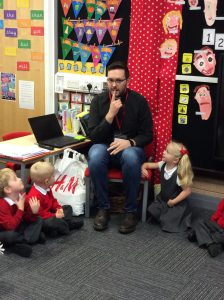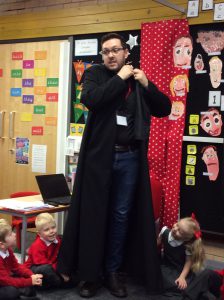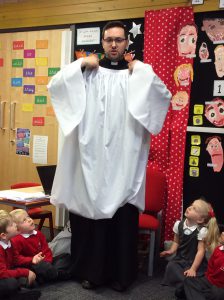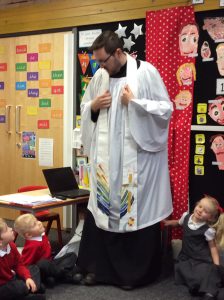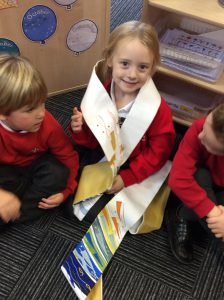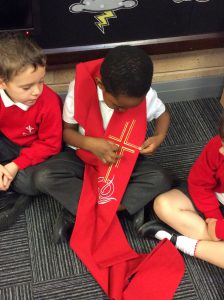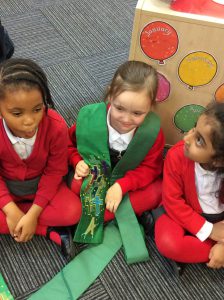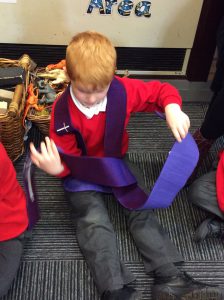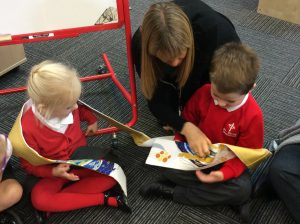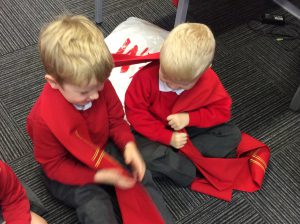 Wednesday
We had another wonderful visitor this afternoon! Mr Lomax came to talk to us about being a police officer. He showed us the equipment he has to carry with him and we even heard messages coming through on his radio. Mr Lomax told us about the things he has to do in his job and we were very excited to discover he had brought along a variety of police hats and helmets that we got to try on!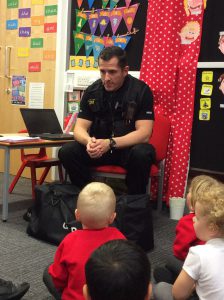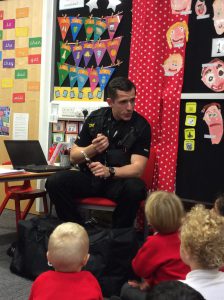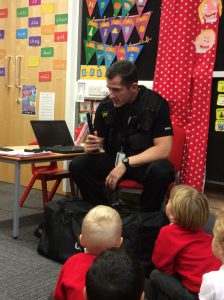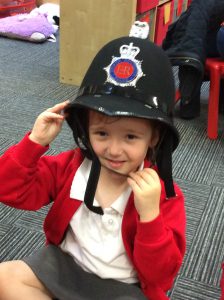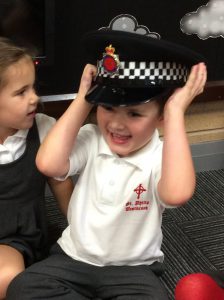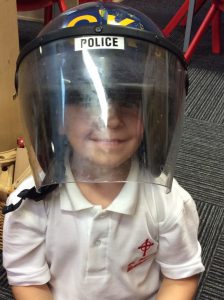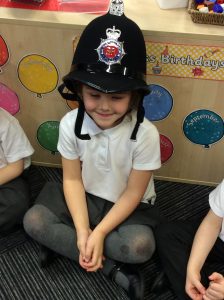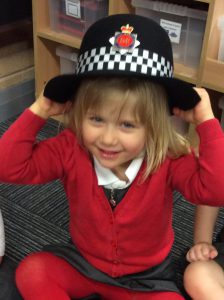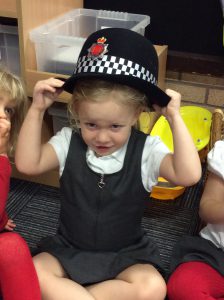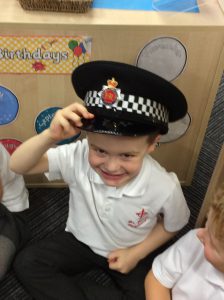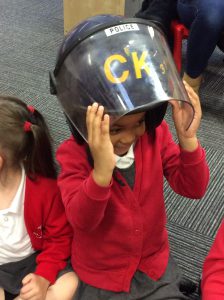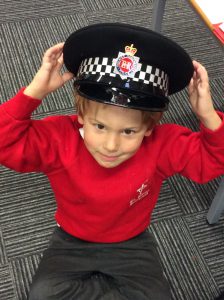 Tuesday
Dr Coutinho visited us this morning to tell us about her job as a children's doctor. She brought along her special teddy to help us learn about the ways in which we can stay healthy. We learnt about the importance of eating fruits and vegetables and drinking lots of water. Dr Coutinho let us use her stethoscope to listen to our chests. We also looked at special medicine syringes and spoons for helping us to take medicine.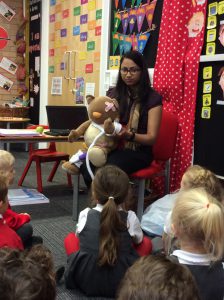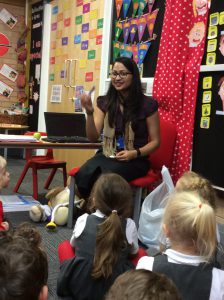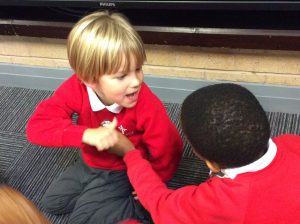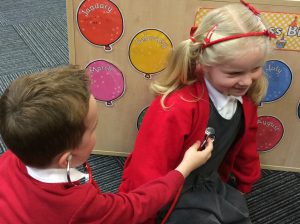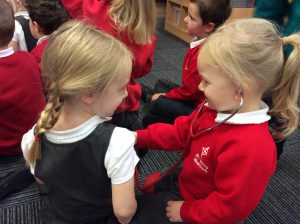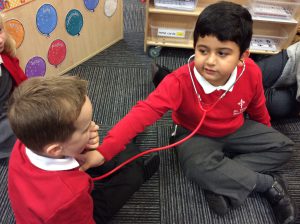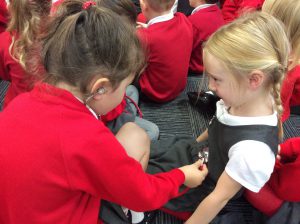 Monday
Today we were extremely lucky to be visited by Mrs Atkinson and her dog Dougal. Mrs Atkinson is a vet and she spoke to the children about the tools she uses to help animals to get well, as well as allowing the children time to interact with Dougal. We learnt how to check his ears for infections, listen to his chest, brush his teeth and even had the opportunity to bandage his paw. We thanked Dougal for his patience by rewarding him with lots of strokes and tummy rubs.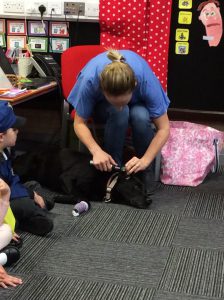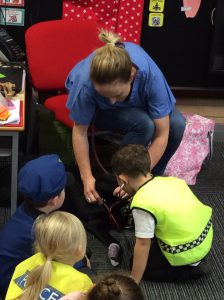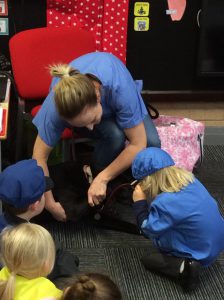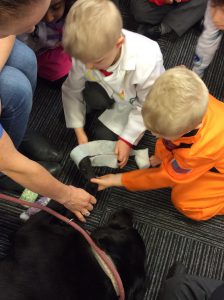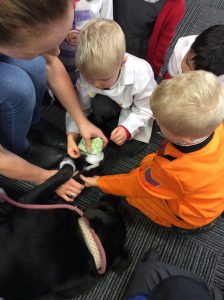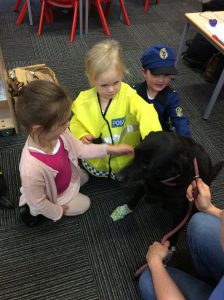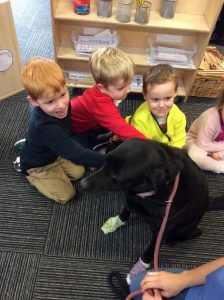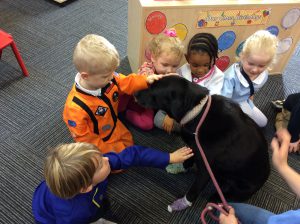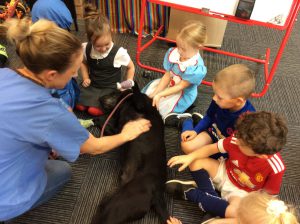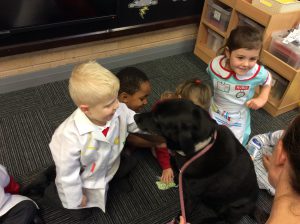 Today was 'Career Day' in Reception and it was a fantastic way to start our week, by sharing our hopes and dreams for the future with our friends. Our children have a wide range of hopes and dreams. Aspirations included police officers, nurses, builders, gymnasts, dancers, vets and many more!
PE
The children were very excited to have their first PE lesson in the small hall today and got changed into their PE kits with only a little help.We learnt about the importance of warming up our muscles before exercise and then cooling down afterwards.The children noticed how their bodies felt during exercise and after it.We played lots of fun games to warm up our muscles including the Bean Game and Captain's Coming.
We enjoyed celebrating Roald Dahl Day by looking at characters from his books and learning about his life. We found out that Roald Dahl liked to write his stories on yellow paper in a hut in his garden!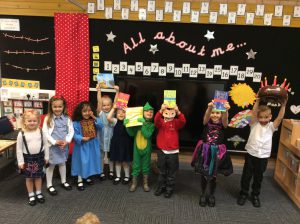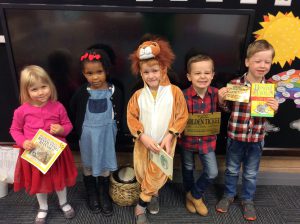 The children have been very busy exploring our classroom and making new friends. We are in the process of completing our initial assessments of the children and are thoroughly enjoying getting to know them and watching them play together. Here are some sneaky snaps of the fun we have been having…
We have had a fantastic first week in Reception! The children have enjoyed exploring lots of areas of learning and have confidently participated in a range of fun activities. We have taken lots of photographs and will begin to upload these as soon as we have confirmed all of our permission slips. If you have not yet returned your Data Collection form, please do so as soon as possible. Thank you!
In the meantime, here are some photographs of our new classroom: