Welcome to Miss Parsons' class page. Here, you will find information about the children's exciting learning, as well as any key dates or important pieces of information that you will need to know for the upcoming weeks and months.
Reminders and Dates for the Spring term
Monday 26th February – Back to school
Thursday 1st March – World Book Day
W/C Monday 5th March – Parent consultations
Friday 9th March – Reception Mother's Day Assembly
W/C Monday 12th March – Science Week
Tuesday 13th March – Fire brigade to visit Reception
Friday 23rd March – Sport Relief
Our Learning
The Land Before Time…Walking with Dinosaurs
We hope you are enjoying your half term rest. The teachers have been busy preparing the classrooms for our new project. Here is a sneaky peak at some of the exciting activities awaiting your arrival on Monday…
Chinese New Year
Kung hei fat choy! We had a great day celebrating Chinese New Year!
Our morning began with some dragon dancing in PE and then we settled down to share the story of Nian and Chinese New Year. We found out that loud noises, fire and the colour red scared the beast away from the villagers and that is why these things are used to celebrate Chinese New Year.
During the day we participated in lots of crafts; we made Chinese dragon puppets, fans and even beautiful lanterns. We copied Chinese numerals and letters into the mermaid fabric and we re-enacted the zodiac story…did you know that this year is the 'Year of the Dog'?
In the afternoon we enjoyed tasting some Chinese foods. We were very brave to try new things, including seaweed and chow mein! But we all agreed that the prawn crackers were our favourite.
Our warm and fuzzy treat!
Our fabulous children have filled our 'warm fuzzy jar'. They have been kind to their friends and tried really hard to make sensible choices. As a treat we thought we would sneak over to Westbrook Library to have a look for fiction and non-fiction books.
The children met Nick, who told them that even babies can join the library and when you become a member you are allowed to borrow up to 10 books!
We enjoyed exploring the books and then we completed a treasure hunt around the library. Before leaving we were all allowed to choose a book to bring back to school. Karen showed us how to sign the books out by putting them on the shelf in front of the computer. We had a great time!
Real Superheroes
This morning we were visited by some real-life superheroes! PC Victoria Deluce and PCSO Neil Samuel visited us to tell us about their jobs as police officers. We learnt about the different things that they do to help keep us safe and the things that we can do if we ever feel worried or unsafe. They brought a police car for us to see and we were lucky enough to sit inside and listen to the very noisy siren!
Health Week in Reception
We have had a busy week working hard to keep ourselves fit and healthy.
Every day we have practised our exercises. Rory told us, "I can feel my heart beating really fast!"
We have been learning about how to stay healthy by eating well and drinking lots of water. We also thought about how important it is to be happy. Daisy told us, "I like it when my friends are kind. I feel happy in my heart."
We ended our healthy week by making some healthy snacks. We washed our hands and carefully cut our favourite fruits to make some delicious fruit kebabs for our snack time.
After break time we had a surprise visitor! Wolfie came into our classroom to check we were all making healthy choices. We found out that his favourite snack is a banana!
Superhero Mask Parade
Our children are so creative! Their superhero mask designs are fabulous! We couldn't wait to share them with the rest of the school so on Monday we eagerly put on our masks and went for a walk around the building. We visited classrooms and stopped to talk to teachers and everybody loved our masks. Here is a sneaky peak at our fantastic Reception superheroes…
A Supertato Emergency!
Today we came into the classroom to discover an incident had taken place.
The Evil Pea had vegi-napped our Supertato and trapped all his vegetable friends!
We had to use our reading skills to read the letter and the clues to try and rescue Supertato. Luckily, we had all had our brainy breakfasts and we managed to find Supertato safe and well in the role play jail!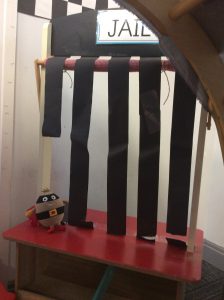 We set about thinking how we could find the cheeky culprit, the Evil Pea. We designed WANTED posters, we searched the unit with our magnifying glasses and we even made a trap to catch it!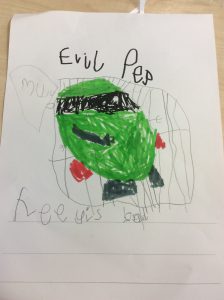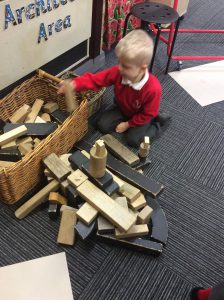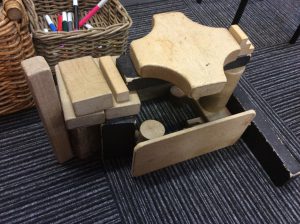 We kept checking the trap but we couldn't find the pea. We decided that it might return to the classroom over lunch time when we were not there. So we waited…and waited…and waited some more…until…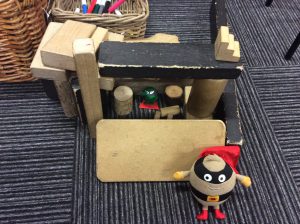 …our plan had worked! We captured the Evil Pea!
Superheroes to the Rescue!
Our new project has begun and the children have enjoyed exploring the new provision in the classroom. From designing and building 'Superhero Cities' to designing their very own superheroes, we have had a busy few days!
Our Christmas Party
We have had the most wonderful afternoon with the children.
We played some party games, we ate our party snacks and we even had a surprise visit from Santa himself!
Santa told the children how much he liked the new sleighs that they designed for him and awarded Charlie with a prize for his fantastic 'Sleigh Transformer' idea – well done Charlie!
Here are some photos showing the different places that Cookie has chosen to seat herself in our classroom this week.
We have really enjoyed searching for her and using positional language to describe her location.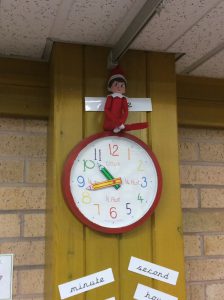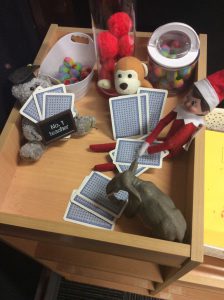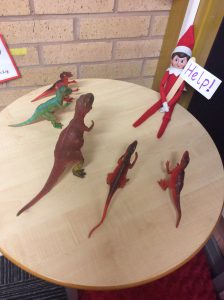 Welcome to Cookie the Elf!
This morning we were excited to receive a parcel from the North Pole! When we opened it we discovered that Santa has sent us an elf to join our class! We named the elf Cookie and we have tried our best to be super-sensible because we know that Cookie will fly back to the North Pole to see Santa each night and tell him how hard we have been working. We are excited to find out where Cookie will be when we come into the classroom tomorrow morning!
Poor Santa!
We watched the news this morning and were shocked to discover that Santa crashed his sleigh over the weekend! He was having a practise run at delivering his presents when the reindeer got a bit over-excited in our school car park and Santa fell out the sleigh!
Luckily we had the excellent idea of designing him a new sleigh in time for Christmas. We are practising our writing and drawing skills and will send our ideas to him so that he can pick his favourite!
Instructions
As part of our project " To Infinity and Beyond", we followed instructions to make Asteroid rock cakes. The children had fun sieving, rubbing and mixing the ingredients but enjoyed eating the cooked cakes even more!
After making the cakes we thought about how the mixture changed when we put it into the hot oven. We noticed that the cakes were hard and not sticky any more. We wondered if things always go hard when they get hot. We decided to investigate this with some chocolate. We held the chocolate in our hands to make it warm and we felt it change.
Grace said, "It feels all slimy!" Logan said, "I think it has melted." When we looked at our hands they were covered in gooey chocolate. We decided there was only one thing for it…we were going to have to clean our hands!
What do people eat in space?
We were wondering how people eat in space if they can't go shopping there. One of the children pointed out that 'there is no McDonald's in space!' We looked on the internet and discovered that the food in space is often freeze-dried and packaged in a way that stops it from going mouldy or smelly so that it lasts for a long time.
Today we tasted some real space food! We looked at some packets of special space ice cream.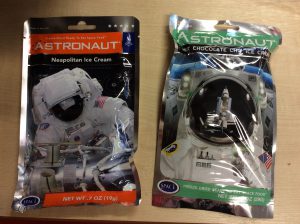 We noticed that the ice cream was not in a tub and the packet looked very small. When we opened the packet we were very confused! It didn't look anything like the ice-cream we normally eat. It was all crumbly and hard!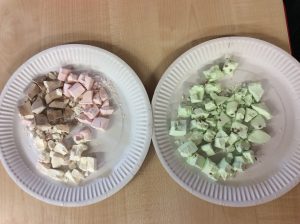 We were a little bit unsure about tasting it at first…..but it was delicious! Jason said, "It feels crunchy in my fingers but then it goes sticky in my mouth." Daisy said, "It is really yummy. It tastes like ice cream but it isn't cold!"
To Infinity and Beyond!
Our new project has begun and we are really enjoying learning lots about space! The children have helped us to plan our project by telling us the things that they want to find out. Some of their questions included:
Why do stars sparkle?
What do people eat in space?
How long does it take to get to the moon?
How do you travel around in space?
How long does it take to get to the moon?
What are the planets called?
We have already begun to investigate some of these questions and the children have impressed us by how curious and enthusiastic they are. Here is a snippet of some of the activities we have enjoyed participating in…
We are famous!
Just in case you missed us, here is our class photograph from the Warrington Guardian (November 9th issue).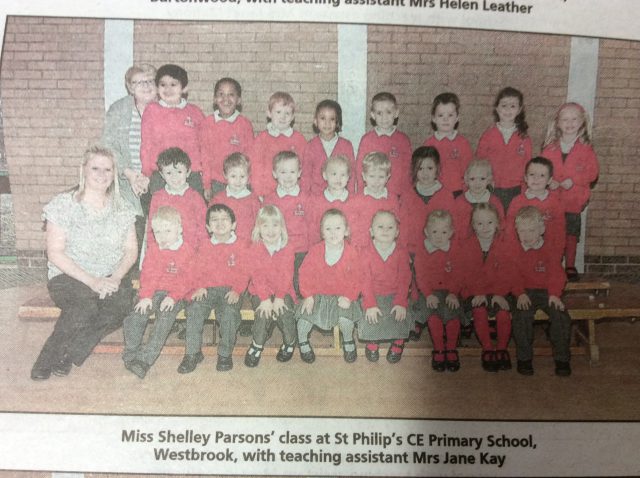 Diwali
Today the children learnt about the special celebration day of Diwali. Diwali means " rows of lighted lamps" and is also known as the "Festival Of Light"
The children took part in various activities connected with Diwali. They listened to the story of Rama and Sita and had the chance to make diva lamps. They made rangoli patterns , learnt an Indian dance and even tried some traditional Indian sweets.
Special thanks to Mrs Dhillon who talked to us about Diwali and how she celebrates with her family.
What would you like to be when you grow up?
Friday
After a very busy week (learning about lots of different occupations) we were excited to be visited by our very own headteacher, Mrs Wightman.
Mrs Wightman told us all about her busy days in school and we found out that her favourite thing about her job is meeting happy children who are working hard. We were also keen to find out Mrs Wightman's favourite colour. We thought it was probably red because it matches our school uniform. But we were wrong…it is turquoise!
Mrs Wightman was so impressed by our 'fabulous' listening skills that everyone received a special sticker…for being 'fabulous'!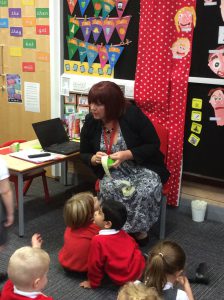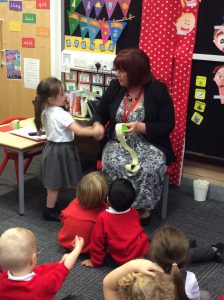 Thursday
Reverend Pete came to school today to talk to us about his job in the Church. He told us about the special things he does in Church and showed us his special clothes. We thought it was funny that he called his collar a 'dog collar'! Then we passed around his special stoles and enjoyed wearing them with our friends. They were very long because Pete is very tall!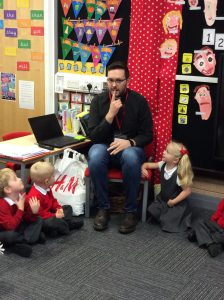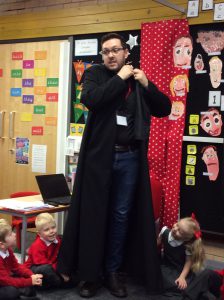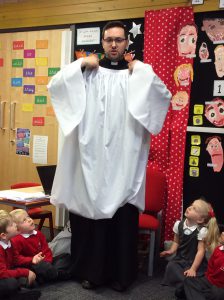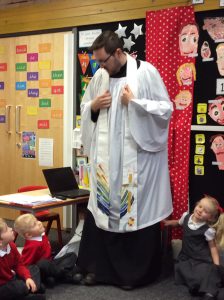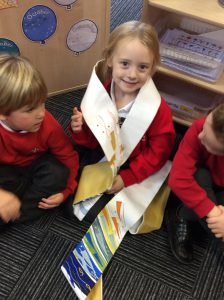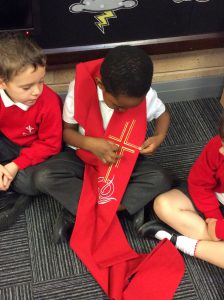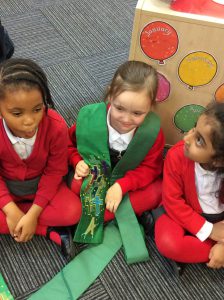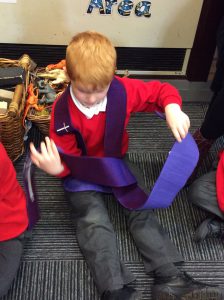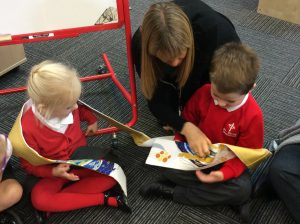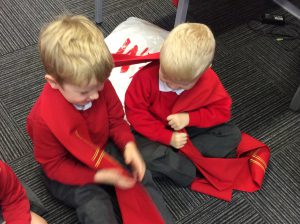 Wednesday
We had another wonderful visitor this afternoon! Mr Lomax came to talk to us about being a police officer. He showed us the equipment he has to carry with him and we even heard messages coming through on his radio. Mr Lomax told us about the things he has to do in his job and we were very excited to discover he had brought along a variety of police hats and helmets that we got to try on!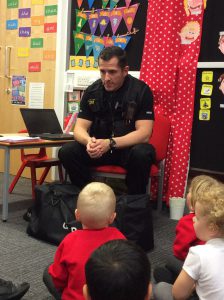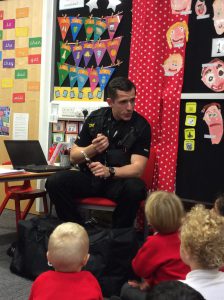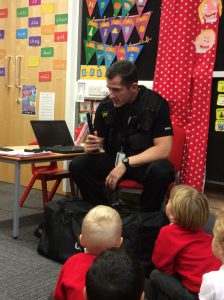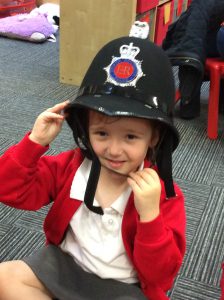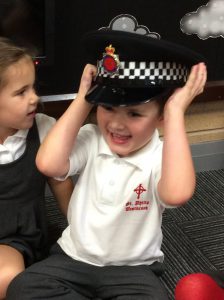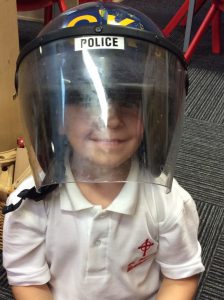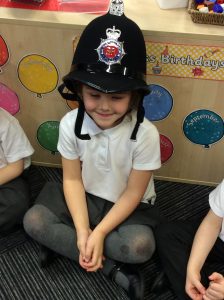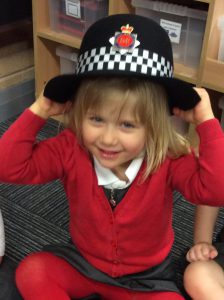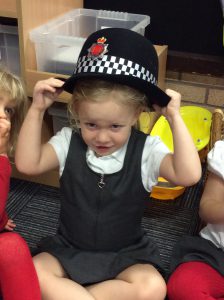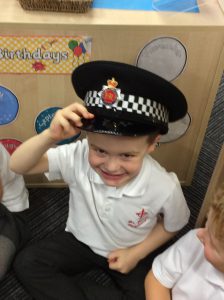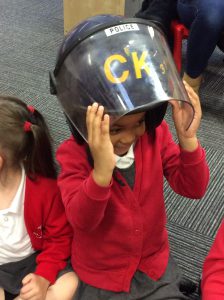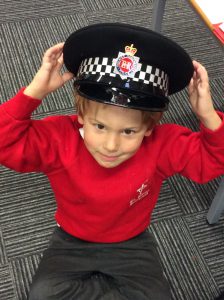 Tuesday
Dr Coutinho visited us this morning to tell us about her job as a children's doctor. She brought along her special teddy to help us learn about the ways in which we can stay healthy. We learnt about the importance of eating fruits and vegetables and drinking lots of water. Dr Coutinho let us use her stethoscope to listen to our chests. We also looked at special medicine syringes and spoons for helping us to take medicine.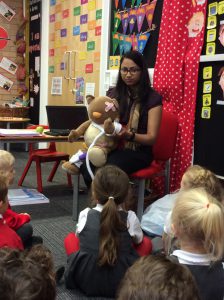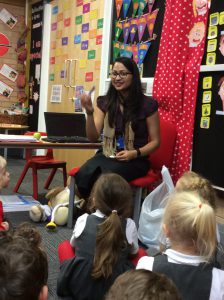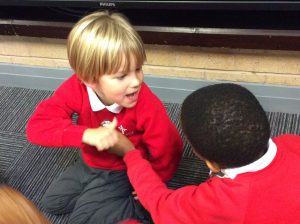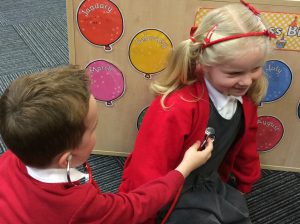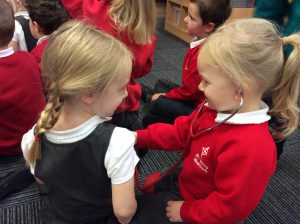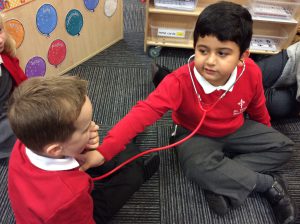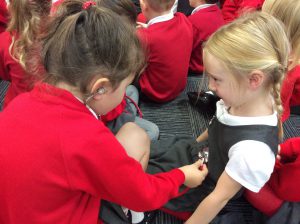 Monday
Today we were extremely lucky to be visited by Mrs Atkinson and her dog Dougal. Mrs Atkinson is a vet and she spoke to the children about the tools she uses to help animals to get well, as well as allowing the children time to interact with Dougal. We learnt how to check his ears for infections, listen to his chest, brush his teeth and even had the opportunity to bandage his paw. We thanked Dougal for his patience by rewarding him with lots of strokes and tummy rubs.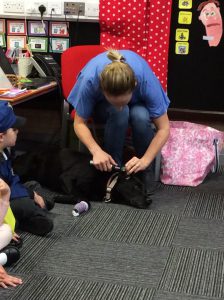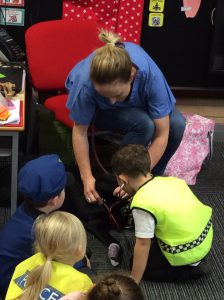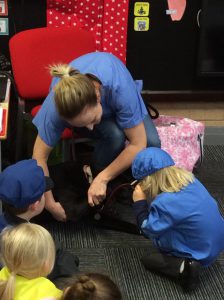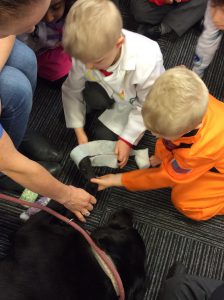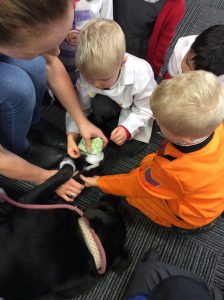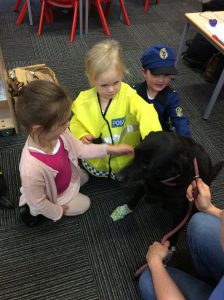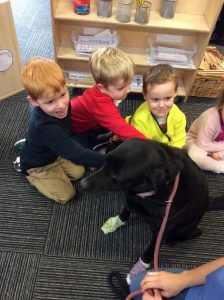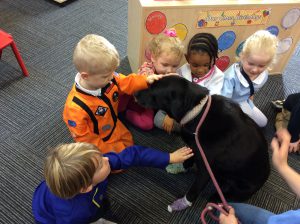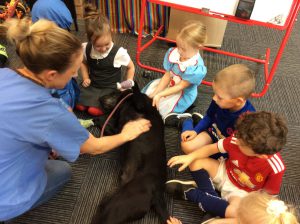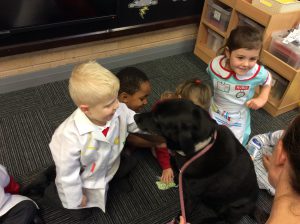 Today was 'Career Day' in Reception and it was a fantastic way to start our week, by sharing our hopes and dreams for the future with our friends. Our children have a wide range of hopes and dreams. Aspirations included police officers, nurses, builders, gymnasts, dancers, vets and many more!
PE
The children were very excited to have their first PE lesson in the small hall today and got changed into their PE kits with only a little help. We learnt about the importance of warming up our muscles before exercise and then cooling down afterwards. The children noticed how their bodies felt during exercise and after it. We played lots of fun games to warm up our muscles including the Bean Game and Captain's Coming.
We enjoyed celebrating Roald Dahl Day by looking at characters from his books and learning about his life. We found out that Roald Dahl liked to write his stories on yellow paper in a hut in his garden!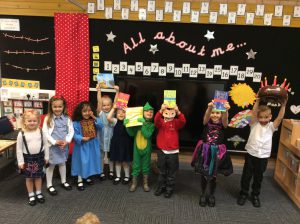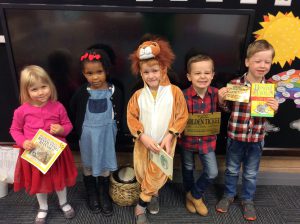 The children have been very busy exploring our classroom and making new friends. We are in the process of completing our initial assessments of the children and are thoroughly enjoying getting to know them and watching them play together. Here are some sneaky snaps of the fun we have been having…
We have had a fantastic first week in Reception! The children have enjoyed exploring lots of areas of learning and have confidently participated in a range of fun activities. We have taken lots of photographs and will begin to upload these as soon as we have confirmed all of our permission slips. If you have not yet returned your Data Collection form, please do so as soon as possible. Thank you!
In the meantime, here are some photographs of our new classroom: